Purdue vs. Notre Dame: Postgame Grades for the Irish's Win over the Boilermakers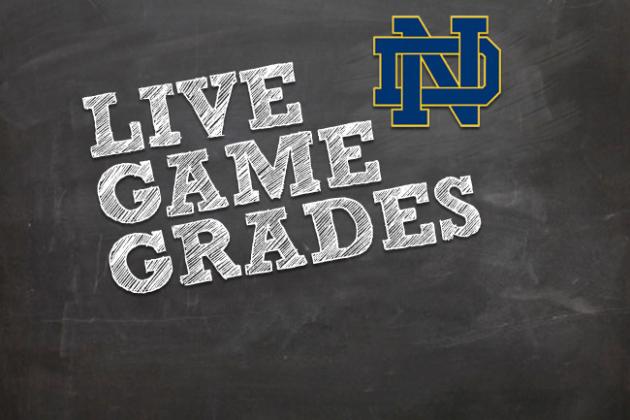 No. 22 Notre Dame held on to defeat Purdue, 20-17, to move to 2-0 for the first time since 2008. The Fighting Irish scored the winning points on a 27-yard field goal from Kyle Brindza with seven seconds remaining.
We've provided grades and an analysis of each Irish position group from the team's narrow escape against the in-state rival Boilermakers.
Follow me on Twitter @MattSmithCFB.
Begin Slideshow

»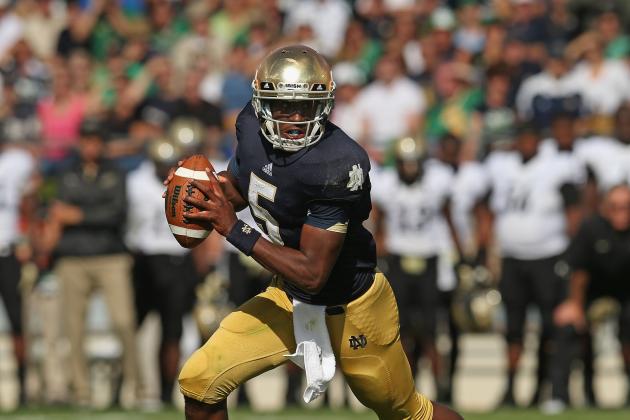 Jonathan Daniel/Getty Images

Notre Dame wasn't expected to play multiple quarterbacks today, especially one of them being Tommy Rees, but it was forced to do so after starter Everett Golson injured his hand after a fourth quarter fumble. Golson played well other than the fumble, but it was Rees who was the hero, leading a drive to set up a game-winning field goal in the final seconds.
Golson connected on almost 70 percent of his passes, with one touchdown through the air and another on the ground. Rees hit only three of his eight passes, but converted two critical third downs on his only drive. Golson displayed his mobility on multiple occasions, primarily on a second-quarter touchdown drive capped by his three-yard scamper to the corner of the end zone.
Head coach Brian Kelly confirmed Golson will start next week's game at Michigan State. However, Rees showed he can still be a factor this season, even if it's just as a "closer".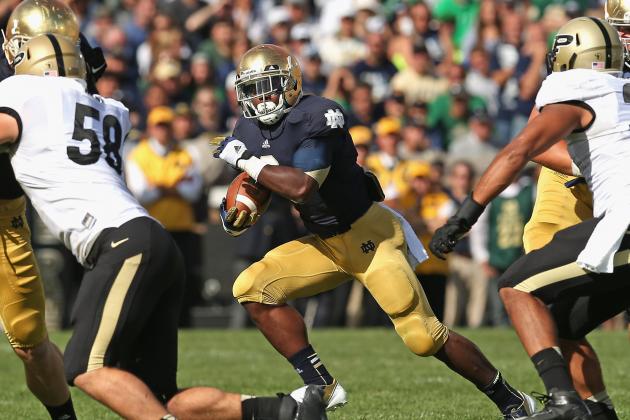 Jonathan Daniel/Getty Images

The running game is a joint effort between the backs and the offensive line, and neither was up to par on Saturday. Cierre Wood missed the game as he served the final game of a two-game suspension, but the stars of last week's win over Navy, Theo Riddick and George Atkinson III, did little.
Riddick managed only 53 yards on 15 carries, while Atkinson III's lone carry went for no gain. Purdue sold out against the run with a fair amount of success. T.J. Jones and Robby Toma each got carries on reverse plays, going for eight and six yards respectively.
It was a significant step back after last week, but Purdue has one of the stronger defensive fronts the Irish will see all season. However, next week's opponent, Michigan State, may have a better one. The running game must improve for the Irish to survive in East Lansing.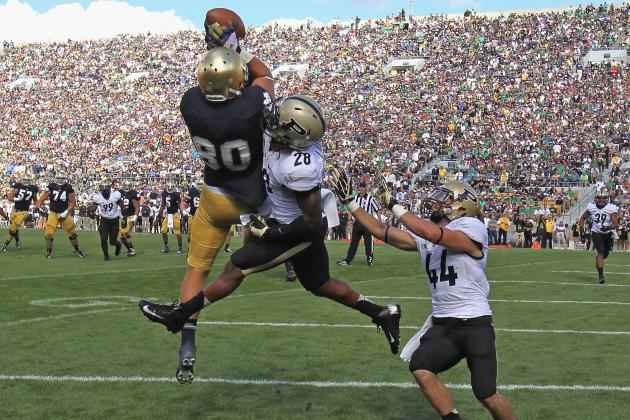 Jonathan Daniel/Getty Images

Everett Golson and Tommy Rees combined to connect with nine different receivers, four of those tying for the team lead with four catches each. Tyler Eifert was a mismatch all afternoon before leaving the game in the second half with a head injury.
Davaris Daniels caught four passes before also having to leave the game. T.J. Jones caught the lone touchdown pass in the third quarter to give the Irish a 14-7 lead.
Notre Dame stretched the field much more than it did a week ago, as Purdue dared Golson to beat its secondary, which he often did after avoiding pressure. The ineffectiveness of the passing game after Eifert and Daniels went out is alarming, but not unexpected.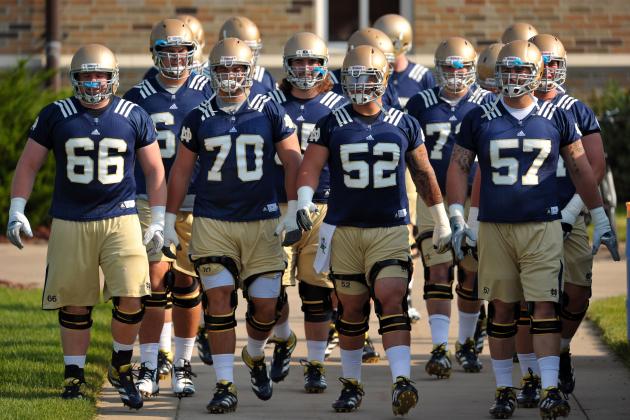 Matt Cashore-US PRESSWIRE

The battle in the trenches when the Irish had the ball was claearly won by Purdue, thanks in large part to strong performances from defensive tackles Kawann Short and Bruce Gaston.
Offensive tackle and team captain Zack Martin was called for a late hit in the first half, as the veteran played one of his more forgettable games on Saturday. The unit as a whole allowed five sacks.
The unit must be stronger next week against Michigan State, as it'll be facing arguably the best defensive lineman in the country in William Gholston.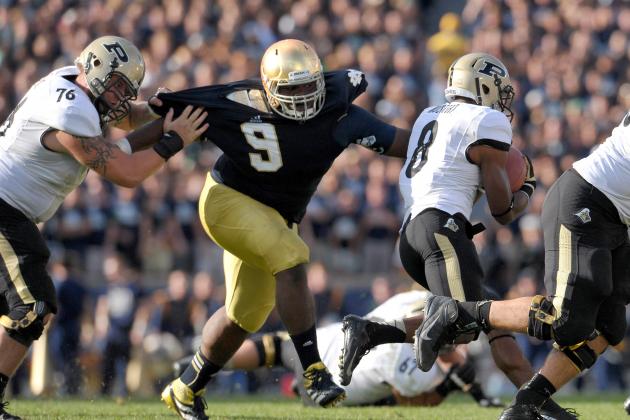 Matt Cashore-US PRESSWIRE

This unit was the difference-maker for the Irish in an overall sloppy game, registering four sacks and holding Purdue to under 300 total yards. Starter Kapron Lewis-Moore left the game early with a leg injury and Sheldon Day missed part of the game with dehydration, but Stephon Tuitt and Louis Nix were brilliant.
Each registered a pair of sacks (one of Nix's was shared), and Day forced an interception with a hurry on Caleb Terbush in the third quarter. Purdue ran for just 90 yards on 30 carries.
The best teams in the nation win with defensive line play, and Notre Dams showed that it is good enough in the trenches to win without it's "A" game.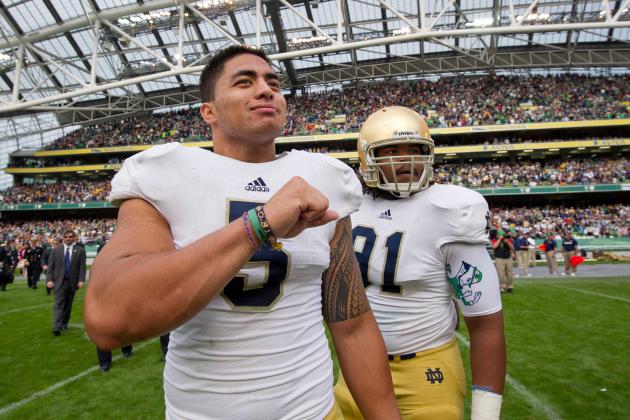 Matt Cashore-US PRESSWIRE

The Irish mixed up their starting lineup by shifting Dan Fox from WILL to Dog, allowing Carlo Calabrese to step in at WILL. The unit was solid, but not spectacular.
Manti Te'o was Manti Te'o, outside of an uncharacteristic unnecessary roughness penalty following a punt return. Prince Shembo spent most of the day with his hand in the ground, as the Irish were in 4-3 alignments for much of the afternoon.
The linebackers did not force any turnovers, but offered little to complain about.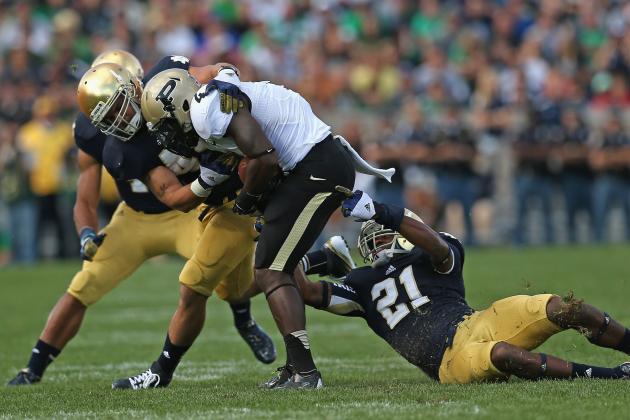 Jonathan Daniel/Getty Images

The secondary was a bit better on Saturday, but still showed its youth and inexperience. Bennett Jackson did intercept two passes, but one came on a terrible off-balance throw by Caleb Terbush and the second came on a Hail Mary pass on the game's last play.
Jamoris Slaughter suffered a shoulder injury that kept him out for much of the game, with sophomore Matthias Farley and true freshman Elijah Shumate seeing extended playing time.
Despite its mistakes, allowing only 19 completions in 37 attempts is a good sign. Slaughter must be healthy, but Jackson showed he can be a legitimate No. 1 cornerback.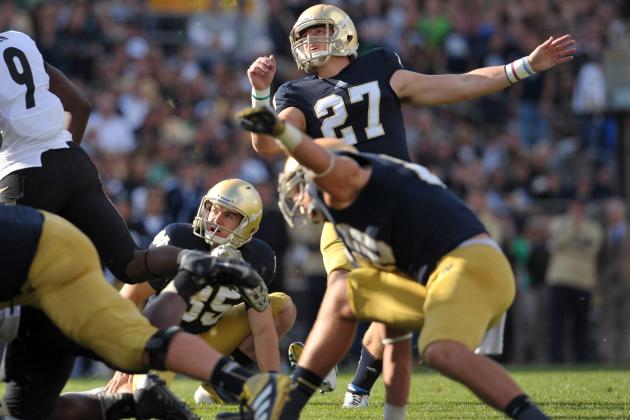 Matt Cashore-US PRESSWIRE

It was an up-and-down afternoon for the special teams units. Kyle Brindza did provide the winning points with a 27-yard field goal in the final seconds, but he earlier badly missed a 40-yard field goal. Brindza was filling in for regular starter Nick Tausch, who missed the game with an injury.
Punter Ben Turk was brilliant, averaging almost 44 yards per punt in five attempts, with only one of them returned.
Kickoff coverage was again poor, and Davonte Neal did little in the punt return game. George Atkinson III's 32-yard kickoff return gave the Irish good field position for its game-winning drive.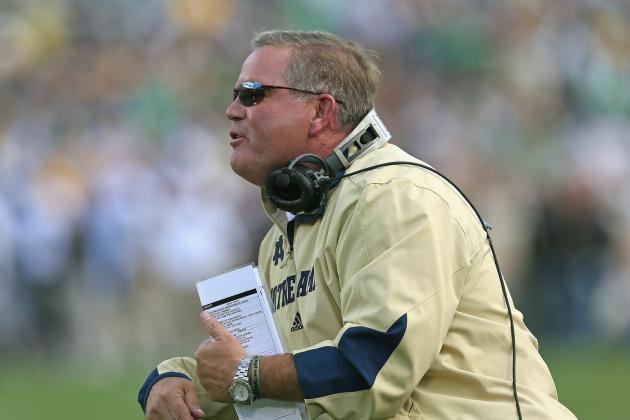 Jonathan Daniel/Getty Images

Things didn't go according to plan, but the coaches made the necessary adjustments to allow Notre Dame to escape with a narrow win and move to 2-0. The decision to go with Rees instead of Andrew Hendrix for the final drive proved the correct one.
Defensive coordinator Bob Diaco lost two of his five best players to injury, but still kept the Purdue offense at bay for most of the game.
While the game planning will need to improve next week leading into the Michigan State game, the coaches showed they are a sound in-game staff on a day that thew them numerous curveballs. After a 32-31 record from 2007-2011, any win is a good win.