Week 1 NFL Picks: Last-Minute Predictions for Every Game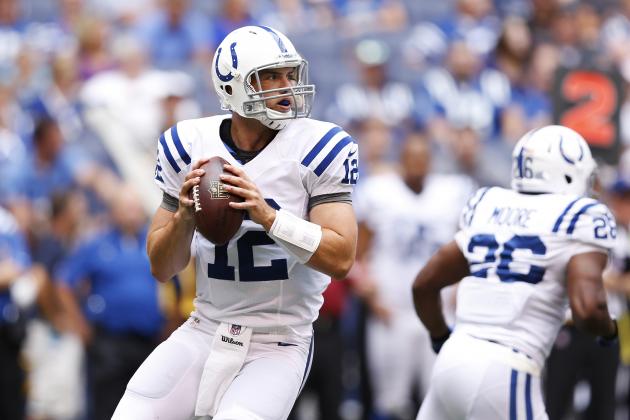 Joe Robbins/Getty Images

At the start of each NFL season, a host of player debuts snatch the headlines. But this year, well, it's different.
It's more significant, more captivating.
Think about it.
Andrew Luck's debut. Robert Griffin III's debut. The debuts of three other rookie quarterbacks.
Peyton Manning in Denver Bronco orange. Mario Williams with the Bills.
Adrian Peterson coming off injury. Maurice Jones-Drew fresh off a holdout. The second year for the Panthers' Cam Newton after a historic 2011.
Rob Gronkowski and Drew Brees too.
Safe to say, the excitement you're feeling right now about the start of the 2012 season is warranted.
Here are some last-minute predictions for every game this week.
Begin Slideshow

»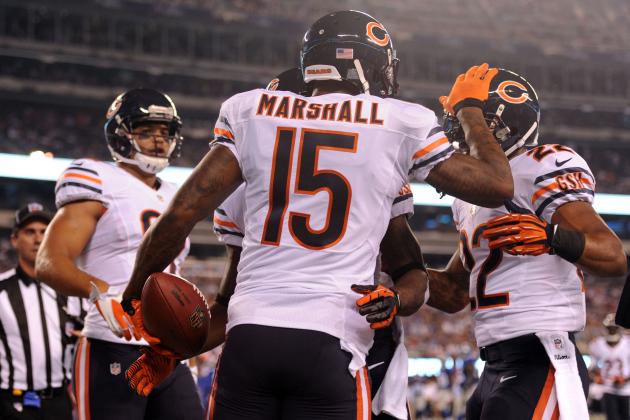 Joe Camporeale-US PRESSWIRE

Many new pieces are making their highly anticipated debuts in this one.
Andrew Luck looked like a seasoned veteran in the preseason, but playing in the hostile Soldier Field and dueling against Jay Cutler, Brandon Marshall and Matt Forte is a little different than an exhibition game.
Don't forget Brian Urlacher—who's supposed to play, according to the Chicago Tribune—Julius Peppers and Lance Briggs, either.
Chicago has more overall talent than Indianapolis, and the Cutler-Marshall duo should prove to be enough to get the Bears past Luck and Co. to start the season.
Prediction: Bears 27, Colts 17
Final Score: Bears 41, Colts 21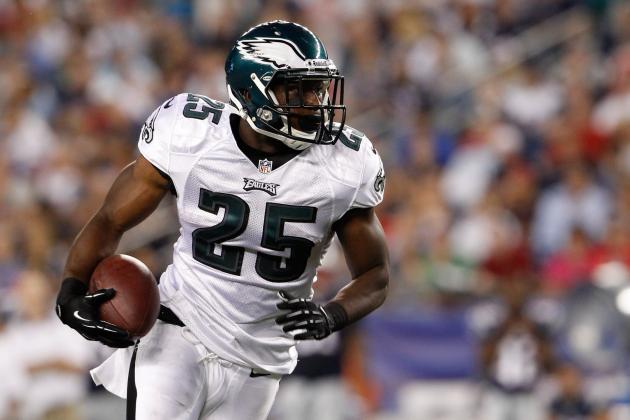 David Butler II-US PRESSWIRE

Browns stud cornerback Joe Haden is appealing his four-game league suspension, according to the Cleveland Plain-Dealer, so he'll be available against the Eagles.
Trent Richardson, who's coming off arthroscopic knee surgery, is also expected to play.
That's good news for the Browns, who'll need all the help they can get against a high-powered Eagles team.
Michael Vick will wear a Kevlar vest to protect the ribs he injured in the preseason outing against the Patriots, and he was not listed on the team's mandatory injury report this week.
Brandon Weeden's arm, Richardson's punishing running ability and a decent set of receivers will make Cleveland more competitive than people think, but Philadelphia is too talented on offense and has a balanced and aggressive defense that will lead to a convincing win.
Prediction: Eagles 30, Browns 14
Final Score: Eagles 17, Browns 16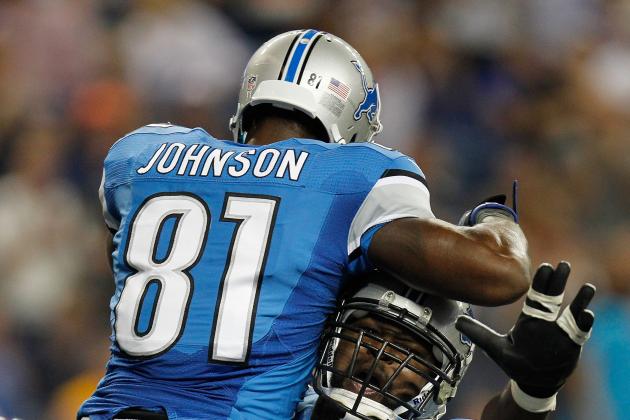 Gregory Shamus/Getty Images

If it wasn't for the Saints' Bountygate, the Lions would have had the most turbulent offseason in the NFL due to multiple player arrests.
Now, finally, the explosive bunch gets to take the field to build on an impressive 10-6 2011 season.
No one can cover Calvin Johnson, and Matthew Stafford has the natural skill to become an elite volume passer. The defensive line is good, but will it improve on a rather lackluster 2011 after Ndamukong Suh and Co. burst onto the scene in 2010?
The secondary is another question mark, but against a St. Louis Rams club lacking legitimately threatening receiving threats, the Lions should make a strong opening statement.
Prediction: Lions 34, Rams 20
Final Score: Lions 27, Rams 23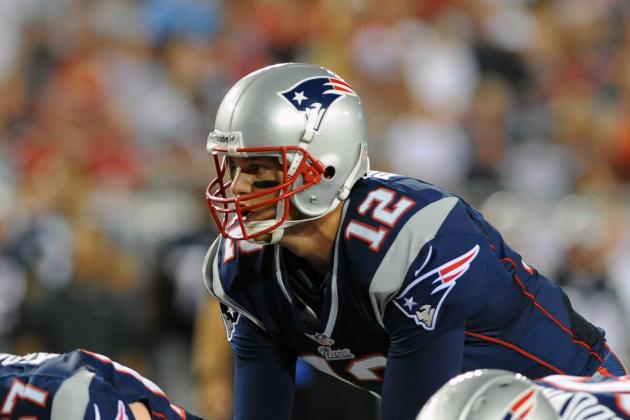 Al Messerschmidt/Getty Images

To most, this is one of the most complete offenses Tom Brady has ever had at his disposal.
Rob Gronkowski is fresh off the best tight end season in NFL history. Aaron Hernandez is a deceptive hybrid no one can quite figure out.
Brandon Lloyd, who led the league in receptions in 2010 under the tutelage of current Patriots offensive coordinator Josh McDaniels, is on the roster—a guy who should add a big-play dimension to the offense.
The first two draft picks were on the defensive side of the ball—something inherently needed after a 2011 campaign in which they allowed the second-most yards in the league.
As usual, they're a Super Bowl favorite.
But the Tennessee Titans mustn't be taken lightly. Jake Locker has a rocket arm, can scramble with the best of the them, has athletic pass-catching options and has a revitalized Chris Johnson.
Free-agent acquisition Kamerion Wimbley will be vital in this game. If he can apply pressure on Brady, the Titans could keep it close.
However, New England has Brady, the ultimate X-factor, and should be ready to counter what Tennessee throws at them on offense and defense.
An entertaining game that the Patriots close out late.
Prediction: Patriots 35, Titans 24
Final Score: Patriots 34, Titans 13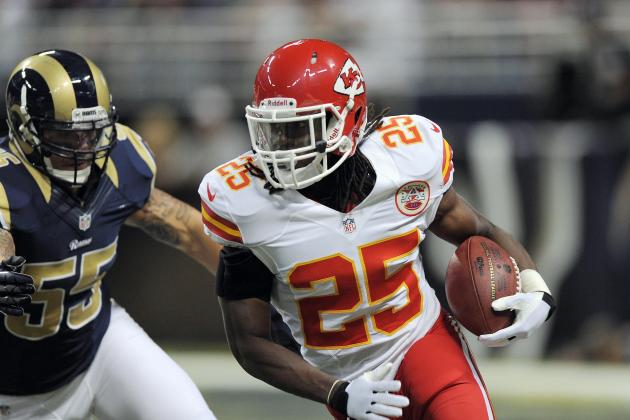 Jeff Curry-US PRESSWIRE

With Julio Jones in his second year and Roddy White an already-established wideout, the Falcons should field one of the better passing offense in football.
The defense has talent, but isn't necessarily star-studded. It'll have to deal with Jamaal Charles, the league's most dynamic back in 2010, who's returning from a devastating knee injury that prematurely ended his 2011 campaign.
Kansas City's best pass-rusher, Tamba Hali, will miss this game after being suspended for a week due to a violation of the league's substance-abuse policy. Facing a relatively weak Falcons offensive line, his absence will play a major role in the outcome of this one.
It's never easy playing inside Arrowhead Stadium, but Atlanta has enough talent to sneak out with a victory.
Prediction: Falcons 24, Chiefs 23
Final Score: Falcons 40, Chiefs 24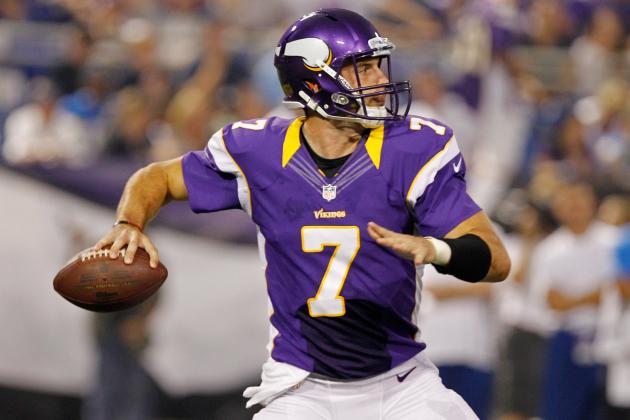 Bruce Kluckhohn-US PRESSWIRE

After both the Vikings and Jaguars struggled mightily on offense in 2011, this game may not be watched by many outside of the Minneapolis and Jacksonville areas.
However, it has some intriguing storylines.
Adrian Peterson is officially listed as questionable, but many believe he'll play in a situational role behind Toby Gerhart against one of the league's most underrated defensive units.
Maurice Jones-Drew will likely play in the same unfamiliar role for the Jaguars.
Tracking both second-year quarterbacks, Blaine Gabbert and Christian Ponder, also makes this game more interesting.
These teams find themselves in eerily similar predicaments.
Jacksonville will flex its defensive muscle and use a run-heavy offense to pick up a confidence-building win on the road in a surprisingly compelling but low-scoring football game.
Prediction: Jaguars 17, Vikings 13
Final Score: Vikings 26, Jaguars 23 (OT)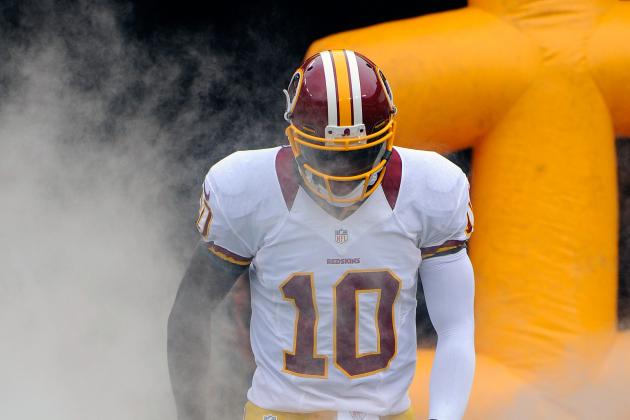 Brad Mills-US PRESSWIRE

Robert Griffin III has all the physical attributes and mental awareness to flourish in the NFL.
Sadly, his career will get off to a rough start on the road against an inspired Saints team.
Listen, New Orleans is a stunningly efficient and explosive team inside the Superdome, and Drew Brees will begin another epic season with a monster game against the Redskins defense.
This should be a high-scoring affair, as most games that involve the Saints are, and RG3 won't be horrible. There's just no way he'll out-duel Brees in his backyard.
Prediction: Saints 34, Redskins 23
Final Score: Redskins 40, Saints 32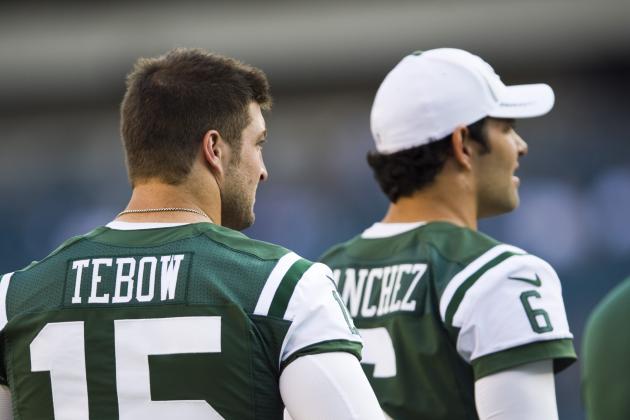 Howard Smith-US PRESSWIRE

The pressure's on the Jets after an offseason in which they stayed in the media spotlight and a totally inept preseason.
The new-look Bills have a lot riding on this game too, especially with many experts picking them to end their 12-year playoff drought.
Mario Williams looks to wreak havoc on Austin Howard en route to Mark Sanchez, and Stevie Johnson and Darrelle Revis rekindle their intriguing one-on-one battle on the outside.
The magnitude is always heightened in Week 1 divisional matchups, and we're in for a tightly contested game here.
Rex Ryan's complex and assailing defense could cause problems for the Bills spread offense, but Buffalo's head coach, Chan Gailey, leans on his talented running tandem of Fred Jackson and C.J. Spiller to squeak out a road victory.
Prediction: Bills 20, Jets 17
Final Score: Jets 48, Bills 28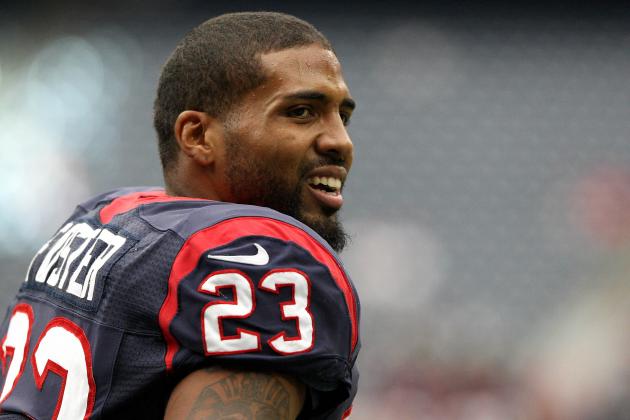 Troy Taormina-US PRESSWIRE

HBO's Hard Knocks gave us a glimpse of the Miami Dolphins' inner workings this preseason and all the decisions that led up to their season-opening road game against the Houston Texans.
Ryan Tannehill showed flashes of his upside in the exhibition outings, but overall, the Dolphins are not nearly as talented from a personnel standpoint as this Texans team that won a playoff game a year ago.
Matt Schaub has recovered a from foot injury that ended his 2011 season early, and Houston will likely rely on Arian Foster and Ben Tate—arguably the AFC's most intimidating running back duo.
Their defense will be without Mario Williams, but the front seven and secondary is solid from defensive tackle to safety.
The Dolphins simply don't have the firepower on offense or the capability on defense to get into any kind of rhythm against this Texans team.
Prediction: Texans 31, Dolphins 10
Final Score: Texans 30, Dolphins 10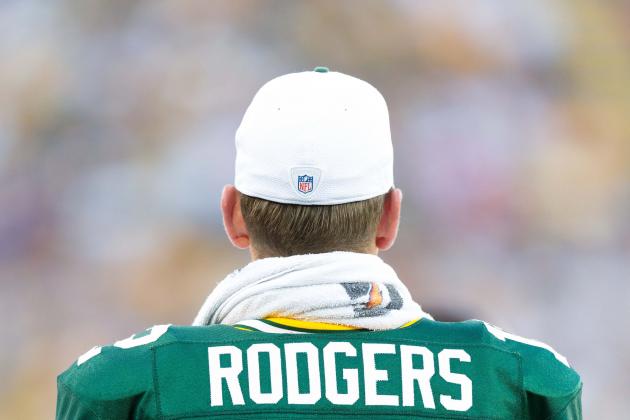 Jeff Hanisch-US PRESSWIRE

The unquestioned game of the week—a classic explosive offense vs. stingy defense battle.
Aaron Rodgers was amazing in 2011, and the 49ers defense was consistently the most stout unit in football, led by Patrick Willis, Justin Smith and Aldon Smith.
Green Bay is hard to beat at Lambeau Field, but San Francisco won six road games last year.
Jim Harbaugh infused offensive weapons into the offense, including Randy Moss, Mario Manningham and first-round pick A.J. Jenkins.
This will be a physical, highly entertaining showdown that will be competitive until the last minutes of the fourth quarter.
Prediction: Packers 27, 49ers 20
Final Score: 49ers 30, Packers 22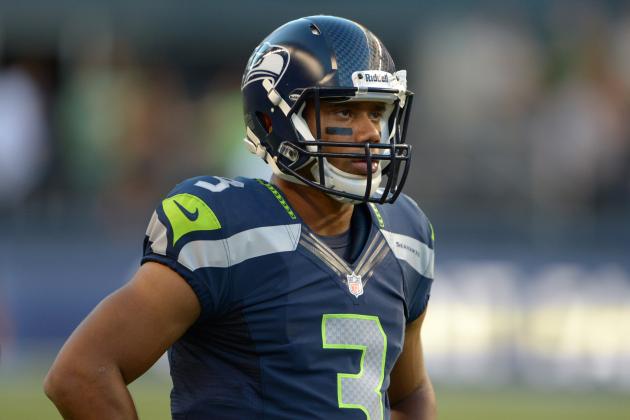 Kirby Lee-US PRESSWIRE

Russell Wilson stunningly stole the starting job from Matt Flynn this preseason, as the former Wisconsin quarterback's arm strength, accuracy and nimble running ability allowed him to showcase his exciting style of play.
The Cardinals, on the other hand, aren't as sternly set on a quarterback. John Skelton will get the start in the home opener, but he wasn't much better than a severely disappointing Kevin Kolb this preseason.
Both defenses are better than people give them credit for, but Seattle's group has top-10 talent.
Wilson, a sound running game and enough plays on defense will lead to a statement win to begin the year against a divisional opponent.
Prediction: Seahawks 24, Cardinals 13
Final Score: Cardinals 20, Seahawks 16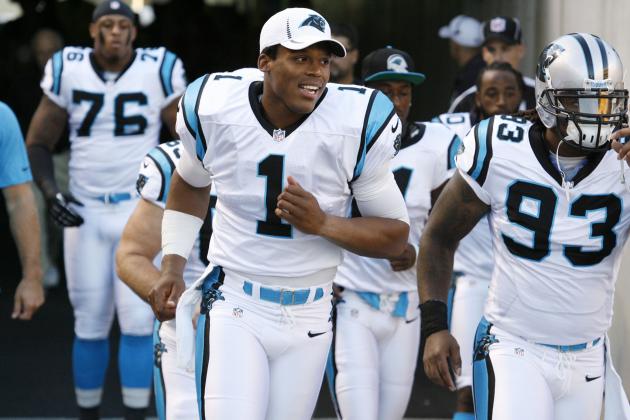 Charles LeClaire-US PRESSWIRE

The Buccaneers start a new era with Greg Schiano at the helm and many youngsters in key positions. Josh Freeman should bounce back from a 2011 season in which he significantly regressed.
Unfortunately for Tampa Bay, it has to deal with the transcendent Cam Newton—a legitimate dual-threat signal-caller with unlimited athletic ability.
Neither defense was solid last year, but the Panthers should have an easier time slowing down the Bucs offensive attack.
In a close game filled with many explosive plays, Carolina wins a close one.
Prediction: Panthers 27, Buccaneers 24
Final Score: Buccaneers 16, Panthers 10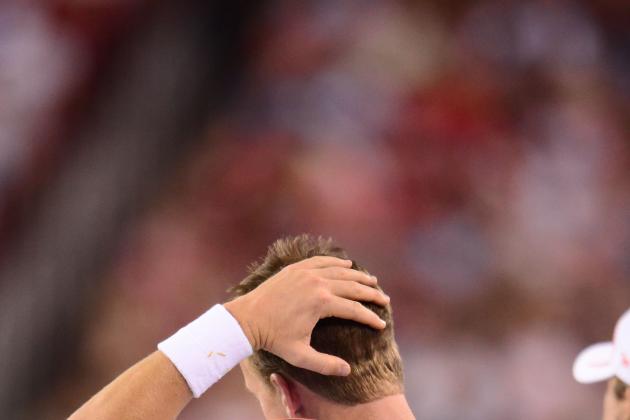 Mark J. Rebilas-US PRESSWIRE

How good can Peyton Manning make the Broncos?
That's the question many are asking themselves as the Broncos host the Steelers in his Denver debut.
He has two talented pass-catching options in Eric Decker and Demaryius Thomas, and his defense boasts a spirited edge-rushing duo of Elvis Dumervil and Von Miller.
The Steelers cannot ever be taken lightly, though, especially with a healthy Ben Roethlisberger and Troy Polamalu.
Pittsburgh's offense line will have its hands full. And on defense, the Steelers will miss safety Ryan Clark, who can't play due to his sickle cell trait and the high altitude in Denver.
It'll be a vintage clash between two of the game's toughest competitors at the quarterback position, with Manning emerging victorious.
Prediction: Broncos 23, Steelers 20
Final Score: Broncos 31, Steelers 19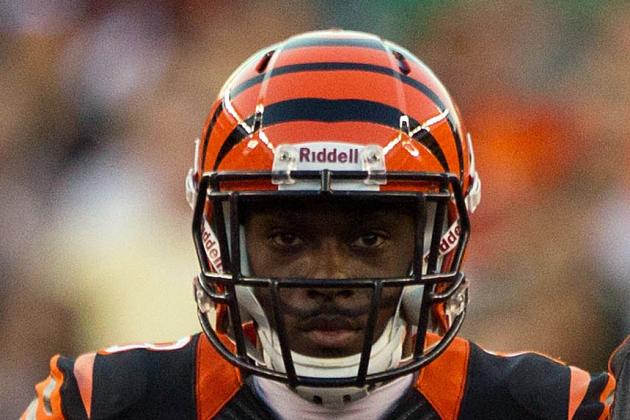 Rob Leifheit-US PRESSWIRE

What a way to kick off Monday Night Football.
The sophomore duo of Andy Dalton and A.J. Green look to get their first win over the reigning AFC North champion Baltimore Ravens in a contest that should feature many crushing hits and a surprising amount of big plays.
Joe Flacco's offense has experimented with the no-huddle—a decision that could potentially lead to better overall production in the 2012 season.
Ray Rice is arguably the game's most versatile back, as he lead the NFL in yards from scrimmage in 2011. His role won't be diminished this year, that's for sure.
The Ravens get their first taste of life without Terrell Suggs, which won't be fun.
Cincinnati is an up-and-coming contender, one that should perennially battle for a spot in the playoffs as long as Green is the focal point of the offense.
Another wildly captivating battle that goes down to the final few possessions.
Prediction: Ravens 20, Bengals 17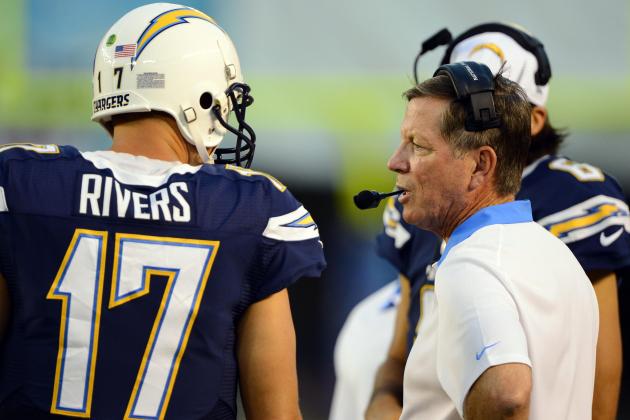 Christopher Hanewinckel-US PRESSWIRE

The Chargers have some new pieces in place, like Robert Meachem, Melvin Ingram and Eddie Royal. According to the San Diego Union-Tribune, injured running back Ryan Mathews won't go until Week 2, so Ronnie Brown will accept the starting role against the Raiders.
Oakland is always hard to figure out, but a healthy Darren McFadden is undoubtedly one of the more prolific runners in the league.
With Philip Rivers still throwing passes, San Diego's offense should have its way against the Raiders, and Carson Palmer may struggle dealing with the Chargers' complex blitz packages.
In a game that is competitive in the first half, the Chargers emerge as the better team in the third and fourth quarters.
Prediction: Chargers 27, Raiders 14