Soccer: Lessons to Take into Ukraine Clash from England's 5-0 Moldova Win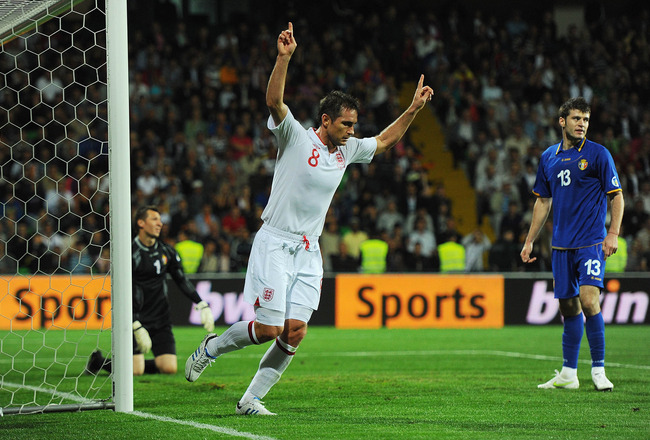 Michael Regan/Getty Images
England cruised to a 5-0 win over Moldova to get their qualifying campaign for the 2014 World Cup in Brazil off to a fantastic start.
It was important that England avoid an upset against their unheralded hosts, so the first pothole on the road to qualification has been successfully dodged.
The match might have been rather one-sided, but that does not mean there were not any lessons to be learned heading into England's home match against Ukraine next week.
So, here are five things that Roy Hodgson and the England squad should be thinking about as they prepare for Tuesday's clash.
A Good Start Matters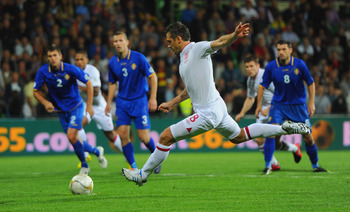 Michael Regan/Getty Images
England got up and running against Moldova straight away. They immediately dominated possession and kept Moldova on the defensive.
The penalty in the third minute undoubtedly helped set the tone for the rest of the fixture, but the important thing was that before and after the goal England did not give Moldova a chance to settle.
That opening spell of dominance gave England total control of the game. Without it, England would, in all likelihood, still have won comfortably. However, the strong start effectively killed off any chance of an upset and made the evening far less stressful than it might otherwise have been.
Ukraine will present a far tougher test of England's abilities, and they certainly won't let the Three Lions dominate so easily. However, getting stuck into the game right from the start will prevent Ukraine from getting settled and will force the Euro 2012 co-hosts to chase the game.
Keep It Simple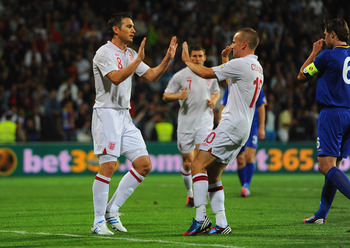 Michael Regan/Getty Images
One of the most noticeable features of England's play against Moldova was that it succeeded when it was simple. Every time someone tried an unnecessary back heel, a clever headed pass back to the goalkeeper or a piece of overly complicated footwork, things went wrong.
Attacks were broken up when easy options were ignored in an attempt to go for glory; Glen Johnson provided Moldova with their best chance of the night with his headed cross. Alex Oxlade-Chamberlain got into trouble when he attempted to use clever footwork instead of merely putting the ball past a defender and chasing the ball down.
Whilst none of this caused England any real harm against Moldova, Ukraine has the players to take advantage of these errors and Roy Hodgson must do his utmost to prevent those mistakes occurring.
The English national side is not blessed with the technical genius of the likes of Brazil, so it makes sense to play simple passes, build pressure and look for openings.
It was noticeable that England's second and third goals were created by simple, but high quality passes. There was nothing overly intricate about them, but that does not make them any less effective.
Ukraine will, obviously, defend better, but England still have the players to exploit gaps and score goals without flicks and tricks that are likely to waste possession and catch England out of position.
Youth + Experience = Success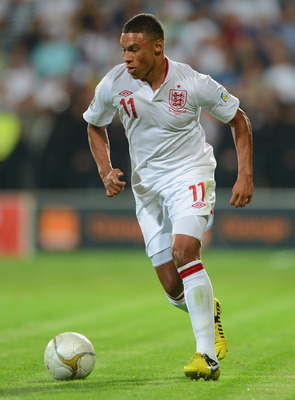 Michael Regan/Getty Images
England's match against Moldova saw Roy Hodgson field an interesting balance of youth and experience.
With Steven Gerrard and Frank Lampard playing as holding midfielders, there was certainly plenty of international experience in the centre of the pitch. However, Alex Oxlade-Chamberlain and Tom Celverley's presence it is clear that the days of England's "Golden Generation" are numbered.
Both Cleverley and Oxlade-Chamberlain put in good performances and made tangible contributions to the victory.
Manchester United's Cleverley linked up well with Gerrard and Lampard and looked comfortable in a more attacking role than he is used to.
Arsenal's Oxlade-Chamberlain, meanwhile, looked excellent going forwards, especially when on the ball, but also worked back well and clearly isn't afraid to make a tackle, something Theo Walcott has often been accused of.
England are in an important transition phase as a new generation of players are pushing for inclusion in the national side.
The performances of the younger players against Moldova suggest that young players like Cleverley and Oxlade-Chamberlain can benefit from playing with the more established England players, which suggests now would be a good time to start integrating the likes of Kyle Walker and Ryan Bertrand into the side.
Take Your Chances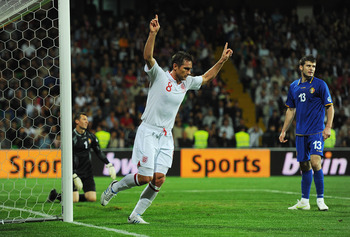 Michael Regan/Getty Images
England created bundles of chances against Moldova. According to the BBC, England had 17 shots, 11 of them on target.
Whilst a 5-0 win is nothing to be scoffed at, the fact is that England should have scored more. There were shots wastefully put wide, crosses that failed to beat the first man and passes straight to defenders.
Against a side like Ukraine, chances will be harder to come by and need to be converted far more consistently.
It is easy to not be too concerned about wasting opportunities when more are bound to come your way against a side like Moldova, but it is hardly good practice.
Roy Hodgson needs to install a ruthless mentality into his England side and he should be doing everything in his power to make sure as few chances as possible go to waste at Wembley next week.
Decisiveness is closely linked to that ruthlessness. England must make decisions faster when attacking than they did against Moldova.
The fourth goal was scored despite Theo Walcott's failure to play a pass early and Tom Cleverley's indecision over whether or not to shoot. If it had been Ukraine defending, the chance would probably have been wasted.
An Easy Match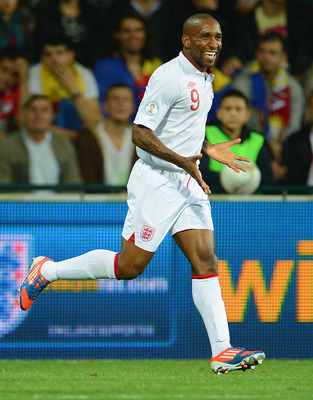 Michael Regan/Getty Images
Perhaps the most important thing to remember in the build up to the Ukraine game is that this was a very easy game against a vastly inferior team.
The FIFA rankings may not be perfect, but they certainly give you a general idea of how good a team is. Ukraine is ranked 39th, Moldova 141th.
Whilst it has clearly got England off to a good start, this game should not be viewed as a sign that qualification will be easy.
Complacency is one of the most dangerous states of mind for any sportsman to hold. It is important that the less experienced international players, including those who didn't feature against Moldova, are prevented from believing that the game against Ukraine will be nearly as easy.
There is certainly a lot to be improved upon, and it is important that the England squad understands that improvements must be made. Ukraine will not be bullied and have more than enough about them to cause England real problems.
Keep Reading

England (National Football): Like this team?