NHL Players We All Root For, No Matter What Team We Support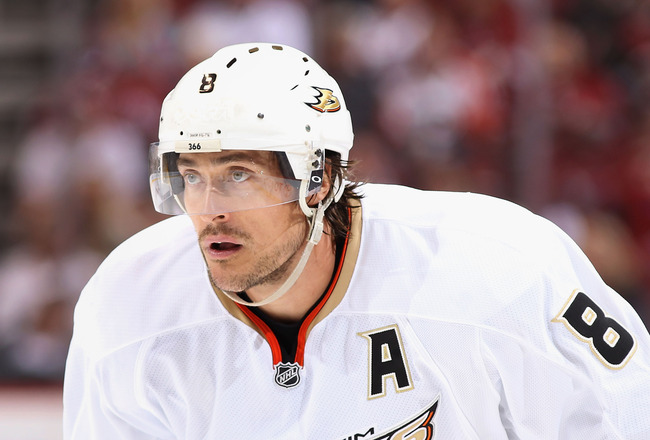 Christian Petersen/Getty Images
Most sports fans have a favorite team and their loyalty to that team runs deep.
As the saying goes, the crest on the jersey is more important than the name on the back. With that in mind, today's favorite player can be tomorrow's sworn enemy: all it takes is a trade or the signing of a free-agent contract or vice versa.
A perfect example was last summer's announcement that Jaromir Jagr had signed with the Flyers.
When Jagr played for the opposition he was taunted with whistles every time he took the ice and in his early mullet-wearing days he was often greeted by Aerosmith's "Dude (Looks Like a Lady)" blasting through the PA. Times have changed and not too long into the season he was a Philly favorite, even if it was somewhat begrudging on the part of some Flyers fans.
Somewhat surprisingly there are some players out there that the majority of fans, no matter what team they support, want to see succeed. Granted this is a small list, but there are a handful of NHL players we all (or at least should) root for no matter what team they play for.
Pavel Datsyuk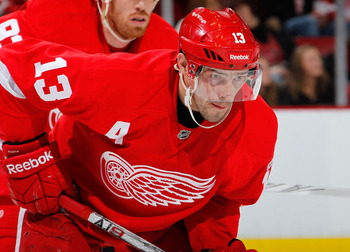 Gregory Shamus/Getty Images
One of the most well-rounded players in the game today, Pavel Datsyuk was passed over by every NHL team on more than one occasion during the 1998 NHL entry draft, going 171st overall.

Today, you can bet that each and every NHL GM wishes Datsyuk was wearing the sweater of the team that they represent. Perhaps they will get the chance to turn that hope into reality, as Datsyuk will become an unrestricted free agent at the end of the 2014 season, but I wouldn't hold my breath on that one.

When the NHLPA conducted their 2012 players poll, one name stood out and that name was Pavel Datsyuk. His peers voted him tops in six categories, including smartest player, toughest forward to play against and cleanest player.

With credentials like that and a long list of NHL hardware to his name, it's hard to root against someone like Datsyuk.
Martin St. Louis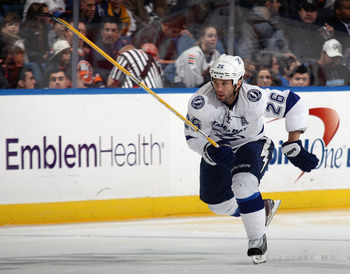 Bruce Bennett/Getty Images
Everyone loves an underdog and as such everyone should cheer the Tampa Bay Lightning's Martin St. Louis each and every time he steps on the ice.
The 5'7" winger went undrafted after playing for the University of Vermont and saw himself released by two NHL clubs, the Ottawa Senators and Calgary Flames, before he caught on with the Tampa Bay Lightning.

His first two seasons with Tampa Bay were not Earth-shaking; he put up 40 and 35 points. In his third season, however, he racked up 70 points, and then hit 94 and eventually 102 points. Over his career, the diminutive player has played in 931 games and put up 852 points.

In 2004 St. Louis took home a fair share of hardware, winning the Art Ross Trophy, Lester B. Pearson Award, Hart Trophy as well as the Stanley Cup.

Not bad for a kid that was initially passed over by every NHL hockey club.
Jarome Iginla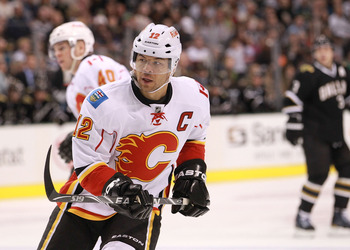 Ronald Martinez/Getty Images
Jarome Iginla has played every one of his 1188 NHL regular season games for the Calgary Flames.
For the past few years, when free agency would roll around, the fans, players and general managers of the 29 other NHL clubs would wait for Iginla to declare that he would like to bolt from the struggling Flames and get his chance for a Stanley Cup. It never happens. Iginla soldiers on with the Flames even when things look extremely dim for the team.

Iginla is the consummate team captain. He leads by example and plays with a high level of skill. He's everything a player could want in a teammate and everything a fan expects from a true hockey player.

Iginla deserves to play for a Cup-winning team, much in the same way that Raymond Bourque did when he moved from the Boston Bruins to the Colorado Avalanche.
And just like when Bourque raised the Cup in 2001, you can rest assured that if Iginla gets the same opportunity and realizes the dream of every hockey player, there will not be a dry eye in the house.
Shane Doan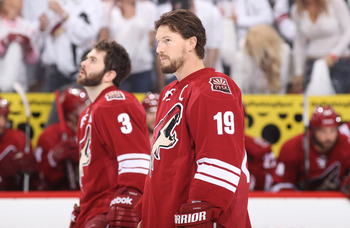 Christian Petersen/Getty Images
Shane Doan is beloved for pretty much the same exact reasons that Iginla is loved for.
He's a player that has spent his entire career with the same franchise and has captained that team, the Phoenix Coyotes through good times and bad.
Now, with his career winding down, he is giving that franchise more than adequate time to sort out their ownership issues before he puts his name on his next contract.

Doan has significant free-agent offers from a handful of teams, but he has made it clear that he wants to stay in Phoenix if they can get their ownership situation wrapped up by September 15.
Doan could have fled the desert on July 1 when he became an unrestricted free agent for the first time in his career, but he didn't. His loyalty to his team is the main reason he is a popular figure in the NHL.
Teemu Selanne
Christian Petersen/Getty Images
He's been playing in the NHL so long it's hard to imagine a season without Teemu Selanne.

The 42-year-old is set to play in his 20th NHL season this year, suiting up for the team that he has played most of his career for: the Anaheim Ducks. Hopefully a lockout can be avoided and Selanne will be able to take the ice for that milestone season.

Why is Selanne so beloved?
It could be his speed, his skill, his exuberance or the fact that he just seems to love his job and his co-workers.
I know he plays hockey for a living, something that many of us would kill to do for just one game, but to play at the level he has played at for as long as he has and to take the abuse his body has over that time, it would be easy to imagine that some of the appeal would wear off after a while.
We root for Selanne because he still seems to love the game as much today as he did when he broke into the league with the Winnipeg Jets in 1992-93.
It will be a sad day when he hangs up the skates.
Keep Reading