Detroit Lions Week 2 Position-by-Position Preview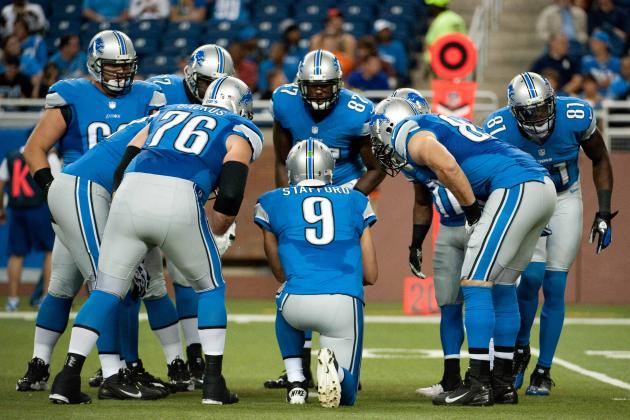 Tim Fuller-US PRESSWIRE

In Week 6 last season, the Detroit Lions lost a heartbreaker at Ford Field to the San Francisco 49ers. In the process, their five-game winning streak was ended and Jahvid Best was lost for the year.
Needless to say, the sting from that loss has not completely vanished.
That's why the Lions Week 2 matchup against the Niners is highly anticipated. There's no shortage of storylines, and there's no shortage of ill feelings between the two teams.
The NFL will go out of it's way to take advantage of this fact. In particular they'll replay "handshake-gate" a million times to remind people how much these teams—and their coaches—hate each other.
Don't believe the hype because that's all it is.
Jim Schwartz and Jim Harbaugh are two highly competitive people and that's all their "altercation" was. They are past it, and so are their teams.
The real story take place on the field, between the hash marks, not on the sidelines.
Both teams are 1-0, though they got there in very different ways. The Lions eked out a win over a below-average team with late-game heroics, and the Niners beat an annual powerhouse in convincing fashion.
They both, however, start with clean slates on Sunday night. The Niners will try and maintain their current place atop the NFL mountain. The Lions will look to play spoiler, exact revenge for last season's defeat and knock them off it.
* All stats provided by ESPN.com
Begin Slideshow

»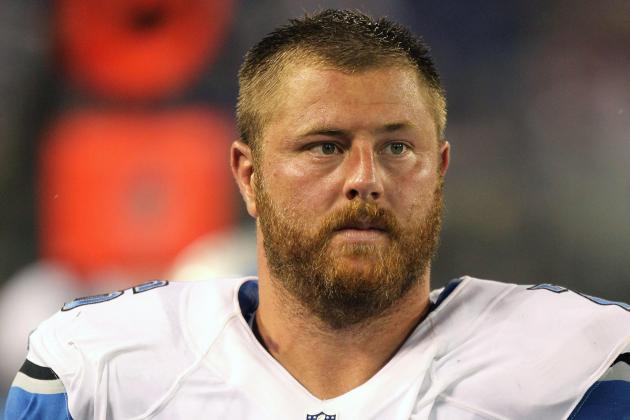 Mitch Stringer-US PRESSWIRE

The goal for Detroit's offensive line is simple: Don't let the Niners' vaunted defense touch Matthew Stafford. If the line accomplishes that feat, they'll have done a great job.
If they're also able to open up running lanes for Kevin Smith, as they did against the Rams in Week 1, it will be icing on the cake.
Neither tasks will be easy though.
San Francisco has one of the best—if not the best—defenses in the NFL. They sacked Aaron Rodgers three times last week.
The Lions' line must protect their most valuable asset better than that.
The Niners also only gave up 45 yards rushing and only 18 yards to the Packers' best runner, Cedric Benson.
The Lions' won't try to run all over the Niners, but they'll try and do better than that. If the line can spring Kevin Smith for a couple big gains that might be the best they can hope for.
This will be an early season test for the Lions' in the trenches, and if they're able to have success, it will be an early momentum builder for the rest of the season.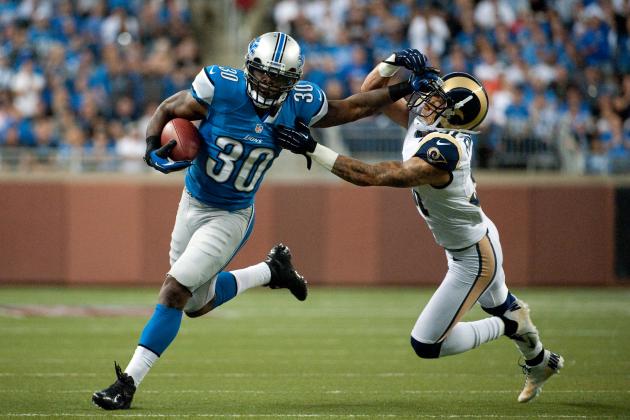 Tim Fuller-US PRESSWIRE

Against the Niners, establishing a running game will be tall order for the Lions and their beleaguered rushers. Even with a power-rusher like Mikel Leshoure, the Lions would be hard pressed to equal their success on the ground from last week.
Unfortunately Leshoure is another week away, so it's going to be even harder.
As a team, the Lions gained 4.6 yards a carry for 85 yards total against the Rams. For a team missing their top two rushers, Leshoure and Jahvid Best, that qualified as a success.
It's hard to imagine Kevin Smith and company repeating it though. If it happens, great, but no one should hold their breath.
The Lions will try to establish the run, but their rushers will likely have more success if they're utilized primarily out of the passing game. Like Best, Smith is versatile enough to be very effective catching passes in the flat and running screens.
He's not nearly as dynamic as Best but he can still have success. Stephan Logan is another "hyprid' type of back that can be used in this way.
The Lions already use their backs in this way, but against the Niners they'll have to do so even more than usual.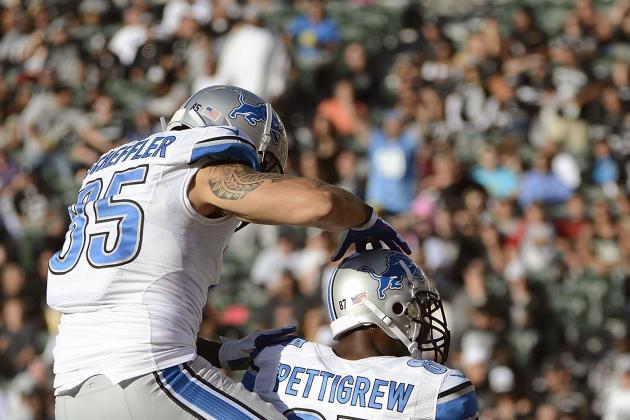 Thearon W. Henderson/Getty Images

In order for the Lions to have their best chance to win, their tight ends have to be active. Which basically means they need to do exactly what they did last week.
Both Brandon Pettigrew and Tony Scheffler were very active in the passing game against the Rams. Both players caught five passes each for a combined 107 yards.
Will Heller even caught two passes.
The area they need to improve upon is their pass-to-catch ratio. Pettigrew was targeted 10 times and Scheffler eight. That is eight passes between them that were off-target, dropped or intercepted.
Every incomplete pass is not their fault. However, they can eliminate the drops. Pettigrew in particular had two big ones, including one in the end zone.
They'll need to eliminate these kinds of mistakes to beat the Niners.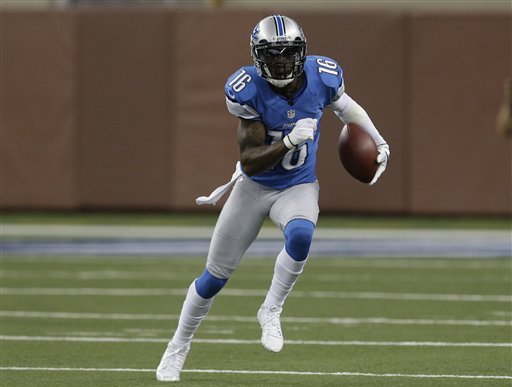 summergames.ap.org
The No. 1 rule for the Lions receivers is that Titus Young needs to stay on the field.
Last Sunday, he found himself firmly planted on the bench after yet another unnecessary penalty. He obviously has a problem controlling his emotions. He's also immature, and this will likely not be the last time he draws the ire of Jim Schwartz because of it.
With that said, he should be able to keep his emotions in check this week.
With a benching fresh in his mind, Young should be able to hold it together. Four quarters of football from him will certainly benefit the Lions' chance of success.
It would also benefit the Lions greatly if Calvin Johnson hits pay-dirt once or twice. The Niners were able to keep him out of the end zone last season.
That might actually be a good omen for Detroit. After all, it's hard enough to keep Johnson out of the end zone once. Doing it two years in a row is significantly harder.
Tim Fuller-US PRESSWIRE

Ultimately, Matthew Stafford demonstrated why he is an elite quarterback last week, against the Rams.
Despite having the worst half of football of his career—three interceptions—he wasn't shaken. When it was crunch time, he didn't doubt his ability. He stood in the pocket and slung the ball down the field and led his team to victory.
That is why the Lions never think they're out of a game. Stafford has done it too many times to have any doubts.
With that said, against a much better San Francisco defense, Stafford can't afford to make so many mistakes, because the Lions might not have that many trips into the red zone.
As good as their offense is, if there's a defense that can limit them, it's the Niners.
Stafford will have to take advantage of every scoring opportunity the Lions have, especially in the red zone. Even if they don't punch it in, they'll need to come away with points.
If they have to settle for field goals, that's okay. This matchup will be a relatively low scoring affair, so putting points on the board is the name of the game.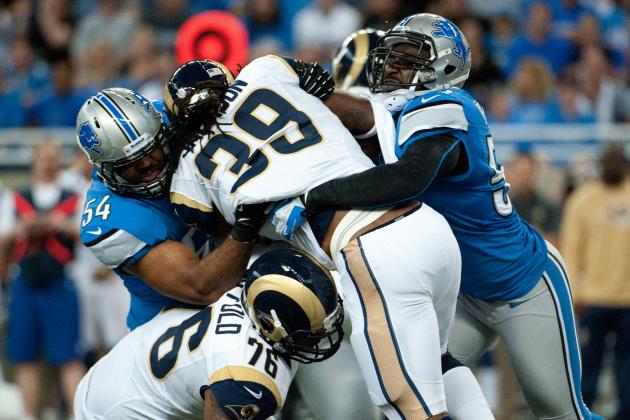 Tim Fuller-US PRESSWIRE

Detroit's linebacking unit did a great job in Week 1. They were key in limiting the Rams' all-world running back Steven Jackson to only 53 total yards.
They not only stopped him when he busted through the line, but they also had a number of stops behind the line of scrimmage.
Stephen Tulloch, Justin Durant and DeAndre Levy accounted for 37 tackles and Durant in particular had two tackles for a loss.
Against an equally talented rusher like Frank Gore, they will need to have a similar performance.
Gore torched the Lions last season for 141 yards and a touchdown. If he does that again, the Lions will have a difficult time securing the win.
If they can limit Gore, the game will rest on the shoulders of Alex Smith and the Lions certainly prefer it that way.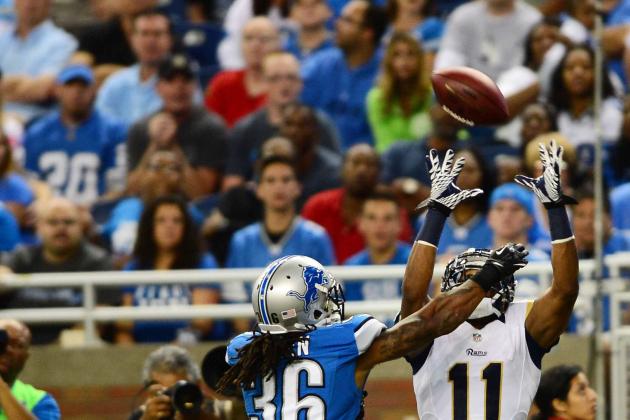 Andrew Weber-US PRESSWIRE

Like their rushers, the Lions' secondary is not at full strength. That seems to be a theme year-to-year in Detroit.
Chris Houston will be back, but he might not be 100 percent. Bill Bentley will likely be out with concussion symptoms and Louis Delmas is still recovering from knee surgery. For those reasons, the secondary is still the Lions' weakest link.
To make matters worse, the Niners receiving corp is much improved. Randy Moss and Mario Manningham are added weapons that Alex Smith did not have last season, and they lit up Green Bay's secondary for 211 yards and two touchdowns in Week 1.
As always, the Lions are hoping their defensive line pressures Smith enough so that their secondary isn't challenged
Realistically, that might be the best they can hope for.
They still have to play a solid game though. That means keeping receivers in front of them and minimizing the Niners' big-play potential.
Fans have seen this bend-but-don't-break philosophy before, and if the secondary can do that, consider it a success.
Tim Fuller-US PRESSWIRE

If people are talking about Ndamukong Suh and Nick Fairley after the game, it will be a good sign that the Lions were victorious.
They have one of the most dynamic offenses in the NFL, but the key to the Lions being contenders in 2012 is their defensive line.
Fans have heard for two years that the line has the potential to be one of the best in the league. Yet they have not lived up to those lofty expectations. Last week, they moved a bit closer.
Suh, Fairley and the rest of the line stepped up and created havoc for Sam Bradford and the Rams. They knocked him around, chased him out of the pocket repeatedly and tallied four sacks for 25 yards lost.
They'll need a repeat of that on Sunday night. In fact, they'll have to do better. Particularly, the ends.
Cliff Avril and Kyle Vanden Bosch were, for the most part, held in check against the Rams. They'll need to provide a stronger pass rush and a big play or two to give the Lions a chance.
Last season, Vanden Bosch sacked Alex Smith and recovered the fumble on the Niners' first play from scrimmage. It was a huge momentum builder for Detroit.
We all know how that game turned out, but those kinds of plays will go a long way in Detroit coming out of San Francisco with a win.