Detroit Pistons: 1 Burning Question Facing Each Team Member in 2012-13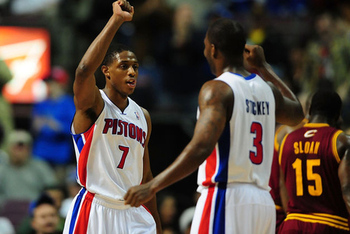 detroit.sbnation.com
The Detroit Pistons will be an interesting team to watch this year. They're young, exciting and they quietly improved last season. They're a team poised to make some noise in the Eastern Conference.
Of course there's also the possibility that noise won't be anything more than a small whimper. The Pistons could fail to take any steps forward and remain a have-not in the Eastern Conference.
The Pistons finished strong last year though, playing .500 basketball the last half of the season. For that reason, optimism in Motown is high for 2012-13.
Their young core of talent remains intact and they've mixed in some key veterans to balance things out. The rookies that Pistons' GM Joe Dumars acquired via the draft will also play an important role.
How much of a role is the big question. In fact, there are many questions looming as the regular season approaches.
Here are the biggest questions facing each player on the Pistons' roster.
15. Khris Middleton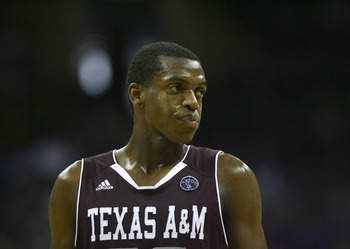 Ed Zurga/Getty Images
Will Middleton ever find his way off the bench?
Khris Middleton was the last rookie Pistons' GM Joe Dumars signed this offseason. He also filled the last roster spot.
It was very possible that if Ben Wallace had returned, Middleton would have been assigned to the D-League or waived before he was given a chance to make a name for himself in Detroit.
He will at least have this year. His chances of making a name for himself are slim though.
The Pistons roster is overrun with small forwards, and Middleton will have a hard time cracking the rotation. He has veterans like Tayshaun Prince and Corey Maggette in front of him, as well as young players like Austin Daye and Kyle Singler that the Pistons are invested in.
Middleton will need to show something special during camp to catch head coach Lawrence Frank's eye and earn regular playing time.
More than likely, Middleton will take his seat on the end of the bench, and 2012-13 will be a year to watch and learn—and play the occasional garbage-time minutes.
14. Will Bynum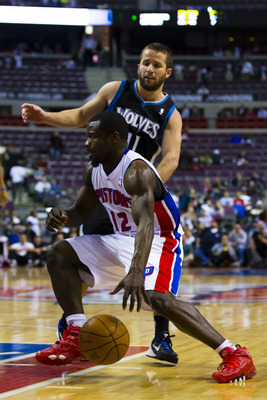 Rick Osentoski-US PRESSWIRE
Will Bynum's role expand as the primary backup to Brandon Knight?
If last season is any indication, the overwhelming answer would be "no." Bynum had his least productive year since his rookie season of 05-06. He only played in 36 games, averaged 14.3 minutes and 5.7 points per.
Most damning was his .382 FG percentage and 1.8 assists per game.
To make matters worse, Bynum is an undersized defensive liability, and there's every reason to believe that was the cause for his major drop off in minutes.
If you can't play defense, Lawrence Frank will find someone who can.
Bynum has always been a good slasher/scorer but the Pistons have enough of those. They need someone who can distribute and play D.
If he devotes himself to those two things, he would greatly improve his chances. If not, look for an even smaller role next season. A trade would also not be out of the question.
*Stats courtesy of ESPN.com
13. Slava Kravtsov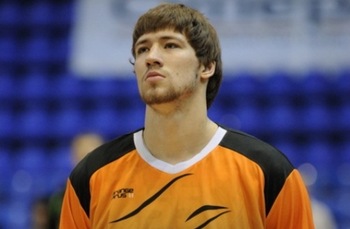 kyivpost.com
Can Kravtsov back up that impressive highlight reel that every Pistons fan has seen?
When it was announced that the Detroit Pistons signed Slava Kravtsov earlier this offseason, there wasn't a single fan who said, "Yeah, great move."
That's because no one had any idea who he was.
He's never played basketball on American soil so there was no tape to go on. Then this little gem revealed itself, and Pistons' nation rejoiced.
The tape shows a 7-footer who is strong, can block shots with authority, can run the floor and finish on the break. It also shows that the Ukrainians love the alley-oop, but that's beside the point.
Pistons fans can't get carried away about his potential just yet. That tape was against Ukrainian talent. Kravtsov hasn't played against NBA talent yet.
That's why he'll be a project, and his playing time will rise and fall as he goes through a transition period. That's not to say he can't have an impact.
Even if his offensive game is nonexistent, he can pair up with fellow rookie Andre Drummond to form an intimidating defensive presence in the middle.
Maybe he can throw down a couple alley-oops along the way too.
12. Jason Maxiell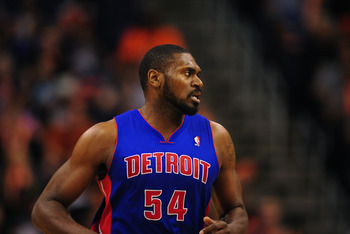 Mark J. Rebilas-US PRESSWIRE
Can Maxiell convince the Pistons that he deserves another contract?
Although Joe Dumars said all the right things this offseason, it was widely assumed that if not for Jason Maxiell's player option, the Pistons would not have retained his services for the season.
It's not like the Pistons are shoving him out the door though. Maxiell's always been a class act and a valuable contributor for Detroit. In fact, last season he was the spark that ignited the Pistons turn around after a dismal start.
However, the Pistons had an infusion of youth during the offseason, and they're a different team now. His role could very well disappear.
Even with another season like last, it's hard to imagine the Pistons will have the available resources—or the roster spot—to keep him around.
11. Austin Daye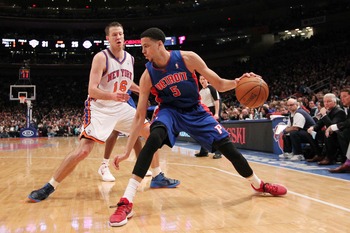 Anthony Gruppuso-US PRESSWIRE
Can Daye get his groove back?
Sometime during the NBA lockout Austin Daye was the victim of larceny. Someone stole his groove and he wasn't able to find it all year.
The season was supposed to serve as his coming-out party. Instead his performance got him buried on the bench.
Daye lost his shooting touch, which is the very thing that makes him so unique. He's nearly seven feet tall, so it goes without saying he's a good shot blocker and rebounder. What set him apart, though, was his accurate long-range jump shot.
It failed him last year.
Without it he was simply too much of a defensive liability to keep on the floor. He averaged less points than his rookie year, and his shooting percentage was far worse.
The good news is that he showed major bounce back during the Pistons' summer league in Orlando. He was the best Piston on the floor and was one of several players in the running for camp MVP.
He will need to build on that success to avoid a repeat of last year.
10. Corey Maggette
Sam Sharpe-US PRESSWIRE
Can Maggette provide enough of an offensive spark to outweigh his defensive liability?
Joe Dumars pulled off a shrewd move when he traded Ben Gordon to the Charlotte Bobcats for Corey Maggette prior to the draft. The key to the deal was the financial flexibility Detroit gained by unloading Gordon, and it's likely Maggette will only be in Detroit for one year.
On paper, Maggette doesn't exactly fit into the Pistons game plan. Lawrence Frank preaches defense, and historically Maggette doesn't play any. We've already seen several Pistons' players benched because of similar liabilities—Austin Daye and Will Bynum.
However, Maggette can still score. The question is can he do so effectively, within the Pistons system? He also has a reputation as a selfish player who shoots first and passes second.
He'll come off the bench, and it will be interesting to see how he adjusts to a team in which he's not the first, second or third scoring option.
It will be up to him to find his niche. In a contract year it certainly would benefit him to do so. He's playing for the Pistons this season, but his performance will have a huge impact on his destination next year.
9. Kim English
Nick Laham/Getty Images
Can English become the consistent perimeter threat that the Pistons so desperately need?
Kim English was the last player the Pistons selected in this year's NBA draft. However, he has the potential to be the best pure shooter to come out of that draft.
The Pistons clearly need him to be.
They were one of the worst perimeter shooting teams in the league last year. They ranked near the bottom in field-goal percentage and three-point shooting.
For that reason, English's talents could be relied upon heavily in his rookie year. He joins a team with a role established for him. Not all rookies are that lucky. Just ask Khris Middleton.
English just has to grab hold of it.
The Pistons have veteran players that could fill the role too. Austin Daye and Charlie Villanueva could rebound from poor shooting seasons and challenge him.
English is a better shooter than both of them. For that reason he could get major minutes and give the Pistons a go-to option from behind the arc they lacked last year.
8. Kyle Singler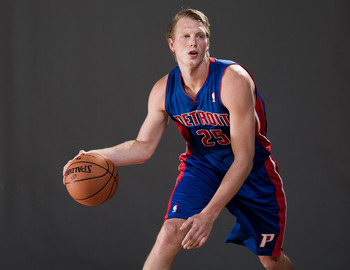 Nick Laham/Getty Images
Will Singler prove that his year in Spain was well spent?
When Kyle Singler announced that he would not return to Detroit when the NBA lockout ended last season, the Pistons and many fans were disappointed and confused.
Why would a rookie want to play in Europe instead of in the NBA, against the best competition in the world?
His motivation for doing so will probably never be known, but looking back, it might not have been a bad choice after all because Singler might not have played that much last season. The Pistons' other second-round draft choice in 2011—Vernon Macklin—struggled to get minutes all year.
Instead, Singler saw plenty of game-time action in Spain. He played 30.6 minutes a game for Meridiano and 19.8 for Real Madrid.
Did it prepare him well for the NBA? Only time will tell. His numbers from three summer league games were solid, but not great. You'd certainly like to see him average more than 2.7 rebounds a game.
7. Charlie Villanueva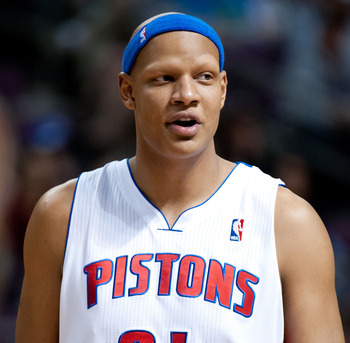 Tim Fuller-US PRESSWIRE
Can Villanueva ever prove his worth to Pistons fans?
At over $8 million a year for the next two, that might be a tall order. On the other hand, Villanueva is healthy and might find life more enjoyable under Lawrence Frank.
Fans need to remember, Villanueva's first two years with Detroit were under John Kuester and we all know how that turned out. It was the worst two years in Pistons history.
Kuester was in over his head, and the players knew it.
That's not to say that Villanueva should get a free pass for his coach's shortcomings. He underperformed, especially for his contract.
However, if you compare his numbers in Detroit with those in Milwaukee, they're not much different. In his third year with the Bucks, his three-point shooting percentage and scoring average improved dramatically.
Coincidentally, this is his third year in Detroit too. Unfortunately it's not a contract year.
Fans will continue to harbor resentment towards him, and they have every right to do so. That won't help him play any better though. The better strategy is to start fresh with Villanueva.
It's a new year, a new coach and he's healthy.
Let's see what he can do.
6. Jonas Jerebko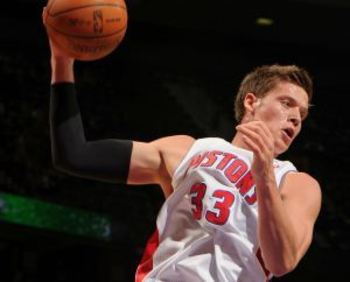 detroit.cbslocal.com
Have the Pistons already witnessed Jerebko's ceiling or can he take the next step?
The Pistons certainly hope not. Jonas Jerebko was an absolute revelation as a rookie in 2009-10. He started 73 games and averaged nearly 10 points and six rebounds per.
Unfortunately his path to NBA stardom was derailed by an Achilles injury that robbed him of his entire sophomore season. When he returned, the Pistons were a new team with a new coach, and his spot in the starting lineup was not reserved for him.
He only started 13 out of 64 games as his numbers fell in every category except free-throw percentage.
Coming back from an Achilles injury is a daunting task, and no one is able to predict if an athlete will ever regain his previous form. With that said, Jerebko wasn't far off.
It's reasonable to think that his numbers would improve this year, regardless if he starts, as long as he gets consistent minutes. The Pistons made a financial commitment to him last offseason so he's clearly one of their key players.
Fans are ready to see him take a leap forward and improve upon that impressive rookie year.
5. Tayshaun Prince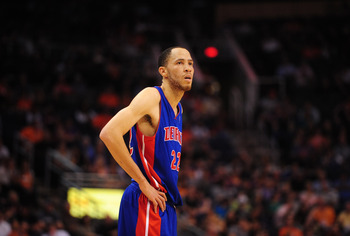 Mark J. Rebilas-US PRESSWIRE
Can the veteran keep his starting job?
Tayshaun Prince is entering his 11th season, and at age 32 it's no shock to observe tell-tale signs of slowing down. He's started nearly every game the Pistons have played for the past nine years.
It's about time the wear-and-tear starts to take it's toll.
Last season it did. He had the worst shooting year of his career, and his points per game average fell by nearly two.
He continues to be one of the Pistons better defenders though, and for that he'll continue to be a regular contributor. That doesn't mean he'll automatically lock down the starting SF job though.
Prince is still valuable, both on and off the court, but the Pistons have young options that will challenge him—particularly if his performance dips any farther.
4. Andre Drummond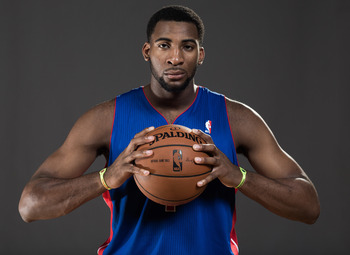 Nick Laham/Getty Images
Beast of the East, or sheepish work-in-progress?
By now, every one knows the storyline. Drummond has all the potential in the world. He's athletic, an explosive leaper, an intimidating defender and an excellent rebounder. He has even been compared to Dwight Howard.
Except Drummond has a jump shot.
At 7'0" and 280 lbs, he sounds like a basketball god. Unfortunately there is a downside. Drummond has been slapped with the "questionable motor" label.
During his first and only year at Connecticut, he apparently took some plays off and didn't always work hard off the court either. News flash: Most college freshmen take days off and don't work as hard as they should.
People need to relax.
The Pistons will do everything they can to inspire Drummond to give it his all every day so that he reaches his full potential.
The truth is: That won't happen this year. He's only 19 years old, after all. That doesn't mean he can't prove critics wrong and show some nastiness though. The Pistons will benefit greatly if he can do that and establish himself defensively.
His offense will come with time. He has plenty of that.
3. Rodney Stuckey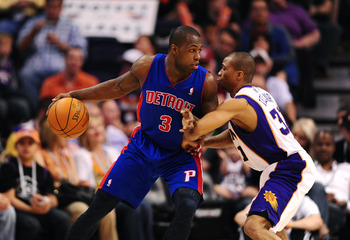 Mark J. Rebilas-US PRESSWIRE
Will this be the year that Stuckey lives up to the lofty expectations set for him his rookie year?
Make no mistake, Rodney Stuckey is a very good NBA player. At his best, he's the best slasher/scorer the Pistons have. In fact, for a month last season (Feb. 14th to March 16th) Stuckey was amazing.
Notable performances during that time were a 34-point effort in a win against Kobe Bryant and the Lakers, and 36- and 35-point outputs in two wins against the Kings.
Unfortunately Stuckey had his bad nights too, such as his 36-minute, seven-point effort against the Clippers on March 18th. He also missed a handful of games to injury.
The problem with Stuckey is that expectations were set too high for him. Joe Dumars hyped him up so much that unless he was an All-Star his rookie year, fans were going to be disappointed.
To make matters worse Dumars traded Chauncey Billups away because he felt Stuckey was ready to take over.
None of this was Stuckey's fault, but he has paid the price. Fans are split on his true value.
This season is his best chance to live up to, and even surpass, those expectations. He's 26 years old, hitting the prime of his NBA career, and the team is ready for him to take the reins.
It's clearly Greg Monroe's team, but everyone will benefit if Stuckey asserts himself offensively on a more consistent basis. He was fourth on the team last season with 10.9 shots a game. He should be first or second.
Tayshaun Prince should clearly not be No. 1.
2. Brandon Knight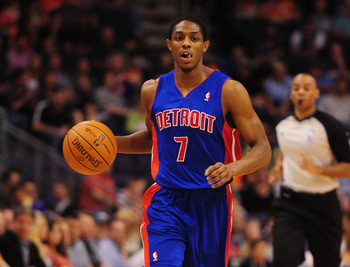 Mark J. Rebilas-US PRESSWIRE
How much growth will Knight show as a point guard?
There are a number of "keys" to the Pistons' 2012-13 season, but none of them are more important than Brandon Knight's development.
He was drafted to be the point guard of the future for Detroit, and they didn't ease him into the role. It was a trial-by-fire as he started 60 out of 66 games. He put together an impressive season and was named to the All-Rookie Team.
For a true point guard though, his season was subpar. He averaged only 3.8 assists, and his assist/turnover was a measly 1.5. By comparison, Chris Paul averaged 9.1 assists per game with a 4.3 A/T.
Obviously no one expected Knight to be Chris Paul right out of the gate, but it does illustrate how far Knight has to go.
If the Pistons hope to improve upon last season, Knight will have to improve his command of the offense. He's already a great scorer and can create his own shots. Now he needs to get better at creating shots for his teammates.
If he does that, the Pistons will finish with more wins than last year.
1. Greg Monroe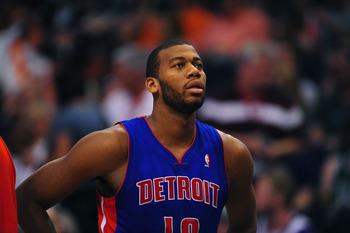 Mark J. Rebilas-US PRESSWIRE
Will Monroe drop the "Best Player Nobody Knows About" tag and finally get the recognition he deserves?
Greg Monroe is the type of star that has always done well in Detroit. He's quiet, works hard, and always performs at a high level. He doesn't complain when his team loses. He takes responsibility and works to get better.
Entering his third season, Monroe has already established himself as Detroit's leader and best all-around player.
Among centers he ranked in the top-10 in both points and rebounds last season—not just in the Eastern Conference, but in the entire NBA.
He was ahead of Marc Gasol and Roy Hibbert in both categories.
Coincidentally, both of those players were selected to the All-Star team while Monroe sat at home and watched the game on TV.
I get it. The NBA is a popularity contest and if your team isn't relevant, chances are you won't be either. Unfortunately for Monroe, the Pistons certainly have not been relevant.
That could all change though, and Monroe can play a major role in getting the Pistons noticed. He had a great year last season, but he can be even better.
Fans will be happy to know that the work he's putting in this offseason should make that a reality.
Keep Reading

Detroit Pistons: Like this team?