5 Great Baseball Cities We Want to See Revived Like Baltimore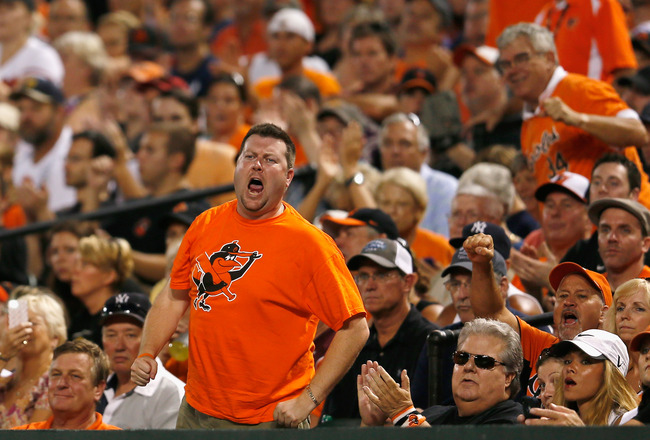 Rob Carr/Getty Images
Oriole Park at Camden Yards provided one of the great spectacles of the 2012 Major League Baseball season on Thursday night.
It's hard to describe, but I can tell you this much: The park was full, it was loud and it was orange.
Seemingly out of nowhere, baseball was back with a vengeance in Baltimore on Thursday night. The Orioles have had other sellouts this season and in recent years, but not like the one they had on Thursday for their game against the New York Yankees. For the first time in a long time, they enjoyed a sellout that consisted of a decidedly pro-Orioles crowd.
Given the way the Orioles have revived their long-lost greatness this season, odds are sellout crowds at Camden Yards are going to be a more regular occurrence from here on out. Baltimore is officially a baseball city again.
The revival of baseball in Baltimore goes to show that there's always hope for once-great baseball cities. Here's a look at five baseball cities that we want to see experience a similar revival.
Note: Attendance figures courtesy of BallparksofBaseball.com.
Atlanta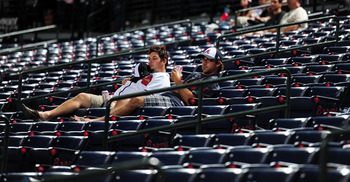 Scott Cunningham/Getty Images
When it comes to Braves fans, I've already done my share of what Cee Angi of The Platoon Advantage calls "attendance shaming." There aren't many more angry things to be said, so I'll just skip it.
I'll just say this instead: I don't get it, guys.
I've admittedly never had the pleasure of taking in a game there, but Turner Field has always struck me as one of baseball's better ballparks. It's certainly a ballpark that deserves to host sellouts on a regular basis.
More importantly, the Braves are a team that deserves sellouts on a regular basis. They've been a really good team for a really long time. The 2012 team is basically par for the course.
Yet it's been over a decade since the Braves last drew over three million fans in a single season, and this year they rank in the middle of the pack in attendance with an average draw of 28,935.
You get the sense that Atlanta fans have gotten complacent. Or maybe "bored" would be a better word. Whatever you want to call it, there's clearly a sense of indifference regarding the Braves that wasn't there when the team was in its heyday in the 1990s.
Like most men (and women, of course) of my generation, I grew up watching Braves games on a regular basis on TBS. I don't know how much my memories reflect reality, but I recall Turner Field being one of the rockingest ballparks in all of baseball back in the day when they had that awesome pitching staff of Greg Maddux, Tom Glavine and John Smoltz, and when Chipper and Andruw Jones were still young men.
I also—and I suspect I'm not alone here—remember thinking that the Atlanta war chant was pretty much the coolest thing ever.
There are flashes of Atlanta's good old days here and there during a given season, but the hype that surrounded the franchise when I was a kid is long gone.
I'm not even a Braves fan, and I miss it. And since the Braves are already a good team, I have no clue what it's going to take to bring the old Braves culture back from the past.
Cleveland
Jason Miller/Getty Images
When I look at today's Texas Rangers, I see a modern version of the Cleveland Indians of the 1990s.
The Indians of the 90s boasted an absurd amount of talent. Jim Thome and Manny Ramirez made for a beastly middle-of-the-order duo, and Kenny Lofton was one of baseball's best leadoff men in those days. Omar Vizquel and Roberto Alomar were the best double-play combination I've ever seen.
The Indians were a national sensation in the 90s, so it goes without saying that they were a local sensation as well. They were drawing over three million people per season by the time the late 90s rolled around, and they ended up leading all of baseball in attendance in 1999 and 2000.
This all feels like ancient history now. The Indians saw an upswing in attendance when they had that great team in 2007, but other than that they've fallen into a pattern of drawing fewer than two million fans out to Progressive Field every season.
They're headed down that same path this season, as the Indians rank 28th in baseball with an average attendance of 20,539 fans.
Chris Perez ripped into Indians fans for their lack of faith in the team earlier this season, but time has proved Indians fans wise for not spending their money on this year's Indians team. After a strong first half, the Tribe has completely fallen off the pace.
There's not a ton of hope for the future either. The Indians don't have a ton of talent either at the major league level or down on the farm—harsh realities that tend to signal that a full rebuild is needed. If the Indians head in that direction, it's going to be a while before the team is playing in front of packed houses every night again.
Which is a damn shame. The attendance figures don't reflect it, but there are still a lot of diehard baseball fans in Cleveland. They will come out to the ballpark if they sense that the team before them is actually worth their attention.
Here's hoping the organization can put a worthy team together before long. Because when Progressive Field is full and buzzing, it puts the final scene of Major League to shame.
Houston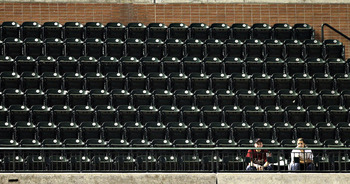 Bob Levey/Getty Images
Baseball hasn't been dead all that long in Houston. It was just seven years ago that the Astros were in the World Series. The year before that, they came within a single game of going to the World Series.
But baseball is certainly dead there now. It's dead and buried. In, like, the very core of the earth.
The Astros rank 27th in baseball in average attendance this season. They're drawing roughly five thousand fewer fans per game than they did last season.
That should give you an idea of how quickly Astros fans are abandoning ship. And for this, they must not be blamed.
Nobody wants to pay to see the Astros right now. Heck, the Astros themselves don't want to pay to see the Astros. They're about as talented as the cast of Jersey Shore, but also half as entertaining (epic burn!).
Given the current state of the Astros, it's easy to forget that they were one of baseball's most exciting and star-studded teams not too long ago. First came Jeff Bagwell and Craig Biggio. Then came Lance Berkman, Roy Oswalt and Billy Wagner. Then came Roger Clemens and Andy Pettitte.
These were some good times, my friends, and Astros fans certainly ate these teams up. The Astros were able to draw as many as three million fans as recently as 2007, and they had few issues with attendance in the early years of Minute Maid Park's existence.
Nowadays, a quick scan of Minute Maid Park during an Astros home game is just as depressing as the Astros themselves. What's even worse is the reality that this is just the beginning of the bad old days for these fans.
They may not be "long-suffering" fans, but no fanbase deserves the hand the Astros fans have been dealt. I sincerely hope that Jeff Luhnow and Kevin Goldstein know what they're doing, because the humanitarian in me doesn't want to see Astros fans put up with the sorry state of the Astros for much longer.
Kansas City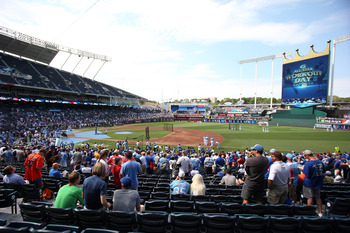 Jonathan Daniel/Getty Images
I remember the Braves' heyday, but I have no memory of the Royals' heyday.
Theirs was a little before my time. I was born two years after the Royals won the World Series in 1985.
So yeah, I've only ever known the Royals to be a joke of a franchise. That's not me poking fun. Just me making an honest observation.
The Royals haven't even been back to the playoffs since they won it all in 1985, and they haven't drawn over two million fans in a single season since 1991. Kansas City fans have been shunning the Royals for over two decades.
And shoot, who can blame them?
Make no mistake, though, there are still plenty of Royals fans out there. I, for one, have come across many in my travels across the Internet, and Royals fans proved they don't just exist in cyberspace when they showed up in droves at this year's All-Star game.
You'll recall that the one thing we learned about Royals fans at this year's All-Star festivities is that they really, really like Billy Butler. He's way cooler than that Robinson Cano guy.
But Butler isn't the only player that Royals fans have to cheer for these days. They've got a lot of young talent that has come up through the system, and more is on the way. If the Royals can develop some starting pitchers to go along with their bats and their bullpen (which is awesome), they'll go far.
I've got my fingers crossed. I want to see at least one (i.e. more than zero) great Royals team in my lifetime, and I want to see baseball alive and well in a place that has been considered a baseball dead zone for too long.
Seattle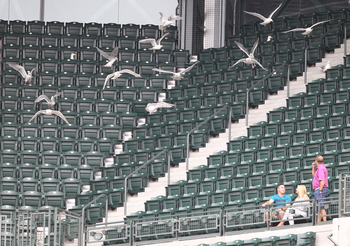 Otto Greule Jr/Getty Images
Baseball isn't dead in Seattle. The problem is that it's only really alive on days when Felix Hernandez is pitching.
His starts tend to draw well, and what's better is that his starts seem to draw a very specific kind of fan. Fans who show up to Safeco Field to watch King Felix pitch are worth two fans at any other ballpark.
They're definitely not wasting their money when they spend it on a ticket to a King Felix start. I've never been to one, but I always have to mute my TV when I watch one for fear of going deaf.
Even with the attendance boost that Hernandez gives them, the Mariners don't draw well, and they haven't been drawing well for years. They're 25th in baseball in average attendance this season, and it's been close to 10 years since they last drew over three million fans in a single season.
The team hit a new low in 2011, drawing fewer than two million fans to Safeco Field for the first time in the ballpark's history.
This is the kind of leeching effect that 10 straight seasons without making the postseason can have on a fanbase. Star pitchers and international sensations (i.e. Ichiro) are all well and good, but they don't count for much if the wins aren't there.
There are still plenty of baseball fans in Seattle, and the good news is that they may not have to wait much longer before they have incentive to spend their money on games other than the ones King Felix starts. The Mariners have a talented young team in place, and they have some of the most talented prospects in all of baseball waiting in the wings to contribute very soon.
The wins will come, and when the wins start coming, the fans will start coming.
Spoiler alert: They'll be loud. We're talking about the same population that has made CenturyLink Field the loudest stadium in the NFL, which is saying something.
If you want to talk baseball, hit me up on Twitter.
Keep Reading