10 Stars of the NBA's Next Generation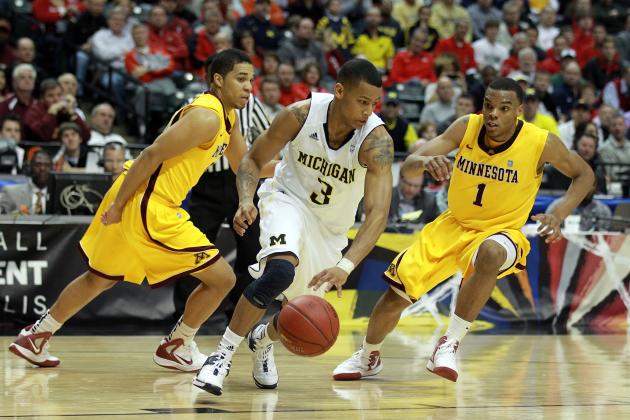 Andy Lyons/Getty Images

Sustained glory comes in small doses in the NBA.
For every Kobe Bryant, who has dominated the league for the past 16 seasons, there is a Tracy McGrady, who was on top of the world before injuries cut his Hall of Fame-worthy prime short.
For those in need of further evidence, compare Manu Ginobili with Vince Carter and Kevin Garnett with Shareef Abdur-Rahim.
Although careers have been cut short by both injuries and Father Time, there is a factor that some may be hesitant to acknowledge. This, of course, is the overwhelming infusion of youth and athleticism that comes through the NBA once a calendar year via the NBA draft.
While there is a great deal of talent currently on the rise—including a spectacular 2012 NBA draft class—the league will be shaped by players currently enrolled in college, high school or international basketball.
Who can we expect to dominate?
You're about to learn which 10 players will shape the NBA for years to come.
Begin Slideshow

»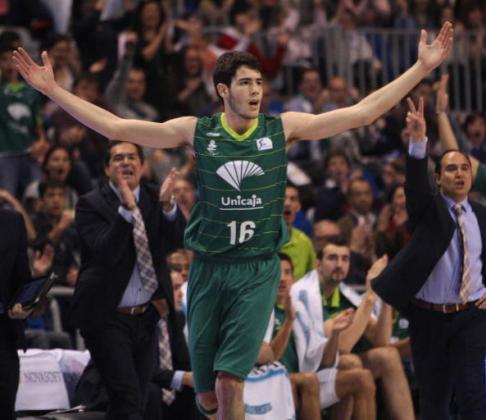 Photo Credit: www.Malaguistas.es
Position: Shooting Guard
Age: 19
Class: N/A
Height, Weight, Wingspan: 6'5", 195, 6'6"
Alex Abrines may not have the clout of a Ricky Rubio, but don't think that means he doesn't possess the talent. In fact, Abrines could arrive in the NBA and prove to be just as dynamic a player as the Minnesota Timberwolves' star point guard.
He'll just be doing it in different ways.
Abrines, a 6'5" shooting guard with a solid wingspan and top-tier transition skills, is the type of player who could pour it on in bunches at the NBA level. He's an excellent ball-handler who is very quick off of the dribble.
His ability to attack the basket and finish in traffic is met by a characteristic that Spanish players often bring to the NBA: elite shooting ability.
Abrines is very similar to Rudy Fernandez in the sense that he's virtually automatic from anywhere on the floor. His range stretches well beyond the NBA three-point line, and his ability to move without the basketball in his hands is quite impressive.
Although he could add some bulk to his frame, Abrines is a far more explosive athlete than the average international import. This kid has legitimate star potential and could make a major difference for a team looking to test the waters on a do-it-all scorer.
Keep Alex Abrines at the top of your "international players bound to be stars" list. Ahead of Dario Saric out of Croatia.
2011-12 Season Averages
16.4 MPG, 4.8 PPG, 1.6 RPG, 0.6 SPG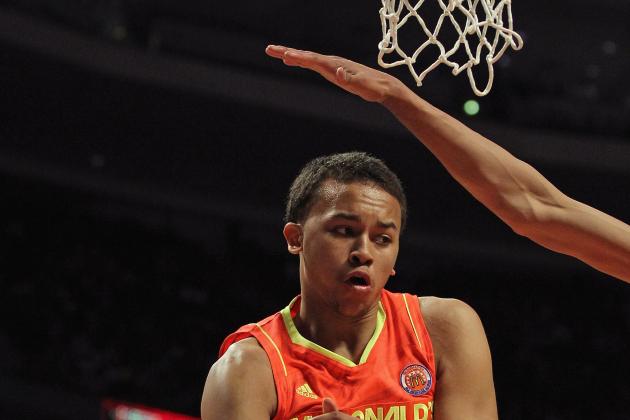 Jonathan Daniel/Getty Images

Position: Point Forward
Age: 19
Class: Freshman
Height, Weight, Wingspan: 6'8", 233, 7'2"
Kyle Anderson has been heralded as the best player in the nation by Kevin Durant of the Oklahoma City Thunder. He's also been introduced at the McDonald's All-American game by none other than reigning league MVP LeBron James.
It's safe to say that this kid has some talent.
Anderson truly defines the term "point forward." He's a better passer than at least 90 percent of the players at the collegiate level and has ball-handling skills that make you forget about his 6'8" stature.
Although his nickname of "slow-mo" comes with good reason, as Anderson never seems to be moving at too fast of a pace, study the game film before you judge his movements. Anderson is in control of the pace of the game every time out.
While Anderson is bound to be lost amongst the hype surrounding Shabazz Muhammad, don't be surprised to see the UCLA player have a top-5 draft stock.
If he opts to leave after one season, he could potentially be the best player to come out of the 2013 draft.
Kyle Anderson's high school coach just so happens to be the legendary Bob Hurley Sr. The same Bob Hurley who compared Anderson to Magic Johnson. Yes, people, he could be that good.
2011-12 Season Averages
N/A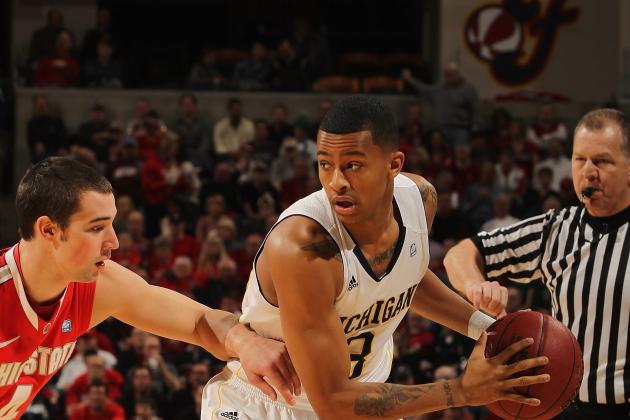 Jonathan Daniel/Getty Images

Position: Point Guard
Age: 19
Class: Sophomore
Height, Weight, Wingspan: 6'1", 175, 6'5"
If you're looking for the next great point guard to emerge from the college ranks, search no further than the University of Michigan. That's where you'll find one of the most intriguing young talents in the nation, sophomore Trey Burke.
Burke is a rare breed at the point guard position. Despite his pure point guard abilities, the 6'1" player with a 6'5" wingspan is capable of lighting up a scoreboard in a way that most point guards would envy.
This is exactly why Burke could be the next 20 and 10 guy to hit the NBA.
Trey Burke is a phenomenal drive-and-dish guard, but he has shown an aptitude for running pick-and-roll alternatives as well. This becomes nearly impossible for teams to defend when you consider how lethal Burke is as a shooter off of the dribble.
What truly helps Burke impose his will is how mentally prepared the youngster is in comparison to his peers and even a majority of NBA players.
As a freshman in one of the wildest conferences in the nation, Trey Burke displayed phenomenal poise under pressure. He went into intimidating venues such as Michigan State's Breslin Student Event Center and archrival Ohio State's Value City Arena.
Perhaps most impressive was when Burke dropped 18 points and nine assists at Cameron Indoor Stadium.
Paired with beautiful court vision and close-to-the-body ball-handling skills, Trey Burke has emerged as the next great point guard. Although he is currently low on draft boards, the Wolverines floor general should become a well-known name after this season.
Once he hits the NBA, he should become an All-Star.
2011-12 Season Averages
14.8 PPG, 4.6 APG, 3.5 RPG, 0.9 SPG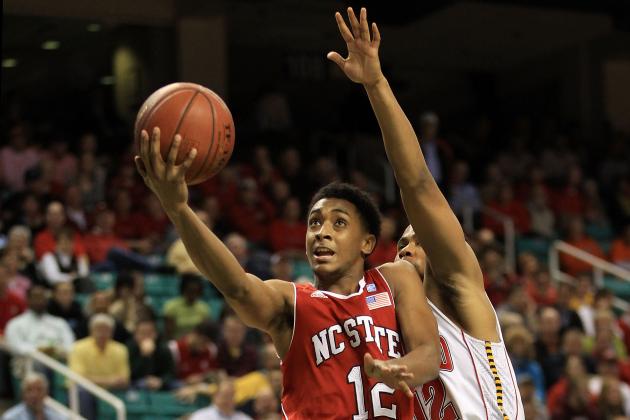 Streeter Lecka/Getty Images

Position: Point Guard
Age: 21
Class: Sophomore
Height, Weight, Wingspan: 6'2", 175, 6'10"
What can you expect from Ryan Harrow? Consider Kentucky's latest star addition to be a right-handed version of the Milwaukee Bucks' Brandon Jennings—with a wingspan somewhere between 6'8" and 6'11".
Harrow is the type of player that general managers love to scout. Much like Austin Rivers, who was selected 10th overall this past June, the sophomore guard is always in attack mode. Just like Rivers, Harrow's draft stock is likely to rise once people catch wind of that trait.
Ryan Harrow can dribble circles around even the greatest perimeter defender. The way he dissects a defense and gets to the exact spot he was searching for is something special to watch.
The way Harrow can leap and throw down a monster jam just sends you running out of the gym and hiding for shelter.
The main difference between Harrow and Trey Burke, at this point, is their maturity. Harrow appears stuck in the developmental phase of turning his street-ball abilities into an NBA-ready game. Burke, meanwhile, is as ready for the pros as any at his position.
In due time, however, Ryan Harrow will become an NBA All-Star. His flashy style of play will certainly garner loads of fans, while his well-rounded stat line should promote a promising future.
The only question is, how far does this scoring point guard want to push it? If he realizes his potential, we could be in for a legendary career.
2010-11 Season Averages
23.0 MPG, 9.3 PPG, 3.3 APG, 1.9 RPG, 0.8 SPG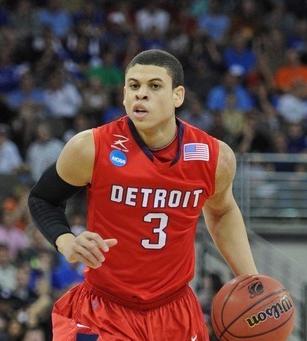 Peter G. Aiken-US PRESSWIRE - Presswire
Position: Point Guard
Age: 21
Class: Junior
Height, Weight, Wingspan: 6'1", 185, 6'3"
The third consecutive point guard on this list is the type of player who may not garner the superstar headlines, but will make his name known when it matters most. Consider Ray McCallum of the Detroit Titans to be the second coming of Tony Parker.
Much like Parker, McCallum is a phenomenal floor general. The coach's son rarely ever turns the ball over and is always looking to get his teammates involved.
In fact, McCallum's greatest fault is that he doesn't look for his own shot enough—a flaw bestowed more upon a college player than an NBA baller.
This is quite a shame, actually, as Ray McCallum is a very talented scorer. His jump shot is solid and his three-point range is admirable. McCallum's ability to rise up and score off of the dribble, both in the paint and outside of it, simply add to the intrigue.
In spite of his limitless abilities, the point guard isn't elite in any individual category. In other words, there is no one thing that he does better than everyone else.
Instead, McCallum does each and every thing you could ask of him well. Although some might disagree, I'll take the well-rounded over the individually skilled.
2011-12 Season Averages
15.4 PPG, 4.5 RPG, 4.0 APG, 1.6 SPG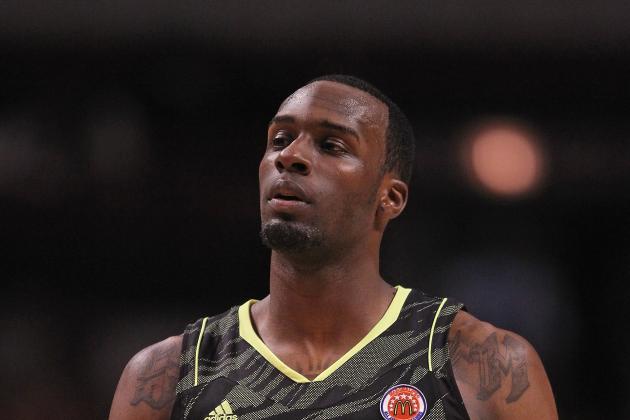 Jonathan Daniel/Getty Images

Position: Small Forward
Age: 18
Class: Freshman
Height, Weight, Wingspan: 6'6", 223, 6'11"
Shabazz Muhammad of the UCLA Bruins is not your average high school prospect with a whole lot of buzz.
There is legitimacy behind the belief that this kid will be the next great small forward in the NBA—the same position held down by LeBron James, Kevin Durant and Carmelo Anthony.
As for what you can expect out of Shabazz Muhammad, just know that he is a true freight train. His dribble penetration skills are solid, but it's his power in attacking the basket that forces opposing defenses to clear out the paint.
That's usually followed by a ferocious slam or a creative lay-in with his untouchable left hand.
On the other end of the floor, Muhammad is as versatile as you could ask for. He can defend either of the forward positions and imposes his will on either guard slot as well.
A 6'11" wingspan and unmatched athleticism will do that for you.
What's most impressive about Shabazz Muhammad's game is the fact that he isn't any bit arrogant. Muhammad plays each and every play to the fullest of his ability.
That's exactly why Muhammad is the reigning Naismith Prep Player of the Year and the 2012 McDonald's All-American game MVP. LeBron James, Kevin Durant, Dwight Howard and Michael Kidd-Gilchrist all won the latter honor.
For those skeptics out there, do yourself a favor and don't give into the hype that Muhammad is all about scoring the basketball. This kid is phenomenal in every sense of the word and can dominate like no other player in the nation.
If not for Anthony Davis proving that defensive-minded players can rule supreme, he could have been ranked ahead of Nerlens Noel on the ESPN 100.
2011-12 Season Averages
N/A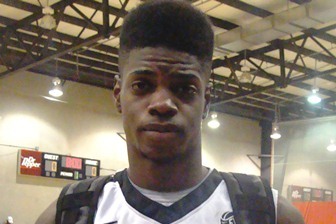 Photo Credit: NY2LA Sports
Position: Center
Age: 18
Class: Freshman
Height, Weight, Wingspan: 6'11", 215, 7'4"
I'm not going to join the fray and claim that Nerlens Noel can top what Anthony Davis was able to achieve during the 2011-12 college basketball season. What I will say, however, is that Noel is an equally as dominant shot-blocker who should take over the very role Davis played at Kentucky.
That speaks volumes to what Nerlens Noel truly is capable of.
The Kentucky big man isn't just going to be a dominant force at the collegiate level, though. The abilities he possesses, as well as the upside to become a respectable offensive force, should make Noel an All-NBA-caliber player at the professional level.
Now it's time to listen.
Nerlens Noel has been labeled by some as an athletic freak who gets by on his ability to leap. The truth is, Noel is actually one of the most skilled big men in this incoming class of freshman.
His ability to pass out of the post, plant his feet on defense and shift according to team rotations is well beyond his age. The fact that Noel can jump out of the gym and put up huge numbers in blocks just so happens to be an additional bonus to this complete package.
Whether it's an All-Defensive team or simply an honor amongst the game's elite, Nerlens Noel has the ability to become the next great center. He possesses the upside to become the next Dwight Howard.
2011-12 Season Averages
N/A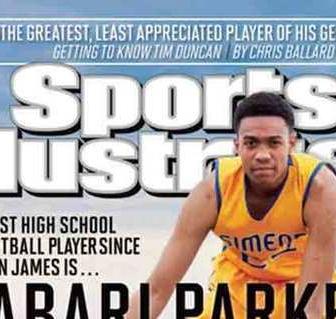 Photo Credit: Sports Illustrated
Position: Small Forward
Age: 17
Class: High School Class of '13
Height, Weight, Wingspan: 6'8", 220, 6'11"
Widely considered to be the second coming of LeBron James, the media has wasted no time in heralding Jabari Parker as the next big thing. This comes with good reason, as Parker is one of the most even-keeled superstars you'll ever meet.
Oh, and he is physically capable of everything James has done.
At this point in his young career, Parker is actually better at breaking down a player off of the dribble than James was. His quickness and ball control is mesmerizing, which makes him even more difficult to defend in the open court.
The other advantage Jabari Parker holds over LeBron James might not even be one that has to do with a comparison of age. Jabari Parker can light it up from the perimeter in ways that LeBron James has only flashed an ability to do.
But let's end the rest of the talk right there.
The one flaw to note about Parker is that he actually tends to rely on his midrange game more than he should.
While it's certainly impressive and consistent, he has the build and athleticism to get into the paint and get to the line—quite the strange quality for a player who has a paralyzing stutter step.
Jabari Parker's hype is justified. There should be no doubt that this kid could be the next big thing in the NBA, and a year at the college ranks should only further solidify his status as the best up-and-coming baller in the nation.
For a player wise beyond his years, a year to develop will make him that much better.
2011-12 Season Averages
N/A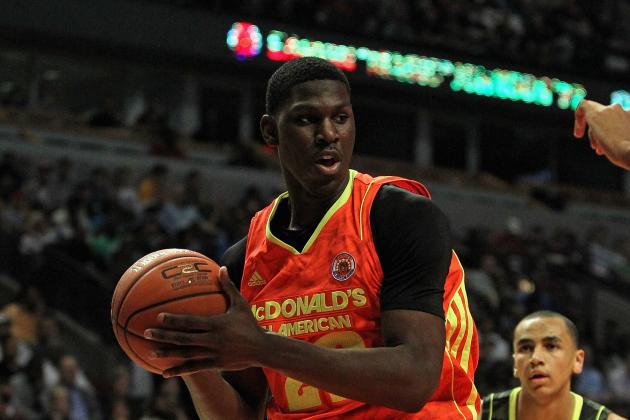 Jonathan Daniel/Getty Images

Position: Small Forward
Age: 18
Class: Freshman
Height, Weight, Wingspan: 6'8", 215, 7'0"
Alex Poythress is your quintessential scoring forward. He's unstoppable off the dribble, overwhelming with his power and a force in the paint. Although he could develop his post game more, Poythress scores as well as any 3 in this class of incoming freshmen.
With the significant improvements of his midrange game, Alex Poythress has become all the more difficult to plan for. Even if you do find a solid game plan, however, don't be too surprised when Poythress exposes any and every hole.
One of the most significant aspects about Poythress' game, which separates him from your average scorer, is his aggression.
Whether crashing the boards or fighting for a loose ball, Alex Poythress is everywhere. That includes rising above defenders for put-back slams and working off of screens to find any and every opening there is.
This young man has his throttle stuck in overdrive. One day he could be competing for an NBA scoring title.
2011-12 Season Averages
N/A
Position: Small Forward
Age: 17
Class: High School Class of '14
Height, Weight, Wingspan: 6'7", 190, 6'11"
You know those players that you see and can't help but wonder how they're so much better than everyone else in the gym? If you do, then you know exactly how it feels to watch Canada's Andrew Wiggins go to work.
If you still don't get the idea, watch the video posted above.
Wiggins is an explosive athlete who can leap like he has springs in his legs. He goes up strong with both hands and is more than capable of finishing through contact. If not, just wait as Wiggins drains both free throws and does it all over again the next time down.
The key to the Canadian's ability to dominate the way he does is body control.
Whether in the air or defending on the perimeter, Andrew Wiggins keeps his body adjacent with both the basket and his man.
This allows Wiggins to shift at any time and maintain his advantage throughout the duration of any play—an aspect of basketball that most players do not discover how to execute until they are a few years into their NBA careers.
Between his length, athleticism and maturity, Andrew Wiggins is set to make waves at the NBA level. The only question is, how long will it be before Wiggins brings Steve Nash out of international retirement and makes Canada a contender at the 2016 Rio Olympics?
2011-12 Season Averages
N/A