Manny Pacquiao: Rightful WBO Champ Must Enter Ring and Quiet Tim Bradley's Camp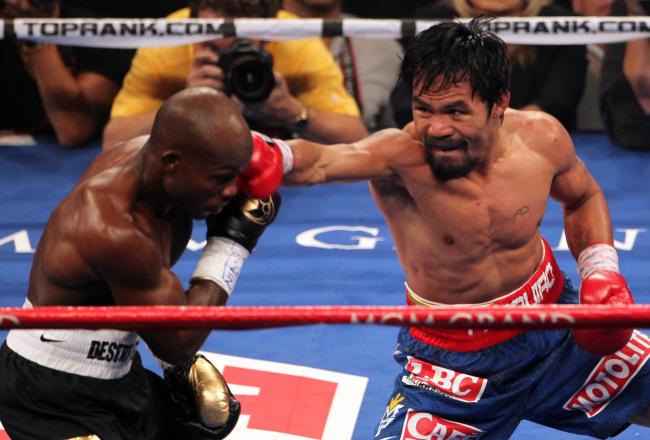 Jeff Bottari/Getty Images
Most of us learn how to properly accept a gift when we are children. We show gratitude and appreciation and may even follow up with a "thank you" note.
When I was young, I erred on the side of feeling I was entitled to a present. My mother corrected the situation with a blind right-cross; the lesson didn't need a refresher.
Timothy Bradley was given one of the biggest gifts in the history of boxing in June, a split-decision victory over Manny Pacquiao. Virtually every expert registered this as a lopsided Pacquiao victory and even the World Boxing Organization (WBO) review came back stating the results were wrong.
A report by Kevin Iole on Yahoo! Sports shared the WBO conclusion. Five independent judges reviewed the fight and stated that Pacquiao was the rightful winner of the bout.
WBO president Francisco "Paco" Valcarcel wouldn't reveal the names of the judges, but did state that all five were well-known judges all all five scored the fight for Pacquiao: 118-110, 117-111, 117-111, 116-112 and 115-113.
Pacquiao opted against pushing the WBO to revoke the title, stating "my supporters shouldn't worry. We're going to get that title" in a rematch, per a Dan Rafael article on ESPN.com.
The conspiracy angles are many and not the point here. What is virtually undeniable is Bradley was given the title, he didn't earn it.
So how has his camp responded?
By criticizing Pacquiao. Bradley Sr. is upset that a rematch isn't set and seems to be implying that Pacquiao is afraid of fighting Bradley again.
The fight went according to plan. I feel that Pacquiao would have got knocked the h*ll out if my son would have been able to shift the power on either leg but he could not do that. He did a lot of slap shots, Muhammad Ali stuff.

They're saying he can't hit. Sh*t, I didn't see Manny Pacquiao step on him and try to take him out. In the fourth round, when he damn near broke his leg, he ran up on him like a wounded chicken. But other than that, he still couldn't take him out.

Timothy 'Ray' Bradley Sr.
The frustration over the uncertain rematch is understandable. One of the recent rumors is that Pacquiao is too busy studying the bible and serving in political office to train.
Boxing Promoter Arum denies latest Manny Pacquiao Rumor dlvr.it/26sw6M

— Boxing.com (@Boxing_com) September 7, 2012
Pacquiao is mulling possible opponents, including Bradley, Juan Manuel Marquez and possibly even Floyd Mayweather Jr. Promoter Bob Arum has stated Pacquiao will enter the ring on Dec. 8.
Arum is not stating whom the opponent will be.
'Ray' Bradley is on point with some of his comments. "Both fighters owe it to the fans. The fans want to see a rematch," Bradley stated.
"Right now, I'm not even focused on any other fight other than a rematch with my son and Manny Pacquiao. Because, I'm old-school. When a champion loses a fight, he should automatically want to get his title back."
He went too far when he added "God is good and my son was victorious. He worked his butt off; he's not getting justice."
It seems the boxer tagged with his first loss in seven years in a fight he clearly won is the fighter that isn't getting justice.
Pacquiao does owe it to the fans to get back in the ring with Bradley. He told his fans he would take back his WBO title and supporters want to see an end to the mindless chatter.
Bradley Sr. didn't seem to learn a proper lesson on accepting a gift, and that makes it unlikely he passed that wisdom down to his son. Now it is up to Pacquiao to deliver the right cross that will quiet the Bradley camp.
Then he can move on to Mayweather.
[Boxing] Here We Go Again... Mayweather vs. Pacquiao In Negotiation For Dec. 8th Date - bit.ly/Qk4gYL

— boxden.com (@itsBX) September 7, 2012
This article is
What is the duplicate article?
Why is this article offensive?
Where is this article plagiarized from?
Why is this article poorly edited?