USC vs. Syracuse: Live Scores, Analysis and Results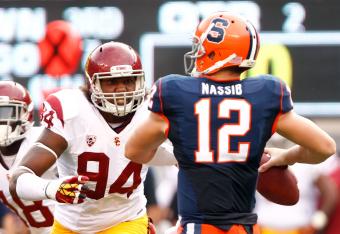 Final: USC 42, Syracuse 29

The game included everything from a sloppy first half, to over an hour rain delay and a six touchdown performance by a birthday boy.
USC traveled over 2,500 miles to New Jersey to take on the Syracuse Orange, and won the game with a convincing second half performance. It took a while for the Trojans to get going, but with quarterback Matt Barkley, and his six touchdown passes, Lane Kiffin's club was able to pull away in the fourth quarter.
Syracuse did the best they could, and even finished with more total yards than USC, but it simply wasn't enough.
USC now goes to 2-0 on the season and will take on Stanford next week, while Syracuse will take on Stony Brook, a matchup that should earn the Orange their first victory of the year.
This game certainly wasn't the prettiest for USC, but they will gladly take the win and will live to see another day.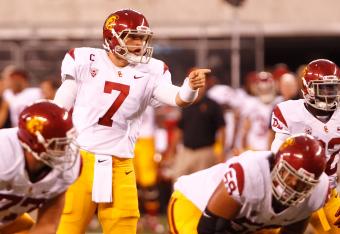 And that's all she wrote, folks.
Matt Barkley finishes the game with six touchdown passes on his birthday and the Trojans get out of New Jersey with a victory. USC will stay on the road, as they prepare for their first true test of the year, a battle with the Stanford Cardinal. Syracuse will be awarded with a much easier contest, as they will likely earn their first victory of the season with a matchup against Stony Brook.
Score: USC 42, Syracuse 29
Quarterback Ryan Nassib rushes up the middle for a cheap score at the end of the game. Now it is time to run the clock out on this game that should have been over a while ago.
Although Syracuse may add another loss to its record, the Trojans certainly have nothing to be ashamed of. They played a hell of a game, especially for a team that wasn't given a chance by anyone. The Orange surprised many, gave Trojan fans a scare at times and should still be considered a contender in the Big East Conference.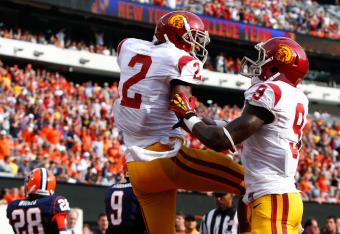 Score: USC 42, Syracuse 22
Wide receiver Marqise Lee is really helping Matt Barkley celebrate his birthday, as the sophomore has three of the quarterbacks six touchdown passes. It is safe to say that this game is over, and that Barkley is by far the Heisman favorite after those video game numbers.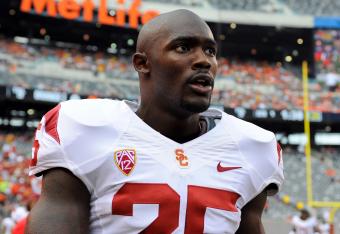 Running back Silas Redd has just had his first 100-yard rushing game as a Trojan.
That didn't take long, did it?
Score: USC 35, Syracuse 22
Too late?
Regardless, Syracuse is not going down without a fight, as Marcus Sales catches his second touchdown pass from Ryan Nassib.
The Trojans will take over in Syracuse territory, as the Orange failed to recover an onside kick.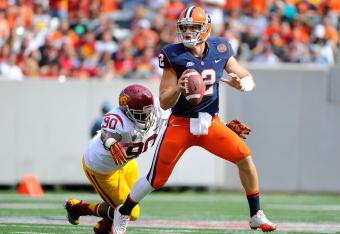 Another thing that USC can't be too happy about is the amount of open receivers Syracuse is finding. Too bad Ryan Nassib isn't an accurate passer and can't put the ball in their hands consistently.
USC may have a comfortable lead now, but they also have 10 penalties, which can't be a good thing. I'm sure everybody on this team will hear Lane Kiffin roar when this one is over.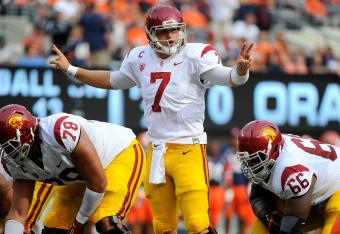 Score: USC 35, Syracuse 16
And just like that, the game may be out of reach. USC showed just how explosive this offense can be, as they went 80 yards in just three plays. Robert Woods had an 76-yard reception, while Marqise Lee hauls in his second touchdown of the night.
Matt Barkley now has five touchdown passes on his birthday, and looks like he will have a victory as well.
Wide receiver Marcus Sales, who caught a touchdown earlier, fell down on a third-and-two play, forcing the Orange to punt the football back to USC. The Trojans will take over at their 20-yard line with a 12-point lead already.
This could become out of reach if Syracuse can't come up with a big play on the defensive side of the ball.
Score: USC 28, Syracuse 16
You have got to be kidding me!
Several Syracuse players failed to bring down backup tight end Xavier Grimble, as he bounced off of many Orange defenders and rumbled into the end zone for a touchdown. It was bad enough that he was wide open on third and 10, but to not wrap the big man up is inexcusable.
In a game that looked like it could go down to the wire, now looks like USC will win, unless we get some early magic from Syracuse.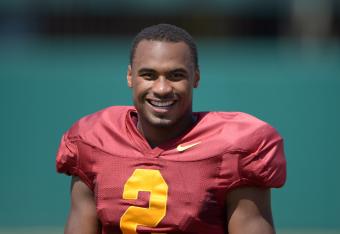 Robert Woods gives USC amazing field position, as Syracuse failed to do anything with the football. The Trojans will have a chance to possibly put this game out of reach, as they begin from the 23-yard line of Syracuse.
USC still leads 21-16.
The Syracuse defense does it again.
Forces a punt by USC, as the defensive backfield obviously read the scouting report. The Trojans are great at picking up yards after the catch, so everyone is flying to the ball carrier, doing a terrific job of limiting those chunks of yards.
Syracuse takes over at their 15-yard line, down only five points.
And it is raining once again in MetLife Stadium.
Oh, things are getting interesting by the minute in this game.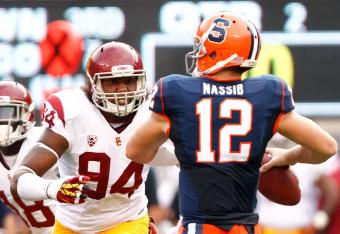 Score: USC 21, Syracuse 16
After Barkley's interception, Syracuse strikes again quickly, making this a game again. Running back Prince-Tyson Gulley runs for a 7-yard touchdown, which is the third score of his career. The two-point conversion attempt was no good.
Still, this is a much closer ball game than anyone expected. You could say the weather delay had something to do with the way USC has come out in the second half, but Syracuse has played this team tough even in the first half.
We will have a legit ball game in the final 15 minutes.
Matt Barkley throws an interception, as strong safety Shamarko Thomas steps in front of Robert Woods. That was Barkley's first incompletion since the first quarter. Syracuse is driving, with a chance to make this game extremely interesting heading into the fourth quarter.
Score: USC 21, Syracuse 10
Just what the doctor ordered, as Syracuse responds with a quick scoring drive. The difference between the last drives and this one, quarterback Ryan Nassib completes every pass, setting the Orange up with a quick strike.
The scoring play was a three-yard pass to wide receiver Marcus Sales. Now the defense has to continue to play well, giving Syracuse back the football and a realistic chance in this game.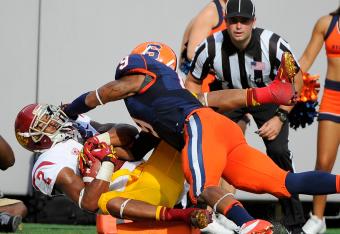 Score: USC 21, Syracuse 3
After the second interception by Dion Bailey, wide receiver Robert Woods hauls in his second touchdown reception of the evening. That now gives Matt Barkley his third touchdown pass of the day and puts the Trojans up by 18.
If the Syracuse offense can't respond on the next drive, you can pretty much say this game is over. The defense of the Orange can only do so much.
The penalties are really killing this Trojans team. Quarterback Matt Barkley is charged with intentional grounding, which was the eighth penalty of the game for USC. But when the offense has this many weapons, Robert Woods ran all over the field, picking up the first down on a third and 12.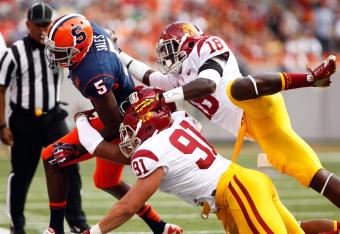 USC linebacker Dion Bailey intercepts his second pass of the game, setting up the Trojans with terrific field position.
It appears that USC will be without two starting defensive linemen for the second half. (Via USC Athletics)
DEs JR Tavai and Wes Horton have come out in street clothes for the 2nd half. #USC

— USC Trojans (@USC_Athletics) September 8, 2012
That can't be a good thing.
Let's get this third quarter started already!
Syracuse will get the ball first.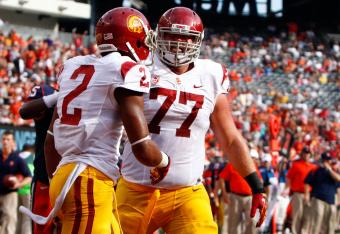 Both teams are back on the field for a short warm-up. We will finally have football again within the next five minutes or so.
It will be interesting to see which team benefited from over an hour rest.
Looks like that time of 6:25 is holding up for the USC game, which means that the game is likely to resume within the next 10 minutes wherever you are.
This article is
What is the duplicate article?
Why is this article offensive?
Where is this article plagiarized from?
Why is this article poorly edited?