England vs. Ukraine: 6 Bold Predictions for World Cup Qualifier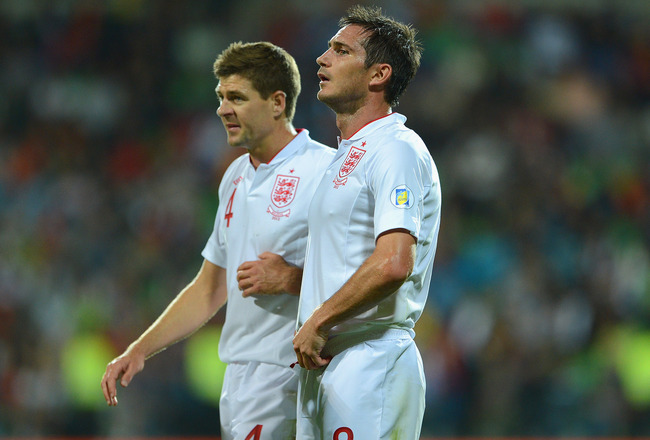 Michael Regan/Getty Images
England got their World Cup 2014 qualification bid off to a flier with a 5-0 thumping over a weak Moldova side on Friday but will face a much sterner examination with their second fixture, at home to Ukraine on Tuesday.
It will be another game for Roy Hodgson to show what England are going to be capable of under his guidance, and the home fans will be expectant for their nation to turn up another three points, giving them a commanding start in their UEFA qualifying group for the World Cup.
Here are six bold predictions for the upcoming game.
Gerrard and Lampard to Start Together Again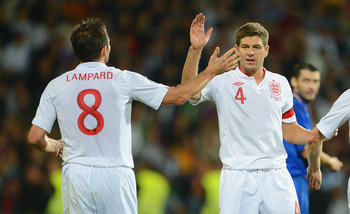 Michael Regan/Getty Images
After both being in central midfield in England's starting XI against Moldova, perhaps on first glance this doesn't appear to be a particularly bold claim.
However, that was Moldova. This time England are up against Ukraine, a nation who gave the Three Lions a relatively tough time in Euro 2012 just a couple of months ago.
Hodgson is known to favour a sitting midfield player and, while both elder statesmen can perform that role, they are both at their best when driving forward from deep. The temptation must be there for the manager to leave one out and bring in, perhaps, Michael Carrick to sit in front of the defence.
However, on this occasion we'll back them to both start again.
Jermain Defoe Plays 90 Minutes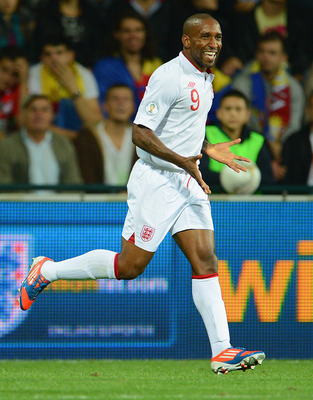 Michael Regan/Getty Images
Hey? Is this bold?
Actually, yes.
Fifty caps and 17 goals for England—yet Jermain Defoe has NEVER played the full 90 minutes in a game, always either coming on as a substitute or being taken off during the game when he started.
That is quite an incredible record.
A couple of other oddities about Defoe's records at international level; despite finding the net 17 times, he has only done so against nine different countries.
Defoe also has 32 appearances for England as a substitute, which is a national team record.
Taking into account that he has therefore only started 18 times, his scoring record is not too shabby at all.
England Will Score Three Times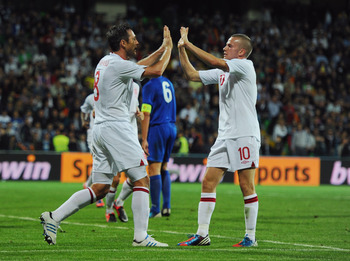 Michael Regan/Getty Images
England have started off positively in front of goal, banging in five past an admittedly dire Moldova side.
Ukraine have a far stronger team, but England should be buoyed by their at times high-tempo football against the smaller nation and look to replicate that at home.
With Jermain Defoe in scoring form early this season for club and country, and with plenty of pace and power behind him from midfield, England should certainly be looking to put the game beyond Ukraine as early as possible as they have a tendency to drop off and play more reservedly after an hour or so, especially if leading by a single goal.
Here's to England finding the net three times.
Alex Oxlade-Chamberlain Will Score His First International Goal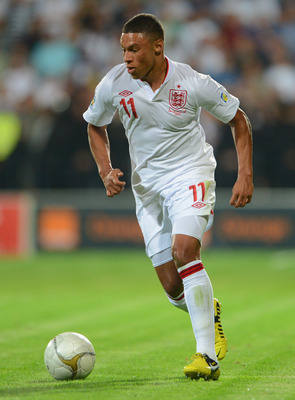 Michael Regan/Getty Images
Just six caps into his international career, Alex Oxlade-Chamberlain is already seen as something of a must-play figure and is looking likely to be one of Roy Hodgson's first names on the team sheet.
At just 19 years of age, Oxlade-Chamberlain has an effectiveness on any given game that understandably wanes at times as the match goes on, and for that reason, he can expect to be removed from the pitch between 60-70 minutes regularly for now—but in that hour or so, he is already good enough to have a massive impact.
Pace, skill, strength and vision, Oxlade-Chamberlain has plenty of assets which make him a danger around the opposition penalty area.
Against Ukraine, he'll score his first goal to put a seal on a meteoric rise at the top level over the past three months.
England Will Lose Another Defender to Injury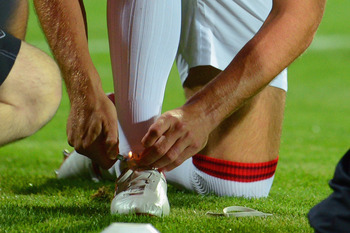 John Terry's injured ankle in England vs. Moldova match
Michael Regan/Getty Images
Having lost his first-choice left-back, Ashley Cole, before the game in Moldova, Roy Hodgson also faced up to watching John Terry struggle with an ankle injury during the match itself.
Joleon Lescott and Gary Cahill are likely to play in the centre of defence for England if Terry fails to recover.
These things come in threes so they say...
Liverpool (Glen Johnson), Manchester City (Lescott), Chelsea (Cahill) and Everton (Leighton Baines) fans and management teams will be hoping it is not their player who falls foul this time round.
England to Top Group H by Two Points After Play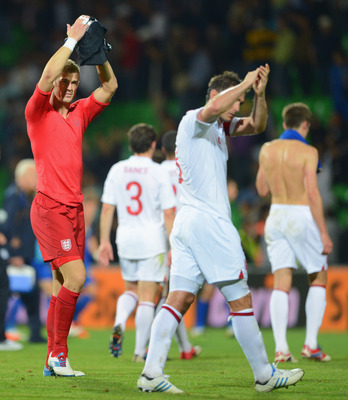 Michael Regan/Getty Images
Should England go on to beat Ukraine, they will have succeeded in taking six points from the opening six available in the 2014 World Cup qualifying group.
Job done for now, as far as Roy Hodgson will be concerned.
With Ukraine—arguably, alongside Poland, England's biggest rivals for top spot in the group—not featuring during the first round of fixtures, that will give them a six-point gap already to the Eastern Europeans.
Montenegro and Poland—who drew 2-2 on Friday—should both record victories against San Marino and Moldova, respectively.
As a result, England should be sitting comfortably on top of their group with six points, two ahead of any of their nearest challengers.
A good start.
Keep Reading

England (National Football): Like this team?