Denver Broncos: Top 10 Season Opening Performances in Team History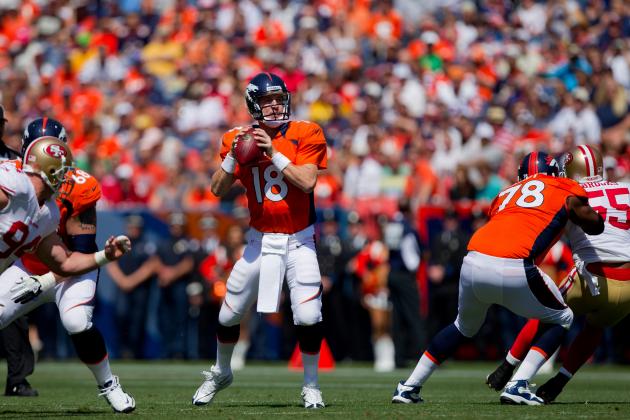 Justin Edmonds/Getty Images

The countdown is on and it is less than 72 hours until the Denver Broncos take the field against the Pittsburgh Steelers. Hopefully the team is as ready to play as their fans are to see them.
Peyton Manning will be looking to complete his successful return to the field following multiple neck surgeries against an organization that has long been regarded as having one on the league's best defenses.
Willis McGahee will be out to prove that his 2011 campaign, in which he ran for 1,199 yards, the third highest total in his career, was no fluke.
Von Miller won the Defensive Rookie of the Year award after posting 11.5 sacks and he is poised to become one of the league's top defensive players.
There will be 50 other players looking to contribute and help the Broncos start 1-0 for the first time since a 12-7 victory over Cincinnati in 2009 that was really only a victory due to a incredibly lucky play.
Here is a look at the top 10 performances in Broncos history in season opening play.
Begin Slideshow

»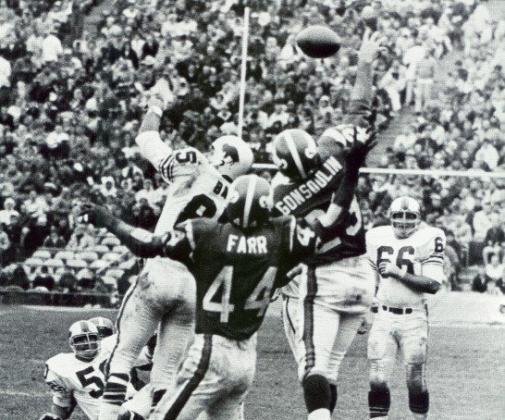 Photo courtesy of milehighreport.com
To this day, Austin "Goose" Gonsoulin is still one of the best defensive players in Broncos history.
Back when the team was a member of the AFL, he gave opposing quarterbacks fits.
In 1960 and 1961, the Broncos opened the season with wins over the Boston Patriots and Buffalo Bills, respectively.
A major reason for that was the fact that in both of those games, Goose had 2 interceptions.
In all, Gonsoulin had six interceptions in season opening games alone.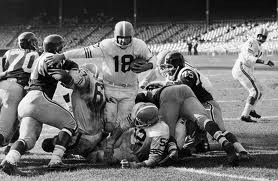 Tripucka vs NY Titans, 1962 (Photo courtesy of chieftain.com)
Long before Peyton Manning ever became a Bronco, another quarterback donned the No.18.
To open the 1962 season, Tripucka aired it out in a 30-21 victory over the San Diego Chargers.
Tripucka connected with seven different receivers, including hitting both Lionel Taylor and Gene Prebola for seven receptions apiece, while going 28-47 for 376 yards with two touchdowns.
By contrast, the Chargers only threw for 123 yards as a team between both Jack Kemp and John Hadl.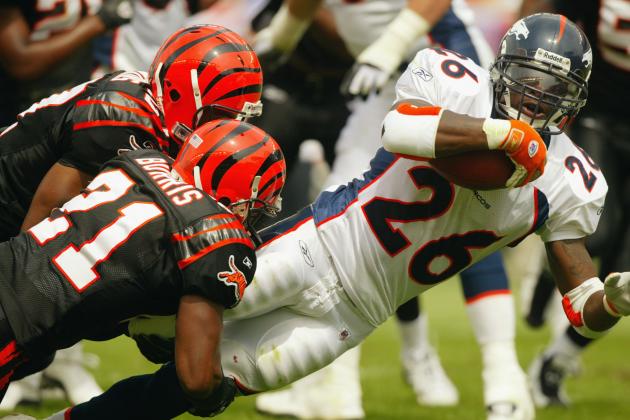 Andy Lyons/Getty Images

The Broncos kicked off the Jake Plummer era in 2003 with a 30-10 thumping on the road over the Cincinnati Bengals.
That was due in large part to the big game Clinton Portis played. He carried the ball 24 times for 120 yards and a pair of touchdowns, one from two yards out, the other an 8 yard plunge.
He added 5 receptions for 39 yards and had more yards rushing than Plummer did throwing.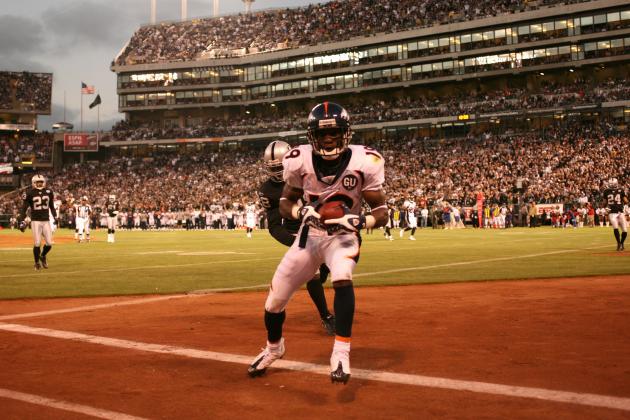 Jed Jacobsohn/Getty Images

Eddie Royal could not have had a much better NFL debut than he did.
In front of a national audience on Monday Night Football, Jay Cutler shredded the Oakland Raiders for 300 yards through the air, 146 of those going to Royal. Royal did that on 9 catches and he also had a touchdown.
This was the beginning of an incredible rookie season for Royal in which he caught 91 passes.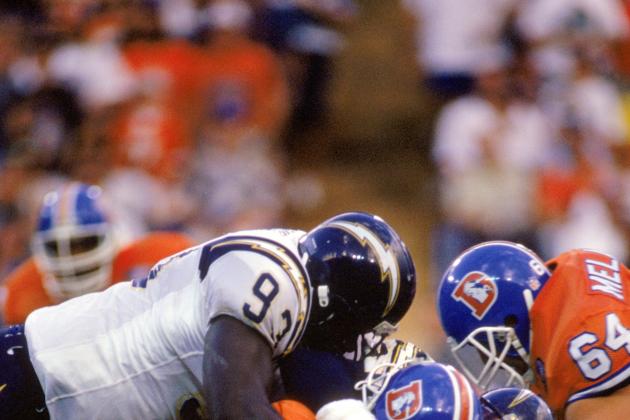 George Rose/Getty Images

In one of the most thrilling season openers in Broncos history, John Elway threw for 371 yards and 3 touchdowns against a stingy San Diego Chargers defense, led by All-Pro linebacker Junior Seau.
Elway completed 36 passes that day, including a 50 yard touchdown to Mike Pritchard, but it wasn't enough to overcome the Chargers, who won the game 37-34.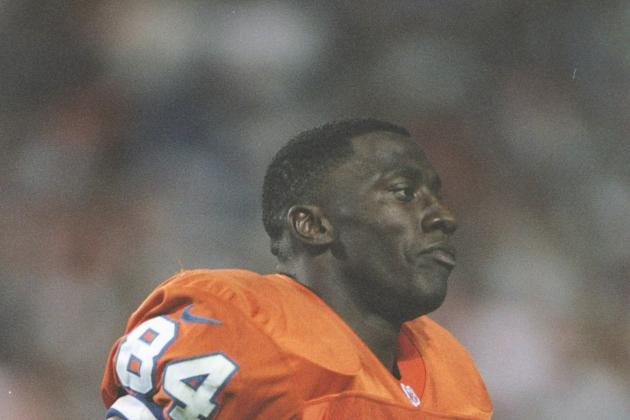 Jed Jacobsohn/Getty Images

Shannon Sharpe opened the 1995 season with a 10 catch, 180 yard performance against the Buffalo Bills, helping the Broncos to a 22-7 victory.
Sharpe still fell well short of his receiving totals in the two years prior, catching just 63 balls for 756 yards.
The Broncos finished the year 8-8.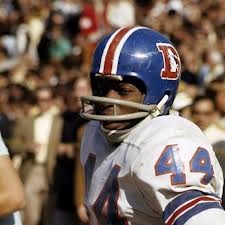 Photo courtesy of Facebook.com
The Broncos jumped out to a 21-3 halftime lead against the Bengals in 1973 and never looked back, cruising to a 28-10 opening day win.
The key to their victory was their star running back Floyd Little, who ran in three touchdowns while gaining 132 all-purpose yards.
Little had two one yard scores and then pounded one in from five yards in the fourth quarter.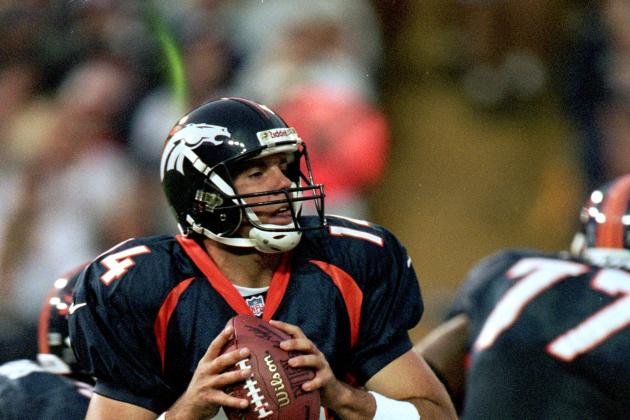 Brian Bahr/Getty Images

Thinking back to the 1999 season, most Bronco fans think of disaster.
That was the first year without John Elway. It was the year the team had to turn to Brian Griese. It was also the year Terrell Davis' downfall began.
The season opened on Monday Night Football. Brian Griese getting his first career start, replacing the legend that was Elway. On the other side was Dan Marino and the Miami Dolphins.
The Dolphins did win the game 38-21, so Griese must have been horrible, right?
Quite the contrary. Griese threw for 270 yards and three scores, all of which went to Ed McCaffrey, who had 105 yards receiving as well.
Not bad for a guy under as much pressure as Griese was.
In fact, combining the stats of Griese's first three season opening games, he threw for 907 yards with 8 touchdowns and no interceptions. He also had a rushing touchdown.
By the way, all three of those games came under the bright lights of Monday Night Football..... not bad.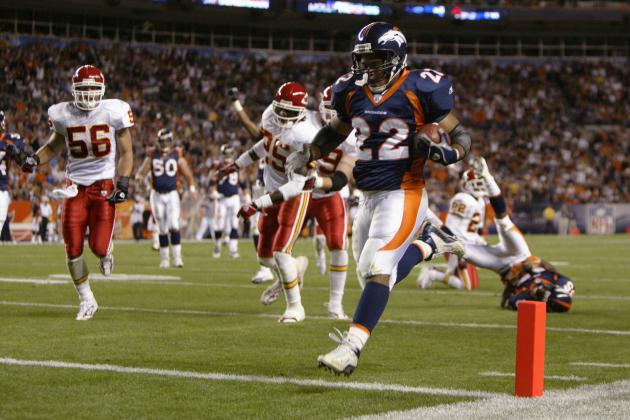 Brian Bahr/Getty Images

Did you forget about this guy? It's OK, most people probably have.
In 2004, the 5'7" Griffin was thrust into action against Kansas City, where all he did was rush for 156 yards, easily a Broncos record for a season opening game, and two touchdowns. He added a third touchdown on a 1 yard reception as the Broncos defeated the Chiefs 34-24.
Griffin was definitely a one hit wonder with the Broncos, but it was a tremendous performance by a guy who no one wold have guessed would do it.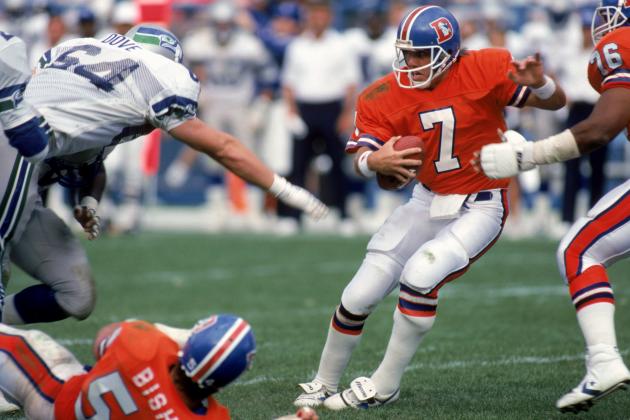 George Rose/Getty Images

In 1987, the Broncos were coming off an incredibly deflating 39-20 defeat at the hands of the New York Giants in the Super Bowl.
Against then AFC West division rival Seattle, Elway was out to start a path to get to the big game again.
He torched the Seahawks defense for 338 yards and four touchdown passes as the Broncos rode to a 40-17 victory.
They capped off that season with another appearance in the Super Bowl.