Breaking Down the Philadelphia Eagles' Blueprint for Winning the Super Bowl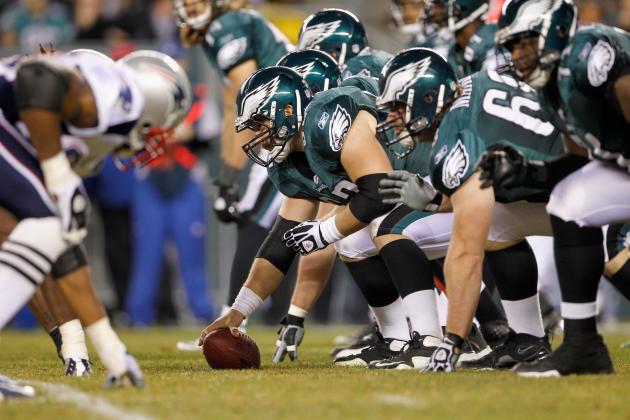 Rich Schultz/Getty Images

After nine playoff appearances, five of which resulted in conference championship game appearances and one that saw the Philadelphia Eagles come within a score of winning the Super Bowl, time is running out for the Eagles if they're ever going to win it all.
Andy Reid is entering his 14th season as the coach, Michael Vick is 32 years old and not getting any younger and the rest of the division is strong. The Eagles went all-in to win it all in 2011, but that backfired, with the team winning just eight games and blowing a slew of fourth-quarter leads.
That led to several changes on the Eagles this offseason. Five key players were re-signed or given contract extensions, the team traded for a Pro Bowl linebacker and the Eagles completed what seems to be a highly successful draft. The blueprint for the Eagles is easier said than done, but if all goes according to plan, here's what will happen for the Eagles in 2012.
Begin Slideshow

»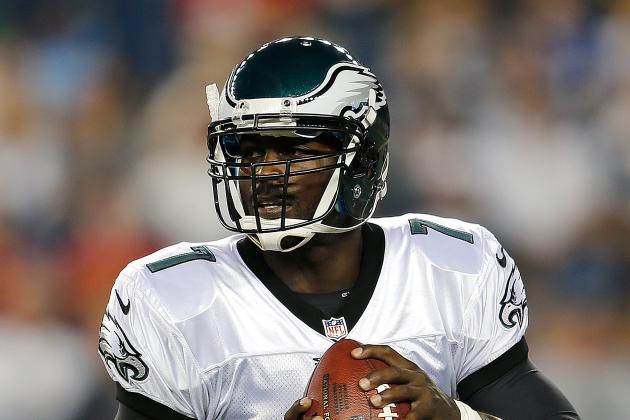 Jim Rogash/Getty Images

It's almost unrealistic to expect Michael Vick to stay healthy in 2012 at his age-32 season, especially considering he's missed three games in each of the previous two years and already suffered two (minor) injuries in preseason.
Vick plays an aggressive style of football and he runs frequently, which can easily lead to injuries for a man who's about 5'11" and 200 pounds. But that's why the Philadelphia Eagles drafted Nick Foles in the third round of the 2012 NFL draft, and Andy Reid thinks he has the quarterback of the future in Foles.
Foles had a remarkably successful preseason, looking like a seasoned veteran at the top of his game rather than a rookie seeing his first live action in this league.
Ideally, Vick plays all 16 games, minimizes his turnovers and takes advantage of the weapons he has surrounding him.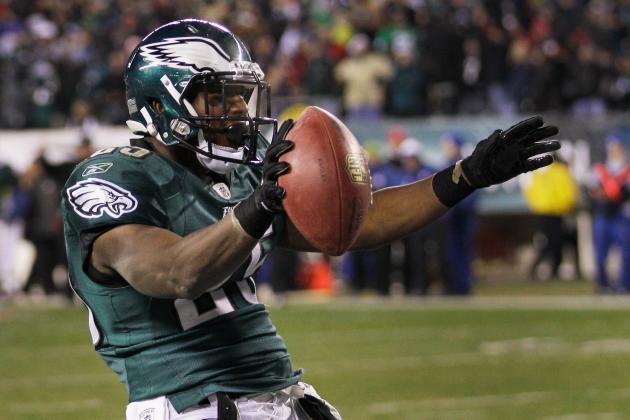 Rob Carr/Getty Images

This one should be easy. We all saw what LeSean McCoy did last year with the Philadelphia Eagles, rushing for 1,309 yards and 17 touchdowns while adding three more through the air for a franchise-record 20 scores.
He's also a competent receiver out of the backfield, and he very rarely fumbles the football. Meanwhile, wide receivers DeSean Jackson and Jeremy Maclin are one of the best 1-2 duos in the game. Jackson is terrific on deep balls, and Maclin is on the verge of developing into a complete receiver. And Brent Celek is a really underrated tight end who can catch passes and block well.
Ideally, those players perform well enough that if Michael Vick does get hurt and miss time, Nick Foles is in good company with all the talent around him.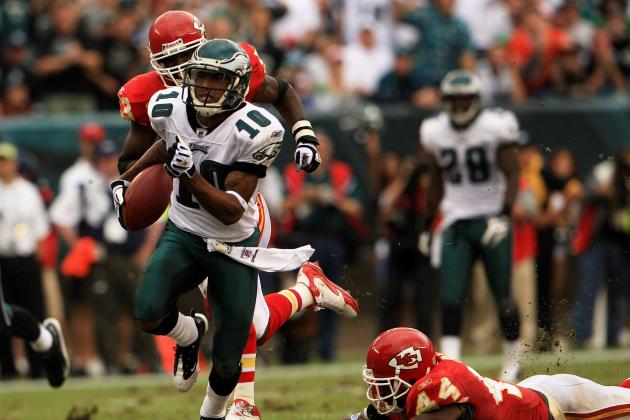 Travis Lindquist/Getty Images

DeSean Jackson is valuable enough that he gets a chapter of his own in here. From 2009 through 2010, Jackson was probably the most dangerous player in football. He was literally a threat to score every single time he touched the football. Just ask the New York Giants if you don't remember his walkoff punt return or the countless 60-yard scores he's had over the years.
Jackson dropped off in 2011, though, dealing with off-the-field contract issues that really affected his play. Jackson posted his lowest numbers since his rookie season, and check out the Philadelphia Eagles' offensive numbers against the Arizona Cardinals when Jackson didn't play: Michael Vick went just 16-of-34 for 128 yards, no touchdowns and two interceptions, and the top two wide receivers—Jeremy Maclin and Jason Avant—combined for three receptions.
Jackson should be able to put up 1,200-1,300 receiving yards and 10 touchdowns on the Eagles offense, and now that he's got a new five-year, $51 million contract, he better live up to it.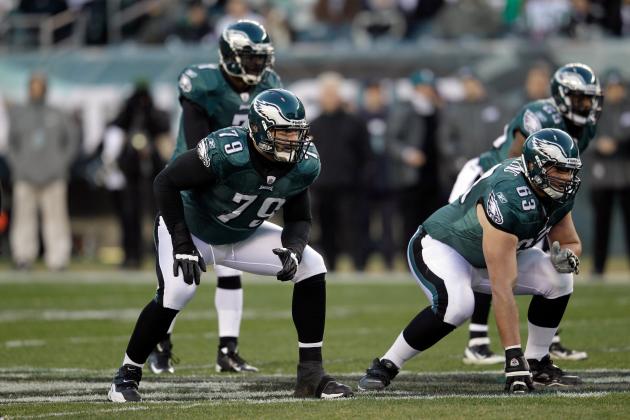 Rob Carr/Getty Images

Losing Jason Peters to an Achilles tear is a devastating injury, and I doubt the Philadelphia Eagles will recover, strictly at the left tackle position. The trio of King Dunlap, Demetress Bell and Dennis Kelly can't close compare to what kind of a player Peters was.
But that's where the rest of the line can make up for it. Evan Mathis played at a Pro Bowl level all season in 2011, rating as the single-best offensive lineman in the NFL, per Pro Football Focus.
Jason Kelce and Danny Watkins showed growing pains as rookies, but they are each expected to make enormous strides in 2012, especially Kelce, who will be expected to be the vocal leader of the line this year. And right tackle Todd Herremans is a Pro Bowl-caliber player who can play both tackle and both guard positions very well.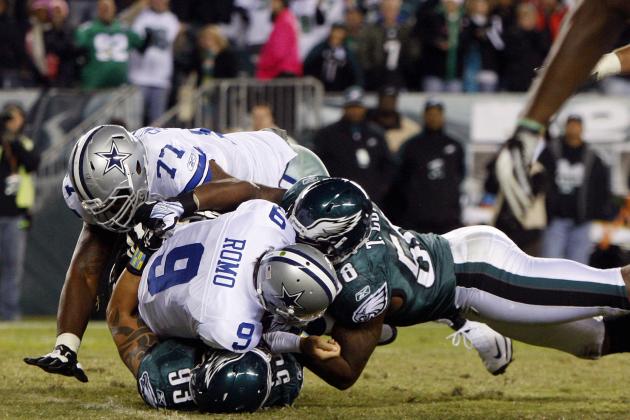 Rich Schultz/Getty Images

It's no secret that Andy Reid loves defensive linemen, as he's drafted six defensive linemen in the first round since 2000—Corey Simon, Jerome McDougle, Mike Patterson, Brodrick Bunkley, Brandon Graham and now Fletcher Cox.
Some of the picks haven't worked out as well as others, but the Eagles have also lucked out with a fifth-round pick (Trent Cole) and played the free-agent market well, bringing over Jason Babin, Cullen Jenkins, Derek Landri and former CFL star Phillip Hunt. That gives the Eagles a defensive line that could be flat out unstoppable in 2012, and the unit looked absolutely spectacular in the preseason.
Getting to the quarterback will make life much easier for the linebackers and the high-profile defensive backs, and that's the No. 1 recipe for success. When it comes to the playoffs, the Eagles will probably have to face elite quarterbacks like Aaron Rodgers, Matt Ryan, Eli Manning and Drew Brees if they want to get to the Super Bowl—and putting pressure on them is the way to go.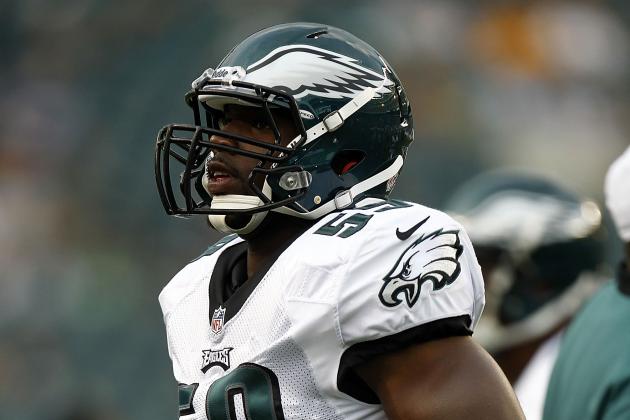 Jeff Zelevansky/Getty Images

The Philadelphia Eagles' linebacker corps in 2011 was one of the weakest units in the NFL, failing to wrap up ball-carriers repeatedly while costing the team in numerous fourth quarters. The team traded for Pro Bowl linebacker DeMeco Ryans in the offseason and then went out and drafted college star Mychal Kendricks in the second round.
Ryans is coming off an Achilles tendon tear he suffered at the end of 2010, and the Eagles really need him at full strength. And Kendricks has the ability to step right in as a starter and be the kind of impact player the Eagles have lacked for so many years.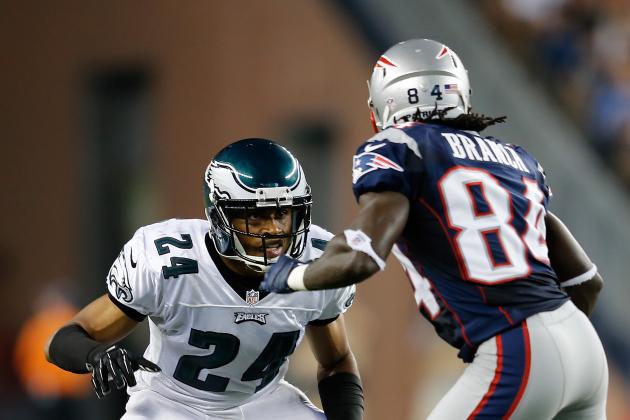 Jim Rogash/Getty Images

Nnamdi Asomugha was an elite cover corner for so many years in Oakland before coming to Philadelphia. He really struggled in year one, as the Eagles' defensive formations utilized him every way but the way he should have been used: as a straight-up cover corner who sticks to the No. 1 receiver like glue.
And Dominique Rodgers-Cromartie has struggled to regain the form he displayed back in 2008 and 2009 when he was a talented rookie and then a Pro Bowler in year two. He should be much better in 2011 now that he's back on the outside—rather than the slot—and DRC is also in a contract year, which means he needs to be at the top of his game or he probably won't come back in '12.
With those two corners covering the opponents' top two receivers, the Eagles should be in great position to win lots of football games, especially when you factor in the outstanding defensive line and much-improved linebackers.
Getty Images/Getty Images

Making Juan Castillo the defensive coordinator is probably the most outrageous decision Andy Reid has ever made—just don't tell that to him. Reid doesn't like to admit when he's wrong, which means Castillo will probably stay defensive coordinator for quite some time.
But that doesn't mean Reid won't quietly try to override his mistake. With Jim Washburn as the defensive line coach and Todd Bowles as the secondary coach, Castillo is the third-most important coach on the defense. Washburn's defensive line and Bowles' secondary are more important than Castillo's linebackers, which is essentially the unit for which Castillo controls.
It actually wouldn't surprise me if the Eagles quietly hand the defensive coordinator duties from Castillo to Bowles sometime in midseason. Castillo looked absolutely clueless in 2011, and it showed by the way in which he used Nnamdi Asomugha, arguably the biggest defensive free-agent signing the Philadelphia Eagles have ever had.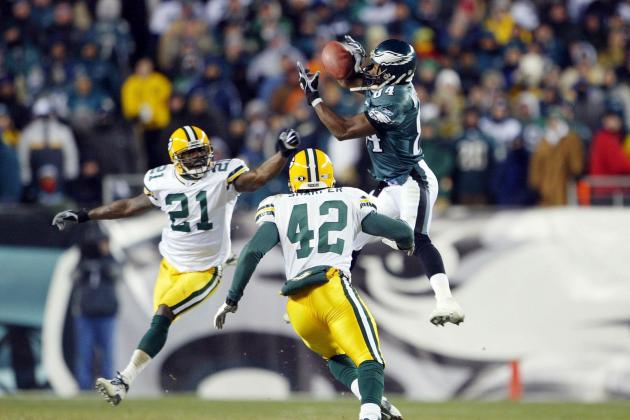 Doug Pensinger/Getty Images

Let's be honest, teams that win Super Bowls absolutely have to undergo a certain element of luck. Super Bowls cannot be bought.
Just look at the 2007 New England Patriots, who went undefeated in the regular season and set an all-time record with 589 points scored after adding Randy Moss and Wes Welker in the offseason, but couldn't win the Super Bowl because they peaked too early in the season.
Key elements of a Super Bowl team are getting hot at the right time. See the 2007 New York Giants, the 2010 Green Bay Packers, and the 2011 New York Giants. Super Bowl teams need to stay healthy, which means Michael Vick can't suffer an injury in December that lingers to the playoffs, LeSean McCoy and DeSean Jackson need to be at 100 percent in Week 17, and the offensive line can't lose anyone else.
And a little luck never hurts: The '07 Giants had David Tyree's catch (and the fact that the referees didn't whistle Eli Manning dead). The '08 Steelers had a 100-yard interception return for a touchdown by James Harrison that—had it been one yard shorter—would have given the Super Bowl championship to Kurt Warner and the Arizona Cardinals. And Drew Brees in'09 was fortunate enough that four-time MVP Peyton Manning made arguably the most costly turnover in history on the NFL's biggest stage.
That's not to discredit those teams that have won the Super Bowl. Luck is part of the game, and the '12 Eagles could really use some. The quality of the elite teams in the league right now is very high—the Green Bay Packers and New England Patriots both figure to be top-notch teams, and they're both better than the Eagles. That's why talent can only take a team so far.
When it really comes down to it, the Eagles need a lucky break—a player to fall on a key fumble at the right time or a flagrant penalty against them to go uncalled. Think about the '04 team when L.J. Smith was hit in the red zone and Freddie Mitchell caught his fumble in the end zone for a score.
Luck could come in the form of the '02 Eagles that lost their final game to the New York Giants but still clinched home-field advantage throughout the playoffs. Luck could be the Giants losing some easy games and finishing just 10-6 with the Eagles winning the division or the Eagles lucking out and getting to face Russell Wilson and the Seattle Seahawks in the playoffs instead of Aaron Rodgers and the Packers.
That's what the '12 Eagles need. If it doesn't happen this year, it really might be the last chance.