The Zen(ith) of Bobby V and the Decline of the Fiery Manager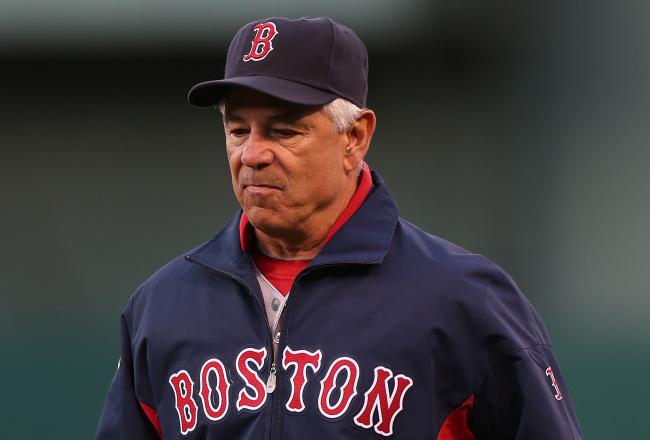 Jed Jacobsohn/Getty Images
As the Boston Red Sox season comes to a painful, dramatic end, there's one question that I struggle to answer. Whatever happened to The Zen of Bobby V? ESPN led us to believe he had found peace. Instead, the Bobby Valentine of 2012 seems hell-bent on harboring chaos and war.
And getting himself fired in the process.
There is no doubt in my mind that Bobby V will never manage again after the 2012 season. He has failed as the Boston Red Sox manager because he wants to fail.
Let's face it.
Valentine is an intelligent, articulate man when he wants to be. He's been associated with baseball his entire adult life. Valentine must know by now that his style of managing—namely insulting players, lying to and fighting with the media and not caring about anyone but himself—is not a successful model.
For anyone wondering if Bobby V has indeed "checked out," I ask, "Did he ever really check in?" One of his first acts of 2012 was to criticize Derek Jeter for being "out of position" on his famous flip play during the 2001 ALDS.
Why bother bringing up a play from 10 years previous that didn't even involve the Red Sox?
In April, Valentine accused former Red Sox mainstay Kevin Youkilis of not being physically or emotionally into the game, triggering a bitter feud between the two. Ten days later, he crafted a lineup to face Twins presumed lefty starter Liam Hendriks, only to later learn that Hendriks was actually a RIGHTY!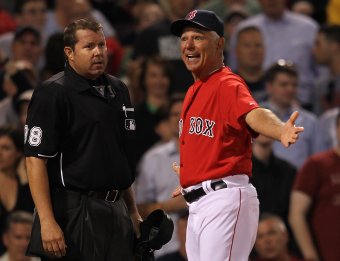 Jim Rogash/Getty Images
Pot, kettle, black!
It's obvious that Bobby V has lost what's left of his clubhouse. Not since Jeff Torborg of the 1992 Mets has a manager taken what was supposed to be a playoff team and destroyed it so quickly and completely.
Reportedly, several key players (most of which are no longer in Boston) petitioned ownership for a managerial change before the trade deadline. Not long after that, Valentine went out of his way to tell Dan Shaughnessy that he wasn't trying to get fired.
He has a funny way of convincing people.
Recently, Valentine attempted to deny that teammates Alfredo Aceves and Dustin Pedroia engaged in a dugout argument, despite the fact that the two were caught on camera during the game. Since then, Bobby V has seemingly vacillated between not caring about his miserable season and losing his cool over it.
Not for nothing, but if a manager implores people not to question his integrity, it's probably because there is a reason to question his integrity. Someone who gets caught doing something they shouldn't usually becomes angry and tries to deflect attention onto someone else to make themselves look better.
Thus, Valentine threatens physical violence on a radio host and drags an unsuspecting Joe Maddon into the picture.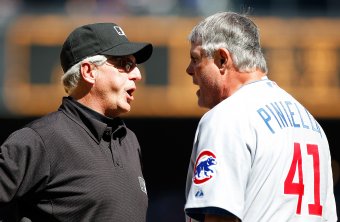 Otto Greule Jr/Getty Images
Bobby Valentine is not a likable person and doesn't pretend to be one. He is tragically flawed with a massive, fiery ego, an inability to bite his tongue and an unbelievable lack of political correctness.
All these years later, I'm starting to think the best decision George W. Bush ever made was firing him from the Texas Rangers.
For those who wonder why Valentine would want to purposely fail, it's simple. Deep down, he knows he can't succeed. I'm willing to bet good money that Bobby V had a true desire to be a Major League Baseball manager again, until he realized that this was not his father's Major League Baseball anymore.
The days of managers scaring their players into submission are long gone. Front offices want a field boss ripe with class and dignity who will win. There are no more Billy Martins or Lou Piniellas to yell and scream, kick dirt, throw bases, use and abuse the media and win games despite their histrionics.
Fans may get a kick out of it, but today's players only respond favorably to such an act if the manager is doing it to support that player.
The media looks at a managerial tirade with a certain amount of ridicule. Any type of meltdown is assured a spot on a Not Top 10 list. Enduring images of Lloyd McClendon stealing first base after an ejection or Hal McRae tearing apart his office after another loss are now fewer and farther between.
Hall of Famer Earl Weaver would never make it in 2012. Bobby Cox, MLB's all-time leader in ejections, got out of the game at the right time.
Ozzie Guillen is failing as a field general because he is a defiant, short-fused, foul-mouthed trash talker with a massive ego. He never shuts up (in any language) and is constantly getting in trouble as a result.
That sounds an awful lot like a certain maligned Red Sox manager to me.
Blowhard tactics no longer inspire players. The success of the Chicago White Sox under the more cerebral and player-friendly Robin Ventura is proof positive. By the way, those same White Sox currently employ former Valentine arch-nemesis Kevin Youkilis.
There's a good reason why NFL coaching giants like Bill Cowher and Jon Gruden choose to analyze football on TV rather than go back to the sidelines.
They simply cannot do it any longer.
Their Parcells-esque no-nonsense approach is too abrupt for today's coddled professional athletes. A select few, such as Tom Coughlin, have changed their drill-sergeant ways, and adapted a more player-friendly style.
Coughlin saved his job (and his career) and has won two Super Bowls in the process.
Which brings me back to Bobby V. Red Sox ownership felt they had to tighten the reins after last season's collapse. They thought that Valentine's notoriety and old-school approach would be the answer.
The truth of the matter is no school is beneficial if the students don't respect their teacher.
Today's players are too fragile and egocentric to handle a person like Valentine, who is also fragile and egocentric. He is too stubborn to change his less-than-tactful ways, and will soon become a dinosaur along with the likes of Martin, Weaver and Piniella.
It's an indictment of both sides, but it proves that for better or worse, Bobby Valentine is not capable of managing a baseball team anymore.
This article is
What is the duplicate article?
Why is this article offensive?
Where is this article plagiarized from?
Why is this article poorly edited?

Boston Red Sox: Like this team?