Each NBA Team's Most Log-Jammed Position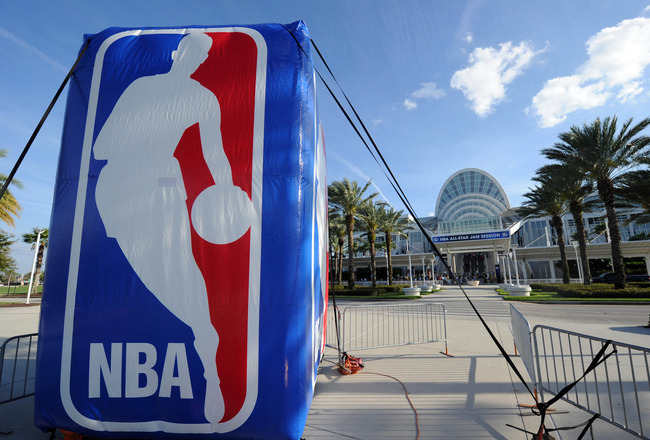 Bob Donnan-US PRESSWIRE
One of the many problems many NBA teams have is a lack of depth at a certain position, but teams can have an embarrassment of riches as well.
Having too much talent is never a bad thing, but sometimes an overabundance can hinder your ability to effectively maximize it—especially if that talent shares roles or positions on the court.
Here's a look at each team's most packed position, talented or not.
Atlanta Hawks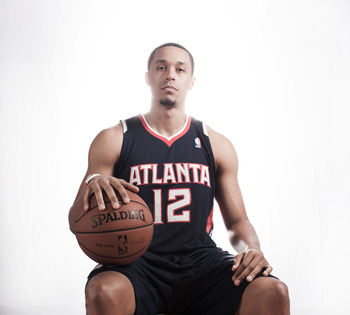 Nick Laham/Getty Images
The Hawks have a solid rotation at point guard with Jeff Teague and newcomer Devin Harris, but their acquisitions at shooting guard to make up for the exodus at the position this offseason seem to give the position even more depth.
All four players—Louis Williams, Kyle Korver, rookie John Jenkins and DeShawn Stevenson—are new to the Hawks.
Korver and Jenkins share a common trait: They're exceptional shooters. It can be argued that Korver is a defensive liability, but Williams lacks more in that department. However, Williams has the ability to create his own shot, and his athleticism will serve well in transition.
Both Williams and Korver can take minutes at other spots—point guard and small forward, respectively.
DeShawn Stevenson is clearly the best defensive option in the group and brings a serviceable option offensively. He might not light up the box score, but he'll prevent someone on the other team from doing so.
Boston Celtics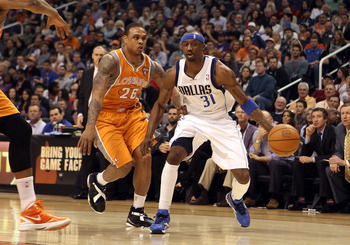 Christian Petersen/Getty Images
Many may argue the Celtics' stretch of success is nearing its end, but they're not done yet.
The loss of Ray Allen hurt, but the quality they've brought in to make up for it at the shooting guard position can't be ignored.
Last year, Avery Bradley began assuming a larger role on the Celtics as Allen suffered from injury. His defensive ability had a huge impact on Boston's defense.
The Celtics also brought in Jason Terry and Courtney Lee.
Terry's work in Dallas speaks for itself. He was a pace-changer off the bench and brings instant offense as well.
Lee broke onto the scene in his rookie year playing for the Orlando Magic and performing well in the playoffs. He's been a serviceable option throughout his career but doesn't necessarily put Boston over the top.
Still, along with the rest, Lee rounds out solid depth at shooting guard.
Brooklyn Nets
Chris Chambers/Getty Images
After having an abysmal few seasons, the Nets made a splash this offseason to usher in new expectations along with a new home.
Though their prized possession Deron Williams will receive a majority of the minutes on a nightly basis, C.J. Watson and MarShon Brooks bring plenty to the table as well.
Brooks was a highlight in what was a rather dull season for the Nets. His effectiveness inside the arc ensures he can maintain a good amount of production off the bench. He'll only get better if his outside shooting improves.
Watson comes from an experienced group in Chicago, where the bench was key to its success. He's a strong playmaker and has the ability to keep a fast pace, which should play to the Nets' strengths.
Charlotte Bobcats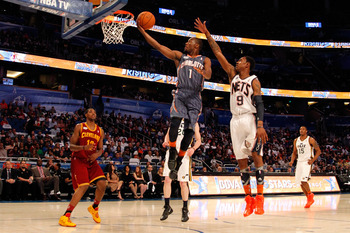 Mike Ehrmann/Getty Images
It's difficult to look at the Bobcats and point out an obvious strength.
Considering how historically bad they were last season, it's not unfair to question the effectiveness of any one of the players on their roster.
Still, players are in the NBA because they're great at what they do.
However, Kemba Walker may not be able to show much of what he's able to do this season with the arrival of Ramon Sessions.
Sessions is sure to take some of Walker's minutes at point guard, which could stunt his growth as a player.
While a case can be made for forward, with Michael Kidd-Gilchrist and Jeffery Taylor, both are unproven rookies. Kidd-Gilchrist at least figures to have a respectable career.
The good news is that the Bobcats can only go up at this point, and both Sessions and Walker are young players who could help fuel the turnaround effort in Charlotte.
Chicago Bulls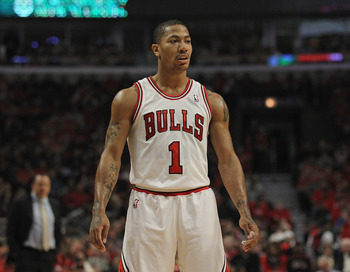 Jonathan Daniel/Getty Images
The Bulls have a lot of talent across the board, which is a major reason why they've been one of the major contenders in the East.
They've gone through some notable changes in their lineup, with the exit of players like Omer Asik, Kyle Korver and C.J. Watson.
Though he's currently rehabilitating from an injury in last year's playoffs, Derrick Rose is still one of the best players in the league at his position and overall.
Chicago perpetuated its reputation under Tom Thibodeau for being a disciplined, veteran team by bringing in Kirk Hinrich. He won't exactly match Rose's impact on the team, but he'll certainly hold the spot down until Rose is healthy enough to come back and contribute.
Rookie Marquis Teague sits at the bottom of the rotation and may not see much playing time. It's a good opportunity for him to develop.
Cleveland Cavaliers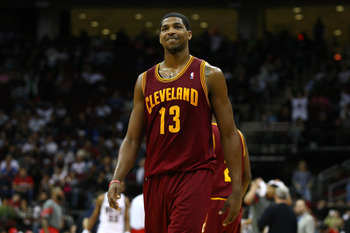 Chris Chambers/Getty Images
The Cavaliers' unquestioned star is Kyrie Irving, but they have players in the frontcourt who all deserve to get some minutes.
Anderson Varejao is the veteran presence at center, but the Cavs have two young players with upside in Tristan Thompson and Tyler Zeller.
Varejao's ability to do all the dirty work helped Cleveland during its competitive years and should set a good tone for the younger players.
The Cavaliers are a young team and could decide at some point to commit completely to allow their younger talent to get more minutes and aid their development.
Their situation in the frontcourt is a good one, as they seem to have locked down sufficient production for the present and future.
Dallas Mavericks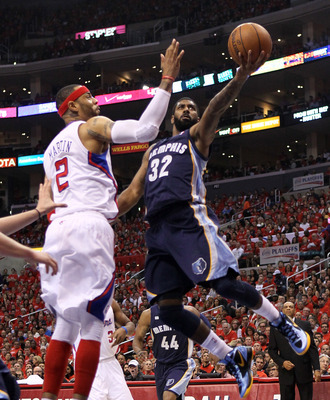 Stephen Dunn/Getty Images
The Mavericks missed on several of their targeted players in free agency this offseason and looked to be taking a step back.
They reacted quickly and signed some players to help remedy some major losses.
After losing Jason Terry and DeShawn Stevenson, the Mavericks reloaded with O.J. Mayo.
While it may not be a significant upgrade, it brings some stability back to that spot.
Mayo provides a legitimate scoring option to go along with Dirk Nowitzki and will certainly get the nod over Delonte West.
Vince Carter's career is coming to a close, and his role could shift more towards backing up Marion at small forward.
Denver Nuggets
Doug Pensinger/Getty Images
The Nuggets never experienced a shortage of young talent after trading away Carmelo Anthony a couple of seasons ago.
Andre Iguodala, their latest addition, more than shores up the team's status at small forward.
While Iguodala is clearly the pick of the litter, Danilo Gallinari, Corey Brewer, Jordan Hamilton and Wilson Chandler are all valuable as well.
Each of those players is able to play outside the position at other spots on the court.
Iguodala's defense is perhaps a bigger asset than whatever he'll bring offensively. Still, his offensive contribution won't be anything to scoff at.
Since playing in Denver, Gallinari has shown an ability to create his own shot and has been developing nicely.
Detroit Pistons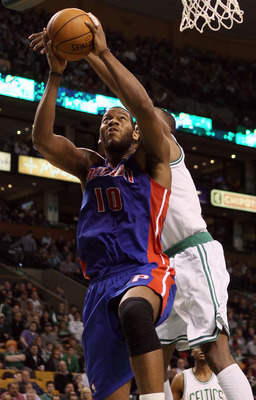 Elsa/Getty Images
Throughout their rebuilding phase, the Pistons have found themselves two nice pieces to build on in the frontcourt.
Greg Monroe has shown signs that he can develop into a nice player in the NBA, and Andre Drummond's raw ability has high boom/bust potential.
The Pistons could find themselves with two very good players at center within the next few years.
There's a lot to be said for their point guards as well. Rodney Stuckey experienced some success early in his career, and Brandon Knight was drafted to be the team's future at the spot.
The prospects in the frontcourt are difficult to ignore, and it will be interesting to see how they are used on the court in terms of playing time.
Golden State Warriors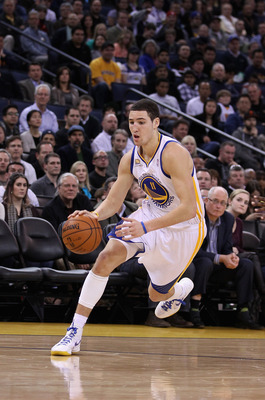 Ezra Shaw/Getty Images
The Warriors never had a shortage of explosive offensive talent with Monta Ellis at the point and shooting guard positions.
However, with Ellis gone, new options have emerged for the Warriors.
Klay Thompson has developed into a nice option at shooting guard, and the arrival of Harrison Barnes rounds out that spot.
The good thing is that Barnes has the size to play small forward, allowing time between them to be spread more evenly.
Brandon Rush should also bring some depth off the bench, where he was serviceable in Indiana.
Houston Rockets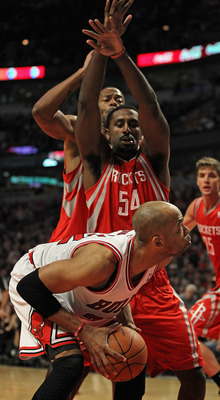 Jonathan Daniel/Getty Images
The Rockets' past few drafts and their recent effort to acquire Dwight Howard through a trade has left them with much of something else.
Power forwards. Lots of them.
Even after the amnesty of Luis Scola, the Rockets have Patrick Patterson, Terrence Jones, Royce White, Donatas Motiejunas and JaJuan Johnson. All of them are capable of playing at power forward.
The good news is that some of them are able to play on different spots on the floor.
Motiejunas could be used at center but could develop into a dynamic 4 who can stretch the floor. Royce White's passing and playmaking ability can also help the Rockets at different spots.
There was a point this offseason that the Rockets would have had to resort to using Patterson at center for a significant amount of time, but with the acquisition of Omer Asik and Motiejunas, Patterson can go back to being one of the many power forwards on the team.
Indiana Pacers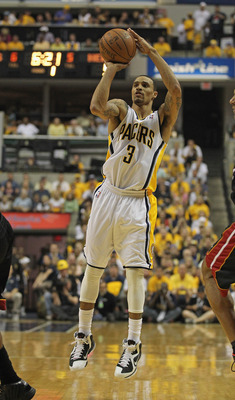 Jonathan Daniel/Getty Images
The Pacers are a pretty well-rounded team and, as a result, are pretty well-rounded at each position.
Point guard seems to be a forte of the Pacers.
George Hill has been a solid player for them, and D.J. Augustin could contribute significantly as well.
The move for Augustin was made to replace Darren Collison, who they traded to Dallas. Augustin's impact remains to be seen.
There's no denying that the Pacers seem set to remain competitive in a tough Eastern Conference.
Los Angeles Clippers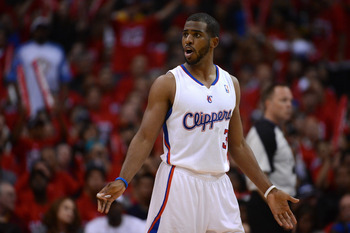 Harry How/Getty Images
The Clippers finally gained relevance after experiencing some playoff success led by Chris Paul and Blake Griffin.
They've experienced some turnover but remain strong at point guard.
Chris Paul is clearly among the best point guards in the league, and a veteran option like Chauncey Billups is also important for the Clippers.
Billups' injury last season affected Los Angeles, but not enough to knock it out of playoff contention. His return should help.
Eric Bledsoe has also shown signs of developing into a nice option for the Clippers.
There isn't much question who will get most of the playing time, but having options is never a bad thing.
Los Angeles Lakers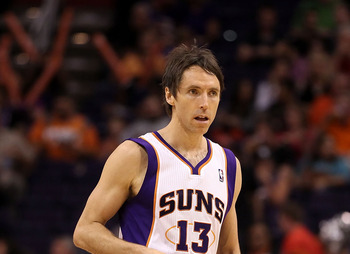 Christian Petersen/Getty Images
The Lakers are arguably the NBA's most talented team after acquiring Steve Nash and Dwight Howard this offseason.
While they're front-loaded on virtually every position, point guard is where there's the most depth.
Nash is obviously the headliner at the position, but Steve Blake has also proven he can be serviceable for the Lakers.
Chris Duhon should be able to as well, although it's hard to imagine he could see the floor much when Nash has shown he can still stay on the floor for a prolonged period of time.
Memphis Grizzlies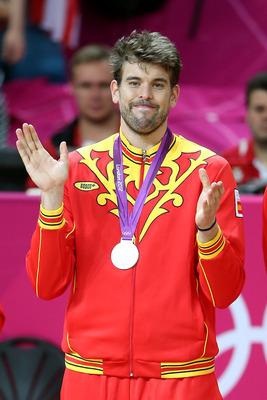 Streeter Lecka/Getty Images
The Grizzlies have pretty much the same starting lineup they had in the past.
While it's not necessarily an embarrassment of riches, the Grizzlies are well stocked at center.
Marc Gasol is already one of the most effective centers in the NBA. Having Hamed Haddadi and Marreese Speights behind him is just for good measure.
Speights can double as a forward, but with Darrell Arthur looming behind Zach Randolph, center might be his best bet.
Miami Heat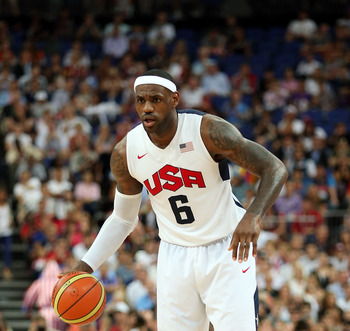 Christian Petersen/Getty Images
Last season's champions probably got deeper this offseason.
LeBron James, currently the best player in the NBA, sees the floor more than any of the others at small forward, but that doesn't change the fact that the Heat have plenty of depth there.
Mike Miller, Shane Battier and newcomer Rashard Lewis are all capable of playing at the spot.
LeBron's game has evolved more towards playing in the post, so it's difficult to confine him to just one position because of his dynamic nature.
The Heat look poised to make another run at the championship after the depth they've added in Rashard Lewis and Ray Allen.
Milwaukee Bucks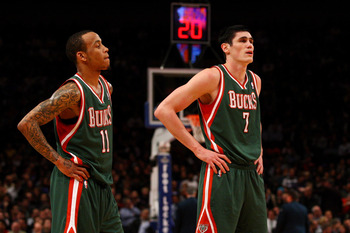 Chris Chambers/Getty Images
The Bucks have one of the most explosive backcourts in the NBA with Brandon Jennings and Monta Ellis.
So that part of the lineup is largely settled.
Milwaukee has plenty of forwards: Ersan Ilyasova, John Henson and even Larry Sanders.
The Bucks also have Samuel Dalembert, Ekpe Udoh and Joel Przybilla at center.
It'll be interesting to see how time is distributed between all of the players in the frontcourt on this team.
Minnesota Timberwolves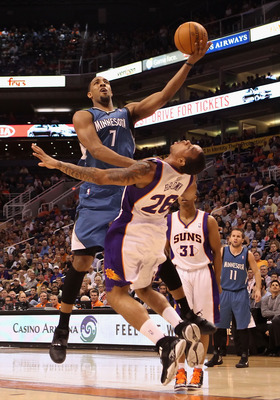 Christian Petersen/Getty Images
Determining whether the Wolves have an abundance at small forward depends on whether or not Derrick Williams is capable of playing small forward.
With the acquisitions of Chase Budinger and Andrei Kirilenko, it might be harder for Williams to see time on the floor.
Kevin Love is already the team's option at power forward, so it seems Williams is stuck between a rock and a hard place.
However, if Williams adjusts and proves his worth in some form or fashion, it's entirely possible that he could end up being the choice at the 3 for the Timberwolves.
New Orleans Hornets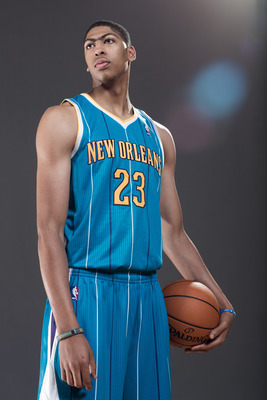 Nick Laham/Getty Images
The Hornets look to start a new era with Anthony Davis and the help of Austin Rivers, Eric Gordon and others.
While Davis is the obvious option in the frontcourt, the acquisition of Robin Lopez helps solidify it for the Hornets.
There isn't much in the way of Davis getting the time he needs to develop properly, but Lopez does present a solid option.
The possibilities with both in the frontcourt are intriguing as well.
For a team that didn't have much of a future last season, one offseason has certainly changed the way many think of its future.
New York Knicks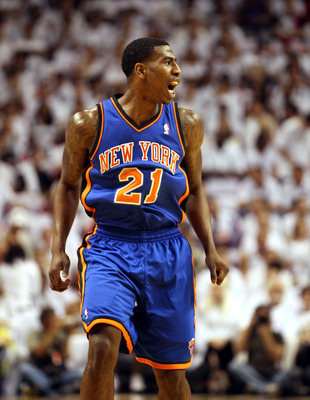 Marc Serota/Getty Images
In a rather tumultuous offseason with the departure of Jeremy Lin, the Knicks don't find themselves lacking at the position.
Jason Kidd, Raymond Felton and Iman Shumpert all are capable of running point for the Knicks.
Shumpert injured an injury last season and is progressing as scheduled.
Kidd was brought in for experience, and Felton is making a comeback with the Knicks.
Pablo Prigioni is another option at point guard. His creative playmaking ability and affinity for passing could be a major asset.
There isn't enough room to play them all consistently.
Oklahoma City Thunder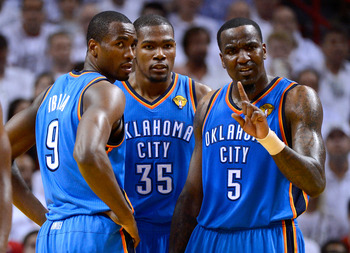 Ronald Martinez/Getty Images
Oklahoma City's success speaks for itself when it comes to well-roundedness and depth on a team.
The Thunder have plenty of help at center.
Kendrick Perkins is the staple for the team, but Nick Collison is capable of getting minutes at center as well.
Cole Aldrich didn't get into games much last season, and it could be even more difficult with the arrival of Hasheem Thabeet.
The Thunder are a team that can afford to take a flyer on Thabeet, but there's no guarantee he'll pan out.
Orlando Magic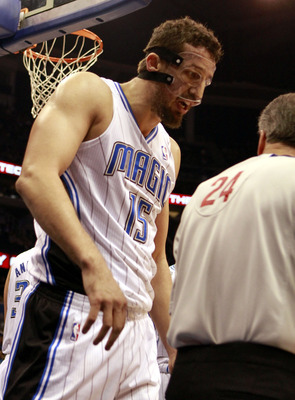 Marc Serota/Getty Images
Following the trading away of Dwight Howard, the Magic are left with several pieces with which they must figure out how to build towards the future.
The Magic have perhaps the most numbers at small forward.
Moe Harkless, Christian Eyenga, Quentin Richardson and Hedo Turkoglu are all viable options.
Among other things with the Magic, it'll be interesting to see how they deal with the loss of Howard and the allocation of minutes among the players on the roster under new head coach Jacque Vaughn.
Philadelphia 76ers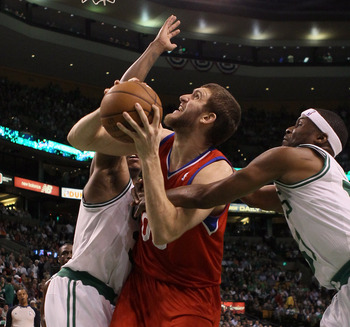 Elsa/Getty Images
The acquisition of Andrew Bynum can't be ignored, but the 76ers have plenty of options to play alongside him at power forward.
Spencer Hawes can be played at power forward, along with Thaddeus Young or even Arnett Moultrie.
However, what's more intriguing is what their plans are for Kwame Brown at this point. The obvious option is for him to back up Bynum.
The Sixers look pretty locked down in the frontcourt.
Phoenix Suns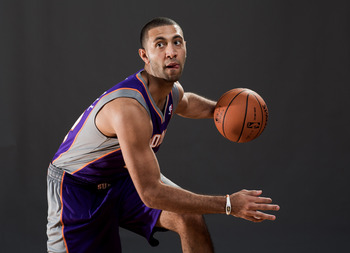 Nick Laham/Getty Images
In their quest to remain competitive after the departure of Steve Nash, the Suns have compiled some rather interesting pieces.
Goran Dragic comes in as the new assumed starter at point guard for the Suns, but they have talent behind him.
The extent of Kendall Marshall's role behind Dragic is difficult to gauge, but what about Sebastian Telfair's role?
The logical assumption is that Marshall gets the nod over Telfair. His playmaking ability is promising, but he may be lacking a bit offensively.
Portland Trail Blazers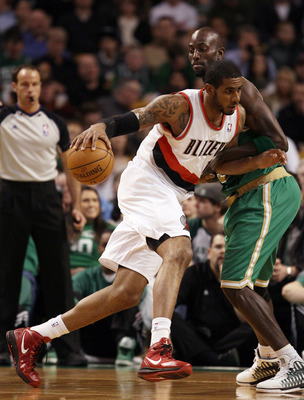 Elsa/Getty Images
LaMarcus Aldridge is currently Portland's centerpiece, but there are others on the team that have defined roles that may be able to contribute.
Jared Jeffries and J.J. Hickson can play power forward as well.
Jeffries could bring a defensive presence, and while Hickson's defense hasn't been a strong point, he's a serviceable option.
Sacramento Kings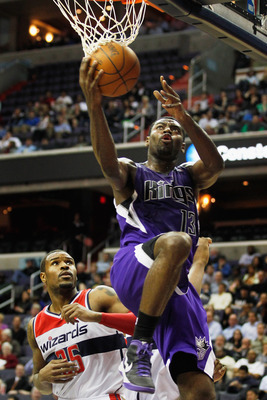 Rob Carr/Getty Images
The Kings have had a rather grim outlook since Rick Adelman left, but they've worked towards rebuilding every year with key pieces like DeMarcus Cousins.
They have plenty of options at point guard, and it's a good thing that some of them are versatile.
Jimmer Fredette is one of those options. While he's struggled so far in the NBA, time will tell whether he can hang in the league.
Aaron Brooks is another solid option at point guard; he played well for the Houston Rockets and Phoenix Suns before playing in China as a result of the lockout.
Tyreke Evans was initially the hope for the team at that position. He's struggled the last couple of seasons, and it remains to be seen what direction the Kings will take.
San Antonio Spurs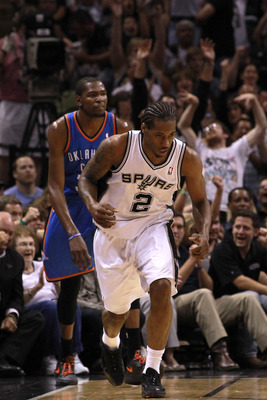 Ronald Martinez/Getty Images
The Spurs have found ways to remain deep over the last decade, and it has contributed largely to the success they've had.
Small forward is strengthened especially by the fact that Kawhi Leonard has turned out to be a nice pick.
Stephen Jackson was also brought in last season to help their run for another championship.
Other options include Boris Diaw, an established veteran in the league.
While the Spurs have a huge veteran presence at the position, it doesn't seem like Leonard will have any trouble staying on the court with the way he has developed so far.
Toronto Raptors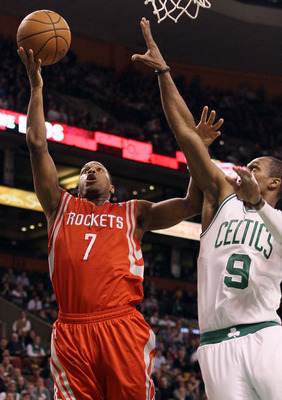 Elsa/Getty Images
At first glance at this team's roster, it becomes immediately apparent that the Raptors are loaded at point guard.
Kyle Lowry and Jose Calderon are both legitimate options as starters in the NBA.
Lowry looks to be the clear starter on the team, but it doesn't hurt to have the kind of depth the Raptors have behind him.
John Lucas III is another option, coming from the Chicago Bulls.
Utah Jazz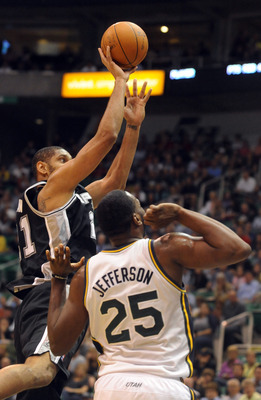 Steve Dykes/Getty Images
The Jazz are another team that is absolutely loaded in the frontcourt.
They have a mix of veteran leadership and young talent, and it's difficult to determine how to allocate playing time among them.
Al Jefferson, Derrick Favors and Enes Kanter are all candidates to play center.
Jefferson makes the decision difficult because of his consistent effectiveness on the floor, but Favors and Kanter are the future the Jazz are looking to build towards.
Washington Wizards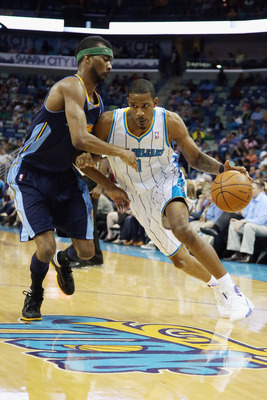 Chris Graythen/Getty Images
The Wizards are another team that hasn't had a very good run the last few years, but their hope is in players like John Wall and Bradley Beal to pull them out of oblivion.
They've lacked in wins the last few years, but they certainly don't lack small forwards.
Trevor Ariza has experience as a starter around the league, and Martell Webster is another option a the spot.
Chris Singleton is another young athlete who can play the position and looks to be in Washington's future.
Cartier Martin is another contributor at the position.
Whoever is out there for the Wizards, one can only hope that they're able to help effectively improve the team.
Keep Reading