College Football Recruiting 2013: 12 Commits Facing Serious Depth Chart Battles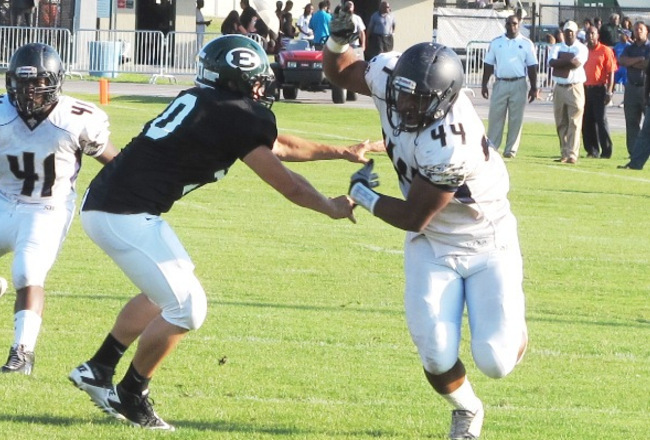 247Sports.com

Coming into college ball, from a recruit's perspective, you want to play.
You've been told by everyone around you, including college coaches recruiting you, how good you are. So, you go to college thinking you can overtake the competition at your position.
However, once you arrive on campus, you quickly realize that you will have some challenges for playing time.
For this read, there are 12 committed recruits I see in this class who will face serious depth chart battles. Positions at their future schools are stacked with talent, and they will have a tough time getting on the field quickly.
Let's get to it.
12. Michael McCray II, LB (Michigan)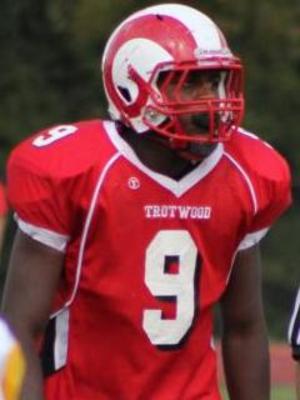 247Sports.com
McCray is a very talented LB prospect from Ohio. He has good size (6'4" and 230 pounds), solid speed and instincts. He's headed to Michigan, where he has the talent to be the next top 'backer in Ann Arbor.
Yet last year Michigan signed the best LB class in the country. The quartet of Kaleb Ringer, James Ross, Royce Jenkins-Stone and Joe Bolden all will factor into the Michigan defense's future down the line.
With only three LB spots in the Michigan defense's base 4-3 look, that's at least four players McCray will have to beat out for time.
11. Ryan Burns, QB (Stanford)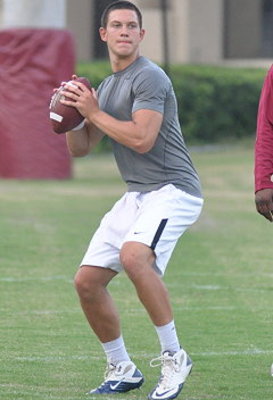 247Sports.com
Josh Nunes is the starter for Stanford these days and is only in his junior year, while the Cardinal still will have Kevin Hogan and Evan Crower on the roster when Burns arrives.
A redshirt year likely will happen, so the real competition will be between Hogan, Crower and Burns when Nunes is gone. Burns has more talent than Hogan and Crower, but the two elders will have a substantial advantage in knowledge of the offense.
10. Ryan Green, RB (Florida State)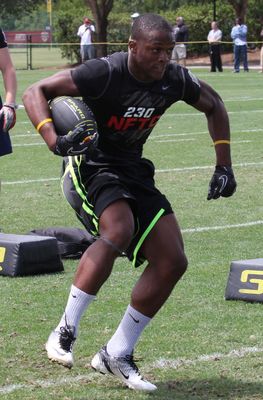 247Sports.com
Green has excellent speed on a 5'10", 185-pound frame, and he will be an electric runner at Florida State.
The thing is, the Seminoles have two backs already on the roster who are top-notch talents.
James Wilder Jr. and Mario Pender are two runners whom I have high expectations for. Green will have to battle both of them for carries, and that will be tough.
9. Luke Del Rio, QB (Oklahoma State)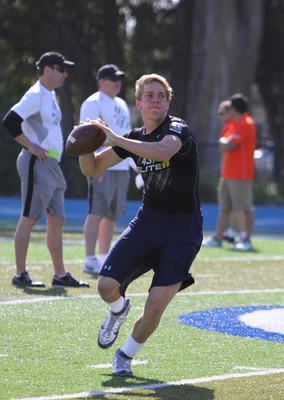 Scout.com
Del Rio will be heading to Stillwater as a QB, but with Wes Lunt starting as a true freshman and J.W. Walsh also being there, it would be a little surprising to see Del Rio under center before his redshirt junior or senior season.
So, if you're looking to see him play, it's not going to be for awhile.
8. Michael Hutchings, OLB (USC)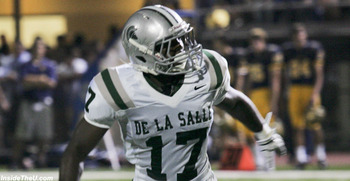 247Sports.com
The Trojans boast a young and talented linebacking unit, and that's just the starters. Reserves include Anthony Sarao, Scott Star, Marquis Simmons and Jabari Ruffin, among others.
Hutchings is going to have to make some serious plays to really stand out among USC's linebackers early in his career. He's good enough to be a starter in college, but that's likely not due to happen until later in his career.
7. ArDarius Stewart, WR (Alabama)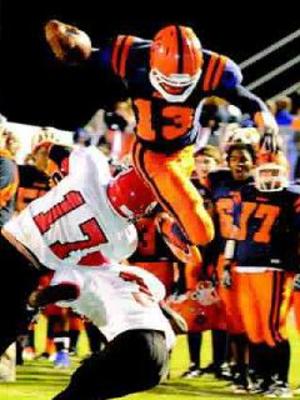 247Sports.com
Stewart is a 6'1", 185-pounder with great speed and athleticism on the offensive perimeter. From Alabama, he's one of the upgrades coming up in the Tide program at WR.
The only thing is, Alabama has several other great young WR talents already on the roster. With Chris Black, Amari Cooper and Marvin Shinn all on the roster, along with a few others, Stewart is going to have to fight the depth chart hard to get on the field early in his career.
6. Malik Zaire, QB (Notre Dame)
247Sports.com
Being the QB at Notre Dame is a high honor, and many young field generals grow up dreaming of being one.
Malik Zaire is also to be included as an Irish QB dreamer, and he has the skills to do it.
But so do Everett Golson and Gunner Kiel, two young QBs who will be stiff competition for Zaire. With his athleticism, speed and quickness, a position change may be best for Zaire if he wants to get on the field sooner than later.
5. DeMarcus Walker, DL (Alabama)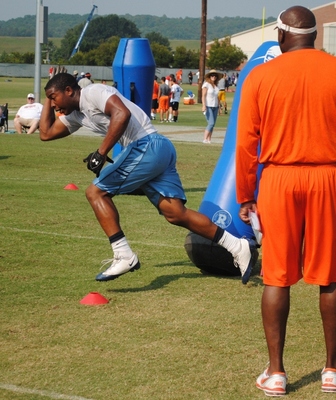 247Sports.com
Young DL prospects whom 'Bama has recently signed include Jeoffrey Pagan, LaMichael Fanning, Quinton Dial, Korren Kirven, Dakota Ball, Darren Lake and Dalvin Tomlinson.
Those all are great talents whom Walker will have to overtake to get on the field during his career. At 6'4" and 280 pounds, he's talented, but the scheme is complex, and getting the proper techniques take awhile to consume.
Walker has some depth chart fighting to do.
4. Kohl Stewart, QB (Texas A&M)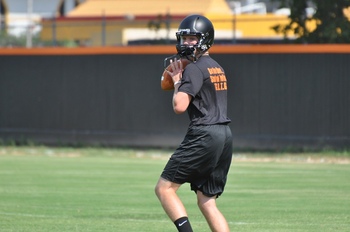 247Sports.com
The Aggies will be a destination where many QB prospects will look at as we move forward due to the offense that head coach Kevin Sumlin runs.
Tack that on with SEC membership in Texas, and you have prime real estate in College Station.
Kohl Stewart has gotten a jump on my thinking and is committed to the Aggies. However, redshirt freshman Johnny Manziel is the starter now, and Matt Davis also is on the roster. Plus, Kenny Hill also is committed to TAMU in this 2013 class.
Stewart will have to wait his turn.
3. Max Browne, QB (USC)
247Sports.com
Browne is a gym rat who really studies the game well and is always prepared, which is why he is preparing to graduate early and be an early enrollee at USC after this season.
The 6'5", 215-pounder figures to be the next great Trojan QB, but so do Cody Kessler and Max Wittek, who are already in Year 2 with the USC offense.
I don't think Matt Cassel's Trojan career is how Browne's will look; maybe more like John David Booty or Mark Sanchez's careers based on how they had to wait their turn.
2. Tyrone Swoopes, QB (Texas)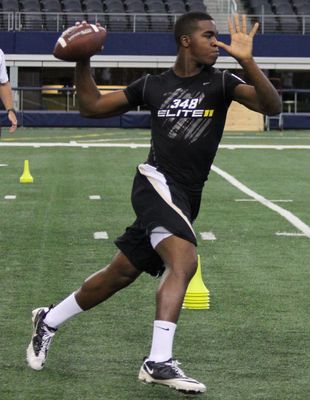 247Sports.com
Swoopes opened this year as one of the highest-ranked recruits, but his stock has fallen since then. He's 6'4" and 220 pounds, and has a high ceiling at the QB position, but his limited reps in the passing game and need for fundamental refinement make him a bit of a project.
Committed to Texas, Swoopes likely won't be seen for awhile. David Ash is the man now, plus Connor Brewer was signed last year and is not going fade into the black at all.
Swoopes is going to have to work like he's never worked before to get on the field early.
1. Vernon Hargreaves III, CB (Florida)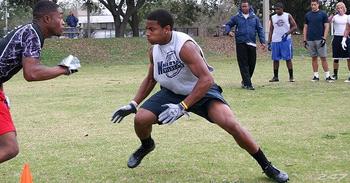 247Sports.com
None of Florida's cornerbacks who see significant time are seniors, so when Hargreaves arrives, he will be behind them.
With Marcus Roberson, Cody Riggs, Jaylen Watkins, Willie Bailey, Loucheiz Purifoy, Jabari Gorman, Valdez Showers and the young freshman Brian Poole in Gainesville, Hargreaves has his work cut out for him.
He's the nation's best CB prospect, and he has great play smarts, instincts and technique. Yet the incumbents all will have a leg up on knowing the scheme and coverages, so it will be a bit tough to win a big job as a freshman for Hargreaves.
Edwin Weathersby has worked in scouting/player personnel departments for three professional football teams, including the New York Giants, Cleveland Browns and the Las Vegas Gladiators of the Arena League. He spent a year evaluating prep prospects and writing specific recruiting and scouting content articles for Student Sports Football (now ESPN Rise-HS).
A syndicated scout and writer, he's also contributed to WeAreSC.com, GatorBait.net and Diamonds in the Rough Inc., a college football and NFL draft magazine.

Keep Reading