Rams vs. Lions: How Should St. Louis Attack Detroit?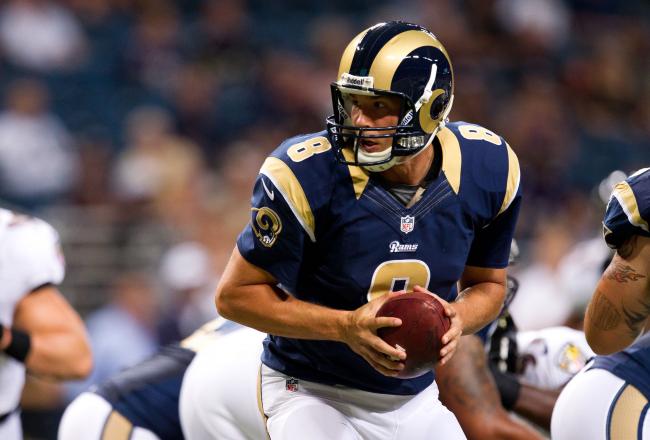 David Welker/Getty Images
Never give up, never surrender!
- Commander Peter Quincy Taggart, from Galaxy Quest
Continuing our series of looks at how teams should and might attack their NFC North foes this coming Sunday, we take a look at the team with the unenviable task of taking down the Detroit Lions—the St. Louis Rams.
It's not hopeless—this is the NFL, and it's never hopeless.
But it won't be easy.
And if Rams fan doesn't like the Galaxy Quest quote, well, you almost got something referring to the Spartans at Thermopylae so....
The Rams have to simultaneously find a way to stop Matt Stafford and Calvin Johnson while also keeping Sam Bradford upright.
That's not going to be easy—but it can be done.
When the Rams are on Offense
The front seven for the Lions is brutal for a team with some questions on the offensive line and few real weapons on the offense for their quarterback to throw to. Sure, they were not as good as they had been the previous year, but there have been some very vital changes made, and this is a far more effective unit.
The only way to negate this unit is to find a way to cut running back Steven Jackson loose early and have quarterback Sam Bradford use a lot of very quick drops and throws.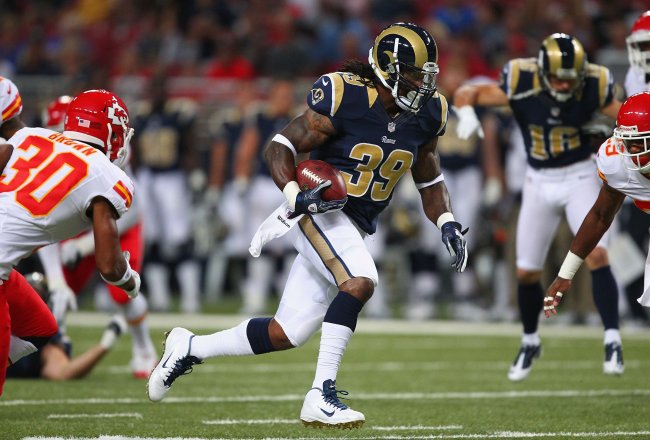 Dilip Vishwanat/Getty Images
Even with the adjustments the Lions are making, Jackson should find some room to run on the front seven. The Lions are more effective against the pass than the rush and Jackson is still an incredible talent.
Getting Jackson going early accomplishes two important things.
First, it grinds the clock out. The longer you keep Matt Stafford and company on the sideline, the better. If Stafford gets going early and the Rams defense can't hit their points (we'll get to that), things will get out of hand and Jackson will end up with a lot less touches, though he will catch the ball.
Secondly, it keeps the defensive front from just focusing on pass defense. Bradford will still have to deal with the pass rush on a regular basis.
But as Lions' head coach Jim Schwartz loves rotating pass-rushers in to keep everyone fresh, an effective rushing attack can slow that down and wear down the defense.
Really though, this comes down to Sam Bradford.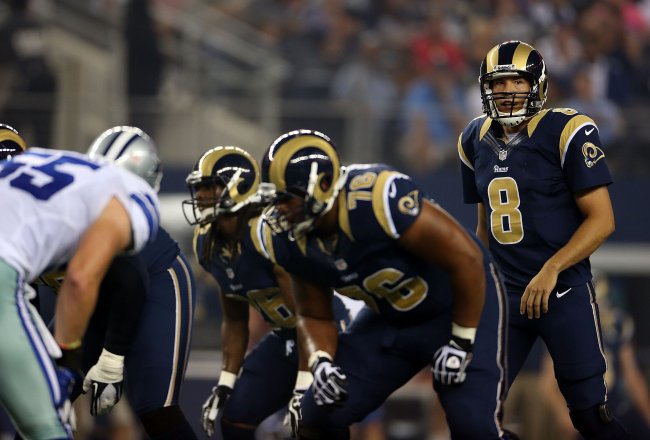 Ronald Martinez/Getty Images
The Lions have been working on shifting their looks around—moving Ndamukong Suh around, popping Nick Fairley outside then back inside—they don't want the offensive line to be able to anticipate where anyone will be.
So Bradford will have pressure coming from all over the place.
As I mentioned, the way to get past this is to hit the receivers with some short passes and occasionally spread the defense out by getting multiple receivers out wide.
The Lions can get over-aggressive on occasion, and the Rams can beat them with some short and intermediate routes if they get too wrapped up in wrapping up Bradford.
If the Rams can burn them a few times, they will have to ease their foot off the gas a bit. Of course, the risk is exposing Bradford to hits.
So mixing up some four and five wide sets could help spread out the coverage and suck in some linebackers who might otherwise rush.
Of course, the problem is that this isn't a team with five wide receivers to count on. Danny Amendola and Steve Smith are still returning from injury, and beyond them are inconsistent Brandon Gibson and rookies Brian Quick and Chris Givens.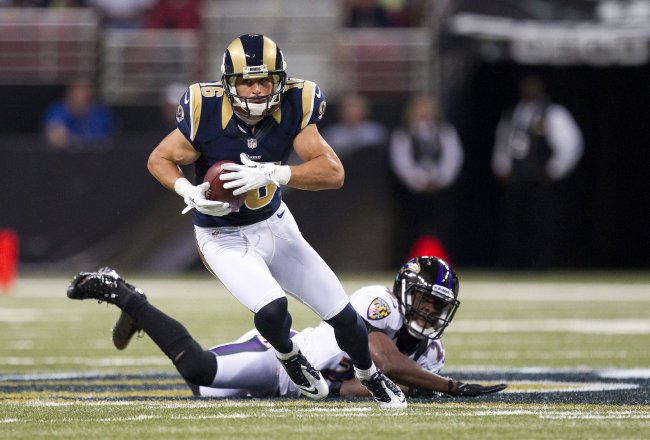 David Welker/Getty Images
Still, they have to try, and if they can stretch the defense out a bit, it can free up some lanes for Jackson as well.
If the Lions run out to a lead and Bradford has to bring the team back, the best bet is to attack rookie Dwight Bentley and the safeties. With Louis Delmas out, it's up to John Wendling and Erik Coleman to step up.
Wendling had a solid preseason and Coleman has some ability, but neither they nor Bentley are guys we know for sure can lock players down.
The Rams' offensive line will then have to withstand some very hard pass rushes to give Bradford a shadow of a chance to hit a deep ball and bring his team back.
When the Rams are on Defense
The weakness of the Lions' offense is really the offensive line, so the Rams need to attack the tackles and get at Stafford. Robert Quinn and Chris Long have to beat their men and the linebackers have to find some gaps to get at him as well.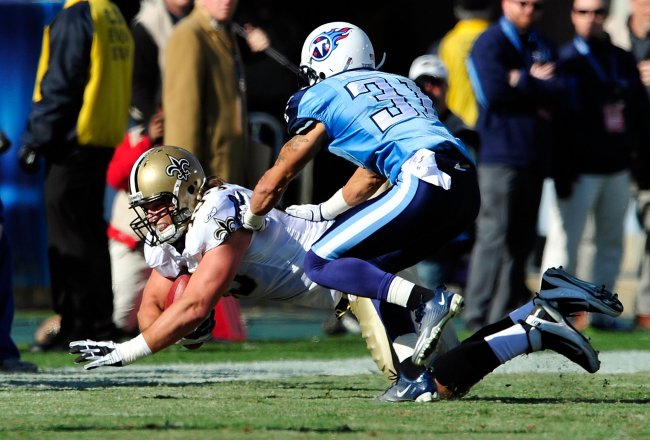 Grant Halverson/Getty Images
The upside is that the Rams could have a very good secondary to help out. Cortland Finnegan may seem like a bully in cleats, but he can be a very solid corner and Janoris Jenkins was one of the better cover corners in the draft who fell because he had off-the-field issues.
Quintin Mikell and Darian Stewart are decent safeties, but the keys are Finnegan and Jenkins.
Because, of course, they are tasked in part with slowing down Calvin Johnson—a difficult job at best.
Their best bet is to play him as physical as they can at the line and gum up his routes. The fact is that Johnson and Stafford will connect—the question is, can the defensive line of the Rams get at Stafford quick enough to make sure he doesn't have a time to get Johnson the ball.
More than anything else, the defense has to slow the offense down. They need to contain the Lions as much as possible, force Stafford to go away from Johnson as much as possible. That he has a ton of other weapons—Titus Young and Brandon Pettigrew chief among them—makes this risky, but not as risky as hoping Calvin Johnson falls into a black hole while the Rams focus on the other guys.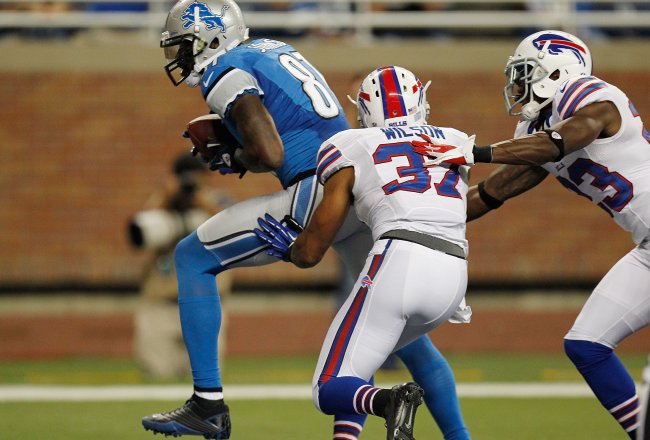 Gregory Shamus/Getty Images
By slowing Johnson down, jamming him at the line and forcing him off his route, they have a chance—just a chance, mind you—to also knock his timing off with Stafford.
While Young, Pettigrew and Nate Burleson are good, they aren't Megatron good. If you have to pick a poison and you are the Rams, that's the one to swallow.
Conclusion
Make no mistake, this is a huge uphill battle. The Lions are talented on both sides of the ball and are hard to stop for teams with a lot more weapons than the Rams have.
However, games like this are where franchise quarterbacks shine or crumble.
Sam Bradford simply has to play above and beyond anything we have seen in regular season action. With the meager weapons he has to catch the ball, it is a lot to ask. However, he has a talented back in Steven Jackson and other quarterbacks have achieved surprising success with less.
Ultimately this all falls on his shoulders. If the defense can even keep the Rams in the game, he has to come up big.
If they fall behind, he has to come up bigger.
Maybe that's unfair, but that's reality in the NFL.
Check out the B/R NFC North Facebook page—like us and keep up with everything NFC North on Bleacher Report! Follow me on Twitter at @andrew_garda.
This article is
What is the duplicate article?
Why is this article offensive?
Where is this article plagiarized from?
Why is this article poorly edited?