NL Cy Young Award Rankings: R.A. Dickey Knuckles His Way Toward the Top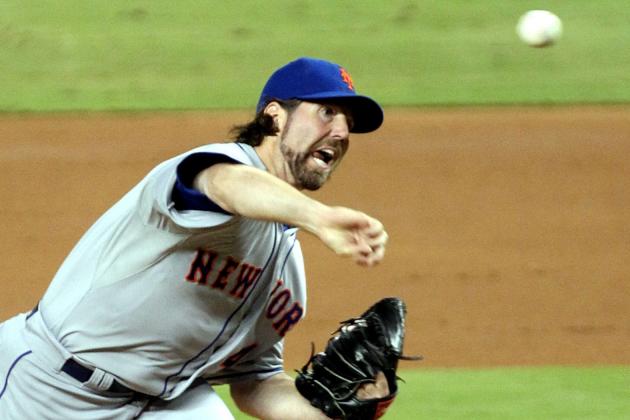 Marc Serota/Getty Images
Should R.A. Dickey be the NL Cy Young Award favorite?
Was it incorrect to look at the race for the National League Cy Young Award as a two-man competition?
Clayton Kershaw and Johnny Cueto appeared to be the two favorites for the award going into September. But R.A. Dickey still warrants strong consideration for NL Cy Young honors. Perhaps we gave the impression last week that he was no longer part of the race. If so, that was a mistake.
Pitchers who did throw their way out of contention this week—and perhaps for the rest of the season, depending on how they rebound—are Madison Bumgarner, Kyle Lohse, Jordan Zimmermann and Ryan Vogelsong.
That leaves the following five pitchers (and three honorable mentions) as the top contenders for the NL Cy Young Award. These eight pitchers may be the leading competitors through September.
Your responses and suggestions are always welcome in the comments. You can also reply to me on Twitter. My address is at the end of this article. Last week's rankings provoked quite a bit of disagreement, and that feedback often factors into how this list is assembled each week.
All the statistics mentioned here are current as of Sept. 6.
Begin Slideshow

»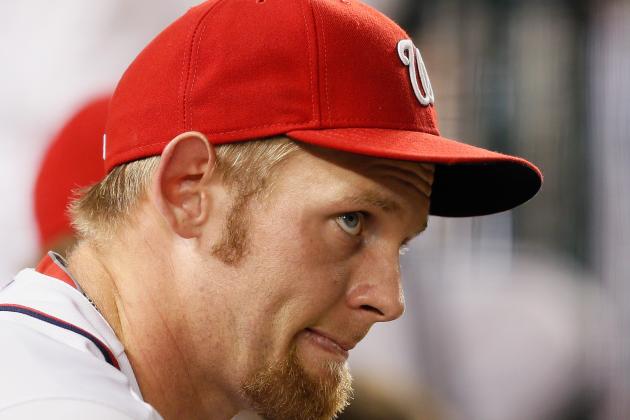 Rob Carr/Getty Images

Stephen Strasburg, Washington Nationals
Strasburg rebounded nicely from his worst start of the season Aug. 28 versus the Miami Marlins. Facing the St. Louis Cardinals in his most recent outing (Sept. 2), the Nats' phenom pitched six scoreless innings.
The Cards have scored the most runs in the NL, have the highest team batting average and rank second in team OPS. Yet Strasburg held that powerful lineup to two hits while striking out nine batters (and walking only one).
Yet the September shutdown that has been looming is now very close. Strasburg is scheduled for two more starts this season—Friday, Sept. 7 against Miami and Wednesday, Sept. 12 versus the New York Mets. This thing is really happening. The Nationals really are going to shut their best pitcher down before the end of the season.
Strasburg is currently tied for second in the NL with 195 strikeouts. His rate of 11.2 strikeouts per nine innings is the best in the majors. With a 2.94 ERA, 1.12 WHIP (walks and hits per nine innings) and .225 opponents' batting average, Strasburg ranks among the top 10 starting pitchers in the league.
But will he still be considered a contender for the NL Cy Young Award once he's shutdown? It would be difficult to make that case.
Matt Cain, San Francisco Giants
Knocking a guy down based on one game doesn't seem fair, but when the competition between NL Cy Young Award contenders is so close, a single performance matters.
Last week, Matt Cain was No. 4 in our rankings. But he gave up five runs and six hits to the Chicago Cubs, a team that has scored the second-fewest runs in the NL, along with the league's second-lowest team batting average and OPS. So that's going to knock him down a notch.
Whatever plagued Cain in that game appears to have affected the rest of the Giants' starting rotation. Barry Zito, Ryan Vogelsong and Madison Bumgarner each gave up four runs or more in San Francisco's subsequent three games.
In my view, Cain has been a top contender for Cy Young Award honors all season. He ranks among the top 10 NL pitchers in strikeouts (170), ERA (2.98), WHIP (1.03) and opponents' batting average (.226). But unless he has a strong September, it's hard to see him winning the trophy now. Perhaps the Strasburg shutdown will help his cause.
Wade Miley, Arizona Diamondbacks
Miley deserved to be rated as at least an honorable mention based on his own merits. But poor performances during the past week from Bumgarner, Vogelsong, Jordan Zimmermann and Kyle Lohse gave him a push.
With a 2.90 ERA, Miley ranks fifth among NL starting pitchers. He's also tied for fifth in WHIP with a 1.12 mark.
Miley's .245 opponents' batting average might not look as impressive compared to the other top pitchers in the league, but Miley's game is to pound the strike zone and let batters put the ball into play. His rate of 1.6 walks per nine innings ranks sixth in the NL.
The D-Backs' rookie left-hander—and leading contender for NL Rookie of the Year—is also highly regarded by WAR. FanGraphs rates him as the sixth-best pitcher in the NL at 4.1 wins above replacement. Baseball-Reference places him fourth with a 4.0 WAR.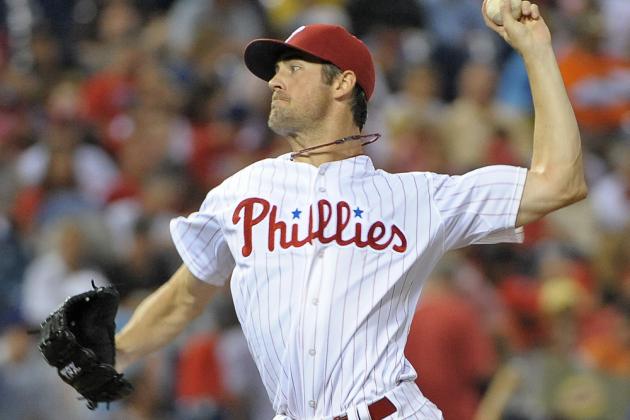 Eric Hartline-US PRESSWIRE

Last week: No. 5.
Cole Hamels has allowed three runs in each of his past three starts, giving up a total of 20 hits over 19.2 innings. During that span, he's also struck out 20 batters while walking six.
In his past seven appearances, Hamels hasn't allowed more than three runs. Unfortunately for him, the Philadelphia Phillies' lineup is so weak that he's won only three of those seven games. Despite that, Hamels is still tied for fourth in wins among NL starting pitchers with 14.
With 178 strikeouts, Hamels ranks fifth in the NL. His 3.04 ERA, 1.13 WHIP, .236 opponents' batting average and 183.1 innings pitched place him among the top 10 pitchers in the league.
Though Hamels has already faced the Braves in September and is scheduled to pitch once against the Nationals, he won't really get the chance to play a spoiler during the stretch run.
However, if he stays on his current rotation, Hamels will face the Rockies, Astros, Mets and Marlins to close out the month. That should allow him to polish some already-impressive numbers.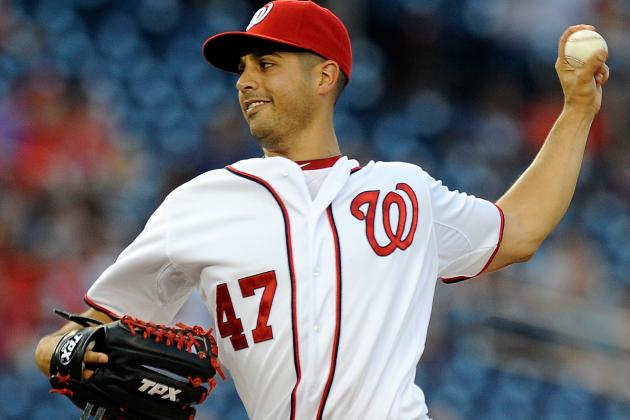 Patrick McDermott/Getty Images

Last week: Unranked.
Perhaps it was a bit of an overreaction to drop Gio Gonzalez from the top five and honorable mentions last week.
But Gonzalez took care of that oversight by pitching so well in his past two starts that he just couldn't be ignored. During those last two appearances, the Nats' left-hander didn't allow a single run in 16 innings. He gave up eight hits and three walks while striking out 17 batters.
Opposing batters are currently hitting .208 against Gonzalez. That's the best mark in the majors. His 185 strikeouts are the fourth most among NL pitchers, while his 2.98 ERA and 1.12 WHIP rank him among the top 10 in the league.
With Stephen Strasburg scheduled to be shut down next week, there's been some question as to whether or not the Nationals will have an ace during their presumed postseason run. Gonzalez absolutely gives the Nats a No. 1 starter during the playoffs.
If he can shut out the Cardinals—perhaps the best lineup in the NL—he's capable of holding down any team the Nationals face in the postseason. He's the kind of pitcher the opposition hopes it won't have to face twice in a playoff series.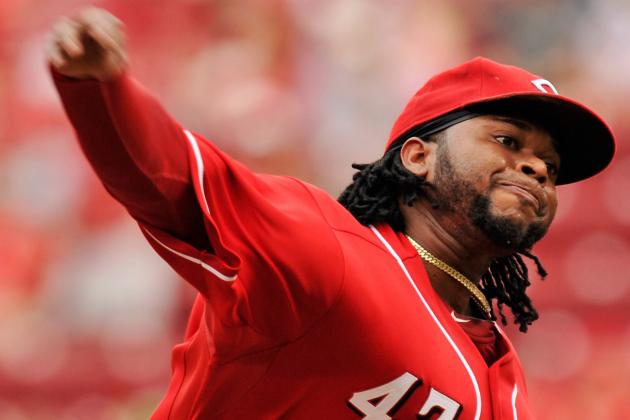 Jamie Sabau/Getty Images

Last week: No. 2.
All right, Reds fans—let me have it.
But after giving up four runs to the Phillies in his most recent start, I felt like Johnny Cueto had to be dropped down a spot compared to how well his top rivals for the NL Cy Young Award pitched this week.
That's probably unfair considering that Cueto hadn't allowed more than two runs in four of his past five starts. That streak has contributed to Cueto's 2.58 ERA, which leads the NL. He also is among the league's top 10 starting pitchers with 188.2 innings pitched and a 1.12 WHIP.
An opponents' batting average of .243 might not look as impressive lined up alongside the other top pitchers in the NL. But Cueto has to keep the ball on the ground as a matter of survival for pitching in Great American Ball Park.
As mentioned last week, Cueto might deserve additional credit because of how well he handles opposing baserunners. He leaves almost 80 percent of runners on base, according to FanGraphs; the best rate in the majors. Holding runners and picking them off are definite skills; ones that we don't typically cite when talking about the best pitchers in the game.
That's the challenge when it comes to Cueto, and I'll certainly admit that I'm guilty of this as well. He's forcing us to rethink what it means to be a dominant pitcher. It isn't necessarily about strikeouts or hits allowed.
If a pitcher's true intention is to stop the opposition from scoring, Cueto is currently doing it better than any pitcher in baseball. If he keeps doing it through September, he may just win the NL Cy Young Award.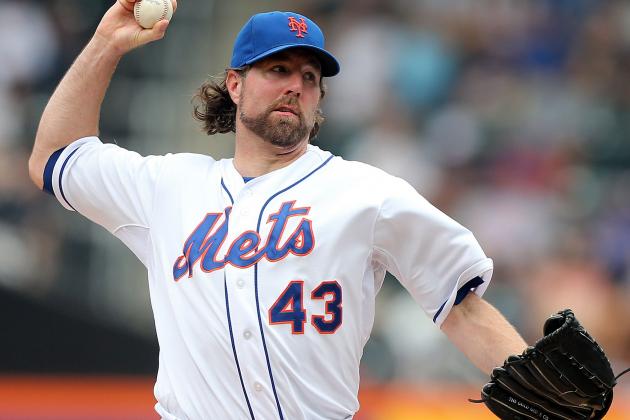 Jim McIsaac/Getty Images

Last week: No. 3.
Why did R.A. Dickey leapfrog Johnny Cueto in this week's NL Cy Young Award rankings?
In two starts since last week's top five, the New York Mets knuckleballer allowed two runs and 13 hits over 15.2 innings. He struck out 12 hitters while walking four.
Dickey has allowed one run or less in three of his past four starts. Granted, the competition hasn't been stellar. The Rockies, Astros and Marlins were three of the opponents he faced. The Astros and Marlins are two of the worst offenses in baseball. A good pitcher should shut those lineups down.
But the Rockies—despite being one of the worst teams in MLB—rank third in the NL in team runs scored and second in team batting average. Dickey held them to one run and three hits.
How about the Cardinals? St. Louis is the NL's top team in runs scored and batting average. Yet Dickey held them to two runs over nearly seven innings. (Since this is the third time in this slideshow that we've mentioned the Cards' great lineup being held in check, perhaps we should reassess how highly that offense is regarded.)
Dickey is tied for second in the NL with 195 strikeouts, a 2.64 ERA, 1.03 WHIP and 198 innings pitched. Opposing batters are hitting .221 against him, the third-lowest mark among the league's starting pitchers. He's pitched five complete games and three shutouts, leading major league pitchers in each of those categories.
And he's doing all this by throwing a knuckleball, perhaps better than anyone has ever thrown that pitch. It's supposed to be a gimmick pitch; a last resort for pitchers whose arms are worn down or need to try something new to stay in the majors.
But Dickey is dominating with the knuckleball and blowing up all previously conceived notions of pitchers who throw it.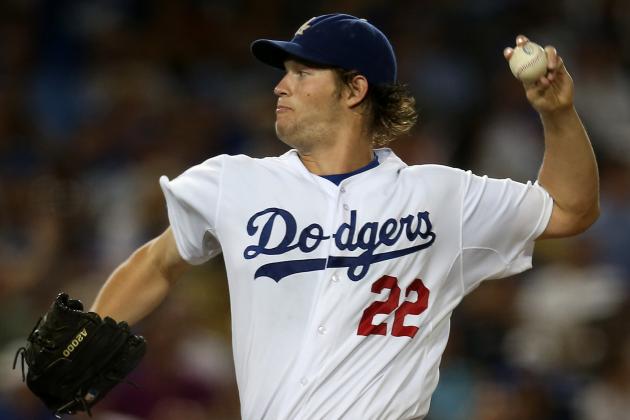 Stephen Dunn/Getty Images

Last week: No. 1.
Clayton Kershaw holds on to the top spot in our NL Cy Young Award rankings for the second consecutive week on the strength of allowing one run and five hits over seven innings in his most recent start.
Yes, that appearance was against the San Diego Padres, one of the worst teams in the NL in team batting average, OPS and runs scored. But as I've often said, elite pitchers should get credit for shutting down feeble offenses—even if that's what they're expected to do.
Kershaw leads the NL with 201 strikeouts, and he is the first NL starting pitcher to cross the 200-strikeout threshold this season. He ranks among the league's top three pitchers with a 2.79 ERA, 1.02 WHIP and .215 opponents' batting average. He's also thrown 199.2 innings, more than any other NL starting pitcher.
If this has become a two-man race between Kershaw and R.A. Dickey (and I think Johnny Cueto will definitely have something to say about that), one thing that could work against the Los Angeles Dodgers' left-hander is that his team is in playoff contention.
Voters might look at the Mets' poor performance and be more impressed by Dickey putting up his numbers despite playing for a bad team. Though anyone who thinks that should look deeper into the statistics, because the Mets actually have a better offense than the Dodgers.
Does Kershaw have more pressure on him each time he takes the mound, however? That could be argued. With the Dodgers fighting for their postseason lives, Kershaw needs to pitch well every time he starts in September. And with his lineup's inconsistent scoring, he needs to hold the opposition down.
Do either Dickey or Cueto pitch with that kind of burden right now? Cueto's team is a playoff contender but holds an 8.5-game lead in the NL Central. The Reds' place in the postseason is almost assured. He can afford to pitch a bad game, as he did in his most recent start.
If Kershaw helps carry the Dodgers into the postseason, will that give him the edge for a second consecutive NL Cy Young Award?
Follow @iancass on Twitter.