Jaguars vs. Vikings: 10 Things We Learned from Minnesota's 26-23 Win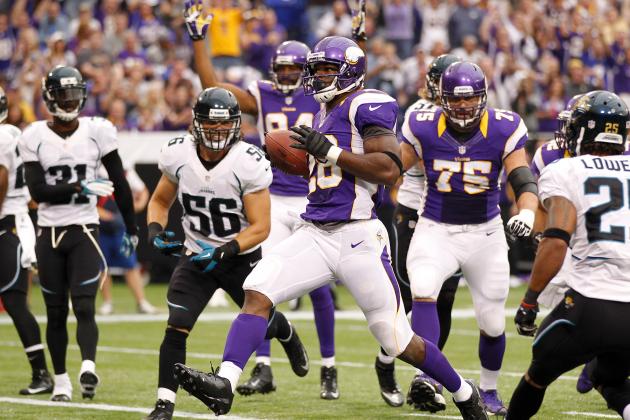 Andy King/Getty Images

Rookie Blair Walsh kicked four field goals...
Superman returns...
Top draft pick LT Matt Kalil blocks an extra point....
The Vikings finished an opponent...
That is a recipe for success as the Minnesota Vikings won 26-23 over the Jacksonville Jaguars on Sunday in overtime.
The game certainly had its ups and downs for the Vikings, but here are the 10 things that stood out the most to me.
Begin Slideshow

»
Brace Hemmelgarn-US PRESSWIRE

The story of the game was the return of running back Adrian Peterson, rushing for 84 yards on 17 carries and two touchdowns in his return just eight months after having reconstructive surgery on his left knee.
In his 2012 debut, he passed Robert Smith to become the Vikings' all-time leading rusher, finishing with 6,836. Smith held the record with 6,818 yards, Chuck Foreman is third with 5,879 yards.
Head coach Leslie Frazier seemed to gain confidence in Peterson which led to his extended work.
There should be no doubt that Peterson will start again next week.
Toby Gerhart was limited to six rushes for 18 yards with Peterson carrying the load.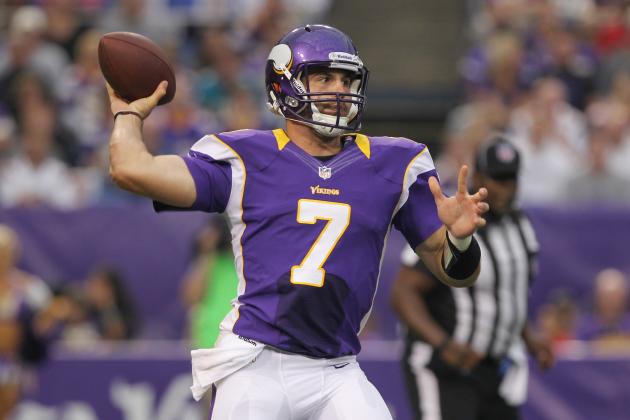 Brace Hemmelgarn-US PRESSWIRE

Minnesota Vikings quarterback Christian Ponder showed some veteran-like poise after struggling to open the game.
Ponder finished the game 20-of-27 passing for 270 yards. While he did not throw a touchdown, he also did not throw an interception.
Ponder struggled to find any kind of rhythm in the first half. He was constantly leaving the pocket and made poor decisions on throws.
It wasn't until right before the half ended that Ponder led a drive that ended in a Vikings touchdown.
After that, Ponder seemed very methodical in running the offense in the second half.
He was extremely accurate, but it still is a bit concerning that he has only thrown one touchdown in three preseason games and the opener.
Hannah Foslien/Getty Images

Rookie Blair Walsh was drafted in the sixth round of the NFL draft and quickly made veteran Ryan Longwell expendable this offseason.
Walsh was known for his strong leg coming out of the University of Georgia. He was expected to be a weapon on kickoffs but proved on Sunday that he is capable of being a scoring threat.
He kicked four field goals, including a 38-yard field goal on the opening possession of overtime Sunday, and the Minnesota Vikings defense, then, held the Jacksonville Jaguars off the scoreboard to lead the Vikings to victory.
All four of Walsh's field goals were in the fourth quarter or overtime when it matters the most. He hit from 20, 42, 55 and 38, respectively.
If Walsh continues with these type of performances, he could quickly turn into a offensive rookie of the year candidate.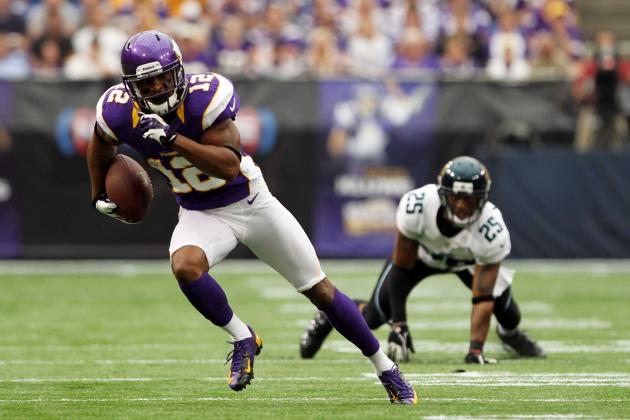 Brace Hemmelgarn-US PRESSWIRE

Percy Harvin, who was quiet in the first half, was a weapon all over the field in the second half.
The Vikings moved him all over the field in the second half to get him involved in the offense.
He finished with five rushes for 20 yards and six receptions for 84 yards. Along with 87 yards on three kickoff returns, he finished the game with a total of 191 yards.
Offensive coordinator Bill Musgrave needs to find more ways to get Harvin involved early. His explosiveness is unquestioned, and the offense was far too predictable in the first half.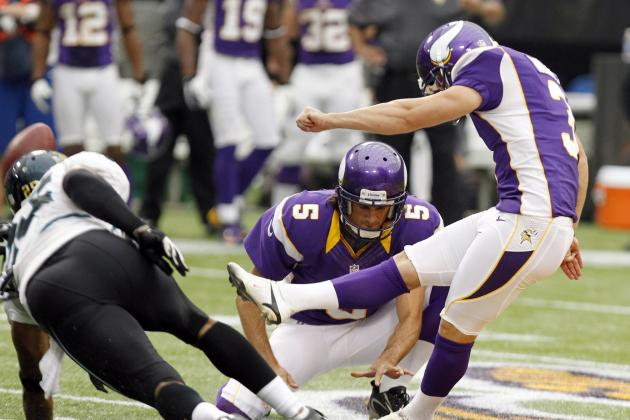 Bruce Kluckhohn-US PRESSWIRE

Between quarterback Christian Ponder and rookie kicker Blair Walsh, the Vikings were extremely efficient in the fourth quarter.
While you would like to see the offense producing more touchdowns through the air, it is hard to place all the blame on Ponder.
As tight end John Carlson gets acclimated in the offense, Adrian Peterson progresses in getting all of his burst back and wide receiver Jerome Simpson returns in Week 4, this team should start clicking more on offense.
Walsh's 38-yard field goal to win the game in overtime was huge.
In 2011, the Vikings lost nine games by seven points or less.
Closing out a game, especially one of the few the Vikings will be favored in, is a big step for this young team.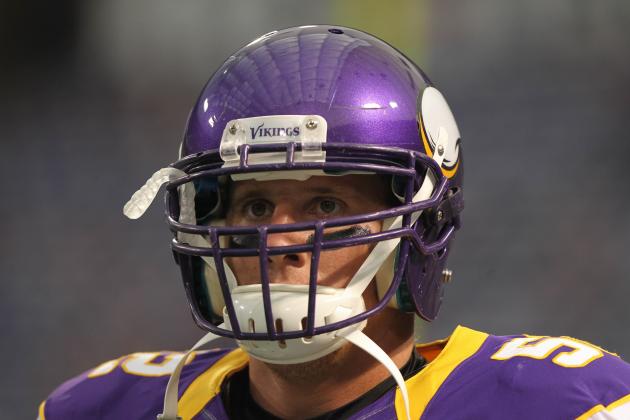 Brace Hemmelgarn-US PRESSWIRE

LB Chad Greenway was a Pro Bowl alternate in 2012 for the first time in his career.
He led the Vikings with 174 tackles, which was good enough to finish third in the league.
To me, Greenway took a step back in 2011 after signing a five-year, $41 million contract the week before the opener.
He lacked the dynamic or impactful plays in his sixth season.
On Sunday, he led the team with a total of 13 tackles which, by looking at the box score, was an outstanding performance.
In my opinion, he was much less impressive than the box score showed, as he was beat in coverage on a few occasions and did not make any game-changing plays.
He will likely lead the team in tackles once again as he is a three-down linebacker, but he seems miscast in this Cover 2 base defense.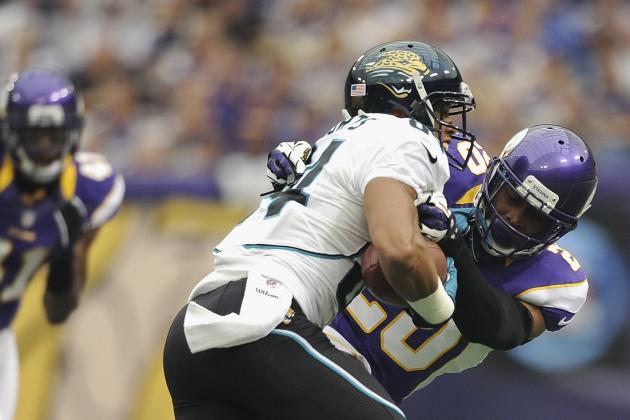 Hannah Foslien/Getty Images

The Minnesota Vikings drafted CB Chris Cook in the second round of the draft in 2010.
After missing time with injuries and suspension the last two years, the Vikings were optimistic that Cook would develop into a shut-down corner in 2012.
He was playing at a high level before his 2011 suspension, by allowing 15 completions in 25 targets (60.0 percent) for 187 yards, a touchdown and a 96.6 rating.
On Sunday, he had two passes defended and a sack in addition to three tackles.
He did leave some question that he is still a work-in-progress at the end of the game.
Jaguars wide receiver Cecil Shorts III turned him around a few times to catch a 39-yard touchdown pass from Blaine Gabbert with 20 seconds left in the fourth quarter in what looked like the game-winning touchdown.
Cook still has the potential to be a top cornerback in the NFL, but he has a long way to go.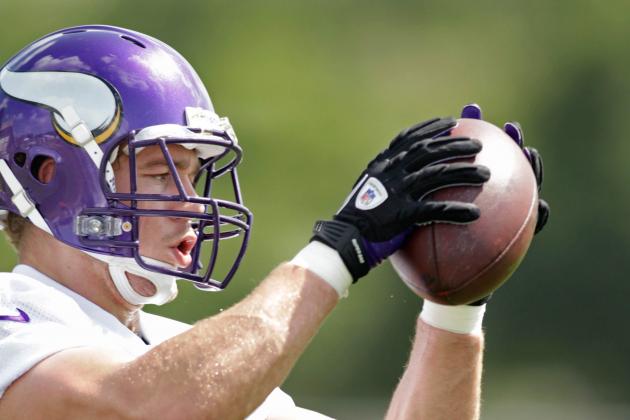 Bruce Kluckhohn-US PRESSWIRE

John Carlson was signed away from the Seahawks this offseason to complement Kyle Rudolph at tight end.
The Minnesota-native received a five-year, $25 million contract to be a weapon in offensive coordinator Bill Musgrave's two-TE sets.
Unfortunately, he missed almost the entire preseason due to injury and just started practicing at full strength this week.
That said, I tempered my expectations for Carlson, but he was virtually non-existent on Sunday.
He caught no targeted passes from Christian Ponder.
We need to see more of him, but I am willing to give him a pass this week.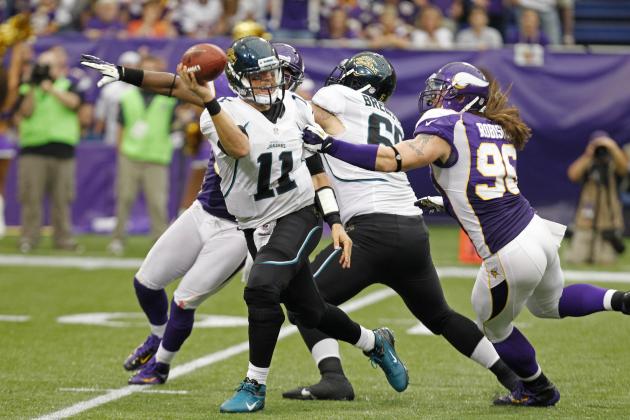 Bruce Kluckhohn-US PRESSWIRE

Signed to a three-year, $14.1 million contract in March 2011, Brian Robison became a effective bookend his first season as the starting left end, replacing Ray Edwards.
In 2011, he finished with eight sacks, five additional QB hits and 54 total pressures.
Relentless all day, he finished with three tackles, including a tackle for loss, one pass defended and two quarterback hits.
He could be in the midst of a breakout season opposite All-Pro Jared Allen.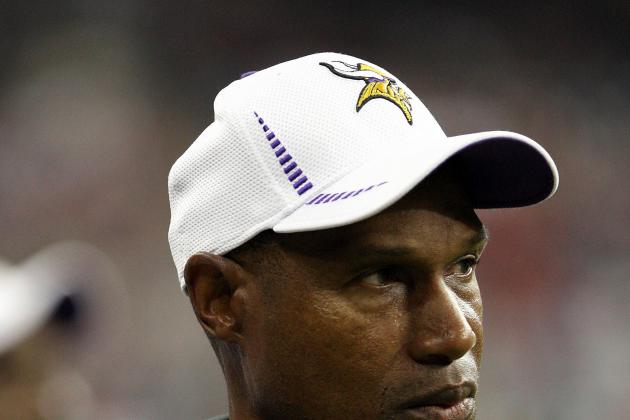 Troy Taormina-US PRESSWIRE

The Minnesota Vikings opened the regular season up at home against the Jacksonville Jaguars, a team that finished 2011 with a 5-11 record.
Like the Vikings, the Jaguars have a second-year QB who struggled as a rookie and numerous other questions up and down there roster.
This matchup is one of only a few games that the Vikings will be favored in all year and was a must-win for this team.
While the Vikings did get the win, the offense seemed very "vanilla" to open the game, and its quarterback was timid.
While this does not directly fall on Frazier but rather Musgrave, any losses are almost always directed to the head coach.
Once Ponder settled in and Musgrave opened up the playbook to finally include Harvin, the offense started to move, but they still are missing something through the air.
On defense, the linebackers are only OK, and the secondary still has many issues.
Missed tackles and poor coverage plagued the Vikings defense on Sunday.
Thankfully for the Vikings, the Jaguars struggled to move the ball, but the Vikings will face much stronger competition as the season progresses.
The Vikings will face off against the Indianapolis Colts who struggled in Andrew Luck's debut game against the NFC North's Chicago Bears.
The Vikings must consider the matchup with the Colts another "must-win" game to keep pace in the division.