How NFL Defenses Can Contain Cam Newton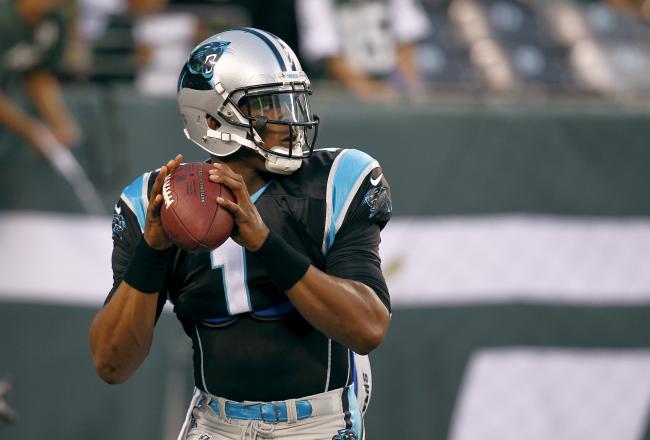 Jeff Zelevansky/Getty Images
Keeping Cam Newton in the pocket must happen for any defense to enjoy success against the Carolina Panthers.
And for as well as Newton proved to throw the rock in 2011 he's only more dangerous when buying time: because of his athleticism. Yes, he possesses a strong arm and the size to see the field well from the pocket.
However, the last thing any defensive coordinator wants is for Newton to get outside and consistently have the run or pass option. After all, he did accumulate 706 rushing yards and score 14 touchdowns on the ground as a rookie.
So, the best way to slow down the Cats offense is to contain Newton and significantly limit his scrambling opportunities. The Panthers receiving corps have the ability to beat most single coverage situations and we can't forget about tight end Greg Olsen either.
Here, we breakdown the best way to keep Newton in check. But first, we have to see why Newton is so dangerous with his legs.
Note: All screen caps are courtesy of NFL Game Rewind.
Versus Chicago Bears: 27-of-46 for 374 passing yards and eight carries for 35 yards, three total touchdowns
In this play, Cam Newton takes the snap from the gun and it's your standard quarterback sweep off tackle. The Bears line up in a 4-3 Over look away from the receiver strength with a Cover 1 safety.
Here's the same look from behind the offense.
At the snap, Newton simply take a drop step and then takes off running around the edge. Chicago had a defensive line crash away from the playside and running back Jonathan Stewart seals the edge easily.
In addition, Lance Briggs was late in scraping over the first level as the outside linebacker to his side got sucked inside and ultimately lost contain.
As the play continues to develop you see there's no outside help until the secondary comes up. By then unfortunately, it's too late and Newton gets a good run.
Chicago had the right look with the 4-3 Over scheme, however, that won't ever matter when contain is lost.
Versus Atlanta Falcons: 19-of-39 for 276 passing yards, seven carries for 36 yards, two total touchdowns and two interceptions
So how can a defense keep Newton contained? Well, the Atlanta Falcons in Week 14 proved it can be done.
The Falcons weren't so much concerned with applying constant pressure as they were keeping Newton in the pocket. Recording only two sacks, though, Atlanta played extremely disciplined.
This play the Falcons lineup in their base 4-3 and we see Newton under center.
From behind the Falcons defense we also see a safety roll down late with Thomas DeCoud back deep. In short, this is almost the exact look from the Bears' play above except the linebackers aren't shifted and John Abraham is in a two-points stance on the left.
What ensues is a linebacker and safety blitz to the inside while right defensive end [Ray Edwards] loops outward for contain.
This then forces DeAngelo Williams to help protect inside and gets Edwards one-on-one to the outside. The pocket collapses and Newton is forced to backup which results in a sack.
For as different as Chicago's and Atlanta's play calls were, everything comes down to fundamentals when facing an athletic quarterback like Newton.
Regardless of whether the Panthers call for a designed run or pass the basic responsibilities of keeping the outside shoulder free, not getting sucked inside and shedding blocks never changes.
One thing the Falcons did take advantage of, however, was Newton being under center. When in shotgun he can easily see the field better and make his pre-snap reads. From under center, though, he still has to drop back and survey while the defense is coming.
So it was incredibly smart to blitz Newton when he was vulnerable.
Nevertheless, one major key in Atlanta's success compared to Chicago's was assignment discipline.
Edwards got the sack because he literally kept contain. Had he not then Newton most certainly would have gotten outside and created something exciting. As for the Bears, they played the waiting game—which isn't all bad—but it takes pressure off Newton in the backfield.
That same designed run would not have worked against the Falcons' blitz, because Atlanta simply held contain and the defenders beat their blocks.
It's not a complication formula that requires complex play calls and fronts to confuse Newton and his offensive line. Just blitz when he's under center, don't give him running lanes by angling the defensive line and keep a convoy around the blockers to create isolation.
He's an athlete and will run quite effectively if given the opportunity.
So in a nutshell, remaining aggressive and never letting Newton outside of the pocket—regardless of whether it's a run or pass—limit his threat.
Follow John Rozum on Twitter.
This article is
What is the duplicate article?
Why is this article offensive?
Where is this article plagiarized from?
Why is this article poorly edited?

Carolina Panthers: Like this team?