The UCLA Bruins currently have a pretty big commit from 4-star offensive tackle Christian Morris, but we all know that it's not official just yet, and a player of Morris' caliber is going to attract attention from other programs.
According to Woody Wommack of Rivals.com, Nebraska is doing a good job trying to sway Morris:
"I'm still committed to UCLA but I do have a little interest in Nebraska," the four-star Morris said. "They've been talking to me a lot."

Morris likes what he's heard from the Huskers coaching staff enough to schedule an official visit, for the school's game against Wisconsin on Sept. 29. Morris will take his official visit to UCLA when the Bruins host USC on Nov. 17.
Also, according to Wommacks' report, Morris is getting pressure from his high school teammates to check out the schools they've committed to, Arkansas and Ole Miss:
Three-star linebacker Marcus Robinson, an Arkansas commit, is pressuring him to check out the 'Hawgs, while fellow lineman Herbert Moore, an Ole Miss commit, wants him to visit Oxford.
Should UCLA fans be worried that their big-time offensive lineman recruit will be swayed away?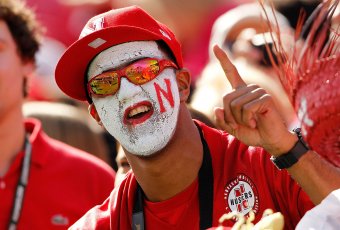 Mike Ehrmann/Getty Images
Unfortunately, I think the answer here is a resounding yes, and Nebraska may have the best shot.
There's two factors that I really look at here. The first thing the Cornhuskers have going for them is their 2013 class. Both teams have three offensive lineman committed for 2013 (if you're not counting Morris for UCLA), but the Cornhuskers have one 3-star and two 2-stars. UCLA, on the other hand, has two 3-stars and another 4-star lineman in John Lopez committed.
Nebraska would be able to give Morris the honor of being the centerpiece signing for their 2013 offensive line class.
Will Morris Be Swayed Away From UCLA?
Not only that, but they'd be able to give him a chance to play for a program that has a legitimate shot of winning the Big Ten year-in and year-out, while UCLA has struggled to remain relevant in a relatively weak Pac-12 conference. If it came down to playing for the better conference and having a chance to win said conference, Nebraska will have the upper hand.
Mind you, this is not even taking into account the power leverage an SEC school like Arkansas would have in this situation, and Morris is set to visit the Razorbacks on September 15 when they play Alabama, according to Wommack's report.
Let's face it, UCLA Football just doesn't have the clout to go head-to-head with the bigger programs in college football, and now that Morris is reportedly getting some big-time pressure from schools like Nebraska, and from his friends committed to other programs like Arkansas in the SEC, there's a good chance he'll be swayed away from the Bruins.