Knicks New Uniforms: Breaking Down New York's New Look for 2012-13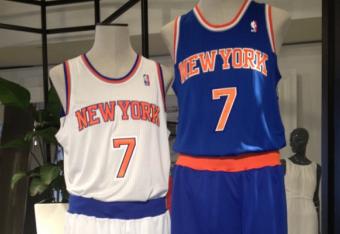 Courtesy: Darren Rovell on Twitter

In an era when teams often shoot for the stars when making new uniforms, the New York Knicks decided to keep things simple.
For a team with as much history as the Knicks, it was the right choice. The basic jersey has become iconic over the years.
Darren Rovell of ESPN posted pictures of the new designs on Twitter, ending the suspense of what they would look like.
Let's take a look at the changes and grade the Knicks' new uniforms based on immediate reaction and keeping with tradition.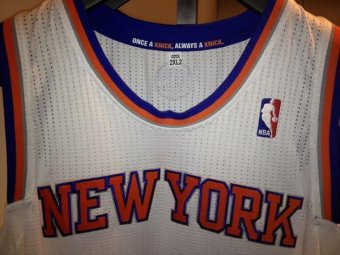 Courtesy: Darren Rovell on Twitter
Wow Factor: 5 of 10
Whenever a team prepares to show off a new uniform, the expectation is major modifications. In that respect, the Knicks jerseys came up short. At first glance, it would be tough for most people to point out all of the adjustments that were made.
That's mostly because they are subtle. The Knicks didn't go completely overboard, which will be viewed differently depending on how the person liked things as they were before. This wasn't a college football type of change.
It gets an average grade on the wow-factor scale because it's still a new Knicks jersey. However, it didn't jump off the screen right away.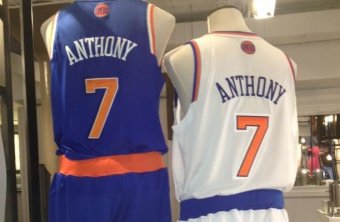 Courtesy: Darren Rovell on Twitter
Design: 9 of 10
After setting aside initial reactions and taking a longer look at the uniform, opinions should start to change. The Knicks took a really nice, basic approach to it, making several smaller enhancements instead of a total change.
The first thing that stands out is the solid-colored waistband. It really adds some nice contrast to the uniforms, since they are so fundamental otherwise. The other changes include the back logo and piping throughout the jersey.
It's really the best of both worlds. People who look at the uniform will automatically think New York Knicks, but there are still changes to provide a clean look.
Overall Grade: 8 of 10
Fans who were expecting some type of radical deviation from the vintage Knicks style will be disappointed, but making a massive switch would have been a mistake. The team had to keep the base the same, which it did.
In a city that thrives on going bigger and bolder, the Knicks took a chance on simple and succeeded. A passing grade without a doubt.
This article is
What is the duplicate article?
Why is this article offensive?
Where is this article plagiarized from?
Why is this article poorly edited?