Tiger Woods at BMW Championship 2012 Tracker: Day 1 Highlights, Updates and More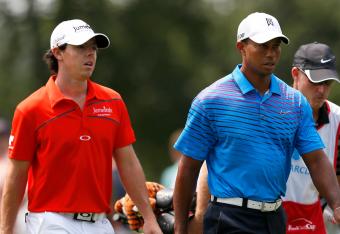 Kevin C. Cox/Getty Images
Tiger Woods is paired with Rory McIlroy and Nick Watney for the first round of the BMW Championship near Indianapolis.
Keep it here for all the updates.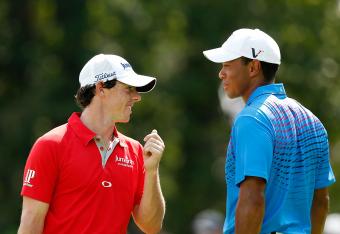 RORY-TIGERBOARD

| | | |
| --- | --- | --- |
| POSITION | SCORE | HOLE |
| 4 WOODS | -7 | 65 |
| T1 MCILROY | -8 | 64 |
A reminder that they go off earlier tomorrow to beat the impending weather.
A 9:39 ET start off the first tee.
Tiger just had an awful lie without any relief from the bleachers and his third gets hung up in the rough.
He is a magician with the short game and he had a lot of green to work with for his chip.
He took full advantage and sinks the long chip from 30 feet for a birdie and a seven-under 65.
Rory had a good swing from the bunker face and he pitches it five feet past the hole.
He had that left for a birdie and he cashes in.
A share of the lead with an eight-under 64.
We have all been waiting for the Tiger and Rory show this year and did we ever get that today.
Both golfers took full advantage of the incredibly soft lift, clean and place conditions today to storm up the leaderboard.
It is very clear from watching the pair play together that they do appreciate each others company and have a very healthy respect for each other.
They are waiting for the green to clear here.
Tiger has mud on his ball, but cannot clean it as it is not in the fairway.
And it hurts him as he misses the green short and left off the bleachers.
Rory is on the fairway.
From 250, it misses the green right and finds a sharp sidehill lie in the rough on the edge of a bunker.
It did not go into the sand but it is sitting on the inner face of that bunker.
Webb Simpson comes home with an eight-under 64 and is tied with Bo Van Pelt with the clubhouse lead.
Rory takes a driver and finds the first cut of rough on the right side.
After going 301 yards, he should be able to get home from 247, especially with all that green to work with.
Tiger also finds that intermediate rough on the right, but he only went 285 off the tee.
Tiger has 270 left.
The ninth hole is a reachable par-five.
At 530 yards, the tee shot will go to the fairway right and the approach will change directions to the let.
The pin is way back and left.
The wind has come up a little bit.
Tiger's effort is short all the way, but he just has a couple feet left for an easy par.
From two feet, Rory converts, but seven-under no longer shares the lead as Webb Simpson birdies 17 to get to eight-under.
Rory is seven-under through 17 holes and tied for second while Tiger is tied for fourth at six-under.
Webb Simpson has joined Bo Van Pelt at seven-under.
Tiger has 29 feet left for his birdie.
Tiger's drive only went 275 and that ball is settled.
It does not seem to matter as he nearly flushed his second shot in the hole.
Without the spin, it rolls a bit back of the hole, but he has a birdie putt to come.
Rory has a wedge that he stiffs pin-high.
It bounced about five feet above the hole before it spun back to a couple of feet.
The eighth hole is another hole that features dangerous water-lined holes.
Water is left all the way down and the green hooks into the water.
Tiger loses his cut drive on the right side and has 181 to the pin.
Rory finds the middle of the fairway 316 yards off the tee and has 127 left.
Rory's 53 foot effort is solid but short to the right.
He should make his par coming up.
Tiger's 15-foot effort hops off a spike mark and ends up just missing the hole.
Pars for both.
RORY-TIGERBOARD

| | | |
| --- | --- | --- |
| POSITION | SCORE | HOLE |
| T2 WOODS | -6 | 16* |
| T2 MCILROY | -6 | |
Rory does not like his iron shot, but it does find the green on the very right side.
Tiger had a good lie from the rough and lands it 15-20 feet right of the flag pin-high.
Rory's drive goes 288 while Tiger's goes 285.
They both have 160 to the pin, but Rory has a much easier shot to the left cut hole.
Rory has a driver in hand on the 454-yard par-four seventh and finds the right side of the fairway comfortably.
Tiger twirls the same club but his ball finds the rough right and it settles in the grass.
Rory's birdie effort just misses on the left.
A tap-in par.
From about six feet, Tiger misreads his effort as his putt lips out of cup right.
A pair of disappointing pars.
RORY-TIGERBOARD

| | | |
| --- | --- | --- |
| POSITION | SCORE | HOLE |
| T2 WOODS | -6 | 15* |
| T2 MCILROY | -6 | |
Tiger's ball rolls a bit further than a foot. Still, a five-footer coming back for birdie.
Rory's ball actually is 17 feet right of the flag.
203-yard par-three sixth is next and Rory fires it over the water right at the flag.
Pin is on the front-right and the ball is five feet right of that.
Tiger takes a seven-iron and nearly holes it!
It lips out and stops a foot away for a tap-in birdie.
Woods had a downhill stance with his pitch, but he had the ball stop a few feet past the hole and is in good shape.
Rory chunked his ball out of the rough long and has 15 feet from the fringe for birdie.
He sinks it and gets to six-under.
Woods has seven feet for birdie to go with a spike mark in the way.
He just simply putts around it and also makes a birdie.
RORY-TIGERBOARD

| | | |
| --- | --- | --- |
| POSITION | SCORE | HOLE |
| T2 WOODS | -6 | 14 |
| T2 MCILROY | -6 | |
Tiger's shot goes long to the left side and settles in the rough beyond the greenside bunker.
The good news is that he has lots of green to work with.
A good pitch should give him a decent birdie chance.
Scoring is really low today all over.
Nick Watney's one-over par is currently tied for 61st.
Tiger has a three-wood in his hand.
He loses it left as he did try to get it on in two. Cameras did not find the ball yet.
Rory tries the same shot and leaves it in the rough just off the right side of the green.
An eagle chip coming up from pin high.
Rory's drive goes four yard farther than Tiger's and they both have just under 290 left to the flag.
It looks like lay up time.
The fifth hole is a 621-yard par-five and probably not reachable.
With the fairway curling from right-to-left, the fairway is quite ample.
Tiger has found the center of the fairway off the tee and McIlroy has found the fairway as well.
Tiger has started cutting his driver and three-wood and it has made a huge difference in finding fairways starting last week.
Rory has missed his birdie putt.
Tiger, getting a read from Rory's putt, leaves his par putt short.
RORY-TIGERBOARD

| | | |
| --- | --- | --- |
| POSITION | SCORE | HOLE |
| T4 WOODS | -5 | 13* |
| T4 MCILROY | -5 | |
Rory has 19 feet left for birdie while Tiger has just over 15 feet left for his par.
Rory is on the right edge of the fairway and finds the green above the hole.
It is hot, sticky and no breeze.
Tiger just topped his drive short of the fairway and has 135 left for his third from the fairway.
He is in front of Rory with about 15 feet left for par.
Tiger's tee shot nearly found a bunker about 75 yards short of the fairway.
This article is
What is the duplicate article?
Why is this article offensive?
Where is this article plagiarized from?
Why is this article poorly edited?