Tony Romo Versus the Giants: Return of the Jedi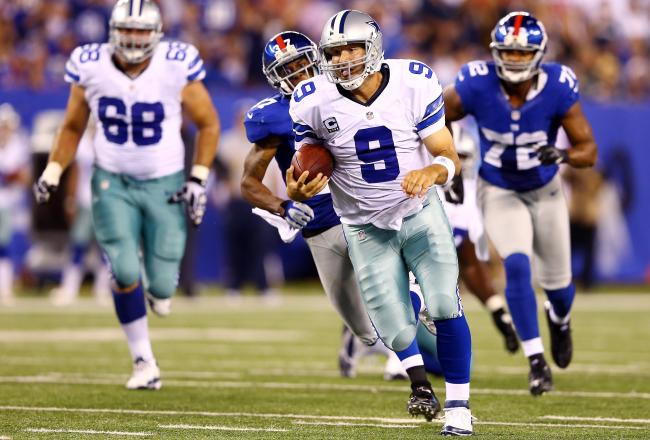 Al Bello/Getty Images
Tony Romo created a Jedi knight sequel in the season opener that put all of George Lucas' work to shame. In a game that was tilted so far in favor of New York as to be laughable, Romo dispatched the Empire with perhaps his greatest performance.
Despite throwing a pick early in the game, Romo bounced back and threw for over 300 yards, three touchdowns and had a QB rating of 129.5, behind a line that offered him very few opportunities to set his feet and move through his reads.
Unfazed, Romo dodged, scrambled and looped around on numerous occasions to buy time and find receivers. Jason Pierre Paul was nearly un-blockable, yet he registered no hits or sacks out of the six hurries he posted.
On several occasions Romo sensed pressure from his blind side without turning his head, bolted out of harms way and avoided the sack.
This game was tilted in New York's favor on a variety of fronts:
The league scheduled Dallas to play their first preseason game later than all other clubs. By league rule, this meant that the Cowboys had to start their training camp later than other clubs, including the Giants. This gave the Giants a head start in preparation for the opener.
As part of a very unfriendly opening schedule that has Dallas playing six of nine games on the road in the first portion of the season, Dallas was given yet another opening road game in New York. This meant that in addition to having fewer practice days to prepare, Dallas would have a travel day that took away from their preparation time as well.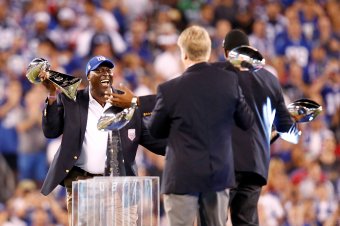 Jeff Zelevansky/Getty Images
By scheduling the Cowboys into the season kick off game, the NFL was essentially offering them up as a sacrificial lamb on the altar of the Giants' Super-Bowl-banner-raising celebration. In eight previous Season Kickoff games, the defending Super Bowl champion has been given the home opener and won every time.
Bad fortune had dealt the Cowboys an unprecedented number of injuries along the offensive line, causing them to come into the game with a line that hadn't ever played a single preseason game as one unit.
Three plays into Dallas' first series, the luck continued with starting center Phil Costa re-injuring his back, causing back up center who had only been signed to the team a week ago, to have the play the entire game without knowing the offense.
All of that makes Romo's night that much more amazing. Leading up to the game, almost no one gave Dallas a chance of winning this game. Many pundits pointed to Romo as their main reason. They spoke of his inability to win big games.
It amazes me that this perception still exists, despite the fact that a very sizeable number of statistics prove that he is an elite quarterback.
The best de-bunking of the myth that Romo isn't clutch was done by Jonathan Bales and is worthy of a careful reading. In his article he lays out multiple statistics that prove Romo is clutch in two minute drills, late in games, in close games, when trailing and in December and January.
Al Bello/Getty Images
In 2011, Romo compiled a passer rating of 115.9 during those months.
Romo critics will point to his last game in Giants stadium in 2011, but anyone who watched that game knows both quarterbacks were under pressure. The difference was that the Giant's secondary held up long enough for JPP and company to overwhelm the Cowboys line. Meanwhile, the Cowboys secondary was thoroughly out-matched.
Now that Romo has a complete defense helping him out on game day, expect to see many more of Romo's Jedi-like performances.
A defense that can hold onto leads will translate to more runs by DeMarco Murray, who has continued where he left off last year. Murray had some gaudy statistics of his own on Wednesday night:
6.6 yards per attempt, 132 total yards, 93 yards after contact and an astounding 4.7 yards after contact per attempt.
More Murray runs late in the game will continue to help slow down the pass rush, giving Romo the time to find receivers.
Those who really understand the game know that Romo has always been a Jedi, but now that he has help, even the NFL Network will have to start giving him credit.
This article is
What is the duplicate article?
Why is this article offensive?
Where is this article plagiarized from?
Why is this article poorly edited?

Dallas Cowboys: Like this team?