NHL: Quirkiest Goaltenders in NHL History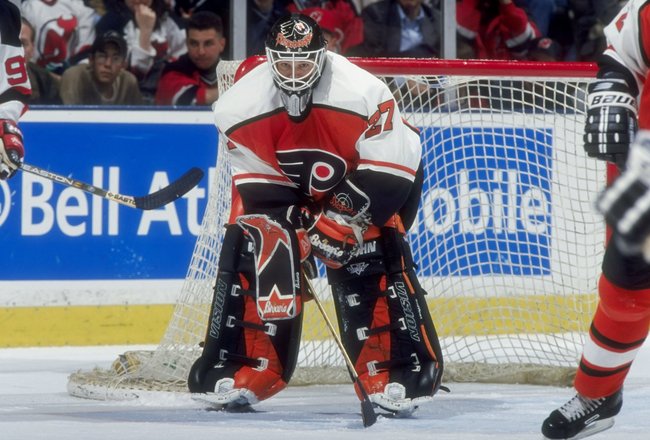 Al Bello/Getty Images
NHL goaltenders are a breed apart.
Let's look at the basic job description for a goaltender. Stand in front of a six-foot wide by four-foot high net and stop a piece of vulcanized rubber that is often flying at you at speeds of close to 100 miles per hour. For this, you will be heartily compensated, but only after you have practiced for uncountable hours at the rate of zero dollars per hour.
Oh, and if you fail at your job, rest assured everyone will know, as a red light will go off behind you alerting everyone in the building that you screwed up.
With a job like that, it's no wonder goaltenders tend to be a little different.
What follows are those that took different to another level.
Glenn Hall
Glenn Hall holds one record that will never be broken. He played 502 consecutive games in net.
Hall also had one of the quirkiest pregame rituals. While some players are content to have a certain order they put their equipment on or tape their sticks in a certain manner, Hall took things to another level. The goaltender would throw up before big games, as he described, "I felt I played better after, I built myself up to a peak."
Ed Belfour
Ed Belfour had a reputation as a prickly player. On game days, Belfour wanted nothing more than to be left alone, as he was one of the most focused and competitive players to ever set foot on an NHL ice surface, to the point where he sometimes slept in the trainer's room instead of going home.

Belfour also didn't take kindly to failure, on more than one occasion breaking equipment in the dressing room after a rough outing.

And who can ever forget the time Belfour was arrested and proceeded to offer the police $1 billion to not take him to jail?
Gilles Gratton
Gilles Gratton is probably most famous for his tiger mask, a design he said he came up with while reading a National Geographic magazine on a plane. While the mask was interesting and some would say intimidating, it was not nearly as interesting as the man behind it.

Gratton believed he had lived past lives, and on one occasion, described his time as a Spanish count. Another time, he said he had been a solider during the Spanish Inquisition and the abdominal pains he suffered from were due to the fact that he had been killed by a lance during that particular past life.
Gratton may also be the spiritual father of Ilya Bryzgalov, as he once refused to play because the moon was in the wrong location.
Jacques Plante
Jacques Plante was a visionary on the ice. He was the first NHL goaltender to wear a mask on a regular basis.

Off the ice, he had a hobby that one would not normally associate with an individual playing what many would call the toughest professional sport. Plante enjoyed knitting, something he learned as a youngster and practiced throughout his NHL career, knitting in the dressing room of the Montreal Canadiens.
Terry Sawchuk
Terry Sawchuk's name sits in the NHL record book as one of the most accomplished netminders to ever play the game. However, his road to the record books was not one paved with gold.

Terry's older brother Mitch died when he was 17 and Terry was just 10. Terry then inherited his brother's pads as well as an angry disposition.

For the most part, Sawchuk kept to himself. As his Red Wings roommate Marcel Pronovost would later relate, he would say good morning to Sawchuk in both French and English, and if Sawchuk answered, "I knew we would talk at least a little that day. But if he didn't reply, which was most days, we didn't speak the entire day."

Sawchuk suffered from untreated depression that left him prone to mood swings, with one of the most famous incidents being when he walked out on the Boston Bruins after being traded to the team during the 1956-57 season.

Sawchuk's life would end tragically, never recovering from injuries he received during an offseason fight with a teammate. He was only 40 years old when he died in 1970.
Ilya Bryzgalov
The Philadelphia Flyers' Ilya Bryzgalov became a star (no pun intended) during last season's HBO 24/7 special. His speech on the universe was one of the most memorable moments of the multiple episode presentation, as was his take on his pet husky.

Bryzgalov seemed good for a quote whenever the camera was on him. Unfortunately for his team, his play wasn't as spectacular or memorable as his interviews. When the season wrapped up, Flyers GM Paul Holmgren offered the following to ESPN, "His job is to stop pucks and help us win games. It's not Comedy Central."

We shall see if his wit or his play is more memorable in 2013.
Ron Hextall
There are exactly two beloved figures in Philadelphia Flyers' goaltending history. One is two-time Stanley Cup winner Bernie Parent, and the other is Conn Smythe winner Ron Hextall.
Parent is remembered for being the best netminder in Flyers history and one of the greatest that the game has ever seen. Hextall is known for, depending on your opinion of him, being quirky or just plain crazy.

Flyers fans loved to watch Hextall take the ice, as one of his rituals was the way he would use his goal stick to slap the pipes of the goal as he prepared to face the puck. It was a sight and sound that the Flyers fans loved to witness.

There's also the fact that Hextall was one of the more "emotional" goaltenders to play the game. He was a throwback to the Broad Street Bullies days, and on more than one occasion, took matters into his own hands, the most memorable incident being his attack on Chris Chelios on May 11, 1989.
That memorable moment was a response to a hit from Chelios that left the Flyers' Brian Propp unconscious during Game 1 of the Flyers' playoff series against the Montreal Canadiens.
Patrick Roy
Patrick Roy is one of the best goaltenders to ever strap on a pair of pads and play in the National Hockey League. A glance at the NHL books will erase any doubt that the above statement is hyperbole. As a player, Roy operated on another level.

As a superstitious individual, he also operated on an entirely different plane. Roy would stare at the net before the game, imagining it shrinking in size, he would have conversations with his goalposts, he would never let his skate blades touch the red line or blue lines while skating on or off the ice, he would write the names of his children on his sticks before games and he would keep a puck from each shutout of the current season in his dressing room stall.
He would also have great success while performing these rituals.
Keep Reading