Odds Alabama's T.J. Yeldon Can Become First Freshman to Win Heisman Trophy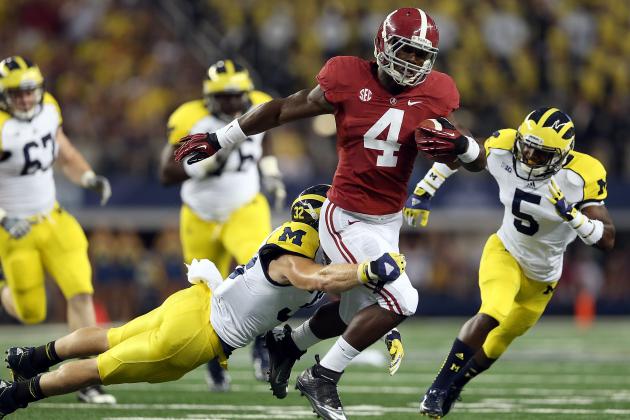 Ronald Martinez/Getty Images

With as long as college football has been around, to be the first to do something means you have to have done something pretty remarkable. One of the things that we have never seen in this wonderful sport is a freshman win the Heisman Trophy.
Now before you laugh and think it is impossible, many thought a sophomore winning the award was never going to happen, until Tim Tebow pulled that off in 2007 and then Mark Ingram followed him a couple of years later.
If there is ever going to be a freshman to win the award, he would have to have a season that we have yet to see in college football. And if it is going to happen this season, Alabama running back T.J. Yeldon would likely have the best shot, especially with the performance he had in Week 1 against the Michigan Wolverines.
With nearly an entire season left to play, let's take a look at the Heisman odds for Alabama's true freshman and see if he really has a shot at making college football history.
Begin Slideshow

»
One of the things that every Heisman winner needs to have is a Heisman moment. What is that one play or game that sticks out in everyone's head every time that player's name is mentioned?
Robert Griffin III had his in the last-second victory over Oklahoma, while Cam Newton made heads turn with his 49-yard touchdown run against LSU.
Although we are only one week into the season, you could say that Yeldon had his Heisman moment in the victory over the Michigan Wolverines.
Sure, the Tide were going to win this game without Yeldon, but nobody expected a true freshman to rush for over 100 yards and break off a big run each time he touched the football against Michigan.
One of the main reasons a freshman has never won the award is because it takes a while for the college football landscape to even know who you are. After the first game of the season, many know exactly who the rookie is. (via Dari Nowkhah of ESPN)
Wow... TJ Yeldon is becoming a #HoldYourBreath #CFBDaily player... @espnu #Bama

— Dari Nowkhah (@ESPNDari) September 2, 2012
We could be on to something here.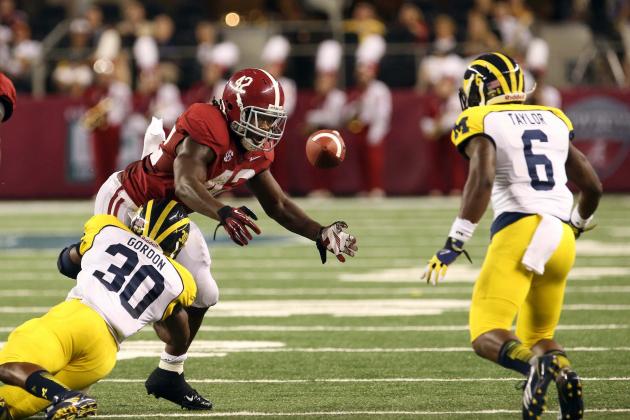 Kevin Jairaj-US PRESSWIRE

When Trent Richardson left early for the NFL draft, Eddie Lacy was expected to fill in as the starting running back for the Alabama Crimson Tide. He did such a terrific job as a backup the last two seasons, but only touched the ball nine times for 35 yards in the Michigan game.
Even Jalston Fowler was more productive than that with one less carry than Lacy.
While it is not fair to overreact because of one game, Lacy did not look great at all. He looked slow and sluggish, which makes you wonder if he is 100 percent this early in the year. He has dealt with injuries throughout his career, and was battling a banged up knee and ankle just weeks before the opener.
How a combination of his injury history and Yeldon's performance plays into the amount of touches for the true freshman will help us answer this question. The rookie will need to touch the ball quite a bit to be able to put up the sexy numbers that all Heisman voters love.
If Yeldon can become the feature back sooner than later, his chances just will get even better.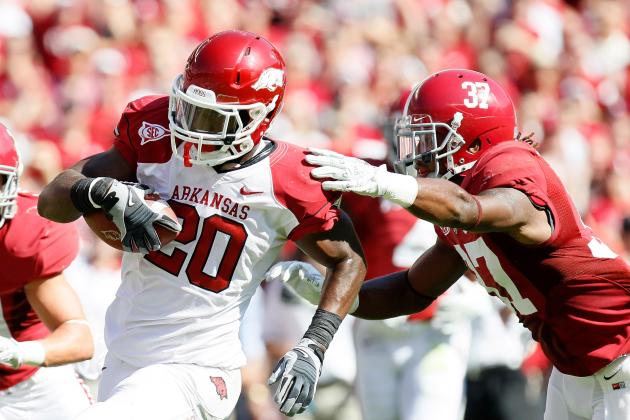 Kevin C. Cox/Getty Images

Another thing that Heisman voters like to factor into their votes are the amount of quality teams that you were able to help your team beat.
Alabama already has one under its belt in Michigan, but the Tide also play ranked teams such as Arkansas and LSU, and both of those games are on the road.
Alabama will also play at Missouri, at Tennessee, Texas A&M and, of course, the Auburn game at the end of the season. All four of those teams have the potential to be ranked at some point in the season, and are certainly tougher than the matchups that many other Heisman candidates will have playing in the Pac-12.
If the Tide can continue to play as well as they did last weekend and remain No. 1 in the polls, it will only help Yeldon and his Heisman chances that much more.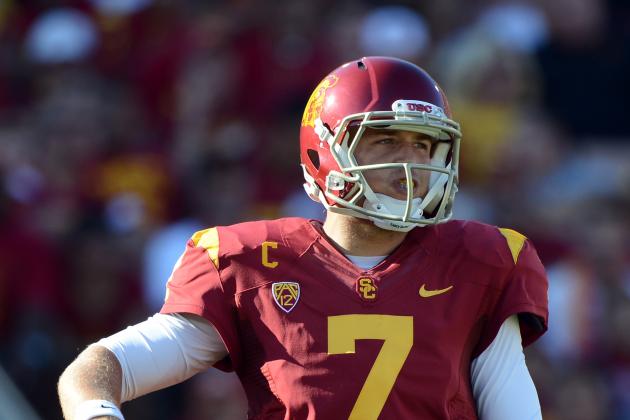 Harry How/Getty Images

When bringing up other Heisman candidates, this is where things get a little tricky because Yeldon has many worthy candidates that are standing in front of him.
USC quarterback Matt Barkley looked amazing in the season opener, throwing for over 300 yards and four touchdowns. With the subpar schedule the Trojans have this season, there is no telling how his numbers will look when this season is over.
West Virginia quarterback Geno Smith had similar numbers, and with the amount of talent on that Mountaineers offense, he should also have video game-like numbers.
Oregon's De'Anthony Thomas only touched the ball seven times, but ended up scoring three touchdowns. Michigan State's Le'Veon Bell was running like he stole something against Boise State, racking up over 200 yards on the ground in the Spartans' victory.
Finding a way to top all of these guys will take a combination of everybody making many key mistakes and Yeldon having such a monster season that he just can't simply be denied as the winner.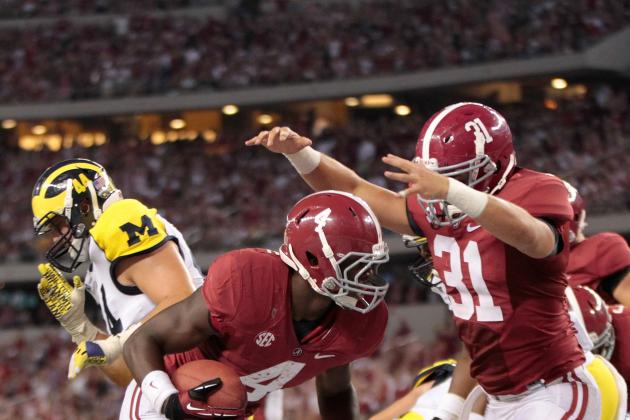 Leon Halip/Getty Images

While Yeldon had a tremendous showing in his debut, the odds are certainly still stacked against him.
Not only would he have to fight off other talented running backs such as Eddie Lacy, Jalston Fowler and Dee Hart for carries, he will also have to remain productive against some of the better run defenses in the country.
However, Yeldon does have a few things going his way such as the early attention, explosive running style and the fact that he was the best running back on the field for Alabama. He will likely earn many more carries throughout the season, but topping veterans such as Matt Barkley and Geno Smith on the Heisman list at the moment seems nearly absurd.
The true freshman running back is likely not even on anyone's Heisman radar at the moment, but with another terrific outing in a couple weeks against Arkansas, we may be able to open this discussion back up a bit.
The odds are still colossally against him at the moment, but Yeldon does have a better chance at the award than he did before Alabama took the field last weekend.
And if history is going to be made this season, it will be made by the freshman back wearing crimson and white.