It's finally here!
The New England Patriots' season kick off their quest for a Super Bowl title with a matchup at the Tennessee Titans.
With the sour taste of February's Super Bowl still in their mouths, expect Tom Brady and the Patriots to come out fired up.
Tight end Aaron Hernandez has already said that the Patriots have a chip on their shoulder, and last time the Patriots really had a chip on their shoulder, they went 16-0.
Despite a somewhat disappointing season last year, the Titans are a much-improved team with explosive playmakers on offense and an attacking defense.
Here are some predictions for Sunday's game.
Brady is Sacked More Than Three Times
Inconsistencies along the offensive line have been a major concern for the Patriots throughout the preseason.
While the return of Logan Mankins and Sebastian Vollmer from injury will help settle things down, the two may not be in game shape at this moment.
With last year's first-round pick Nate Solder struggling and the absence of All-Pro Brian Waters, the line could have a very different feel to the line that started in the Super Bowl.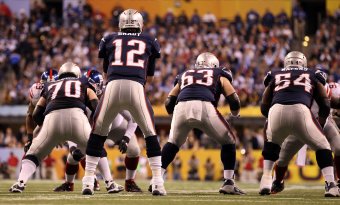 Ezra Shaw/Getty Images
The Titans may have struggled last year in getting to the quarterback, but they should be able to get to Brady several times in this matchup. With new additions like Kamerion Wimbley, the Titans' pass rush will be much better than it was last year.
As a veteran QB, Brady will do his best to get the ball out of his hands quickly. After watching the preseason games of the offensive line, I expect him to take a couple of sacks.
Stevan Ridley Rushes for Over 100 yards
With fellow running back Shane Vereen ruled out of Sunday's game with injury, Ridley figures to receive at least 20 rushing attempts.
New offensive coordinator Josh McDaniels wants to bring balance to the Patriots' attack after it became too pass-orientated last season. Running the ball through Ridley will be his game plan.
Expect the Patriots to run several heavy sets, with three tight ends, to aid the offensive line in blocking.
Ridley demonstrated some great moves and explosion when he ran the ball last year, and he should be dominant in Week 1.
Patriots Hold Chris Johnson to Less Than 100 Yards Rushing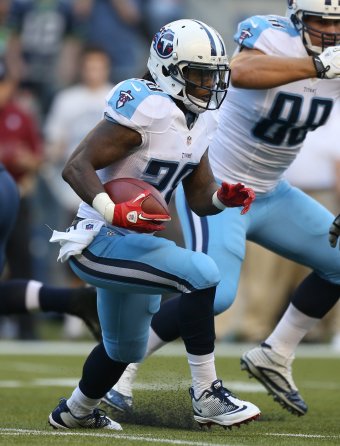 Otto Greule Jr/Getty Images
On the other side of the ball, the Titans boast one of the best running backs in the game in Chris Johnson.
Johnson, who ran for over 2,000 yards two seasons ago, looks like he has regained that form with several good performances in the preseason.
However, I don't think he will dominate this matchup. Bill Belichick will make sure the Patriots stack the box against Johnson.
With the "SEC Linebacker Corps" in Jerod Mayo, Brandon Spikes and Dont'a Hightower all good run defenders, I expect Johnson to have a quiet day on Sunday.
The Patriots' run defense was underrated last year, and it should even better this year with the addition of Hightower and a healthy Spikes.
Pats Defense Picks off Two Passes
To say the Patriots secondary had a bad season last year would be an understatement, as they gave up the second-most passing yards in NFL history.
Things should be different this season with new additions Steve Gregory and Tavon Wilson, along with the return of Ras-I Dowling greatly improving the secondary.
Going up against second-year starter Jake Locker, I believe the secondary gets their hands on the ball more than once, as Locker is without No. 1 receiver Kenny Britt and is a known risk taker.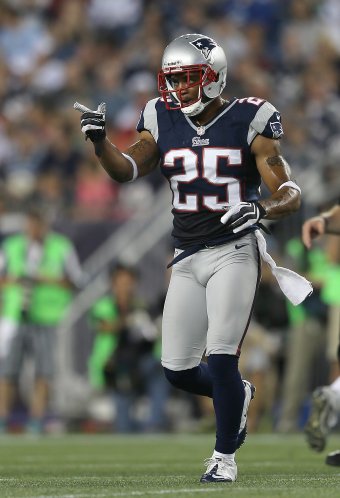 Jim Rogash/Getty Images
The Patriots' safeties, Patrick Chung, Steve Gregory and Nate Ebner, have all picked off passes in the preseason and in practice. They should have some more on Sunday.
Young Pass-Rushers Step Up
After starting last season with veteran pass-rushers Andre Carter and Mark Anderson, the Patriots start this season with young pass-rushers in abundance.
With rookies Chandler Jones, Jake Bequette and Justin Francis along with third-year man Jermaine Cunningham all making the roster, the Patriots' pass rush is young and explosive.
Cunningham and Jones have been among the most impressive Patriots throughout camp and the preseason, and that form should continue into the opener.
The Titans have an above-average offensive line, but I expect several of the Patriots' young pass-rushers to get to Jake Locker.
Aaron Hernandez Continues to Outperform Rob Gronkowksi
All through camp and the preseason, the Patriots' best tight end was not All-Pro Rob Gronkowski. Instead it was his partner in crime, Aaron Hernandez.
Hernandez is arguably the most versatile offensive player in the league, and Josh McDaniels is taking advantage of his rare skill set.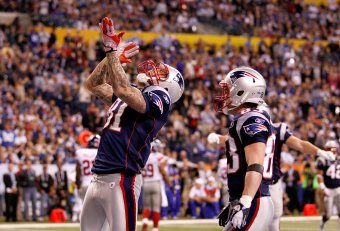 Rob Carr/Getty Images
Lining up wide, on the line and in the backfield, Hernandez has been making plays all preseason. He has been one of the offense's few bright spots so far.
With Gronkowski still looking a little rusty following offseason ankle surgery, I expect Hernandez to continue to outperform Gronk in Week 1.
In the eyes of some defenses, Hernandez is perhaps the fourth-best option for the Patriots behind Gronk, Welker and Brandon Lloyd. He should take full advantage of that against the Titans.
Predicted Final Score
New England 34, Tennessee 20