Why the Denver Broncos Will Tell Us a Lot About the State of the NFL in 2012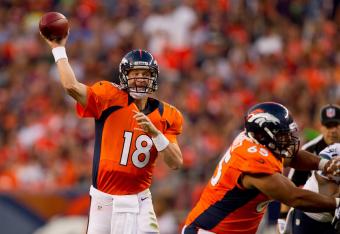 Justin Edmonds/Getty Images
Tim Tebow did not turn the 2011 Denver Broncos' season around. But the running game did, and Tebow was a huge part of it.
The Broncos' 2011 running game ranked in the bottom half of the league through five games, a 1-4 stretch with a traditional passing QB, Kyle Orton, leading the way. Denver's rise to the AFC West title under Tebow was marked by a rapid improvement in the running game, to the extent that the team was ranked No. 1 in rushing yards by the end of the season, though the passing game took a hit.
This year, that Denver passing attack will certainly improve under the legendary Peyton Manning.
It is interesting, though, to listen to Broncos fans talk about their new offense. Many seem to be under the impression that, while Manning can throw a thousand times better than Tim Tebow (true), Manning will also be able to lead a ground game every bit as efficient as Tebow's (false).
The Broncos offense will not be able to to "build on last year's success," because the running plays that Tebow engineered so well, namely the read option and the spread-QB keep, will not be feasible anymore.
Denver is starting from scratch on offense.
In fact, for all intents and purposes, the team has demoted Mike McCoy from offensive coordinator to offensive practice coordinator. This is Manning's team now, and he will be calling his own game on Sundays.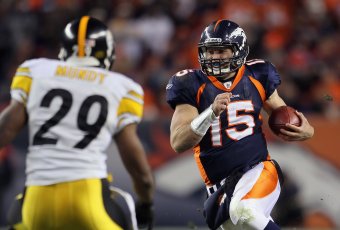 Jeff Gross/Getty Images
Which is well and good and very exciting. Manning is a legend. To think that he will not improve the Broncos is ludicrous.
But so is the idea that he is working with the baseline left over from last year.
The attitude that Manning will be "building on" the offense that was No. 1 in the league in rushing last season is a common-sense fallacy that disregards the achievement of Tebow, McCoy and the Broncos offensive line in 2011.
Imagine that a young Peyton Manning took over the Broncos in 2011, throwing accurate passes all over the place, and the anemic running game had slipped even further while the team went from a bottom-tier passing game to having the best aerial attack in the NFL. At that point, if Manning were replaced by a Colin Kaepernick or Tim Tebow the following season, would the attitude of Denver fans be, "We already have a great passing game that turned our season around, now with this guy we'll have a fantastic running game to go along with our No. 1 passing game"?
Not quite.
No, if Broncos fans expect to eclipse last year's success by winning multiple playoff games in 2012, what they are really counting on is that the experts are right, that the NFL is a passing league. If the ground game is just not very important anymore, then yes, last year's turnaround is better attributed to luck, miraculous team-wide improvement (which just happened to coincide with the change at QB and in the play-calling) that made up for a bad passing game or even astrology.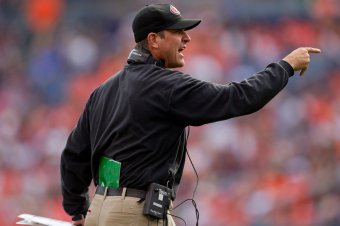 Justin Edmonds/Getty Images
But if history is to be gathered from, the running and passing games will always tend to be equally vital.
Manning is not building on last year's success; more accurately, he's taking over from where Kyle Orton left off, in the cellar with a team that could not throw the ball well enough to win in an in-vogue fashion.
2012 will tell us a lot about the state of the NFL. If passing the ball is truly the only way to win and a QB's arm is the only important factor, the Broncos are destined for a banner year, while the 49ers, Jets, Texans and Panthers are doomed to failure for their foolhardy power-football and option-play tactics. If Tim Tebow truly "sucked" his way to a playoff win while racking up insignificant rushing yards that didn't mean anything, then the 2012 version of the Broncos will qualify for the playoffs and win with ease in the postseason.
We will see.
Rarely has an NFL season shaped up so clearly as a referendum on coaching tactics and the ability of teams to run (or pass) their ways to winning seasons, and nowhere is the conundrum being highlighted as it is in Denver.
As a starting QB, Tim Tebow gives an NFL franchise a premier ground game. Manning gives a franchise a premier passing game. Ground and pound went 8-5 in the Mile High City.
Now let's see what an aerial circus can do for the same team.
Follow the Gridiron Geek on twitter at @thegridirongeek
This article is
What is the duplicate article?
Why is this article offensive?
Where is this article plagiarized from?
Why is this article poorly edited?

Denver Broncos: Like this team?