Comparing Every Los Angeles Lakers Player to a Former Teammate of Steve Nash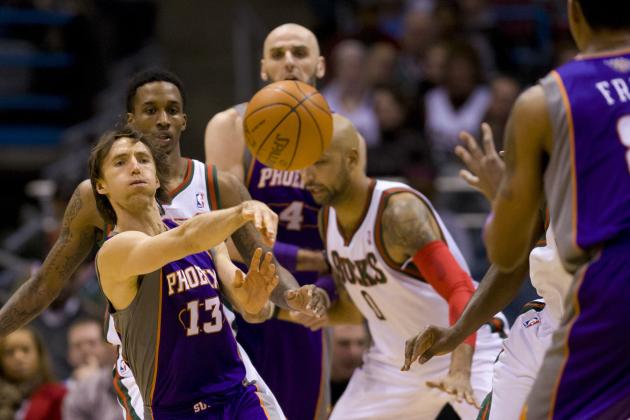 Jeff Hanisch-US PRESSWIRE

After some off-season wheeling and dealing, the Los Angeles Lakers will be bringing a revamped lineup into the 2012-2013 season. With such a high number of new rotation players (seven, to be exact) the Lakers coaching staff will need to define roles that best utilize each player on the roster to their full extent.
For years, the Lakers have been a franchise lacking a great point guard until the offseason acquisition of Steve Nash, one of the best point guards of the last decade or so and, even at 38, still among the top lead guards in the NBA.
Throughout his career with the Suns and the Mavericks, Nash has been able to rack up assists to a vast number of teammates by setting them up in a perfect position to score. With that said, let's take a look at how every one of Nash's teammates on the 2012-13 Lakers roster compares to a former teammate of his in either Phoenix or Dallas.
Note: Comparisons are not made based on talent, size or stats, but more on position and role in the offense. The list begins with rotation players and advances to starters with the greatest roles.
Begin Slideshow

»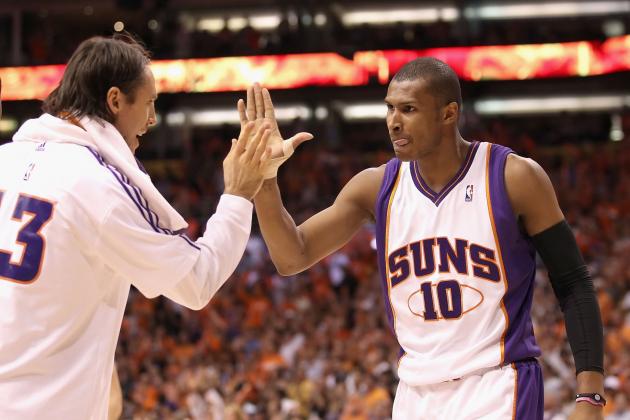 Christian Petersen/Getty Images

Last season, Andrew Goudelock flashed a few moments when he was able to come in off the bench and generate instant offense for the Lakers in a pinch.
As a Nash teammate from 2004-2010, Barbosa's primary role was to score in bunches when his number was called—he averaged 18.1 points per 36 minutes—which is a role Goudelock can and should play, albeit in a much more limited capacity. Goudelock is a solid outside shooter and has a nice floater in his arsenal, both tools that Barbosa also utilized to score at a high rate.
The Lakers added guards Chris Duhon and Jodie Meeks and kept Steve Blake on the roster, so Goudelock's opportunities may be few and far between, but when he does crack the rotation his main goal should be to fill up the box score with points as quickly as possible.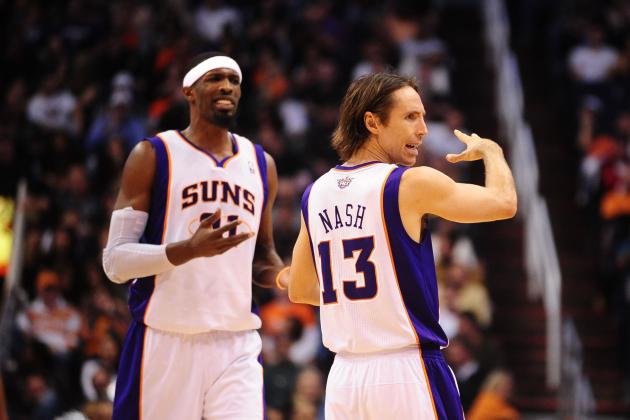 Mark J. Rebilas-US PRESSWIRE

Hakim Warrick was a Nash teammate with the Suns the last couple seasons and was a recipient of a number of easy dunks and alley-oops in his time in Phoenix. At 6'9", Warrick was able to play both forward positions off the pine, something that Earl Clark will need to do for the Lakers next season.
Clark may be a better ball-handler and shooter than Warrick but he should watch tape on how Warrick slipped screens and rolled to the basket for the easy layups and apply those skills to his game.
By staying active and cutting to the basket, Warrick was able to average 7.8 points per game in just 16.7 minutes with the Suns from 2009-2011. If Clark can provide scoring somewhere in that range, head coach Mike Brown and the Lakers will be ecstatic.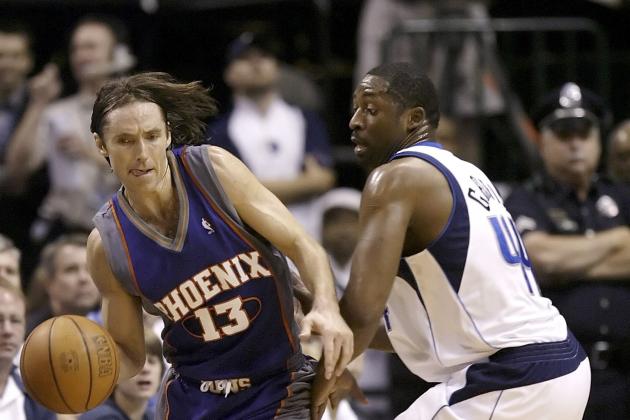 Ronald Martinez/Getty Images

Many people forget that before winning two MVP awards with the Suns, Steve Nash ran the point for the Dallas Mavericks from 1998-2004. One of his teammates during that span was the scrappy Adrian Griffin, who despite being only 6'5" had a reputation as a solid wing defender capable of guarding the 2, 3 and 4 spots.
Devin Ebanks is a solid defender in his own right, capable of covering multiple positions. He will need to embrace that role for the Lakers next season, similar to how Griffin did with the Mavericks. The Lakers have plenty of scoring and will need Ebanks defensive versatility off the bench to hold leads when the starters need a rest.
Griffin was also a decent mid-range shooter and could knock down a 15-20 footer when the opportunity presented itself. If Ebanks can come into 2012-13 with an improved mid-range jumper, his value for the Lakers will increase and may earn him a contract extension and more future playing time in Los Angeles.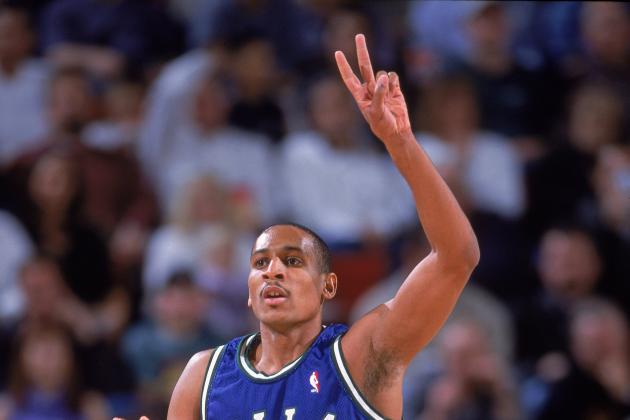 Otto Greule Jr/Getty Images

During his lone season playing with Steve Nash as a member of the Mavericks in 2000-01, Eisley wasn't asked to do much except limit turnovers and knock down an open jumper or two.
Steve Blake's role for 2012-13 will be much of the same: spell Nash in a point-guard rotation with Chris Duhon, limit turnovers and knock down an open three when necessary.
Even though he was limited athletically, Eisley was a smart player that contributed nicely in a reserve role with little pressure. That exact description can be applied to Blake and is a role he should embrace for next season.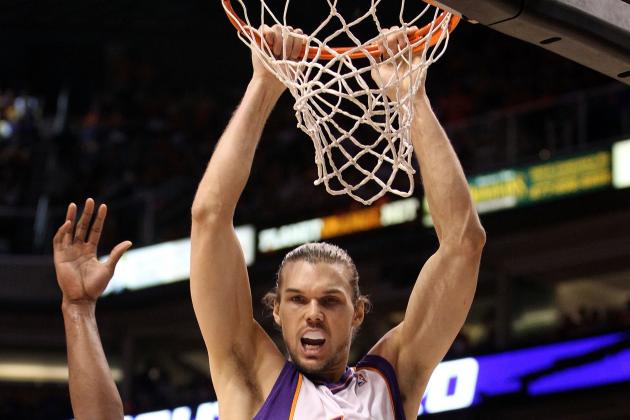 Christian Petersen/Getty Images

Louis Amundson's role as a Nash teammate from 2008-2010 was fairly simple: spell Amar'e Stoudemire, rebound and run the floor. These are all roles that fit Jordan Hill perfectly.
Hill showed what he was capable of in the playoffs last season, averaging 4.8 PPG and 6.3 RPG in about 18 minutes per night. If Hill can bring the same type of production as the primary big man backing up Pau Gasol and Dwight Howard in 2012-13, the Lakers will be more than pleased.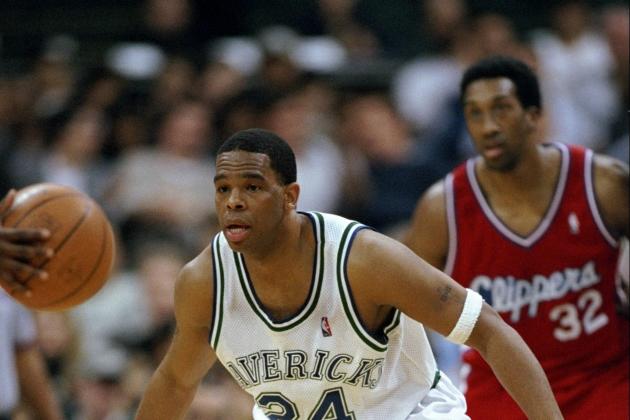 Stephen Dunn/Getty Images

Veteran guard Hubert Davis had one specific role as a member of the Mavericks from 1999-2001: three-point shooting. Long-range shooting was a major area of weakness for the Lakers last season, so bringing in Jodie Meeks to play a Hubert Davis-type role made a lot of sense.
Davis averaged close to double digits in a reserve role for the Mavs and even led the NBA in three-point shooting percentage one year (.491 in 1999-00). Expecting Meeks to lead the league in three-point accuracy may be a bit much, but not totally out of the question.
Steve Nash creates a lot of open looks with his penetration and mastery of the pick-and-roll offense. Meeks will benefit greatly from the open outside looks playing alongside Nash will create, much like Davis did in his brief stint as a Nash teammate.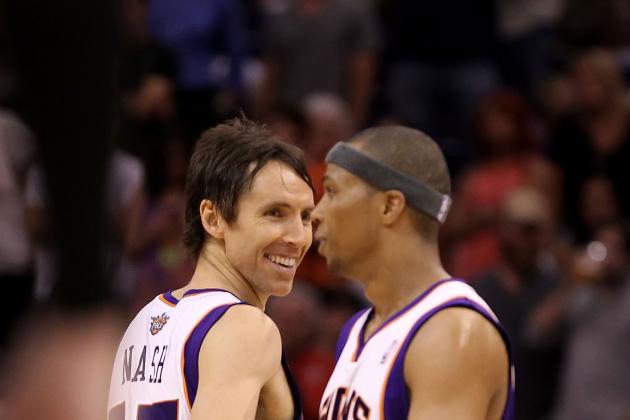 Christian Petersen/Getty Images

Quick reserve guard Sebastian Telfair spent just one season as a teammate of Steve Nash (2011-12) but his role was clear: keep the offense flowing while Nash rests his ailing back.
Chris Duhon will be asked to provide similar stability for the Lakers next season. Duhon isn't as quick or flashy as Telfair but he is a plus defender and veteran floor general who will keep the Lakers in tact when Nash is taking a breather on the sidelines.
Another quality that Duhon has in common with Telfair: both take care of the basketball. Duhon and Telfair limited their turnovers last season, both averaging less than 1.5 turnovers per game. Ball security will be a great addition for the Lakers next season.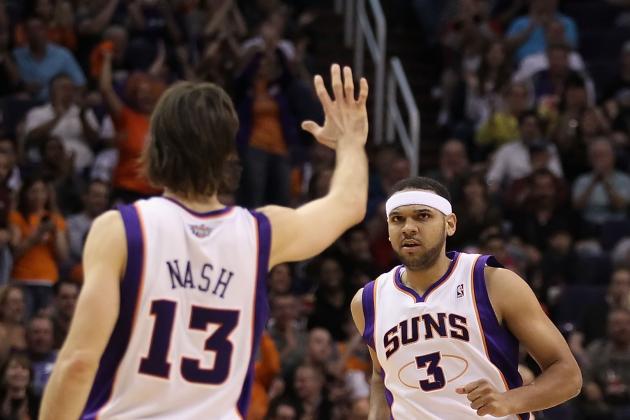 Christian Petersen/Getty Images

Antawn Jamison has the rare distinction as the only current Laker who has played on the same team as Steve Nash previously, as Jamison played a key reserve role for the 2003-04 Mavericks.
Jamison's game is slightly different now as he is more of an outside shooter at this stage of his career, which leads to the Jared Dudley comparison. Dudley played the wing position extremely well for the Suns after Dudley developed his outside shot and was often used as a kick-out shooter on Nash drives.
Expect much of the same role for Jamison, who can play the small forward position, as well as power forward if the Lakers choose to go with a small lineup. Jamison has gotten very good at scoring his points without having plays called specifically for him, which will be welcomed in a Lakers rotation that features so many options.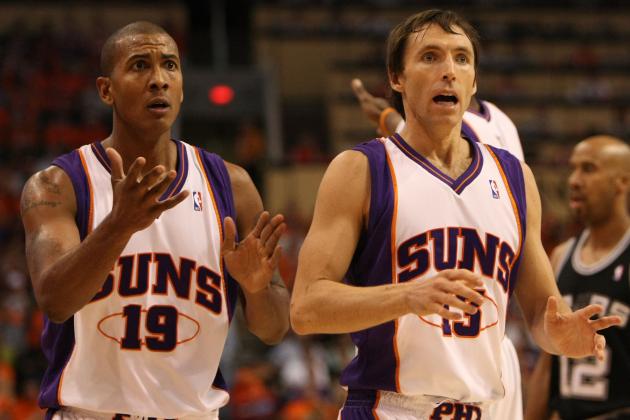 Jed Jacobsohn/Getty Images

As much as Metta World Peace could be a Jared Dudley-type of player on offense, where he will be relied upon the most is as a defensive stopper in the Lakers starting lineup.
Is World Peace the shooter that Bell was with the Suns from 2005-2009? No, but neither was Bell until he began playing alongside Steve Nash. World Peace probably won't shoot 40 percent from deep but he is capable of making enough threes to make defenses respect him as a threat on the perimeter.
Raja Bell was also a bit of a tough guy and enforcer of sorts during his days with the Suns, which is a role that fits World Peace all too well. If World Peace comes in to camp in shape there is no reason to expect him not to Raja Bell-type year with Steve Nash as his point guard.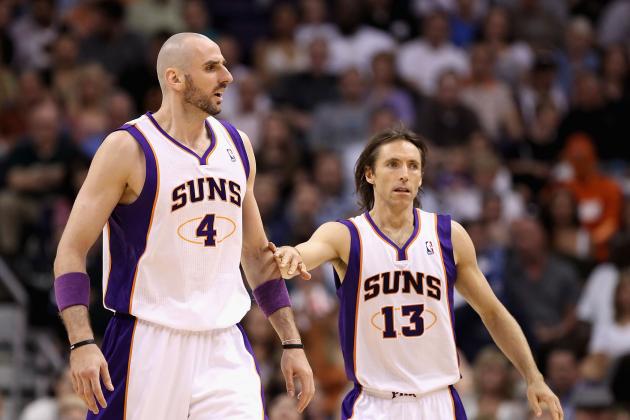 Christian Petersen/Getty Images

Center/forward Marcin Gortat went from a reserve from 2007-2011 with the Orlando Magic to a double-double machine with the Suns for a season-and-a-half, all thanks to Steve Nash creating easy shot attempts for him.
Pau Gasol is already an All-Star-caliber player, but playing with a point guard like Nash will put him in better positions to score than he had last season. Nash and the Lakers can either run a pick-and-pop with Gasol for easy mid-range jumpers, Gasol could roll to the basket or Gasol could simply post-up and read the defensive switches created by pick-and-roll action between Nash and Howard.
With Nash at the point, the Lakers should expect to see a better Pau Gasol than they have in the years since acquiring him from the Grizzlies back in 2008.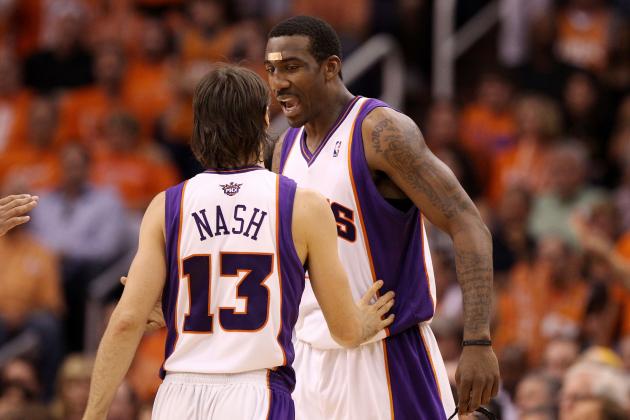 Christian Petersen/Getty Images

During their time together from 2004-2010, Steve Nash and Amar'e Stoudemire combined to form the most devastating pick-and-roll combination the NBA has seen since Stockton to Malone in the '90s. Stoudemire's athleticism and mobility was a perfect fit with Nash's ability to read the defense and led to a ton of easy dunks for Stoudemire.
Dwight Howard has similar, if not better, athletic ability and is already the most effective pick-and-roll finisher in the NBA, so when combined with Nash, the results could be phenomenal.
The most glaring offensive difference between Stoudemire and Howard is Stoudemire's ability to shoot the mid-range jumper, but the Lakers have so many other offensive options that aspect of Howard's game won't be missed.
Howard is also a great defensive center and shot-blocker capable of protecting the basket when or if Nash's man beats him off the dribble. It goes without saying that Nash will enjoy life with Dwight Howard manning the middle.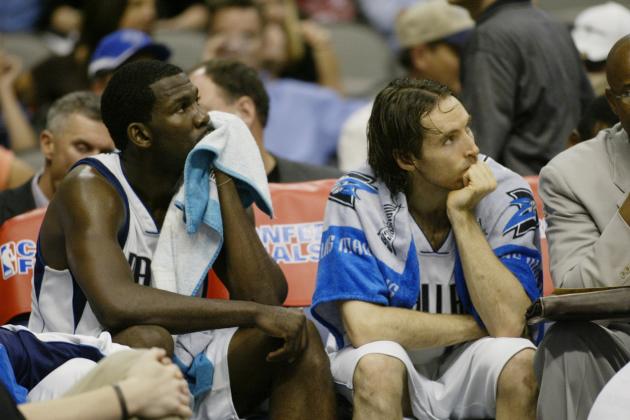 Ronald Martinez/Getty Images

Believe it or not, at one point Michael Finley was the most dangerous scoring option in a Dallas Mavericks lineup that also featured Steve Nash and Dirk Nowitzki. Finley, in his prime, was capable of scoring either attacking the basket or with the jumper, similar to Kobe Bryant.
From 1998-2004, with Nash at point for the Mavericks, Finley averaged over 20 PPG while playing off of Nash and Nowitzki pick-and-roll action. Kobe Bryant is a higher-volume scorer, or course, but should enjoy easier looks and single coverage as teams will no longer be able to leave the Lakers point guard open to double Bryant.
With Nash running the point, Bryant's declining field goal and three-point percentages should both see an increase for 2012-13 to over 45 percent and 35percent, respectively. Bryant will also see his turnover rate reduced as he will no longer be required to handle the basketball as much as previous seasons.
Once they develop chemistry, having a top-notch point guard such as Steve Nash will result in vast offensive improvements for the Lakers in many areas. With so many options and new pieces, the Lakers could potentially be the most intriguing team to watch for the 2012-13 season.