Cowboys vs. Giants: Score, Analysis, Twitter Reaction and Grades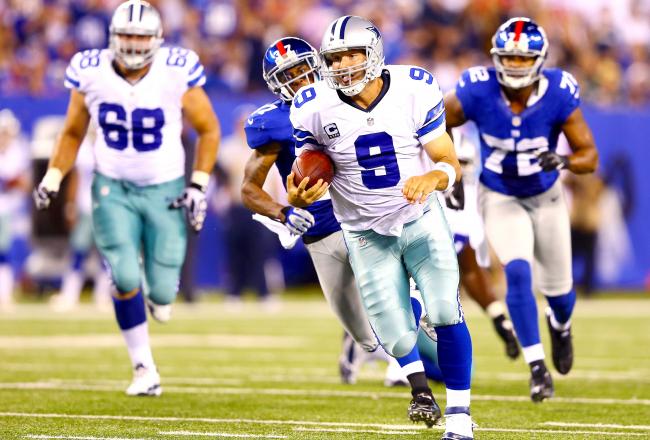 The New York Giants struggled to get their offense going against the Dallas Cowboys in the NFL's Wednesday night regular-season opener, and Tony Romo was on point.
The Giants lost 24-17, giving the Cowboys the first salvo in their 2012 season series.
Dallas appeared to lose its grip a few times in the fourth quarter, but Kevin Ogletree's massive effort would pay off in the end. The Cowboys' No. 3 receiver paced their offense with an eight-catch, 114-yard night. He caught two touchdowns and could have had a third.
The Giants tried to make things interesting when Martellus Bennett caught a touchdown in the game's final minutes, but their defense couldn't come up with one critical stop.
Not only did the Giants lose, but two of their top cornerbacks left the game with injury. It's tough to cover three talented receivers without Michael Coe and Prince Amukamura on the perimeter.
The rivalry factor only added to the anticipation surrounding this game. It was a defensive battle, but that could also be attributed to sloppy offensive play from both sides.
In the end, Dallas' offense had enough to get the job done. Let's recap this game, starting with some tweets.
Tweets of the Night
Kevin Ogletree looked good enough on Wednesday to make Jim Rome question who he was watching:
Is that Kevin Ogletree or Michael Irvin?

— Jim Rome (@jimrome) September 6, 2012
NFL Insider Jay Glazer loves what the Cowboys have this year, from two players in particular:
Love the attitude DeMarco and Sean Lee bring to this Cowboys team. They've been lookin for attitude and those guys have it

— Jay Glazer (@JayGlazer) September 6, 2012
CBS Sports reporter Alex Raskin brought a funny, but not bad, idea to the table in the second half:
#NYG plan should be to delay game until after midnight so Dez Bryant gets taken out by Jerry Jones' curfew. #Cowboys

— Giants RapidReports (@CBSSportsNFLNYG) September 6, 2012
Washington Post writer Gene Wang alluded to the Cowboys' past troubles as the Giants narrowed the gap in the second half:
Shocking #Cowboys would make a mental mistake in the fourth quarter with the lead. #sopredictable

— Gene Wang (@gene_wang) September 6, 2012
We knew this would be an issue, but Raiders linebacker Aaron Curry summed it up perfectly:
Commentators laughing at replacements refs!!! #classic

— Aaron Curry (@AaronCurry51) September 6, 2012
Grades for Cowboys' Key Players
Tony Romo: A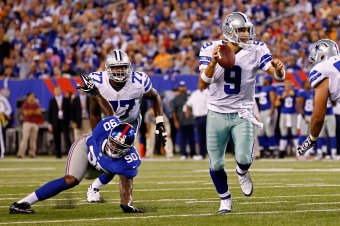 Jeff Zelevansky/Getty Images
Romo outperformed Eli Manning, and that's what matters most in a game like this. He was comfortable in the pocket and didn't make any glaring mistakes aside from the first-half interception to Michael Boley.
The Cowboys signal-caller brought it for Week 1. His three-touchdown performance was one of the best games I can remember from the 32-year-old.
Romo went 22-of-29 for 307 yards and three touchdowns.
Kevin Ogletree: A+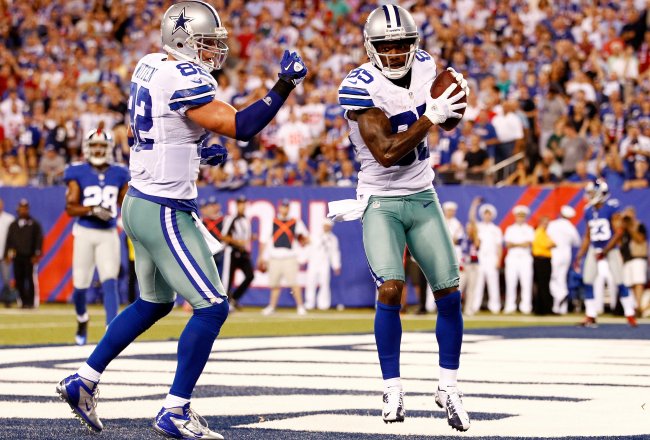 Jeff Zelevansky/Getty Images
No one saw this coming, and Ogletree gets the extra plus here. Is he available on the waiver wire of your fantasy league? I bet he is/was.
What a colossal performance to start the season. Eight catches for 114 yards isn't too shabby for a supposed No. 3 wideout.
DeMarco Murray: A
Murray's durability has been the only question mark surrounding the running back. It certainly hasn't been his ability, as we saw versus the G-men.
He carried the ball 20 times and broke off several lengthy runs, finishing with 131 yards overall.
DeMarcus Ware: A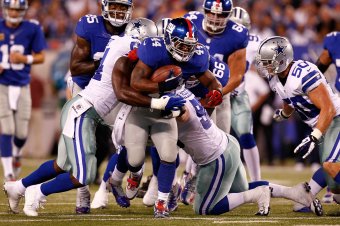 Jeff Zelevansky/Getty Images
I'm getting sick of typing the letter "A," but they are all deserved. Not only did Ware have two sacks, but he became the second-fastest player to ever reach the 100-sack mark for his career.
I'd say that's pretty good for the pass-rushing extraordinaire.
Grades for Giants' Key Players
Eli Manning: B
Manning wasn't terrible, and he did have the late touchdown pass, but he just didn't do enough for the win.
He paled in comparison to Romo. His 213 yards and one touchdown weren't enough to get it done, and his team desperately needed a major effort.
Ahmad Bradshaw: B+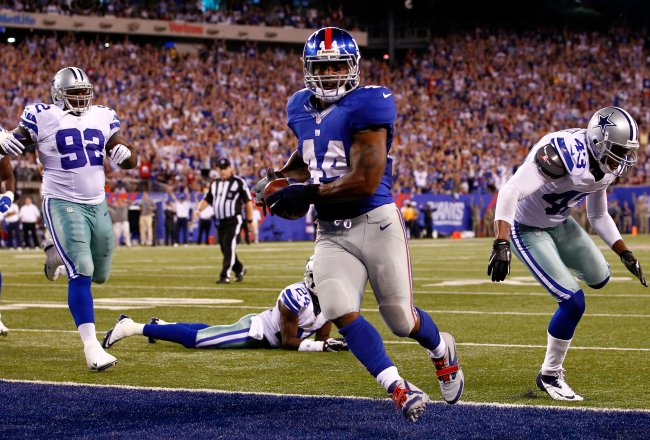 Jeff Zelevansky/Getty Images
Bradshaw wasn't elite, but he was the only source of offense for the Giants in stretches. He didn't fumble the ball like David Wilson did, and he broke one huge run in the fourth quarter.
It's not great, but the Giants will take 78 yards and one touchdown from their ball-carrier.
Victor Cruz: C+
I'm giving Cruz this grade because he did catch some passes, but he struggled late in the fourth quarter. He was targeted 11 times but only hauled in six passes for 58 yards.
It could have been worse, but I expected more from the Giants' top target, especially with Hakeem Nicks facing blanket coverage most of the night.
Jason Pierre-Paul: C
Pierre-Paul scares me even if he isn't making plays, but he was relatively quiet in this one.
He didn't register a sack, and Jason Witten helped Tyron Smith keep him away from Tony Romo for most of the night. He still had a tackle for loss, and four tackles overall, but this wasn't the performance I expected.
This article is
What is the duplicate article?
Why is this article offensive?
Where is this article plagiarized from?
Why is this article poorly edited?