10 Keys to the 2012 Atlanta Braves Shrugging off the 2011 Collapse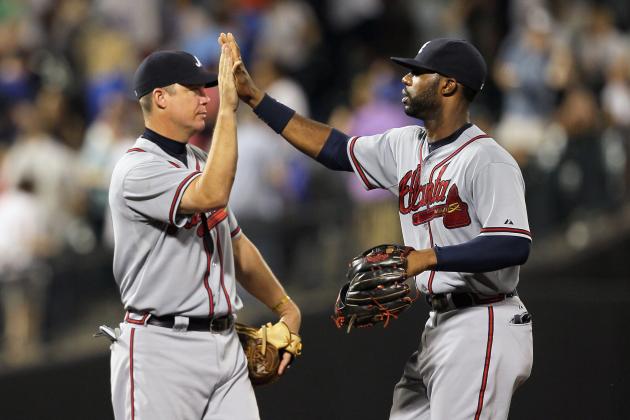 Mike Stobe/Getty Images

September of 2011 was an ugly month for the Atlanta Braves. Beginning the month with a seemingly locked-up Wild Card spot, the Braves proceeded to drop 18 of their last 26 games, watching the St. Louis Cardinals take the final playoff spot from them on the last day of the season.
A year later, a bad taste is still present in the mouths of Braves Country. Despite being 17 games above .500, a mark that would put Atlanta atop both the NL West and AL Central, the Braves sit 7.5 games behind the Washington Nationals. Add that to the nine wins Atlanta has posted in its last six series (spanning 20 games), and Braves fans have begun to worry.
Except this time, the Wild Card lead is just 3.5 games on St. Louis, and 5.0 on the rest of the National League. Needless to say, there is no cushion for the Braves this year.
Looking on the positive side though, the Braves are still in a very good position for a spot in October. Three games is substantial enough to provide some breathing room for the Braves, and even though Atlanta has not performed particularly well these past few weeks, neither has St. Louis, Pittsburgh, or Los Angeles.
Hopefully Atlanta only experienced a bump in the road on the way to the postseason, but even so, there are ten components (or "keys" if you will) that will need to be running on all cylinders to push the Braves over the top.
Enjoy.
Begin Slideshow

»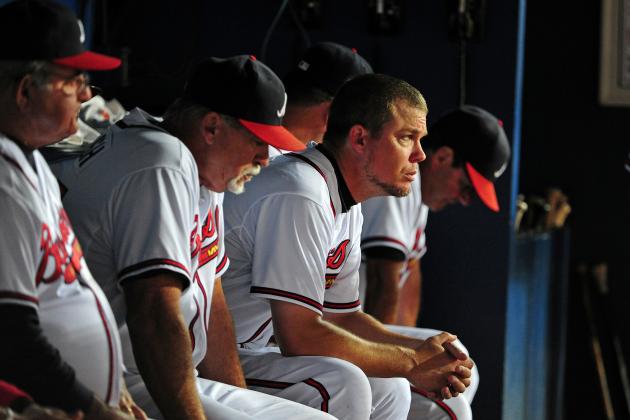 Scott Cunningham/Getty Images

It's been said that experience is the best teacher. If that adage holds any water, Atlanta might as well rip off 18 of 26 wins this time around.
The health of the Atlanta rotation was one of the factors that hurt the Braves last September, but what really put the nail in their coffin was their performance in close games. In games decided by one run in the month of September, Atlanta lost seven of ten games. If you add in games decided by two runs, Atlanta's record in close affairs drops to three wins in 16 tries.
The Braves look like they've gotten their act together this year though, with a 19-11 (.633) record in one-run games thus far, compared to a 29-26 (.527) record in 2011.
Even more so, while Atlanta may have hit a rough patch recently, the Braves are actually playing much better after the All-Star Break than they were before the Mid-Summer Classic in Kansas City. Last year's Braves played .500 baseball in the second half (going 35-35), but this year's Braves are 31-21 (as opposed to a 46-39 first half).
The 2011 collapse was not fun to watch, but it will prove extremely beneficial in 2012. Young players like Jason Heyward and Freddie Freeman have tasted what losing is like, the arms on the staff have now pitched in high leverage situations, and the veterans will do everything in their power to prevent another slide from occurring.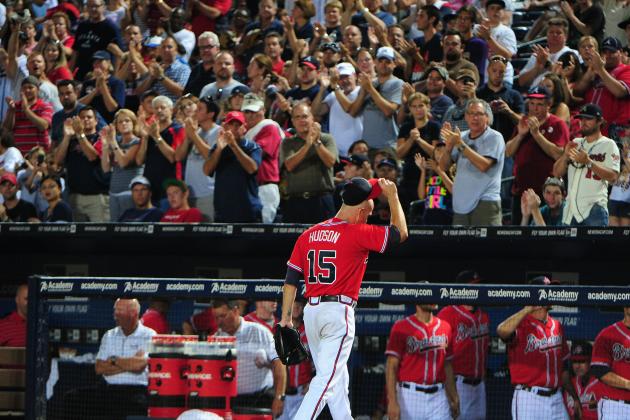 Scott Cunningham/Getty Images

Perhaps the biggest (controllable) factor to avoiding a repeated collapse will be the performance from the Atlanta starting pitchers. In September of 2011, Braves starters compiled a 4.55 ERA over 146.1 innings pitched.
Suddenly the collapse seems more understandable.
For a while, Atlanta's starting pitchers were the weakness of the team. With the struggles of Mike Minor, Jair Jurrjens, Randall Delgado, and Tommy Hanson, the Braves front office began searching for outside candidates to come in and save the rotation.
Fortunately, the search was not fruitless. Ben Sheets gave Atlanta an inexpensive but serious lift before succumbing to injury, and Paul Maholm has pitched to the tune of a 2.45 ERA in five starts for the Braves if you give him a mulligan for the two-inning seven-run meltdown against the Phillies on September 2nd.
More importantly though, Mike Minor has turned his season around (2.56 ERA, 0.93 WHIP since the All-Star Break) and Kris Medlen has pitched unconsciously since stepping into the rotation (0.54 ERA in 49.2 innings as a starter).
The Atlanta rotation may be in flux when it comes to which pitchers will make playoff roster, but led by the unflappable Tim Hudson, this pitching staff will only get better as the season wears on.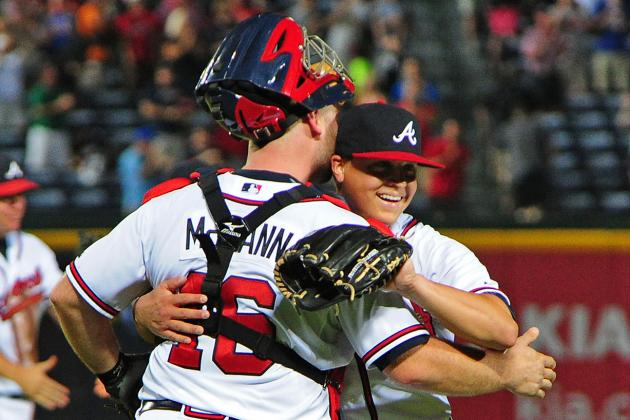 Scott Cunningham/Getty Images

I mentioned Kris Medlen in the previous slide, but he really deserves his own slide, does he not?
I'll answer for you. He does.
Medlen has pitched in Tommy Hanson's shadow his entire career, but due to his incredible stretch of starts since joining the rotation, he won't have to worry about that any longer. In fact, he's (albeit unfairly) been getting Greg Maddux comparisons.
Because there are those skeptical of Medlen's 0.54 ERA as a starter, I'd like to pull out some advanced metrics to show you just how good Medlen has been. Since stepping into the rotation, Medlen has a K/9 rate of 9.06, a BB/9 rate of 0.91 (!!!), and a strand rate of 93.4 percent.
If that's not enough to sway you, consider that he is striking out ten hitters for every one that he walks.
Or consider that his BABIP is against is .280, indicating that Medlen hasn't simply been lucky.
Perhaps you just want to see his FIP, a stat that adjusts ERA to eliminate fielding and luck. Surely his FIP won't be tremendous.
Wrong again. It's 1.66.
Atlanta needed a pitcher like Medlen that can swoop in and throw the hammer down. Now, they might have found their staff ace through serendipity.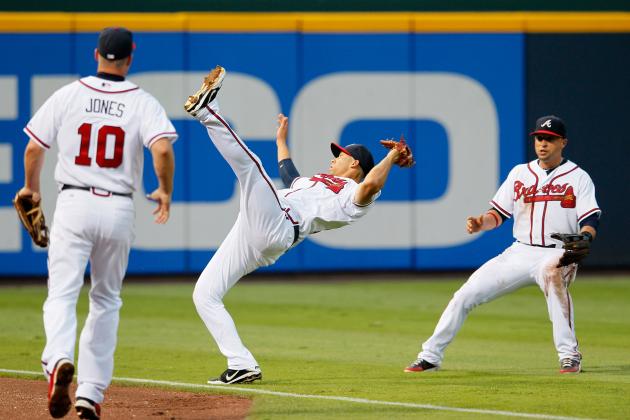 Kevin C. Cox/Getty Images

Part of Atlanta's problem last year was the mediocrity of the defense. The components haven't exactly undergone a drastic change from 2011 to 2012, but there has been very significant defensive improvements.
For one, take Atlanta's outfield into consideration. Fangraphs' fielding stat, Fld (which totals up a player's UZR at each position) ranks Michael Bourn and Jason Heyward first and second among all position players in 2012. Martin Prado? He comes in eighth.
Atlanta may also have the best defensive shortstop in baseball. Though he's not yet returned from injury, Andrelton Simmons shores up the most important defensive position (save possibly the catcher), and does so in spectacular fashion.
With impeccable defense at shortstop and an outfield that can cover a lot of ground, Braves pitchers can breath a little easier, delivering each pitch with more confidence.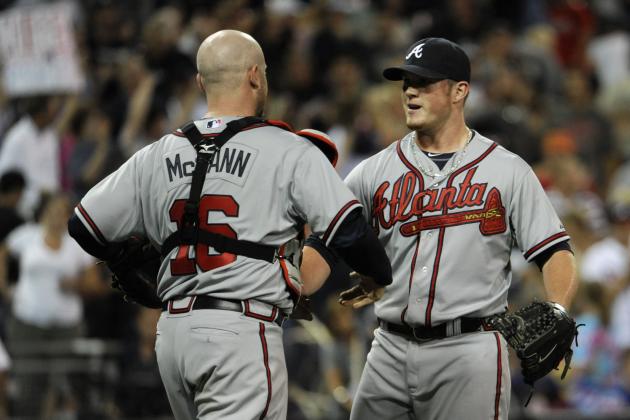 Denis Poroy/Getty Images

You have to give Fredi Gonzalez props here; the Atlanta bullpen has entered September relatively fresh and spry. At this point last season, Kimbrel had entered 19 more games than he has in 2012. Considering he blew three saves and posted a 7.36 ERA in his last eight appearances of 2011, I would consider this a very wise move.
It's not just been Kimbrel though. After logging 89.2 and 88 innings in 2010 and 2011, Jonny Venters has yet to complete his 49th inning this season. Eric O'Flaherty's innings total has dropped from 73.2 to 47.1. Cristhian Martinez, the current long-man in the Atlanta bullpen, has thrown nearly 30 innings less than last season. Chad Durbin, Atlanta's most frequently used reliever (67 appearances) has thrown but 54.2 innings.
That doesn't even take into consideration the fact that Peter Moylan is back in Atlanta, finally healthy again. He's barely thrown 25 innings this year.
Last year, Atlanta was supposed to be able to hang its hat on its bullpen, but due to fatigue, the bullpen became a weakness. In 2012, the same cast of characters that made the Braves bullpen the most daunting in the league is back. But this time, they're fresh.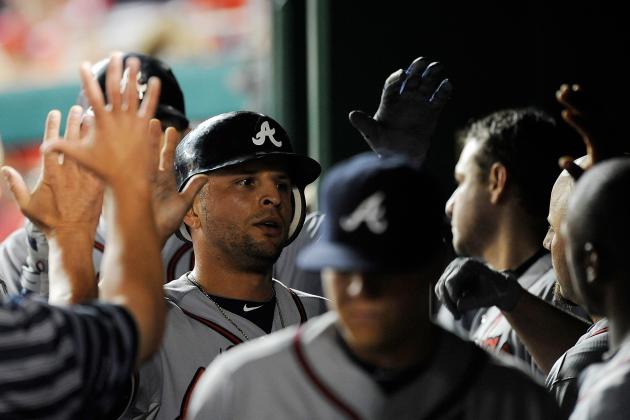 Patrick McDermott/Getty Images

I've said it before, and I'll say it again: Martin Prado is the most underrated player in baseball.
He plays an excellent left field, but has the ability to play second or third in a pinch. He takes walks, doesn't strike out much, mauls lefties to the tune of an .848 OPS, and can do pretty much anything the Braves ask him to do. Oh, and he's still 15th in WAR.
He is relevant to this slideshow not just because of how incredibly invaluable he is, but also because of how terribly he played last year. Hampered by injuries, Prado's 2011 campaign subsisted of a painful .302 OBP and a .385 SLG. For you math majors out there, that's a .687 OPS on the season.
Now healthy and playing as well as he ever has, Prado will give the 2012 version of the Braves a lift that the 2011 Prado could only dream of giving.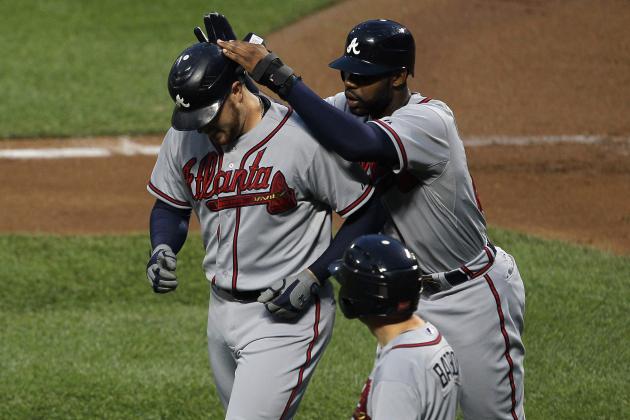 Mike Stobe/Getty Images

By "Young Guns," I mean primarily Jason Heyward and Freddie Freeman, the present and future of the Atlanta offense.
2011 was a major learning experience for both of these bright young stars; Heyward suffered through an abysmal season in which he posted a .708 OPS while Freeman went through the ups and downs of a very streaky rookie campaign.
Fortunately, they both have taken steps forward in 2012. Heyward's improvement has been obvious, the health of his right shoulder allowing him to raise his slash line from .227/.319/.389 to .273/.344/.492.
Freeman's improvement has been much more subtle. His batting average has actually dropped from .282 to .268 as a result of his BABIP free falling from .339 to .304, but unlike Heyward, he has both raised his walk rate (to 10.7 percent) and cut his strikeout rate (to 19.8 percent).
With the struggles of Dan Uggla and the questionable health of Brian McCann, the development of Heyward and Freeman as offensive threats could not have come at a better time.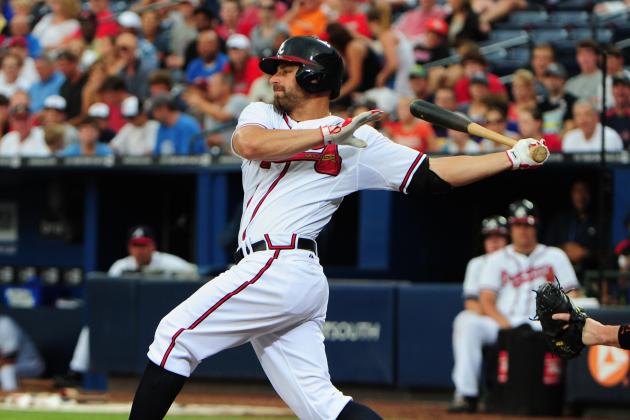 Scott Cunningham/Getty Images

At some point, surely the Braves' tremendous bench will get noticed, right?
A month ago, I wrote that Atlanta boasted the best bench in baseball.
With powerhouse third baseman Juan Francisco pinch hitting, veteran David Ross having a great year behind the plate, and fourth-outfielder Reed Johnson posting a .353 OBP, I was convinced that the Atlanta bench might play a serious role in both September and the impending postseason.
Since then, Atlanta has brought into the mix Lyle Overbay's .354 career OBP, Jeff Baker's .851 career OPS against southpaws (a brilliant move in itself), and Jose Constanza's blinding speed (with which he accrued a .380 OBP in Triple-A this season). When Andrelton Simmons returns from injury, defensive whiz Paul Janish will join the bench.
Now, it would just be silly to pit any bench against Atlanta.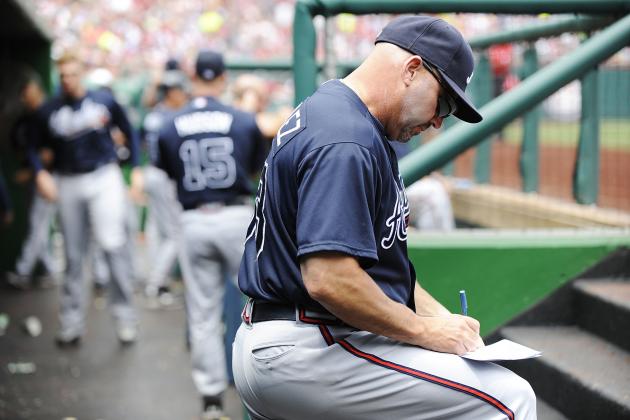 Jonathan Ernst/Getty Images

Following a legend like Bobby Cox is no easy task, but Fredi Gonzalez can't ever seem to catch a break from Braves fans. He's not without his flaws, but he has taken several steps forward as a manager this year.
The biggest criticism of Gonzalez thus far has been his usage of the bullpen in 2011, when he overworked the young arms of Jonny Venters and Craig Kimbrel. He has fixed that issue completely this season, as addressed by a previous slide, and now has the bullpen fresh and ready for September and the postseason.
He didn't give up on Mike Minor when the entirety of Braves Country was pleading him to do so. He gave Kris Medlen the chance to be in the starting rotation, and Medlen has made him look like a genius. Maybe most impressively, he swallowed Dan Uggla's 62 million dollar contract and has recently benched him.
On top of that, Gonzalez has cultivated a fantastic chemistry among the Atlanta roster that could very well be what pushes the Braves over the top.
Gonzalez still has his critics, but even they must acknowledge that he has learned from the mistakes he made in his first year with Atlanta and has become more than a competent manager.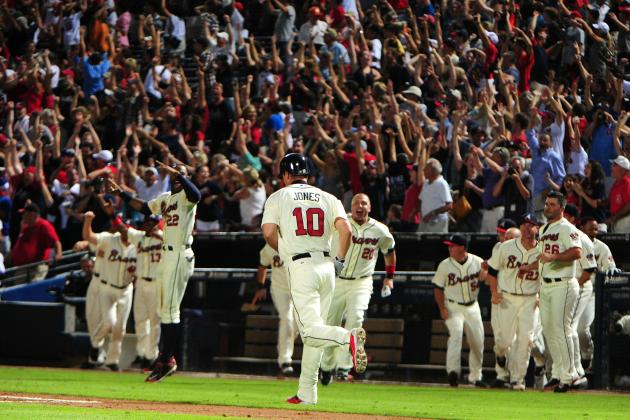 Scott Cunningham/Getty Images

I don't need to present Chipper's credentials here. They're known all too-well, and it seems redundant to write them again.
During the swan-song of his 19 year Hall of Fame career, Chipper has posted a campaign for the ages. 40 years old, Chipper has put up a slash line of .304/.381/.497 in 370 plate appearances in spite of his notoriously questionable health.
Jerry Crasnick of ESPN writes that "At some point each day, Jones shoots Gonzalez a text or drops by the manager's office to let him know if his creaky bones will allow him to play. He has become a master at picking his spots."
Indeed he has.
Last year, Chipper tired down the stretch, hitting .269 with just four home runs and 11 RBIs in September. This year, Chipper welcomed September with a walk-off three-run home run on September 2nd to beat Philadelphia.
He's a man; he's 40! But by no means is Chipper done.