NFL Week 1: Picks and Keys to Each Game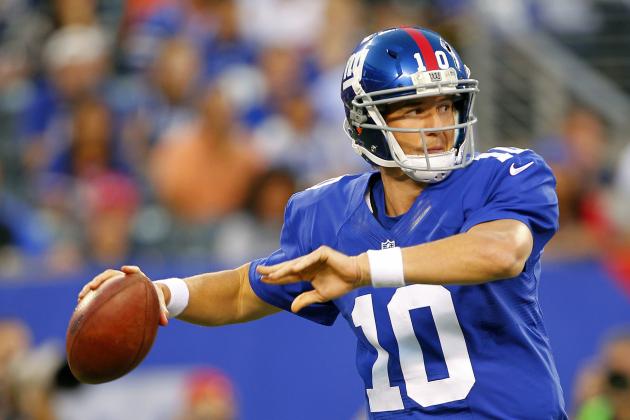 Rich Schultz/Getty Images

It's finally time for football again. Last week's college games were a nice primer, but they're just a tasty appetizer for the tantalizing NFL season that kicks off tonight.
There aren't too many marquee matchups on this week, but we do get to see a battle between two Super Bowl contenders in the 49ers at Packers game, as well as a divisional contest between the Cowboys and Giants. Not only that, but we finally get to see how Peyton Manning's neck injury is holding up and quite a few rookie quarterbacks' debut games.
With all that and more on the docket, there's going to be plenty of glorious action for your eyeballs to soak in, so it's understandable that you might miss a few things. Here are a few key things to pay attention to in each matchup.
Begin Slideshow

»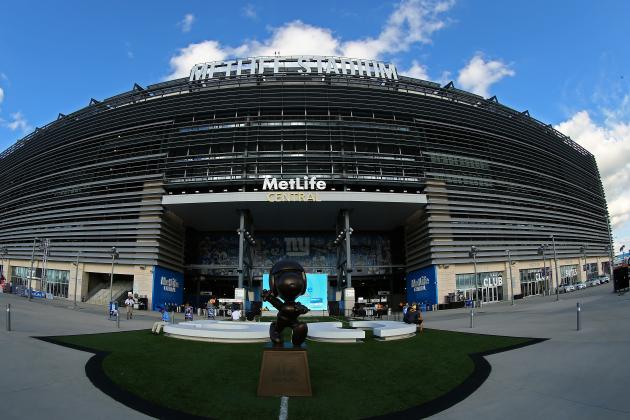 Al Bello/Getty Images

When: September 5, 8:30 p.m. ET
Where: NBC
When the Cowboys have the ball: How will they fare with key players battling injuries?
Miles Austin and Dez Bryant are both banged up, but should play, while Jason Witten is a game-time decision. These three guys play a huge role in the Cowboys offense, and if any of them can't go, it's going to be tough to beat the defending champs.
Austin and Bryant should be able to play effectively, but won't be at full strength against the stout Giants defense. Witten probably won't play effectively, which is bad news for Tony Romo, who loves to hit his big play tight end anytime he feels pressure. Pressure that will be coming early and often from this Giants team.
When the Giants have the ball: Can they start like they finished last year?
For the past few years, the Giants have started somewhat slowly before generating a head of steam over the last weeks and making big playoff runs. As the defending champs, they don't have the luxury of coming out of nowhere because everyone will be giving them their best game.
Eli Manning has the weapons around him to produce at a high level season long. The problem with Manning is that he's long been a player who's hot one week and then cold the next. He simply must become a more consistent QB who cuts down on his mistakes.
Winner: New York Giants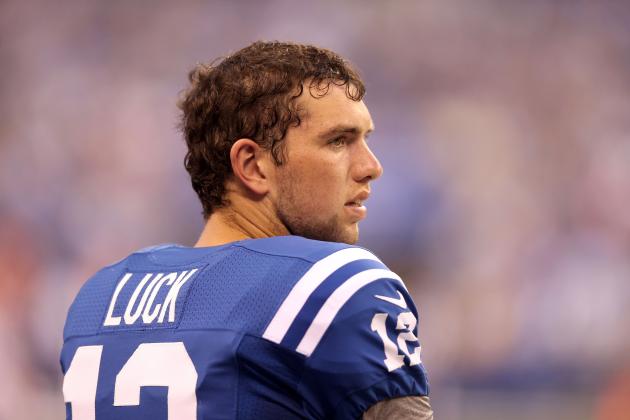 Andy Lyons/Getty Images

When: September 9, 1:00 p.m. ET
Where: CBS
When the Colts have the ball: Is Andrew Luck really that good?
Andrew Luck's first game comes against a Bear squad that could be Super Bowl contenders. Needless to say, the NFL schedule-makers didn't do the young man any favors.
Don't expect Luck's team to win, but they should be competitive as the season goes on. The Colts don't have many star players, but Luck does have some skill players to work with (Reggie Wayne comes to mind). Look for them to struggle initially, but drastically improve towards the last quarter of the season.
When the Bears have the ball: How good will the Jay Cutler-Brandon Marshall combo be?
A few years ago, this QB-WR combo was one of the most dangerous in the league, and now they're back together for round two. The Bears also have one of the better all-around backs in the game in Matt Forte, and that should give Marshall even more room to operate.
I fully expect these two to hook up early and often in this game and blow the Colts away. As the season progresses they could become less effective because the Bears don't have much at the receiver position outside of Marshall, but look for them to make a splash early.
Winner: Chicago Bears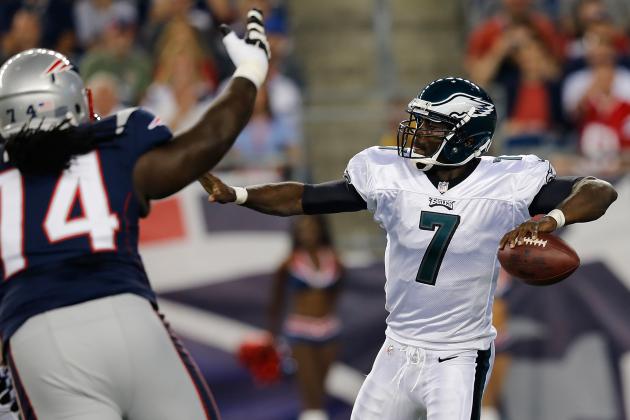 Jim Rogash/Getty Images

When: September 9, 1:00 p.m. ET
Where: FOX
When the Eagles have the ball: Can the "Dream Team" gel?
Last season, many were calling the Eagles one of the greatest teams ever assembled on a football field. Philly didn't exactly live up to that lofty praise due to inconsistency that could be contributed to not having a full offseason to gel.
This year, there are no excuses for this team. It simply must produce. Obviously, there's always the chance that Michael Vick's running ways will cost the team their star quarterback, but barring injury, this needs to be a playoff team, or coach Andy Reid could be without a job.
When the Browns have the ball: How will the rookies fare?
The Browns are starting rookies Brandon Weeden and Trent Richardson at quarterback and running back, respectively. Starting rookies at two of the most important positions on the field is more than a little risky, but they've proven to be the best players at their positions this offseason.
Weeden hasn't quite been as deadly as he was at Oklahoma State, but he has shown the poise that comes with being a 28-year-old rookie.
Richardson, on the other hand, had arthroscopic knee surgery early in the preseason, but he looks to be healthy and ready to go for the season opener.
Winner: Philadelphia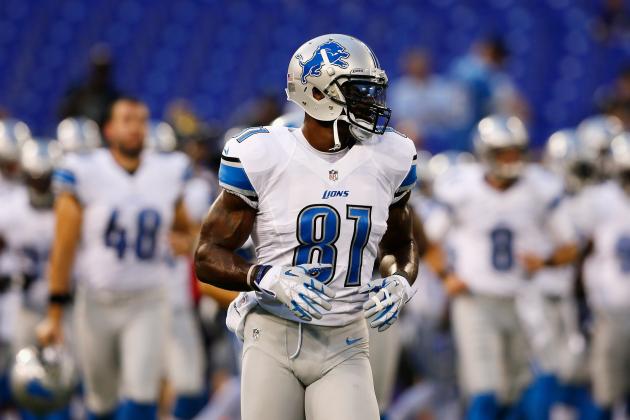 Rob Carr/Getty Images

When: September 9, 1:00 p.m. ET
Where: FOX
When the Rams have the ball: Will Sam Bradford take a step in the right direction?
On paper, this Rams offense looks promising. Sadly, these games aren't played on paper and they struggled mightily last year. To be fair, Bradford was banged up a bit in 2011 and only played 10 games. He was without a few key WRs when he could play.
That said, many expected better out of this squad, and rightfully so. As a fellow Oklahoman, I'm hoping that Bradford can turn it around in his third year and leave his 2011 campaign in the dust. The Rams might not get a playoff spot, but they should be much improved.
When the Lions have the ball: Can Kevin Smith stay healthy long enough to be effective?
The Lions have one of the best quarterback-wide receiver combos in the league with Matthew Stafford and Calvin Johnson. In addition, they have a solid tight end in Brandon Pettigrew and quite a few options to be Johnson's running mate at the second wide receiver.
The only position that still has a question mark is running back. Jahvid Best went on the PUP list during the preseason, and that leaves injury-prone Kevin Smith as the only true option. Smith is a solid player, but tends to get banged-up often. The Lions are hoping he can reverse that luck…at least until Best is healthy.
Winner: Lions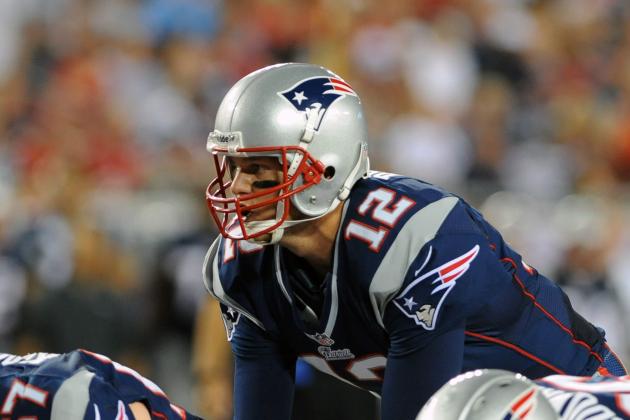 Al Messerschmidt/Getty Images

When: September 9, 1:00 p.m. ET
Where: CBS
When the Patriots have the ball: Can Stevan Ridley take pressure off of Tom Brady?
Let's be honest, much like the Green Bay Packers, the Patriots don't really run the ball very often. BenJarvus Green-Ellis led the team with 667 yards last year. However, he did put up 11 touchdowns, which shows that he took advantage of the carries he did get.
The Law Firm has since left for Cincinnati, which means that Ridley is going to have to step into that place and give Brady the safety outlet he needs. He doesn't need to be Adrian Peterson, but he must be effective with the touches he gets.
When the Titans have the ball: Can Jake Locker be an NFL quarterback?
The answer to this question is a very loud and strong "maybe." Locker has great size, a cannon for an arm and good running ability. That sounds an awful lot like Cam Newton.
I wouldn't expect to see Locker breaking records anytime soon though. The Titans are going to pound the ball a lot with Chris Johnson (who actually participated in offseason workouts this year), and not a lot will be asked of Locker. Locker should be an effective quarterback, but I'd pass him up if you're looking for a fantasy starter.
Winner: Patriots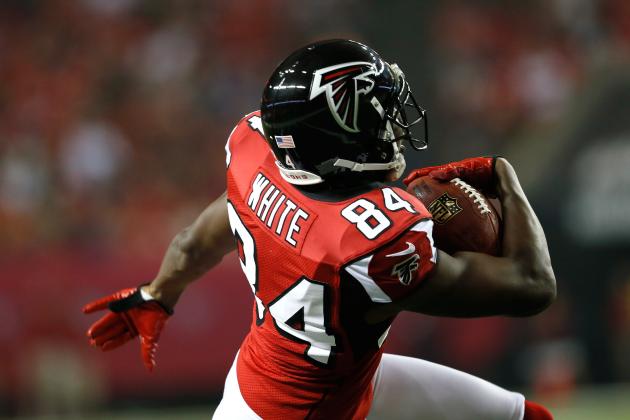 Kevin C. Cox/Getty Images

When: September 9, 1:00 p.m. ET
Where: FOX
When the Falcons have the ball: What is this offense going to look like?
Falcons RB Michael Turner has been one of the true workhorses of the NFL these last few years. That said, the Falcons are looking to take away some of his carries this year in favor of keeping him healthy for the stretch run. This leads many to believe that some of the other running backs (my fantasy team is hoping for Jacquizz Rodgers) to see an increase in touches.
However, the Falcons coaches have said that they still plan to run the ball often, which means we shouldn't see too big of an increase in passing yards. It will be interesting to see just how this offense shapes up as we move through the opening weeks of the NFL schedule.
When the Chiefs have the ball: How healthy is Jamaal Charles?
Not only did Charles' major knee injury ruin the Chiefs season, but my fantasy team pretty much went down the tank as well. Signs point to Charles being back and healthy, but you never can be sure with such a significant boo-boo.
The Chiefs brought in Peyton Hillis to spell Charles from time to time, but I don't think he has near the ability Charles brings to the table.
Matt Cassel is an adequate QB and has some quality targets in Dwayne Bowe and Jon Baldwin, but the Chiefs need one of their two backs to show up for them to be competitive.
Winner: Chiefs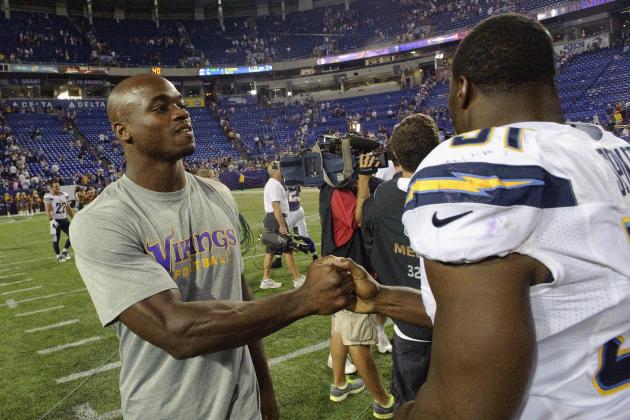 Hannah Foslien/Getty Images

When: September 9, 1:00 p.m. ET
Where: CBS
When the Jaguars have the ball: Will Blaine Gabbert's preseason successes translate to the regular season?
Gabbert has shown off some of the skills that lead to the Jags drafting him in the first round a few years ago during this preseason. However, those games don't count and we've still yet to see him produce against quality opponents.
The Vikings should provide us with a good litmus test for the young QB. They boast a sack-happy line, but a suspect secondary. If Gabbert can get away from pressure, he should be able to find rookie WR Justin Blackmon down the field for big plays
When the Vikings have the ball: Can Toby Gerhart fill Adrian Peterson's shoes?
Even if he's healthy, Peterson won't get more than 10 touches this week. He's simply too valuable for the Vikings to throw out the lions so soon after a major knee injury. Luckily, the Vikings have a solid backup in Toby Gerhart.
Gerhart is never going to be the runner AD is, but he should be able to gain 75-plus yards on 20 carries, which will open up passing lanes for Christian Ponder. Peterson will likely be fully back by the third week of the season, but expect to see a healthy diet of Gerhart until then.
Winner: Vikings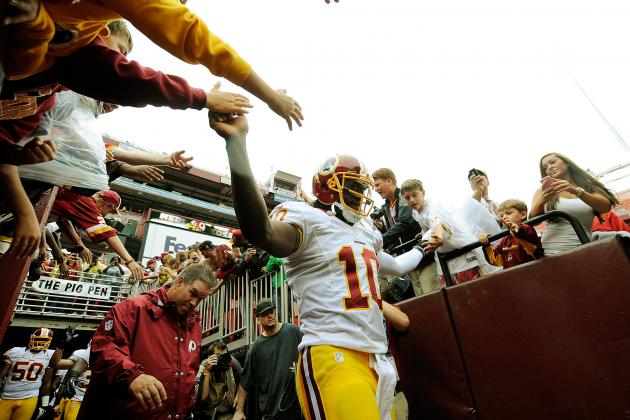 Patrick McDermott/Getty Images

When: September 9, 1:00 p.m. ET
Where: FOX
When the Redskins have the ball: Are there enough weapons around Robert Griffin III?
RG3 is unlikely to have a season that rivals Cam Newton's from last year, but he should keep his team competitive even though they lack stud skill players. I would argue that RG3 is going to be a better player than Newton when their careers are finished because he's a pocket passer with athleticism.
Unlike guys like Michael Vick and Newton, RG3 is a passer first, runner second. He can already read a defense and shouldn't need much time to acclimate himself to the NFL's speed. He should have a good year, but won't be as productive as Newton because he team will hold him back.
When the Saints have the ball: How will they deal with "Bounty Gate?"
Saints fans would have to be lying if they said they weren't at least a little worried about how their squad will deal with the repercussions of "Bounty Gate."
The Saints lost their head coach, and while these athletes are grown men, you can't discount the effect a good leader can have on a team.
Luckily, this team has one of the nicest human beings in the league with Drew Brees, who just happens to be a great quarterback as well. Look for the team to play well from the get-go, but struggle in close games all season long.
Winner: Saints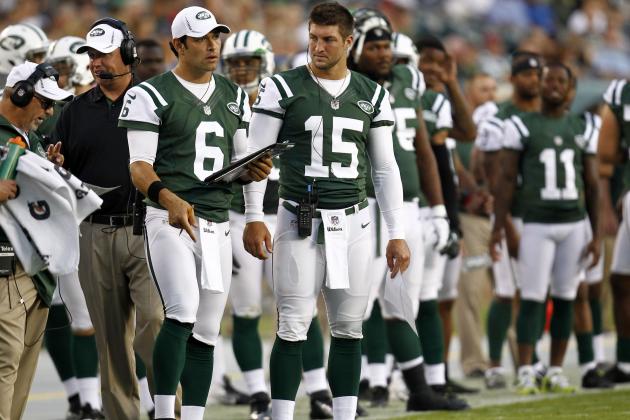 Jeff Zelevansky/Getty Images

When: September 9, 1:00 p.m. ET
Where: CBS
When the Bills have the ball: Who's going to step up opposite Steve Johnson?
The Bills have almost everything you need to have a good offense. A solid QB in Ryan Fitzpatrick, a workhorse RB in Fred Jackson, a game-changer in C.J. Spiller and a deep threat WR in Steve Johnson. However, to be effective, they need to find a secondary receiver to compliment Johnson.
Donald Jones is second on the depth chart, but he only has two career TDs. It's possible that Spiller could be the answer out of the backfield, but you'd rather see Jones or someone else step up.
When the Jets have the ball: Can they handle the QB circus?
Living in New York, the Jets are used to having to deal with a media circus virtually every week. However, it's been a while since they've seen anything as polarizing as Tim Tebow come to town.
This question might be better asked as "can Mark Sanchez handle the QB circus?" Sanchez has to know that anytime he even throws an incomplete, people are going to be clamoring for Tebow. It will be interesting to see if Sanchez can shut out the haters and turn his play around in the regular season.
Winner: Bills
Bob Levey/Getty Images

When: September 9, 1:00 p.m. ET
Where: CBS
When the Dolphins have the ball: Is Ryan Tannehill the real deal?
No offense to Tannehill, but he's probably the weakest rookie quarterback who's starting in the season opener. He has some skill and could become a legitimate starter later in life, but this team lacks any real weapons around him outside of Reggie Bush.
It's going to be a long year in Miami for the rookie out of Texas A&M. It has some quality players along the line that will open holes for Bush, but even if Bush plays out of his mind, it'll be tough for Tannehill to do much of anything this season
When the Texans have the ball: Can Andre Johnson stay healthy?
This question has long plagued this team. They lay claim to one of the best three receivers in the game, but he seems to be in street clothes just as often as he's in the end zone.
If Johnson can stay in the game, this is one of the more dangerous teams in the NFL. They have a solid defense and one of the best running backs around in Arian Foster. With their prolific wide receiver, this becomes a team that could beat anybody; without him, they're just a fringe playoff squad.
Winner: Texans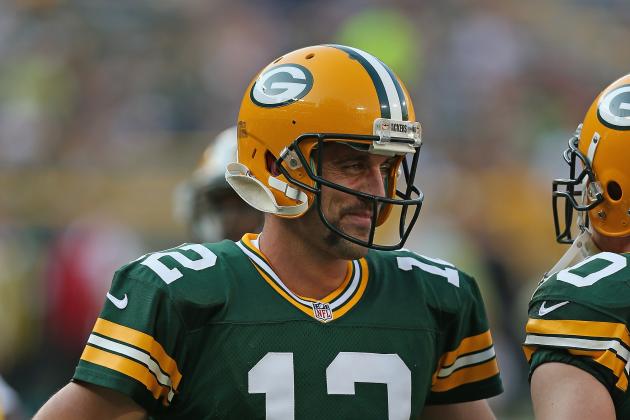 Jonathan Daniel/Getty Images

When: September 9, 4:15 p.m. ET
Where: FOX
When the 49ers have the ball: Which Alex Smith will we get?
During the regular season, Smith was a game manager who just didn't lose games and let his defense do most of the work. The playoffs were a completely different story. He became a stud, scoring six total touchdowns and not turning the ball over once.
It's safe to say that the 49ers would prefer the postseason Smith, especially against the pass-happy Packers. However, he's been in the NFL for eight years and has never been a star. Look for him to play more like his regular season self, at least until December comes around.
When the Packers have the ball: How effectively can they run the ball?
To be fair, it's not like the Packers really need to run the ball much with how well Aaron Rodgers slings the ball around. It would still be nice to see a little bit more consistency out of the running game in Green Bay.
That would give Rodgers more time in the pocket with less blitzes and could set them up to play better in colder weather. The Packers don't have a workhorse back, but they should be able to put up some yards with their running back committee.
Winner: Packers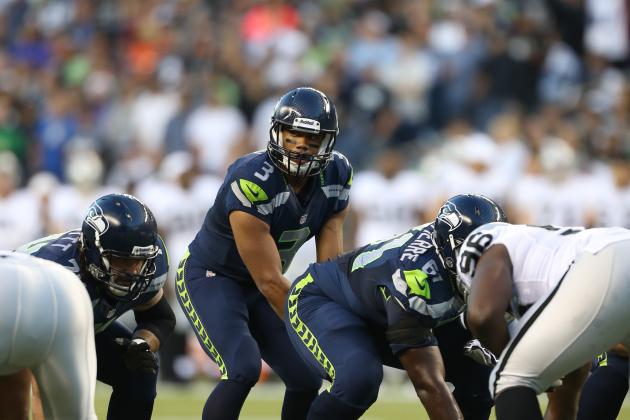 Otto Greule Jr/Getty Images

When: September 9, 4:25 p.m. ET
Where: FOX
When the Seahawks have the ball: Is Marshawn Lynch healthy?
The Seahawks decided to go with rookie QB Russell Wilson for their opening game instead of former Packer Matt Flynn. Lynch's beast-like play out of the backfield is partially the reason they felt comfortable making this move because he takes a lot of pressure off of Wilson and allows him to be the playmaker this squad needs.
That said, Lynch has recently been hampered by back problems and could have difficulty playing up to his usual standards this week (if he even plays at all). That's bad news for Wilson because the Cardinals boast an aggressive defense with some big-time playmakers in the secondary in Adrian Wilson and Patrick Peterson.
If Lynch can't go, this could be a long day for the Seahawks.
When the Cardinals have the ball: Who's going to get the ball to Larry Fitzgerald?
Last season, the Cardinals made a move to bring in quarterback Kevin Kolb, and while he showed promise from time to time, he was hampered by a string of injuries that saw his play deteriorate. Backup John Skelton stepped in after Kolb went down with concussion and won some games, but ended the season with more interceptions than touchdowns.
Neither quarterback has looked overly strong this preseason, and with questions at running back, it's going to fall to one of the two QBs to step and get the ball to Arizona's most dangerous player.
For now, it looks like Skelton is the starter, but the Cardinals didn't pay Kolb all that money for nothing and you could see him take that role back over if Skelton struggles.
Winner: Seahawks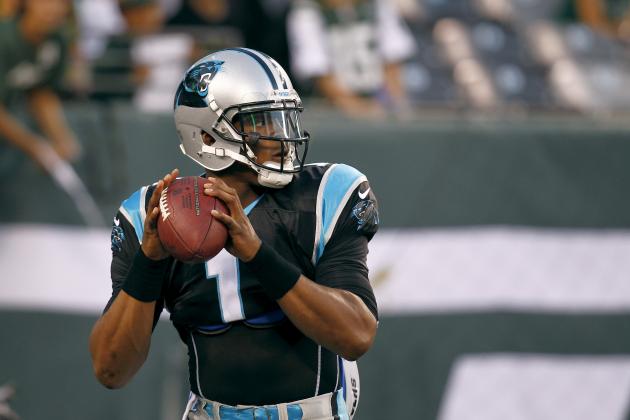 Jeff Zelevansky/Getty Images

When: September 9, 4:25 p.m. ET
Where: FOX
When the Panthers have the ball: How will Cam Newton's second year go?
Newton took the league by storm last year and broke virtually every rookie passer record in the books. His play did fall off a little bit in the second half of the year as defenses began to key on him, but he still flashed amazing skill running and passing the ball.
It will be interesting to see if he can continue to be a top quarterback in the NFL, especially against the tough, young Bucs defense. Look for his rushing totals to go down a bit this year, but still be a very effective QB.
When the Buccaneers have the ball: Will Josh Freeman continue to regress?
While Cam Newton was taking over the NFL, Josh Freeman was struggling to do much of anything right in his sophomore campaign. Freeman looked poised to take the next step last season and had many picking the Bucs as a playoff team.
As we now know, those projections were way off and Freeman's play fell way off the map. Tampa Bay faithful are hoping to forget last season, and Freeman could go a long way towards doing that with a solid season debut.
Winner: Panthers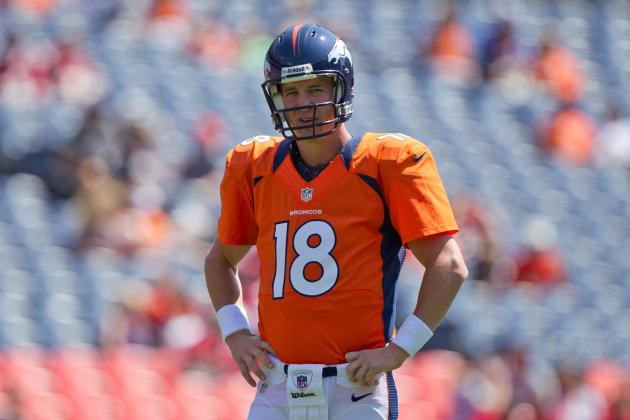 Justin Edmonds/Getty Images

When: September 9, 8:20 p.m. ET
Where: NBC
When the Steelers have the ball: How did his holdout affect Mike Wallace?
There's a long history of players having trouble to open the season after holding out for a long stretch during the preseason. Chris Johnson of the Tennessee Titans is the most recent example of this, but Wallace could be the next guy.
Wallace exploded on the scene the last two years, becoming one of the league's better deep threats. That said, he didn't have much time to practice with the Steelers' first team, and I fully expect his timing to be off for at least the first two weeks.
When the Broncos have the ball: Can they survive without Tim Tebow?
All kidding aside, the question on everyone's mind this week is how Peyton Manning will deal with finally taking regular season hits. He seemed to fare well during the preseason, but we won't really know how well his neck can hold up until we see him take his first big hit when the games count.
I wouldn't be surprised to see Manning be a little tentative these first few weeks while he learns to trust his neck. It's going to be especially scaring staring down the blitzing Steelers defense. Look for his play to pick up significantly around Week 4, as he learns that his body can still take a hit.
Winner: Steelers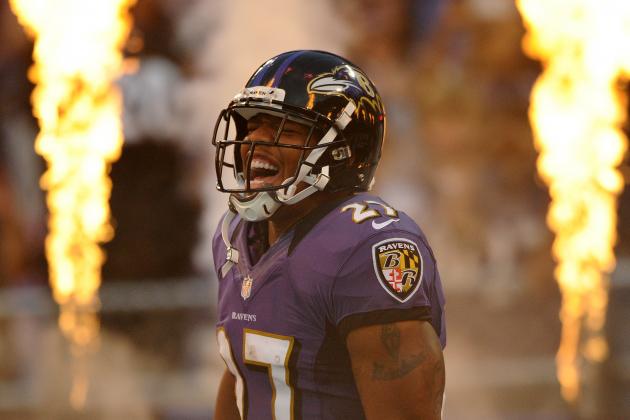 Patrick Smith/Getty Images

When: September 10, 7:00 p.m. ET
Where: ESPN
When the Bengals have the ball: Is BenJarvus Green-Ellis the next Cedric Benson?
From 2009 to 2011, Cedric Benson ran for 1,000-plus yards as a member of the Cincinnati Bengals. Green-Ellis was able to rack 11 touchdowns in the Patriots' high-powered offense, but is hoping to top the 1,000-yard barrier for the first time in his career for the Bengals.
Quarterback Andy Dalton has quite a few big targets in the passing game (most notably A.J. Green), and that should open up quite a few rushing lanes for the Law Firm. If Green-Ellis can tout the rock 250-300 times, look for him to easily clear 1,200 yards this season.
When the Ravens have the ball: Can Torrey Smith take the next step?
Torrey Smith is a gifted speedster who was able to catch seven TDs last year for the Ravens; however, he still has room to improve. If he can become a more reliable downfield target, the Ravens will be much more dangerous.
Anquan Boldin does a great job at being a possession receiver, and Ray Rice catches quite a few balls out of the backfield, but getting QB Joe Flacco an improved Smith would make this offense one of the more dangerous in the AFC. The third year is when receivers generally make their biggest leaps, but the Ravens are hoping Smith is a quick learner.
Winner: Ravens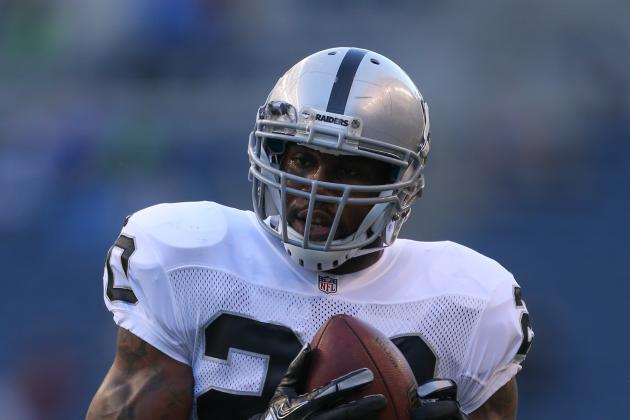 Otto Greule Jr/Getty Images

When: September 10, 1 p.m. ET
Where: ESPN
When the Chargers have the ball: Will Ryan Matthews ever be healthy?
Fantasy owners know that Ryan Matthews has as much potential as just about anybody in the NFL, but he's been plagued by injuries his entire career. Matthews broke his clavicle during the preseason and showed everyone that he's still yet to kick the injury bug.
Matthews should be back on the field by Week 2, and the Chargers need to do everything they can to keep him there. He simply has too much talent to spend as much time on the bench as he has the past two years.
When the Raiders have the ball: Can Carson Palmer build off his late-season success?
Palmer came over from the Bengals in the middle of last season and struggled to play well out of the gates. However, as the season progressed and he got more comfortable, Palmer became his old self and started putting up better numbers.
Unfortunately, the team ended the season with a 1-4 record in its last five games, and Palmer looked especially during a four-interception game against Green Bay. That said, he played well outside of that last game. With a full offseason under his belt, look for Palmer to pick up his level of play even more.
Winner: Oakland