Dallas Cowboys vs New York Giants: Live Score, Highlights and Analysis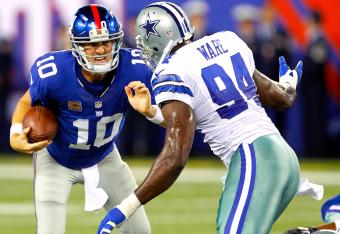 The New York Giants' defense had a chance to get the ball back to Eli Manning and the offense, but could not stop a Tony Romo to Kevin Ogletree 13-yard pass on 3rd-and-10.
The Dallas Cowboys exit MetroLife Stadium with a 24-17 win over the Giants.
New York fans will surely be discussing an atrocious, injury-plagued secondary exiting this game, while Dallas fans should be feeling pretty good about the early form of Romo and emergence of Ogletree as another weapon in the Cowboys' arsenal.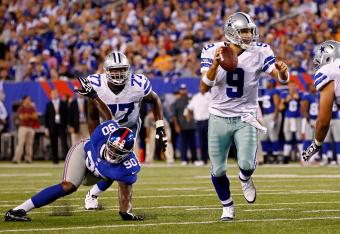 So the Cowboys take it. Dallas beat the Giants by seven on a night that saw receiver Kevin Ogletree put up career numbers, 114 yards on eight catches, and DeMarco Murray rush for 131 yards on 20 carries.
More to come with my post game analysis but this was a huge victory for the Cowboys in more ways than just a victory in the win column.
They shut down the Giants through the air and did not allow penalties to destroy them. Dallas also held the ball for 34 minutes compared to 25 for the Giants.
COWBOYS 24
GIANTS 17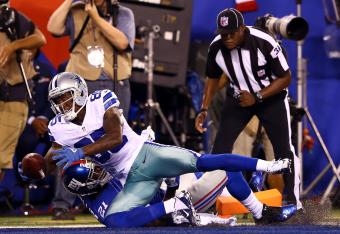 Kevin Ogletree may have just sealed the Cowboys victory.
On third and nine, Romo found Ogletree for a Cowboys first down.
We now sit at the two minute warning and the Giants are out of timeouts.
Cowboys 24
Giants 17
Penalties are still the Cowboys worst enemy.
On a third and two with Murray hitting the corner for a first down, tight end Jason Witten is flagged for holding.
Instead Dallas now faces third and 12.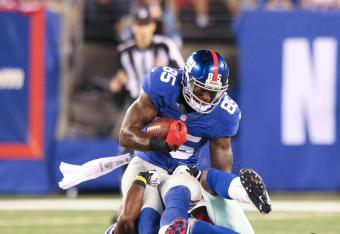 TOUCHDOWN GIANTS
Giants tight end Martellus Bennett have made it a one possession game after he scores on a nine yard touchdown pass from Eli Manning.
Bennett used his body to gain position on safety Barry Church and just flat out jumped him.
2:36 seconds left and the Giants have made it a ballgame.
Cowboys 24
Giants 17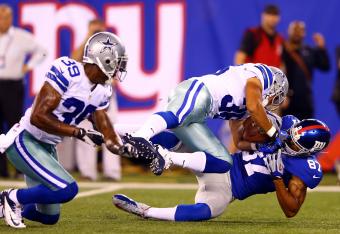 I'm going to chalk this up to the Cowboys having the lead but Cowboys defensive coordinator Rob Ryan is still sending edge blitzes after Manning.
He obviously has a lot of confidence in Carr and Claiborne as Manning usually eats those blitzes alive.
The Giants are faced with third and six and a short clock.
Only 3:26 seconds left on the game clock.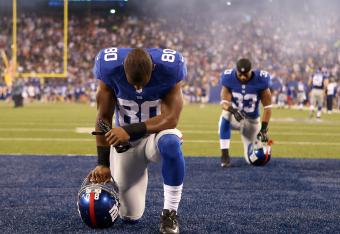 Four minutes left and the Giants are facing a fourth and two.
With Manning struggling, 180 yards on 26 attempts, it is not entirely his fault that the team's offense cannot get going.
Manning's usually sure handed receiving corp has failed him tonight as Cruz and crew have had their fair share of drops.
Manning has also depended on short, dump passes as Claiborne and Carr have performed really well in taking the Giants receivers out of the game.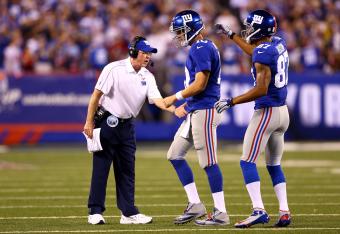 Giants down by 14 and going with no huddle as the clock is working against them.
Only five minutes left to go in the ballgame and New York has to score a touchdown if they want to win the game.
Giants driving...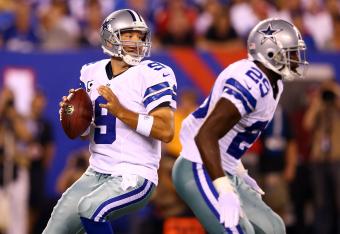 TOUCHDOWN COWBOYS
Dallas just increased their lead over the Giants to 24-10.
The Cowboys faced a first and 30 after a few penalties from their offensive line.
Romo walks to the line, surveys the defense, yells "kill, kill, kill" to signal and audible.
He calls hike, chucks the ball up for Miles Austin, Austin leads over Cory Webster to get the ball at its highest point, pulls it down and runs it in for a 34 yard touchdown.
Romo is playing some of the best football of his life this evening.
Cowboys 24
Giants 10
Romo stat line: 21/28 294 yards 3 touchdowns 129.2 QB rating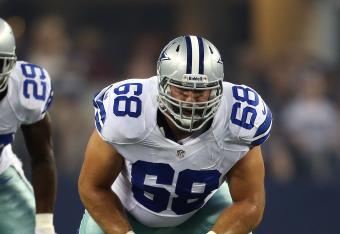 The Dallas offensive line is killing the Cowboys drive.
Right tackle Doug Free was just called for holding on the Giants star defensive end Jason Pierre-Paul.
That gives the Cowboys a first down and thirty yards to go.
Dallas has not been flagged 12 times for 76 yards on the night.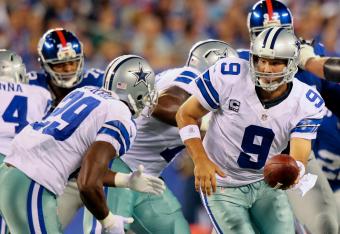 Here comes DeMarco Murray...again!
Murray is starting to wear down the Giants defensive line as he just took off for a 15 yard gain to give Dallas a first down.
What is key here is the Cowboys are milking the clown down. Only seven minutes left in the ballgame ladies and gents.
Murray's state line: 17 carries, 121 yards, 7.1 yards per carry.
Cowboys on the Giants 21 and driving...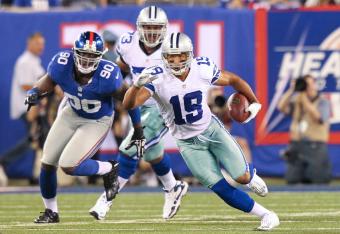 Miles Austin has been pretty quiet for the Cowboys tonight.
He just caught his second pass of the night. He had stretch for the ball, which was a twenty yard gain and got the Cowboys a first down.
Austin is still laboring from a hurt hamstring that he aggravated in training camp.
No matter for Dallas it seems as receiver Kevin Ogletree has been the team's top receiver for the night.
Cowboys still lead by seven...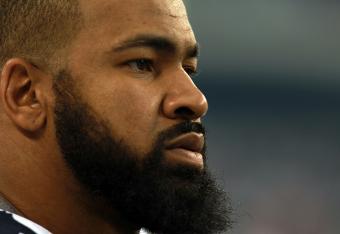 The Cowboys stop the Giants on third and four after a Jason Hatcher sack on Eli Manning.
New York is forced to punt.
What led to that sack was great coverage under and over the top as well as pressure by the defensive line.
Cowboys ball with 13 minutes remaining in the fourth quarter.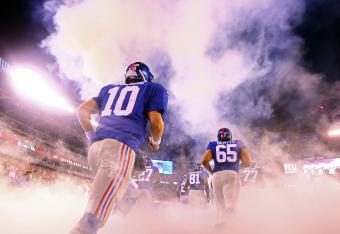 A very interesting and tight game as the Cowboys lead by seven entering the final quarter of the game.
Can Mr. Manning lead a Super Bowl like comeback or will Romo redeem himself after last season's first game woes.
Hope you're watching...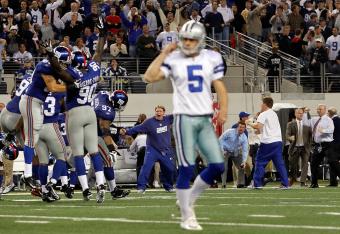 Giants stop the Cowboys from scoring a touchdown after Murray's 48 yard scamper.
Dallas settles for a 33 yard Dan Bailey field goal to up their lead to seven points.
Cowboys 17
Giants 10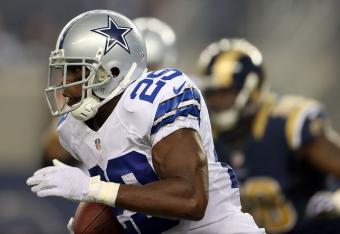 Murray's breakout finally happened as he "broke" for a 48 yard rush filled with broken tackles, missed blocks and more broken tackles.
Cowboys driving...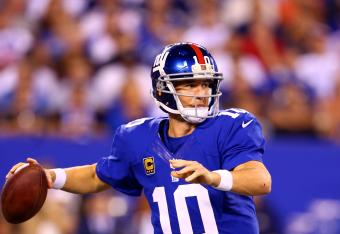 TOUCHDOWN GIANTS
Nine plays for 89 yards
New York had the ball for a first and goal and took full advantage.
Ahmad Bradshaw just took it in from ten yards out to cut the Cowboys lead to just four.
Before Bradshaw's touchdown run, Manning must have read my blog post.
He found receiver Domenik Hixon for a 39 yard hook-up that set up Bradshaw's touchdown.
Cowboys 14
Giants 10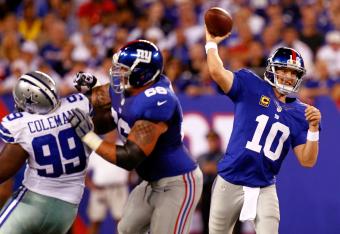 A fascinating stat of the night: Eli Manning is 9/15 for 95 yards. That is a paltry 6.3 yards per attempt.
Still waiting on Manning to test Claiborne...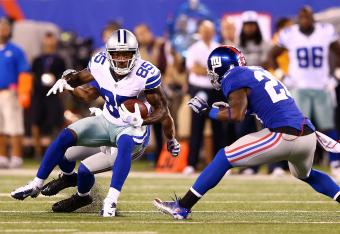 How about Kevin Ogletree!?
The "slot" guy just scored his second touchdown of the night.
He beat Giants corner Cory Webster on a double move for a 40 yard touchdown catch.
For the night, Ogletree has 87 yards on six catches and two touchdowns. He's been targeted eight times tonight.
Cowboys 14
Giants 3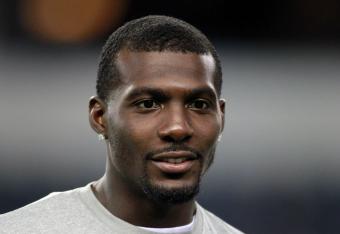 Dallas starts the third quarter off with the ball, attempting to build upon their very small lead.
They have a pretty nice driving going so far as Romo just found Dez Bryant for a Cowboys first down.
Dallas has taken everything the Giants have given them instead of trying to create plays that just aren't there.
A smart gameplan by Garrett so far.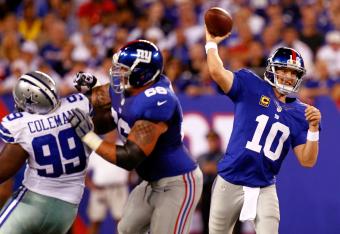 Let's talk halftime adjustments really quickly.
Dallas already has six penalties for 26 yards compared to just two for 18 for the Giants.
Look for the Giants to try and test Claiborne a little more in the second half as Eli is only average about 4.5 yards per attempt.
Dallas has been very balanced so far as Romo has 15 passes compared to 10 rushing attempts. Garrett is sticking with the run even though it has only given them 2.8 yards per carry.
The Cowboys have to ease up on the penalties as the Giants will eventually take advantage of the free yardage.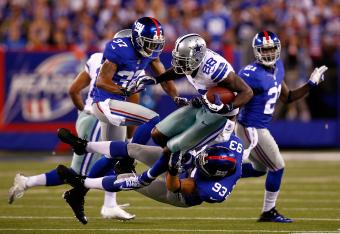 Cowboys have the momentum after scoring their first touchdown of the season.
Ware just recorded his second sack of the season and force the Giants to sit on the ball heading into halftime.
HALFTIME SCORE
Cowboys 7
Giants 3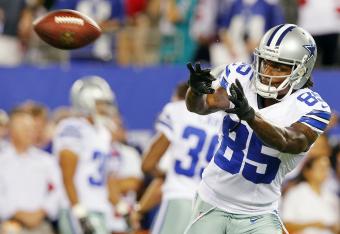 TOUCHDOWN COWBOYS
Dallas just scored on a seven play 73 yard scoring drive to take a 6-3 lead.
What is most amazing is that receiver Kevin Ogletree is the one who caught the touchdown for Dallas.
After coming off of a training camp where he was close to losing his job, he is now the Cowboys leading receiver of the night with five catches, 47 yards and one touchdown.
What a turnaround.
Cowboys 7
Giants 3
Romo and Bryant just hooked up for a 38 yard pitch and catch, placing Dallas deep within Giants territory.
Dallas had a third and one and instead of running the ball Romo opted to go for the big play making ability of Dez Bryant.
A good gamble as Dallas is within striking distance of at least tying the ball game.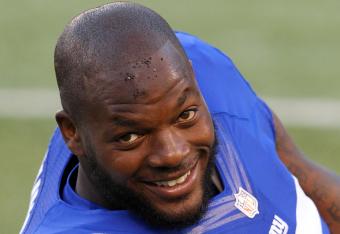 Former Cowboys tight end Martellus Bennett is now a New York Giant.
Manning found Bennett streaking toward the sideline for a first down but Bennett could not come up with the catch.
A familiar sight if you are a Cowboys fan.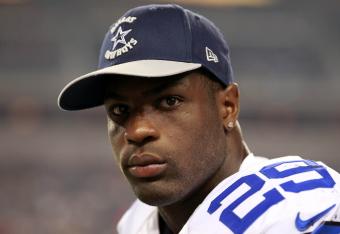 Both teams are having major issues getting their running games on track.
So far the Cowboys have 19 rushing yards and the Giants have 18.
Keep an eye on which defensive line breaks down first.
This article is
What is the duplicate article?
Why is this article offensive?
Where is this article plagiarized from?
Why is this article poorly edited?