10 September Call-Ups Who Have Excelled Since MLB Promotion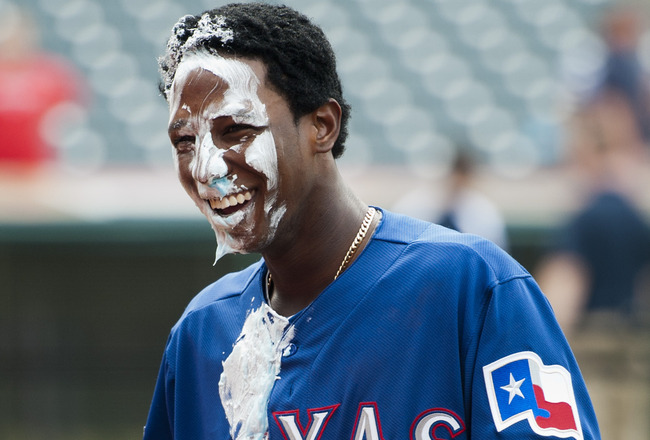 Jason Miller/Getty Images
Since MLB rosters expanded from 25 to 40 players on Sept. 1, there have been numerous prospects—some more legitimate than others—who have already made an impact with their respective organizations.
While some performances have been more recognized than others, such as Jurickson Profar's homer in his first career at-bat or Avisail Garcia's immediate starts in right field for the Tigers, they aren't the only players whose first five days in the major leagues are worth noting.
David Lough, OF (Kansas City Royals)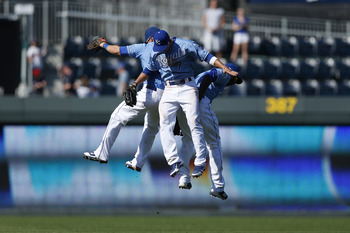 Joe Robbins/Getty Images
A 26-year-old left-handed-hitting outfielder, Lough was an 11th-round selection by the Royals in the 2007 draft.
Having spent the last three seasons at Triple-A Omaha, one can assume that his September call-up was more than welcomed.
In six minor league seasons, Lough has batted .294/.346/.458 with 115 doubles, 49 triples, 62 home runs and 91 stolen bases in 640 games.
Prior to the news of his promotion, he was batting .275/.317/.420 with 40 extra-base hits and 26 stolen bases in 130 games at Triple-A.
Since debuting on Sept. 1, Lough is 5-for-14 with a double and stolen base over three games.
Adam Eaton, OF (Arizona Diamondbacks)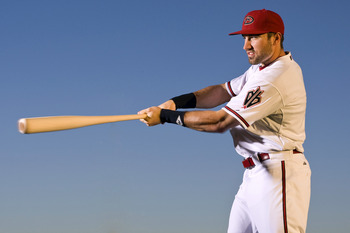 Jake Roth-US PRESSWIRE
Selected in the 19th round of the 2010 draft out of Miami University (Ohio), Eaton has never received much love due to his 5'8", 185-pound stature. While his overall game isn't blinding, the outfielder is a well-rounded player capable of surprising people.
In his first full professional season in 2011, the left-handed hitter batted .318/.434/.463 with 39 extra-base hits, 34 doubles and 72 walks in 121 games between High-A and Double-A.
He was even more impressive at both Double-A and Triple-A this season, batting .375/.456/.523 with 198 hits, 59 extra-base hits, 44 stolen bases and 59 walks. He recently was named the Rookie of the Year and Most Valuable Player of the Pacific Coast League.
In his major league debut on Tuesday night, Eaton was 2-for-6 with a ringing, opposite-field double, single and run scored against the Giants.
Avisail Garcia, OF (Detroit Tigers)
Rick Osentoski-US PRESSWIRE
At 6'4" and 240 pounds, Garcia projects to be a corner player with at least above-average power from the right side of the plate. His hit tool remains suspect, however, as he struggles with pitch recognition and often chases off-speed offerings out of the strike zone.
As the Tigers' top outfield prospect, Garcia has the tools to handle right field, and he has surprising speed for a player of his size with a plus arm and excellent carry. If he outgrows the position, there's a chance that he ultimately winds up at first base.
Due to the fact that he was signed at a young age in 2007, Garcia was already on the 40-man roster. Strikeouts continue to be a problem, with 451 in 523 career minor league games.
Prior to his promotion, Garcia was batting .299/.333/.455 with 14 home runs and 23 stolen bases in 122 games between High-A Lakeland and Double-A Erie.
Appearing in four games, including three starts, Garcia is 3-for-7 with an RBI and walk.
Brock Holt, 2B/SS (Pittsburgh Pirates)
Charles LeClaire-US PRESSWIRE
Selected in the ninth round of the 2009 draft by the Pirates, the 24-year-old has received his first big league call-up after ascending up the system in four seasons.
A 5'10", 165-pound left-handed hitter, Holt has a respectable hit tool, but no power. In 371 career minor league games, he's batting .317/.381/.427 with 87 doubles, 19 triples, 11 home runs, 49 stolen bases and 206 walks.
Splitting time between Double-A and Triple-A this season, Holt is batting .344/.406/.453 and has committed 23 errors in 98 games at shortstop.
Since debuting on Sept. 1, Holt is batting .462 (6-for-13) with a double and RBI over four games.
On Tuesday night, Holt was a catalyst in the Pirates' 6-2 win over Houston, going 4-for-5 with a double and two runs scored.
Nick Maronde, LHP (Los Angeles Angels)
Kelley L Cox-US PRESSWIRE
One of the more surprising call-ups thus far, Maronde was the Angels' third-round draft pick in 2011 out of the University of Florida and missed about a month this season with a strained lat.
The 22-year-old left-hander possesses a plus fastball and slider, as well as a changeup that has steadily improved. He profiles as much as a starter as he does a reliever.
Logging 99.2 innings this season (only 32.1 at Double-A), Maronde posted a 6-4 record with a 2.26 ERA, 1.01 WHIP, 90 strikeouts and 19 walks.
Appearing in two games spanning 1.1 innings, Maronde has fanned each of the four hitters he's faced.
Christian Garcia, RHP (Washington Nationals)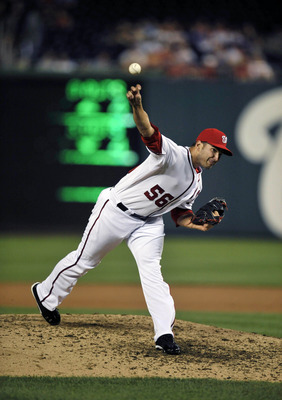 Joy R. Absalon-US PRESSWIRE
Although the Nationals have a well-rounded team with depth at nearly every position, they could still use extra help in the bullpen.
Garcia, now with his third organization, has been in the minor leagues since 2004 and had several stints on the disabled list with injuries; he even missed the entire 2007 season.
However, he's been lights-out this season, posting a 1.35 ERA and 12.60 K/9 at Double-A, and now a 0.57 ERA and 10.9 K/9 at Triple-A. He spent most of his early career as a starter, but he has proved to be an effective reliever since a conversion in 2010.
Garcia made his long-awaited debut on Tuesday night, retiring the one batter he faced.
Jean Machi, RHP (San Francisco Giants)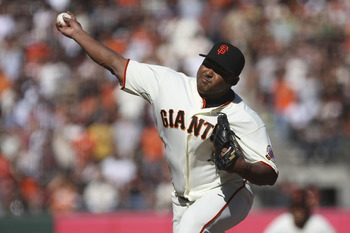 Kelley L Cox-US PRESSWIRE
A 30-year-old right-hander, Machi has spent 11 seasons in the minor leagues without a big league call-up, having pitched for Philadelphia (2002-2003), Tampa Bay when its mascot was still known as the Devil Rays (2005-2006), Toronto (2007-2008), Pittsburgh (2009-2010) and the Giants since 2011.
Logging 606.1 minor league innings, Machi owns a 31-38 record with a 3.84 ERA, 1.41 WHIP, 7.5 K/9 and 4.1 BB/9.
Since his promotion, Machi has appeared in two games for the Giants, issuing a walk in an otherwise perfect 1.1 innings.
Jurickson Profar, SS (Texas Rangers)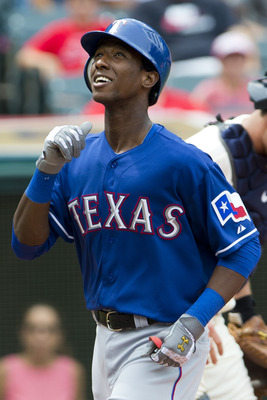 Jason Miller/Getty Images
The youngest player in Double-A all season, the 19-year-old has thrived, making easy adjustments without showing any concerning holes in his game. He possesses an above-average hit tool from both sides of the plate that's highlighted by quick wrists and an advanced feel for the strike zone.
At the time of his call-up to the major leagues, Profar was batting .281/.368/.452 with 135 hits, 26 doubles, seven triples, 14 home runs, 16 stolen bases, 79 strikeouts and 66 walks for Double-A Frisco.
Although his speed only grades out as above average, Profar is an adept base-stealer who has been successful in 16 of 20 attempts this season.
His quickness is more noticeable on defense, as Profar has excellent range at shortstop and clean actions through the baseball. He is a plus defender with soft hands and also possesses a strong arm that will allow him to remain at the position.
Profar blasted a solo home run (from the left side of the plate) in his first big league at-bat. The switch-hitter followed the solo shot with an opposite-field double in his second at-bat and finished the game 2-for-4.
Eury Perez, OF (Washington Nationals)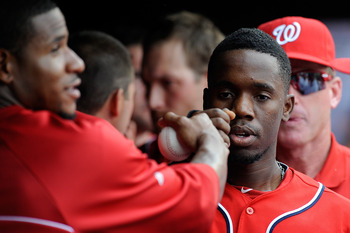 Patrick McDermott/Getty Images
One of the fastest players and top base-stealers in the minor leagues, Perez's contact and on-base skills have steadily improved over the last two seasons. However, he still leaves something to be desired as a potential top-of-the-order hitter.
His speed plays well in the outfield where he is an above-average defender with a plus arm. He's handled the jump to the upper levels well this season, and the major leagues should serve as a definitive test for the athletic outfielder.
At the time of his promotion, the 22-year-old was batting .314/.344/.361 with 22 extra-base hits and 51 stolen bases across three levels.
Although he's yet to receive his first major league at-bat, Perez has entered two games as a pinch-runner and was successful in his only stolen base attempt.
Russ Canzler, OF/IF (Cleveland Indians)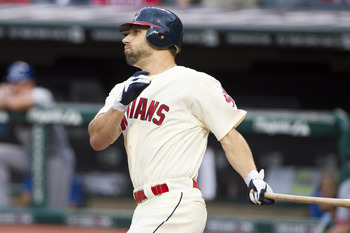 Jason Miller/Getty Images
Drafted by the Chicago Cubs in the 30th round of the 2004 draft, Canzler spent six seasons in the organization before he was signed as a free agent by the Tampa Bay Rays prior to the 2011 season. The Indians inked him as a free agent headed into the 2012 season.
In nine minor league seasons, the 6'2", 225-pounder has seen time at first base, third base and in the outfield. He has posted a career minor league batting average of .278/.347/.472 with 208 doubles, 106 home runs and 721 strikeouts in 868 games.
His only major league experience came last season when he was 1-for-3 in three games with the Rays.
Since his promotion on Sept. 1, Canzler is 5-for-16 with a double and three strikeouts in four games.
Keep Reading