Mexico vs. Costa Rica: 6 Key Players for 2014 World Cup Qualifier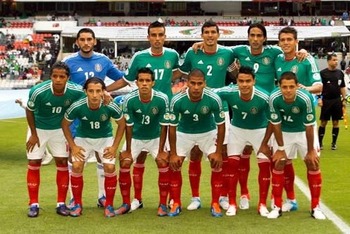 Photo: femexfut.org.mx
The Mexican national team continues its road to Brazil 2014. Coach José Manuel de la Torre capped eight footballers from the Olympic squad for next Friday's match against Costa Rica.
The team will seek to grab three more points and extend its lead in Group B. The task won't be easy, Estadio Nacional de Costa Rica is a tough venue and El Tri comes off a loss to the United States.
Los Ticos will have to take advantage of their local status. They have not defeated Mexico in their stadium since 1992, when Costa Rica won 2-0 at the 1994 World Cup qualifier.
Let's take a look at six players who can make the difference.
Oribe Peralta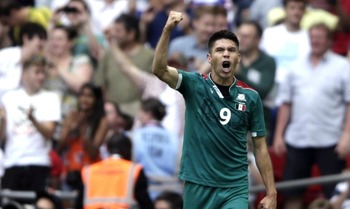 Photo: EFE
This is Oribe Peralta's moment to shine. The Santos striker was Mexico's hero in the gold-medal match against Brazil in the London Olympics.
Javier Hernández is not playing as much as usual with Manchester United, which may give El Cepillo a very good chance to step up.
In the local league, Peralta has started three matches and scored once. He is the kind of striker who takes risks and doesn't waste any opportunity.
Last Monday, he and his club visited president Felipe Calderón, who acknowledged the footballer's performance at the Olympics. Moreover, he was named best player and best forward of the local league (Clausura 2012).
Bryan Ruiz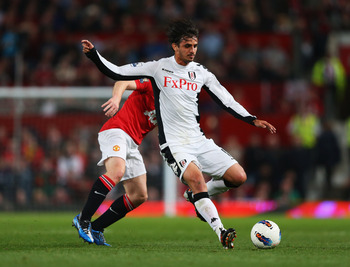 Alex Livesey/Getty Images
Bryan Ruiz made quite an impression with the national team at the 2010 World Cup qualifiers. The 27-year-old scored six times and has been a cornerstone of the team ever since.
He is a threat when he plays from the left wing. His speed and passing accuracy set him as one of Costa Rica's finest footballers.
However, according to La Nación, Ruiz may miss the game due to a thigh injury. The team doctor hasn't cleared the footballer.
Hiram Mier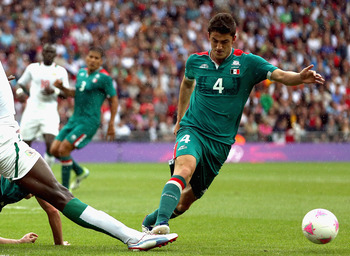 Ezra Shaw/Getty Images
Hiram Mier is one of the eight Olympians capped by Chepo de la Torre. He was nominated for Best Defender (Balón de Oro 2012).
Mier is a tough and strong center-back who has been playing with Monterrey since his youth. He is 22 years old and has proven to be confident and calm in pressure moments.
Against the United States, El Tri struggled a lot in the back line, so this is a great chance for Hiram to take over and become a regular.
Álvaro Saborío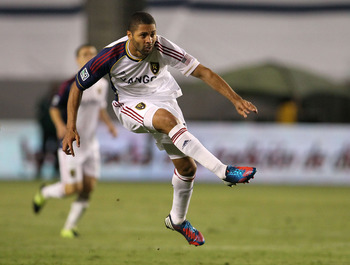 Victor Decolongon/Getty Images
Saborio has scored 27 goals for Costa Rica and 156 for Saprissa, FC Sion, Bristol City and Real Salt Lake. He had a tough time with the national team at last year's Gold Cup, but he is back on track.
Two months ago, when Los Ticos played against Guyana, Pipe scored his first hat trick with the team. With his current club, he is the all-time leading scorer and received the MLS Newcomer of the Year award in 2010.
Saborío has a powerful right-foot shot, is very fast and consistently assists his teammates.
Javier Aquino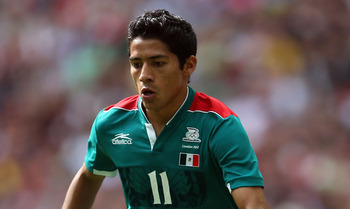 Julian Finney/Getty Images
Mexico needs Javier Aquino to unbalance the defense through the sidelines. The Cruz Azul midfielder has improved considerably since his debut in 2010.
In the process of winning the gold medal at the London Olympics, Aquino caught the attention of media and fans due to his speed.
Javier is in superb physical condition and is one of the most accurate passers in Mexican football. He will provide a lot of depth.
Michael Umaña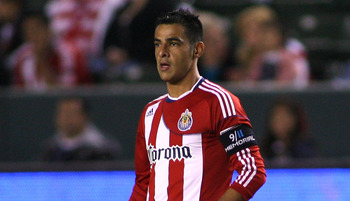 Jeff Golden/Getty Images
Michael Umaña must lead the Costa Rican defense's efforts to stop Oribe Peralta, Javier Hernández and Aldo de Nigris.
That is a huge responsibility for 30-year-old Umaña, who is the team's most experienced defender. He left Chivas USA to join Guatemalan club Comunicaciones in January 2012.
Umaña knows the Mexican footballers from having played against them for many years, which is reason enough to step up and try to stop them.
He is a strong and fierce player, but he has one yellow card, so he needs to be careful with fouls to avoid a suspension.
Keep Reading