NFL Preview 2012: Predicting the AFC North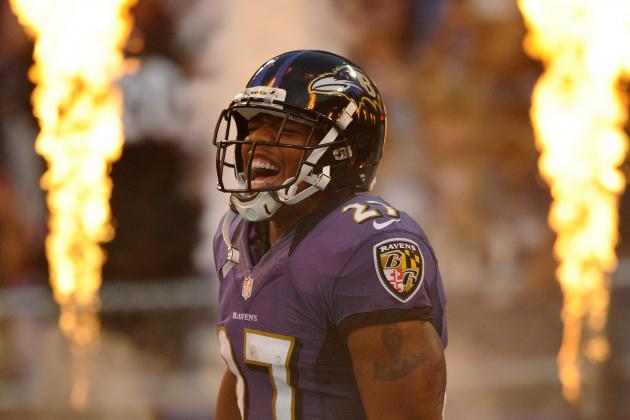 Patrick Smith/Getty Images

Ever since Jim Harbaugh took over the Baltimore Ravens prior to the 2008 season, competition within the AFC North has mainly been between the Ravens and the Pittsburgh Steelers (with the Cincinnati Bengals making a cameo in 2010).
The Ravens and Steelers have pinned their ears back and beaten the living snot out of each other while the Browns and Bengals have sat back and tried to catch up to their bigger (and better) counterparts.
This season, it looks like that will be the case as the Ravens look like a team that could not only take the division but also go to the Super Bowl, while Pittsburgh struggles to catch their footing after holdouts and injuries.
It is football, so there is a chance that the Browns and Bengals will shock us, but what we already know is that the AFC North will be the most physical division in football, lead by nasty defenses and power running games.
Here's a look at how this four-way, steel-caged match could go down in 2012.
Begin Slideshow

»
David Richard-US PRESSWIRE

There are two ways that the 2012 Cleveland Browns' performance could play out. The first is that the Browns could be the mediocre, ugly franchise that they've been in both stints of their existence.
But, there is an intriguing factor that could surprise people as the season wears on.
The Browns hired former Minnesota Vikings head coach Brad Childress. Being known as the inventor of the "Kick @#$ Offense" isn't so great when the offense doesn't kick that much butt. However, there is a parallel between Childress and Trent Richardson, their first-round pick.
Prior to the 2007 season, the Vikings were expected to be one of the worst teams in the NFL. They had just added first-round pick Adrian Peterson to their roster, and the Vikings had an offensive line that had allowed Chester Taylor to rush for 1,216 yards in Childress' first year as head coach.
After reluctantly keeping Peterson on the bench, Childress unleashed him and saw his offense become kick @#$; the Vikings would compete for a playoff spot before finishing with an 8-8 record.
The Browns have a lot of the same qualities that the Vikings had for that 2007 season. They have the electrifying rookie running back, and they have the solid offensive line that could allow a monster rookie season to form for Richardson.
Other than that, there's not much to get excited about for the Browns.
They'll be without their best defensive player (cornerback Joe Hayden) for the first four games of the regular season because he tested positive for Adderall.
The Browns have a long way to go before becoming competitive, but adding Richardson should go a long way toward accelerating the process.
Rob Leifheit-US PRESSWIRE

A.J. Green and Andy Dalton made wonderful debuts for the Bengals last season and it lead the franchise back to the playoffs where they fell to the Houston Texans.
However, that optimism has faded with this preseason as the Bengals haven't looked like an offense that's going to blow everyone's mind.
The rookie-season success by Green (1,057 yards, 7 TD in 2011) and Dalton (3,398 yards, 20 TD) hasn't translated into the preseason.
If Dalton begins to struggle, it could be a big problem for the Bengals. They don't have much at the receiver position to begin with (outside of Green), and they have a mediocre running back in BenJarvus Green-Ellis (667 yards, 11 TD).
It's also discouraging that the Bengals' first-round draft pick Dre Kirkpatrick has been having all sorts of problems during training camp, and teams might be able to throw away opposite of cornerback Leon Hall.
The Bengals have surprised before, but all signals are pointing toward a down year.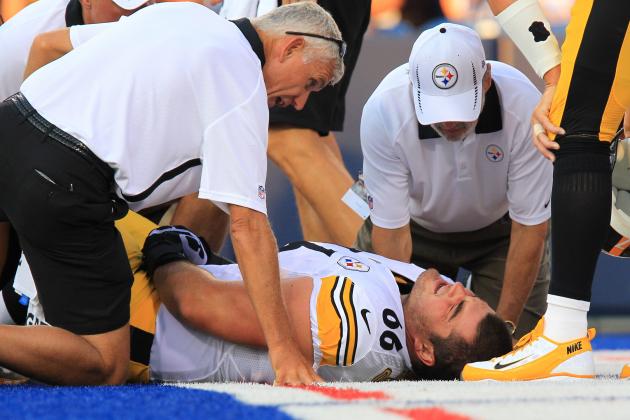 Kevin Hoffman-US PRESSWIRE

For a long time, one of the weaknesses of the Pittsburgh Steelers has been their offensive line.
While people have been amazed at Ben Roethlisberger's ability to extend the play, the fact is that Roethlisberger should have ample time to throw the ball instead of spinning and twirling before hucking it up.
The Steelers thought they had addressed this by bringing in David DeCastro and Mike Adams with their first two picks in the draft, but Adams has been reminiscent of a glorified bull fighter during the preseason, and DeCastro suffered a major knee injury that will keep him out this season.
While that was bad enough for the Steelers, Mike Wallace (1,193 yards, 8 TD) decided to skip the entire OTA, training camp, and preseason schedule in a quest to acquire a new contract. With a new offensive coordinator in Todd Haley, it will be interesting to see how much time it will take for Wallace to learn the system.
The Steelers also have a problem at running back where they may have to lean on third-string running back Jonathan Dwyer as Issac Redman deals with a nasty hip injury and Rashard Mendenhall (928 yards, 9 TD) returns from a torn ACL suffered in Week 17.
The Steelers have been a favorite in the division for a long time, but it could have been that last year was a changing of the guard to the Baltimore Ravens.
Now, the Steelers must reload for another run of success.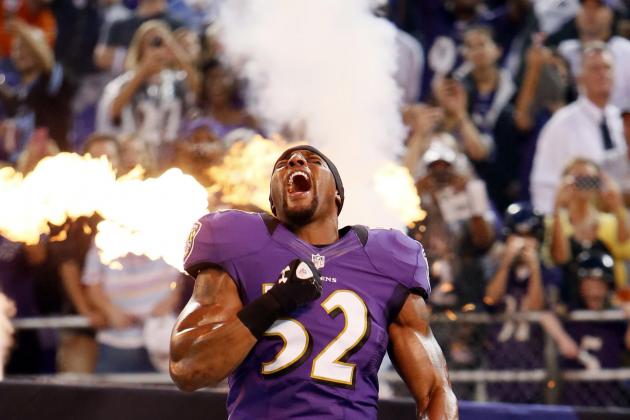 Mitch Stringer-US PRESSWIRE

If it weren't for a drop in the end zone by Lee Evans and a missed chip shot by Billy Cundiff, the Ravens would have gone to the Super Bowl. I don't see any of those mishaps happening this season.
The Ravens have apparently ditched the conservative approach that offensive coordinator Cam Cameron has hung his hat on and decided to let Joe Flacco (3,610 yards, 20 TD) air it out much more in 2012.
This is good news for the offense, which has plenty of weapons to build a steady passing attack around.
Ray Rice (2,068 yards from scrimmage, 15 total TD) remains the best dual threat in football, and the receiving corps could be deadly if Torrey Smith (841 yards, 7 TD) can have the breakout season that many are anticipating.
All of this will prelude what could be Ray Lewis' last chance to win a second Super Bowl. The 37-year-old linebacker has become the face of the franchise since it relocated from Cleveland and it's possible that he'll will another dominant defense to get him back to playing in February.
I have the Ravens not only winning this division, but also making their way to the Super Bowl in New Orleans.