NHL 2012-13: 1 Big Reason Each Team Could Struggle This Season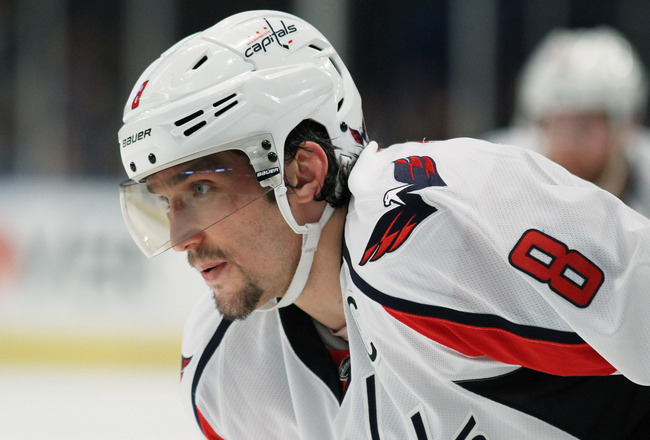 Bruce Bennett/Getty Images
A pending NHL lockout aside, the 2012-13 NHL season is ready to get going again and there are tons of reasons why fans should be optimistic or pessimistic about their team heading into the upcoming season.
Many players have changed cities and teams, some teams have improved and others have taken a step backwards. There are always reasons why a team can be successful but there are also reasons why the best teams on paper could struggle.
Nonetheless here are reasons why each team could struggle this season.
Anaheim Ducks: Lack of Secondary Scoring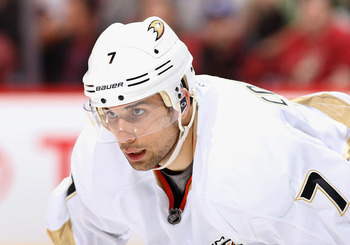 Christian Petersen/Getty Images
The Anaheim Ducks are a team that didn't address secondary scoring this offseason when they should have.
Outside of the team's top performers in Ryan Getzlaf, Corey Perry, Teemu Selanne and Bobby Ryan, there is a big gap in talent and production.
The Ducks have prospects like Emerson Etem and Kyle Palmieri who could provide some offensive support whenever they make the jump full time, but there is no guarantee that these prospects will have the same success at the NHL level.
Although the market wasn't that fruitful this offseason, considering low-risk options like Petr Sykora or Olli Jokinen could have given the team more depth.
Boston Bruins: What If Tuukka Rask Isn't Ready for Starting Role?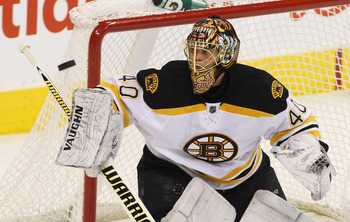 Marianne Helm/Getty Images
There is no concrete reason why the Boston Bruins should falter or struggle this season because they have a very balanced roster full of offensive and defensive depth. However, now that Tim Thomas is no longer in the picture, Tuukka Rask is the team's full time starter.
Part of the reason the Bruins have been so successful the past few years is their successful goaltending tandem.
Thomas is a former Vezina and Conn Smythe recipient who was a very good starter. Rask on the other hand has been a worthy backup but now that he is on his own, if he can't handle the starter's job, the Bruins could struggle.
There is no guarantee that this will happen but it is something that fans should be thinking about heading into the new NHL season.
Buffalo Sabres: If Offensive Potential Doesn't Pan out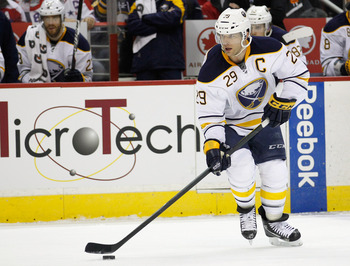 Rob Carr/Getty Images
The Buffalo Sabres' top forwards from last season were Jason Pominville (30-43-73), Thomas Vanek (26-35-61) and Drew Stafford (20-30-50) and the same may hold true for this upcoming season. When looking at the Sabres heading into the 2012-13 season, a lot hinges on potential.
The success of the Sabres will be whether or not Buffalo's top forwards will have repeat success, whether or not Cody Hodgson and Tyler Ennis can embrace top-six roles and whether or not Mikhail Grigorenko can have an impact if he makes the team.
There is no denying the potential the Sabres could have if all these parts click but the team will struggle if the offense doesn't come through. The Sabres have young players on their roster that are still developing but fans should be optimistic for the future.
Ryan Miller should be back to his normal self but if the offense doesn't pan out, the Sabres will be in trouble.
Calgary Flames: Not Enough Talent to Compete in Tough Division
Ronald Martinez/Getty Images
The Calgary Flames are going to be in a tough division this season when you consider the improvements that teams like the Minnesota Wild and Vancouver Canucks made this offseason.
Usually it is one team that makes the playoffs from the Northwest division but this year Minnesota and Vancouver will both threaten for a spot and that spells bad news for Calgary.
The Flames added forwards Jiri Hudler and Roman Cervenka this offseason to replace Olli Jokinen and they also added and offensive defenseman Dennis Wideman.
However, with Alex Tanguay, Jarome Iginla and Mike Cammalleri trending down, the Flames may finally decide to rebuild after this season.
When you consider that Iginla in the last year of his contract, it is quite possible that if the Flames struggle early on, they would deal him in an attempt to receive some rebuilding blocks.
No matter how you slice it, it could be a long year full of struggle for the Flames.
Carolina Hurricanes: If New Additions Are a Bust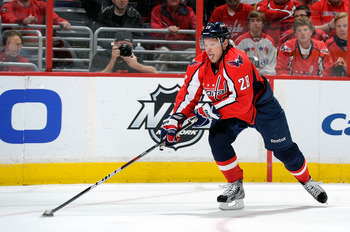 Greg Fiume/Getty Images
On paper, the Carolina Hurricanes are a team that could threaten to win their division and make a lengthy playoff run. The team will boast a roster including Eric and Jordan Staal, Jeff Skinner, Tuomo Ruutu, Alex Semin, Jiri Tlusty and Jussi Jokinen.
Out of this group of offensive forwards, the Canes should be able to ice a solid top-six and a very decent third and fourth line. However, if Jordan Staal doesn't embrace his new top-six minutes and Alex Semin has another down year, the Canes could struggle.
There is no guarantee of this happening but this is the only cannon ball thank could sink the Canes' ship before it leaves the harbor.
Chicago Blackhawks: Goaltending
Jonathan Daniel/Getty Images
The success and failures of the Chicago Blackhawks in 2012-13 could hinge on the effectiveness of netminder Corey Crawford.
The Blackhawks have a great offensive punch and a decent blue line but Crawford could really hurt the Hawks' chances.
Crawford posted a 30-17-7 record in 2011-12 with a paltry 2.72 GAA.
It is also fair to hang the demise of the Hawks in the playoffs on Crawford's lackluster play. Crawford posted a record of 2-4-3 with a 2.58 GAA and a .893 SV%.
It is safe to say that the team doesn't have the utmost confidence in the young netminder after they considered replacing him with Martin Brodeur this summer.
Although the Blackhawks have a solid forward core and a solid blue line, Crawford's ineptitude could lead to the Hawks struggling in 2012-13.
Colorado Avalanche: If Youth Can't Take Next Step This Season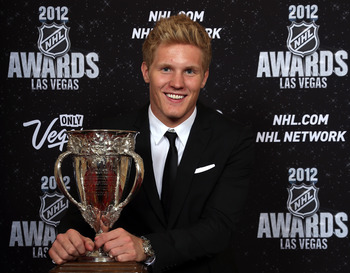 Bruce Bennett/Getty Images
The Colorado Avalanche put the cherry on top of their youth movement when they named Gabriel Landeskog the team's fourth captain in team history and the youngest in NHL history.
The Avalanche are a team that is just on the cusp of becoming a playoff contender but they could struggle if their youth core can't take the next step this season.
If you take the core of Paul Stastny, Matt Duchene, Ryan O'Reilly, Gabriel Landeskog and David Jones and factor in the additions of P.A. Parenteau and John Mitchell, you have a solid group of young forwards that could fill out the top six of your lineup.
However, the success of this team will rely on the effectiveness of its young players and if they can't take the next step, they could struggle and hover in the bottom of the conference.
Columbus Blue Jackets: Lack of Offense and Overall Skill
Christian Petersen/Getty Images
The Columbus Blue Jackets are a team that is really going to struggle this season.
The Jackets started things off when they traded away their franchise star in Rick Nash this offseason. The loss of Nash is really going to hurt the Jackets' limited offense, and they are going to struggle greatly.
The additions of Brandon Dubinsky and Artem Anisimov will give the team depth, but they aren't game changers like Nash and it will take time for those players to find their niche.
The Jackets' blue line and goaltending is still questionable at best, so expect the team to have one of their worst seasons in franchise history.
Dallas Stars: If Big Acquisitions Flop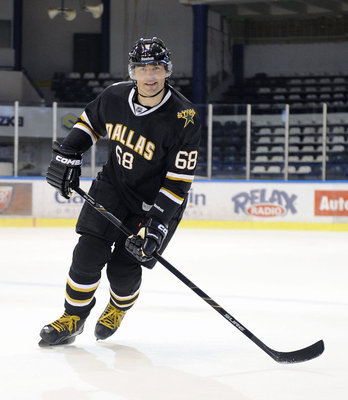 The Dallas Stars went out and signed both Jaromir Jagr and Ray Whitney this offseason and they added Derek Roy in a trade after Mike Ribeiro was dealt to Washington.
The team added a lot of experience and secondary skill to complement a offensive forward group that featured Jamie Benn, Michael Ryder and Loui Eriksson but there is a risk involved.
With the additions of Jagr and Whitney, Dallas runs the risk of them getting injured or missing games with nagging injuries that come with age. The same can be said about Derek Roy because he hasn't been the same player he used to be over the past few seasons.
On paper the Stars have enough talent to compete but if their big acquisitions flop, they could struggle and flop in 2012-13.
Detroit Red Wings: Failure to Address Defensive Losses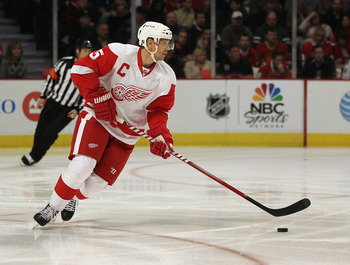 Jonathan Daniel/Getty Images
The Detroit Red Wings have been a very successful playoff team for the past two decades but they could run into problems this season after failing to address two key losses on their blue line.
The Red Wings didn't make major additions this summer to compensate for their major subtractions of Nicklas Lidstrom and Brad Stuart.
These losses will force defenders like Nicklas Kronwall, Ian White and Kyle Quincey to step up their games. If the Wings' defense lets them down this season, they will struggle and will have a tough time competing in an improved Western Conference.
Edmonton Oilers: Questionable Blue Line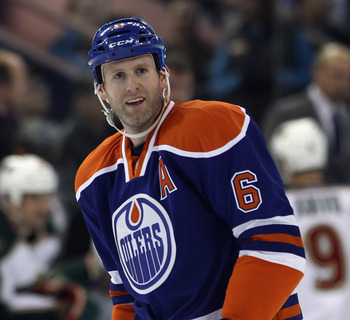 Bruce Bennett/Getty Images
There is no denying the potential and fire power of the Edmonton Oilers' top six that will feature Taylor Hall, Ryan Nugent-Hopkins, Jordan Eberle and Nail Yakupov.
But the Oilers' blue line is an area that still needs improving and that could be their downfall when it comes to attaining meaningful success.
The Oilers made a start when they added Justin Schultz but they are going to need more.
Letting UFA Scott Hannan sign with Nashville was a mistake because he is a veteran defender that could have been brought in as a mentor for the current defense core.
Unless the Oilers address their blue line in the next few years, they may never enjoy the full potential of their fab four forwards.
Florida Panthers: Tougher Division Will Result in Missing Playoffs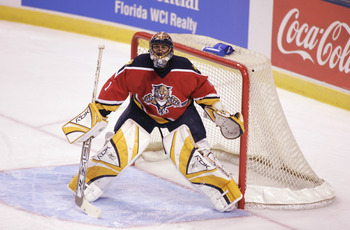 Could a return of Luongo help Panthers' chances?
Gregory Shamus/Getty Images
The Florida Panthers enjoyed playoff success during the 2011-12 season but this summer the Tampa Bay Lightning and Washington Capitals became better teams that threaten the Panthers chances of making the playoffs in 2012-13.
Florida has a solid roster that already includes Brian Campbell, Kris Versteeg, Tomas Fleischmann and Stephen Weiss and it is assumed that top prospect Jonathan Huberdeau will make his NHL debut.
Right now it appears the Panthers won't be able to compete but would a return of Roberto Luongo be enough to put the Panthers over the top?
Luongo's regular season numbers have been great the past few years and if the rumors of him nearing a return to Florida are true, it could make a huge difference.
However, as things currently stand, the Panthers could struggle a bit in 2012-13.
Los Angeles Kings: Stanley Cup Hangover?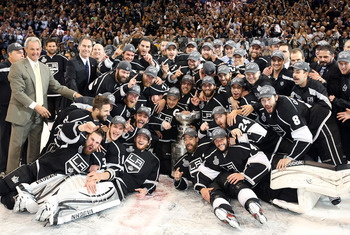 Christian Petersen/Getty Images
The defending Stanley Cup champions have an improved roster when you compare their final roster to their opening day roster from 2011-12.
One major addition was Jeff Carter and he added major improvements offensively to an L.A. Kings team that had trouble scoring early on in 2011-12.
However, the roster remains largely unchanged so the team's desire and motivation to win a Stanley Cup will be lesser than it was last season.
If the Kings experience a cup hangover, they could struggle in 2012-13.
Minnesota Wild: Goaltending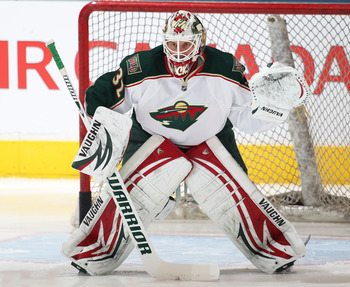 Claus Andersen/Getty Images
The Minnesota Wild were last in goals scored per game last season so they added Zach Parise in order to boost their forward core. The Wild were also 13th in goals allowed per game so the addition of Ryan Suter will help bolster their defense.
However, the Wild could be done in by the inconsistency of their goaltending. Niklas Backstrom is the current starter but he has battled injuries and isn't as effective as he once was.
Josh Harding is the backup and his 2011-12 performance was in the same ballpark as Backstrom's but that really doesn't help the Wild.
Matt Hackett also spent some time in the league but he will start off in the AHL. For the argument of comparison, here is a side-by-side of each goaltender's numbers from 2011-12.
| | | | |
| --- | --- | --- | --- |
| Goaltender | Niklas Backstrom | Josh Harding | Matt Hackett |
| Record | 19-18-7 | 13-12-4 | 3-6-0 |
| GAA | 2.43 | 2.62 | 2.38 |
| Save Percentage | .919 | .917 | .922 |
These numbers aren't promising because the backbone of every contender is goaltending. When you consider that the Wild were a team that had trouble scoring goals last year, then even with the increase in offensive fire power—unless the Wild's goaltending is stable—they will crumble in 2012-13.
Montreal Canadiens: Lack of Offense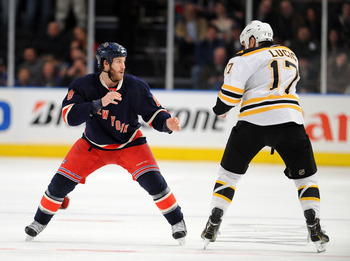 Christopher Pasatieri/Getty Images
The Montreal Canadiens were 19th in the NHL last season in goals per game and they really didn't address that facet this summer.
The Habs added grit and tenacity when they added tough guy Brandon Prust for an absurd cap hit but the team failed to address their anemic offense.
The Canadiens are hoping the Max Pacioretty, Erik Cole, David Desharnais and Tomas Plekanec have successful seasons but there is nothing that guarantees that those players will perform.
Carey Price could prove to be the equalizer if he has an amazing season that allows the Canadiens to get by with their lackluster offense, but the Canadiens really can't wait until Alex Galchenyuk and Louis Leblanc are NHL ready so they can interject some offense.
Nashville Predators: Lack of Offense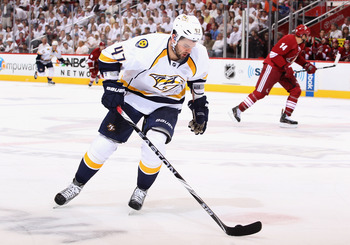 Christian Petersen/Getty Images
The Nashville Predators lost Ryan Suter and Alex Radulov this summer. Radulov returned to the KHL after a brief return to the Music City, but he interjected offense during his stay.
The Predators' defense won't suffer with the loss of Suter because the blue line is still anchored by Shea Weber, veterans Scott Hannan and Hal Gil, and youngsters Ryan Ellis and Jonathon Blum.
However, offense is an area of weakness for the Predators. Although 10 different players scored 10 goals or more last season, no one on the Preds' roster scored 30 goals or had 60 points.
If the Predators don't add a top offensive threat between now and the eventual 2012-13 playoffs, they could be in a tight situation.
New Jersey Devils: Questionable Defense and Goaltending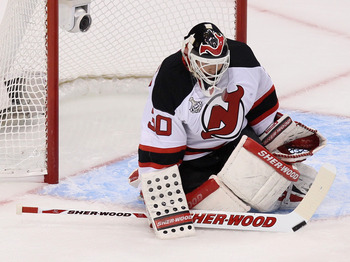 How much longer will Brodeur be able to be a decent starter?
Jeff Gross/Getty Images
The New Jersey Devils may have made it to the Stanley Cup Final last season but they are heading into the 2012-13 season with questionable defense and goaltending.
Martin Brodeur and Johan Hedberg are in the final stages of their careers and there is no guaranteeing that they will be able to be effective for a full 82-game season and then playoffs.
The Devils' defense is also questionable. It is led by Bryce Salvador, Anton Volchenkov, Adam Larsson, Marek Zidlicky and assorted others. None of these names stand out as quality shutdown defenders who will help keep goals-against down.
New Jersey will have offensive firepower from Ilya Kovalchuk, Adam Henrique and Patrik Elias. However, the team's defense and goaltending will hurt them this season.
New York Islanders: Too Much Talent in Atlantic Division to Compete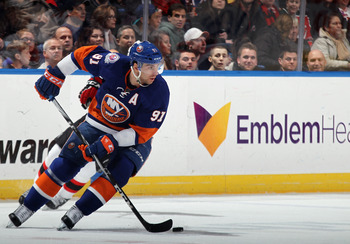 Bruce Bennett/Getty Images
The New York Islanders have tons of young forwards and prospects to one day field a successful roster that will threaten to have lasting playoff success, but at this point the Islanders don't have enough to compete in a tough Atlantic Division.
With the powerhouse Pittsburgh Penguins, New York Rangers and the ever-dangerous Philadelphia Flyers all in the Atlantic, the Islanders are going to get battered around in the majority of the games played against division rivals.
New York Rangers: If Rick Nash and Brad Richards Don't Click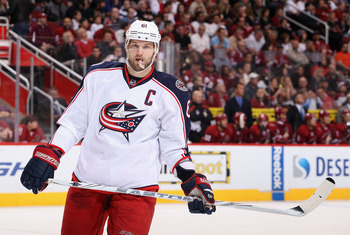 Christian Petersen/Getty Images
The New York Rangers are one of the best teams in the NHL on paper heading into the 2012-13 season.
They team has a solid offense and defense, and elite goaltending to be successful. The Rangers also have enough depth on the roster and in the minors to compensate for injuries.
However, one way the team could struggle is if Brad Richards and Rick Nash don't click. If this dynamic duo doesn't develop chemistry, it could lead to line shuffling that knocks the team out of sync.
Ottawa Senators: If Erik Karlsson Is Defended Better This Season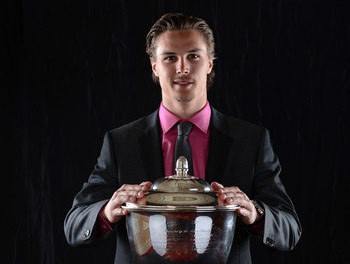 Harry How/Getty Images
Erik Karlsson's offensive ability and creativity came out of nowhere last season and his sneaky play allowed him to catch opponents off guard.
The Ottawa Senators used this to their advantage and used Karlsson to run a lot of the offense. His speed allowed him to set up his linemates in offensive situations.
If Karlsson is better defended and roughed up physically like he was during the first round of the playoffs, Karlsson and the Senators offense can be shutdown easier.
The team may have a lot of offensive weapons but Karlsson's speed and passing is a huge part of why they were as successful as they were last season.
Philadelphia Flyers: Lack of Defensive Depth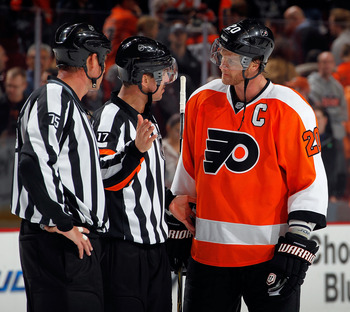 Paul Bereswill/Getty Images
The Philadelphia Flyers lost Matt Carle to free agency. Andrej Meszaros will be sidelined because of a torn Achilles tendon; Andreas Lilja because of a hip injury that required surgery; Chris Pronger is still sidelined with post-concussion symptoms, and Kimmo Timonen had surgery on his back to remove a fragmented disk.
These injuries could really hurt the Flyers because they are injuries that can nag and be reinjured as the season goes on. The Flyers sensed they needed to add a major defensive piece when they attempted to offer sheet Shea Weber but they were unsuccessful.
When you factor in the Jekyll-and-Hyde play of Ilya Bryzgalov, the Flyers will be in a tough situation when the season starts.
Phoenix Coyotes: Loss of Ray Whitney and Potentially Shane Doan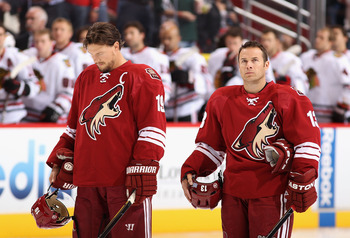 Christian Petersen/Getty Images
The loss of top scorer Ray Whitney and the potential departure of Shane Doan leaves a lot of questions for the Coyotes' offense for 2012-13. Radim Vrbata had an amazing year, but that was partially because of the chemistry he had developed with Whitney.
Mikkel Bøedker is a player who could step up but if Phoenix ends up losing two of their best players, it will be a tough 2012-13 season even with the addition of veteran forward Steve Sullivan.
Pittsburgh Penguins: If Crosby or Malkin Are Sidelined for a Good Deal of the Season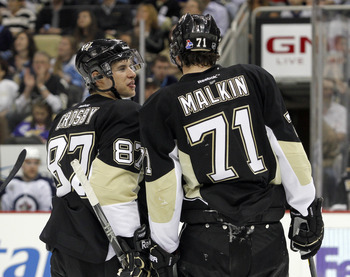 Justin K. Aller/Getty Images
The Pittsburgh Penguins are another team that is projected to struggle in any capacity during the 2012-13 season. They have one of the league's best rosters on paper and if everyone is healthy, the team could conceivably contend for the Presidents' Trophy.
However, the only way the Penguins could struggle is if Sidney Crosby and/or Evgeni Malkin were to be sidelined for any portion of the season.
Crosby still could be affected by lingering side effects from the concussions he has suffered and Malkin is one bad hit away from reinjuring his surgically-repaired knee.
The likelihood of either event occurring is not high but either incident would result in the Penguins struggling.
San Jose Sharks: If Top Forwards Aren't Performing
Christian Petersen/Getty Images
The San Jose Sharks have a star-studded roster that should enable the team to continually contend for the Stanley Cup but that hasn't been the case during the past few years.
The Sharks will struggle this season if players like Patrick Marleau, Joe Thornton and Martin Havlat continue to under-perform.
There is a good chance if the team doesn't make a deep playoff run this season that the team's core could be disrupted and rebuilt around youngsters like Logan Couture.
Either way, this season will be a make-or-break for San Jose.
St.Louis Blues: If Team Suffers Injuries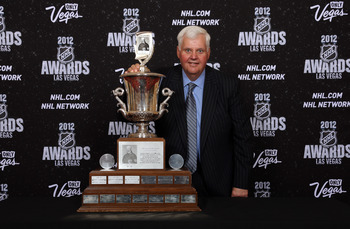 Bruce Bennett/Getty Images
The St.Louis Blues have the potential to be one of the NHL's best teams in 2012-13.
They have a solid defense anchored by Alex Pietrangelo; stability in goal with Jaroslav Halak and Brian Elliot; and, they have a solid forward core that includes David Backes, David Perron, TJ Oshie and assorted others.
The only reason the Blues could struggle in the 2012-13 season is if they suffer injuries that cripple any one of their strengths. Other than that, it is safe to pencil in the Blues as a finalist for the Presidents' trophy.
Tampa Bay Lightning: Goaltending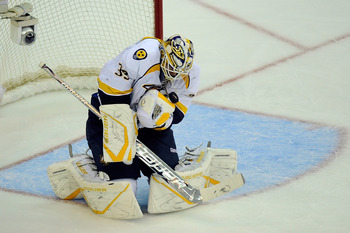 Patrick McDermott/Getty Images
The Tampa Bay Lightning were one of the rare teams that took the bull by the horns and really overhauled their team this summer.
The Lightning needed to shore up their blue line, and Stevie Y signed Matt Carle and Sami Salo
Tampa also needed a goaltender, and Steve Yzerman traded for Anders Lindback who will be the No.1 netminder this season. Lindback has never been a starter before so if he is unable to handle his new role, the Lightning could struggle in 2012-13.
Toronto Maple Leafs: Goaltending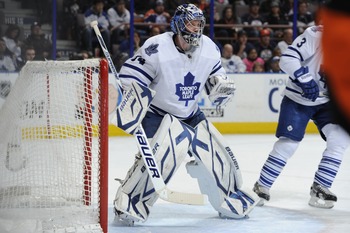 Dale MacMillan/Getty Images
The Toronto Maple Leafs still have not addressed their dire need for a No.1 goaltender. The team was interested in Roberto Luongo but the feeling was not mutual. Instead, James Reimer will start the season as the team's de facto starter.
The Leafs will continue to be a mediocre and struggling team until they secure a solid goaltender that can be counted on to take the team back to the playoffs.
Vancouver Canucks: If Cory Schneider Can't Handle Starter's Role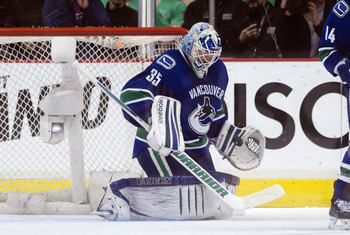 Rich Lam/Getty Images
There was a changing of the guard for both 2010-11 Stanley Cup participants this offseason. Tim Thomas decided to take a sabbatical, Tuuka Rask stepped into the starting role in Boston, and Cory Schneider won the starting job from Roberto Luongo.
In both situations, proven backups are now stepping into the starting role without a safety net. Thomas will not play in 2012-13 and it appears that Luongo could be headed out of Vancouver.
If Schneider falters and is unable to step up with his new responsibilities, the Vancouver Canucks could struggle this season.
Washington Capitals: If Alex Ovechkin Continues to Underperform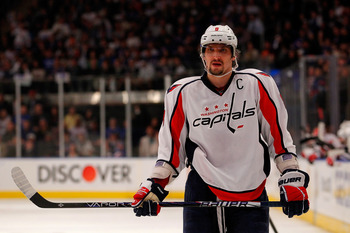 Paul Bereswill/Getty Images
The Washington Capitals added Mike Ribiero this offseason and he is a player that should help the team's offense. However, the Capitals could struggle if the trend of Alex Ovechkin under-performing continues.
Ovechkin has dropped from 109 points in 2009-10 to 85 points in 2010-11 to 65 points in 2011-12. If this trend continues, the Capitals could struggle.
Nicklas Backstrom and Ribiero will add some offense but Ovechkin needs to bounce back.
Winnipeg Jets: Defense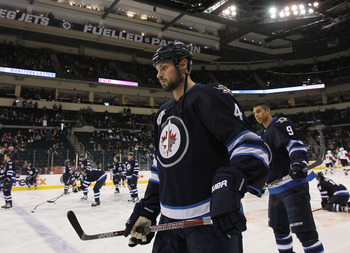 Marianne Helm/Getty Images
The Winnipeg Jets were 26th in the NHL when it came to goals allowed per game and that is a result of the team's weak defensive blue line.
The Jets have a solid offensive punch from defenders like Tobias Enstrom and Dustin Byfuglien but the team needs solid shutdown defenders to stop some of the bleeding.
When the majority of your defenders are on the ice for more goals allowed than goals scored, there is a problem that needs to be addressed. When you also consider that Zach Bogosian could miss the beginning of the season, the Jets are really going to struggle defensively.
Keep Reading