WWE Raw: Why Daniel Bryan and Kane in Anger Management Is Comedy Gold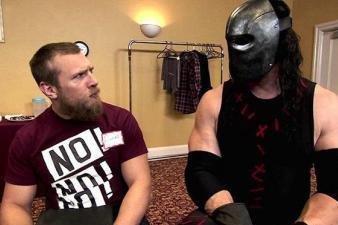 photo from wwe.com

Let's face it: WWE have a very patchy history when it comes to scripting comedy segments and promos.
Frankly, there's been way more bad than good. For evidence, see most "funny" promos John Cena has ever unleashed upon unsuspecting wrestling fans (note to John: you are not Jim Carrey, so stop trying to be). Or any of the tired, lame material Santino has been doing in recent years. And does anyone remember all those terrible DX skits in 2006 and 2007, which featuring 40-something-year-olds Shawn Michaels and Triple H strutting around like they were immature teenagers and performing one eye-rolling juvenile act after another?
And, really, this is only scratching the surface of all the awfulness. The WWE booking team may be made up of a few former sitcom writers (head booker Brian Gerwitz was formerly a writer for the truly awful, short-lived '90s show Jenny, starring MTV's Jenny McCarthy, and former long-time writer Dave Lagana worked on Friends for a brief spell), but their output on Raw leaves a lot to be desired.
WWE's dubious track record when it comes to humour is partly why the hugely entertaining anger management skits involving Daniel Bryan and Kane have come as such a refreshing surprise. Indeed, not only do they easily surpass any of the previous attempts at comedy in WWE, they also manage to outshine the mediocre, badly written FX comedy they are based on—Anger Management, with Charlie Sheen.
Per the storyline, new GM AJ Lee, tiring of both men's erratic and increasingly violent behaviour, decided to send the frequent foes off to an anger management group—headed by the kindly but naive Dr. Shelby—in order to help them deal with their rage issues and hopefully get along better with each other.
The segments are tremendous for a few reasons. First of all, the chemistry between Bryan and Kane is top-notch, which helps carry their scenes together. You can easily buy them as guys who used to despise one another, but are slowly becoming friends as they bond through the classes.
Their pairing calls to mind the popular Kane/X-Pac team of the Attitude Era (which saw "The Big Red Machine" open up and become a lot more human through his friendship with the DX member).
The segments have also served to redeem Kane's struggling character. After a few too many abysmal feuds (most of his programs over the past two years, with the lines of Edge, Cena and Randy Orton, have been filled with truly awful and illogical booking and awful matches), fans were getting sick of the former World Heavyweight Champion and resentful of his seemingly endless amount of airtime.
However, Kane's performance in the anger management scenes have been superb, as the monster makes an attempt to fit in and be normal—with predictably wacky and entertaining results.
Who can forget the infamous segment, which will surely be talked about for years to come, where he revealed to the group his tumultuous and terrifying past? Kane noted he had regularly kidnapped, burned alive and electrocuted various co-workers, as well as buried his brother alive (twice, no less!), tried to murder his dad and crashed his ex-wife's wedding and assaulted the priest!
And that's not even getting into his strange obsession with Pete Rose.
That whole skit—and WWE's willingness to laugh at the sheer absurdity of the Kane character—was genuinely hilarious.
Credit should also go to the supporting actors. The hideous Claire Lynch storyline in TNA illustrates the danger of bringing in little-known actors for pivotal roles (Claire was so dreadful an actress she made Tommy Wiseau look like Al Pacino), but WWE management chose well when casting here, as everyone is wholly convincing in their roles.
Dr. Shelby comes off as your typical well-meaning and likable therapist, but utterly unprepared for the craziness of Kane and the world of WWE. The rest of the group, particularly the long-suffering Harold (played by indie wrestler Scorpio Sky), have great comic timing and wonderful facial expressions (check out the looks of terror on their faces after Kane finished divulging his frightening past).
After the events of Monday (Kane and Bryan had a hug in the ring to resolve their differences, which worked for a while until they fell out again and started attacking each other), it doesn't look like this current anger management has run its course, nor have we seen the last of Shelby and his wacky class of misfits.
To which we say: Hooray!
This article is
What is the duplicate article?
Why is this article offensive?
Where is this article plagiarized from?
Why is this article poorly edited?