Florida Football vs. Texas A&M: 6 Reasons Why Gators Will Win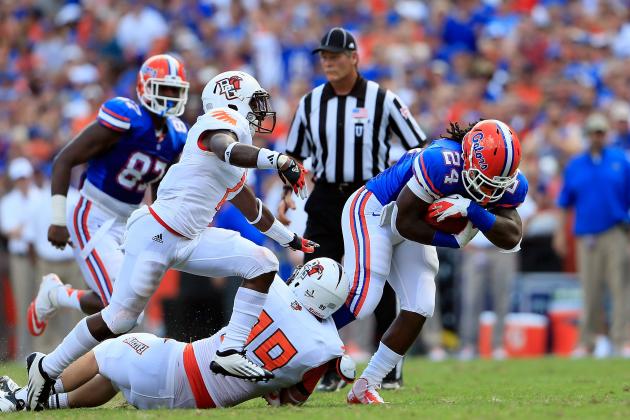 Sam Greenwood/Getty Images

The Texas A&M Aggies get their long-awaited welcome to SEC competition this Saturday at Kyle Field. Their opening opponent, fresh off a 27-14 win over Bowling Green, is Will Muschamp's Florida Gators.
Previewing this game was made much more difficult by the recent severe weather. Hurricane Isaac—as it did with so many other lives—disrupted the scheduled game between Texas A&M and Louisiana Tech. That match has been postponed until October 13.
As a result, only one of these two teams showed us anything.
After Florida's ragged offensive performance with Bowling Green, many Aggie fans have a more confident outlook on their team's chances versus the Gators.
All summer, Aggie writers and posters expressed hope for a Texas A&M victory but few would actually predict it. After Saturday's Florida game, more people are talking about that possibility.
To borrow a much-used phrase from everyone's lovable coach, Lee Corso, "Not so fast, my friends!"
Florida's non-conference win over the Falcons was, at times, sloppy. Still, in the final analysis, the Gators beat a pretty good football team. Not to mention they experimented some to gather more information on their own capabilities.
Bowling Green played well and stayed with the Gators for three quarters. They earned some respect and should get it from Gator fans.
There was a great deal more Florida could have done to put the game away earlier. It has been suggested that this Gator played a little possum last Saturday.
What does all this mean for the conference opener for both teams?
Find out by reading these six reasons why the Gators should win this game.
Begin Slideshow

»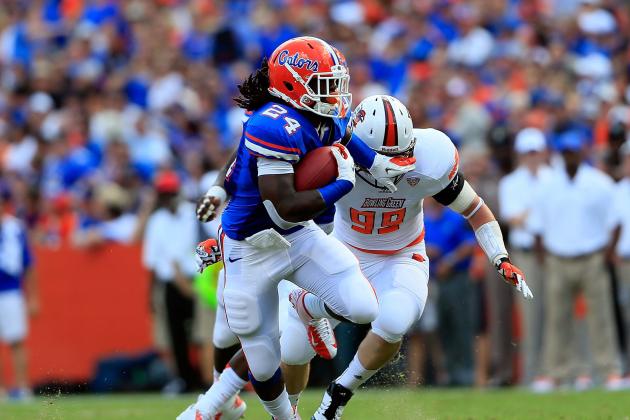 Sam Greenwood/Getty Images

Coaches often say that a football team makes the most significant improvements of the season between games one and two. If so, Florida got an unexpected leg up when Hurricane Isaac caused Texas A&M to postpone their opening game with Louisiana Tech.
There obviously is some truth to the saying simply because teams find unexpected weaknesses—and strengths—during the games. Even so, some of that advantage may be lost by the valuable scouting information Texas A&M gathered.
The most important question answered in game one by the Gators was: "Who will be their starting quarterback?" Sophomore Jeff Driskel was the choice the coaches made. Going into the Texas A&M game, the team is settled with their primary signal caller.
Deciding on a starting quarterback will make the offense work better overall.
At the running back position, the Gators didn't have any questions going in. Senior Mike Gillislee had an excellent performance in game one. His 24 carries for 148 yards confirmed he is a great choice as the starter for the Gators.
Texas A&M has changed both their offensive and defensive coaches and schemes under new coach Kevin Sumlin. It is no secret he prefers a wide-open offense. So the Gators have a general idea of what is coming.
Still, both teams—for very different reasons—are wishing that Texas A&M and Louisiana Tech had been able to play last Saturday.
Not playing that first game must be considered a negative for the Aggies. Just being able to see where they needed work for game two would have been a big plus for a team with a new staff.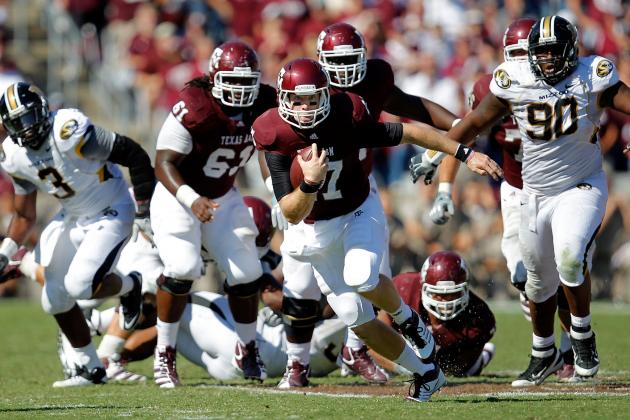 Sarah Glenn/Getty Images

The first season for a new coaching staff can be a difficult time. Even if the players are very good, teaching new schemes on both sides of the ball is tough.
In most cases, new head coaches have their breakout seasons in year two or three.
A potential issue for the Aggies is they must start a redshirt freshman at quarterback while installing a new system. Last season, the Aggies had record-setting, senior quarterback Ryan Tannehill. He has since gone on to the NFL as a first-round draft choice of the Miami Dolphins.
The 2012-season starting quarterback will be Johnny Manziel. Its important to note here that the SEC has traditionally been very difficult on freshmen quarterbacks. Add in learning a new offense as well, and expect the freshman to have some difficult moments.
Defensively, Texas A&M returns six starters from a unit that under-performed overall based on last season's game stats. However, there were times when they played outstanding.
As with the offense, the Aggie defense will be learning a new scheme. They are switching from the 3-4 to a 4-3 alignment. Again, expect some learning issues in the early games. As the season progresses, both sides of the ball should play better.
On the Florida side, they are changing offensive schemes as well. The stout Gator defense, however, is very familiar with what they are supposed to be doing.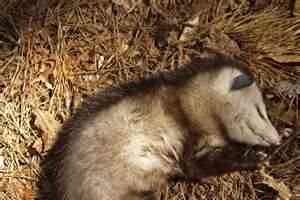 compliments of chipmallard wordpress
I don't share the opinion that the Gators purposely slowed down their attack in any way against Bowling Green. However, it was obvious that they were more serious about the run game than having their quarterback combo show off their passing skills.
Sophomores Jeff Driskel and Jacoby Brissett were supposed to be in a run off to see which one would be the Gators starter. But Brissett only played one quarter and was asked to pass just five times—he completed three for 31 yards.
It's possible that those few attempts were all that was needed to assess Brissett in a game, though it wasn't much. Regardless of whom, it was important that the Gators settle on one quarterback. Now that they have, the offense should begin to show improvements.
Was the Gator coaching staff significantly holding back their offense versus Bowling Green? Based on how inept it was at times and if you're a Florida fan, you sure hope so.
More likely, they were a bit vanilla and concentrating a great deal of their effort on running and run-blocking. As mentioned earlier, the run game looks good right now.
Adding Driskel, a quarterback who can pull it down and go from time to time should help—provided he slide and not take on tacklers head on.
Look for the offense to use more motion, misdirection and passes to the tight ends when they play on Saturday. Also, expect them to be more productive than the first three quarters against Bowling Green.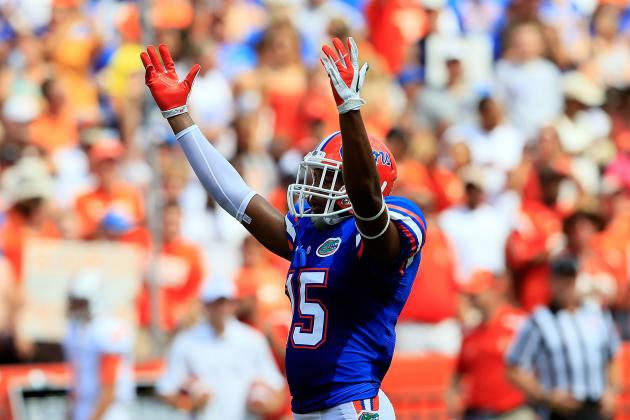 Sam Greenwood/Getty Images

"You've been annexed by Aggie Nation. The Best Academics & Cleanest Program in the SEC. WHOOP! Real Football. Real Tradition."
That is what the billboard read that was put up in Gainesville this week by a Houston media company that represent a group calling itself Aggie Nation.
The sign was only 4.5 miles from the Florida campus. It was seen by many thousands of Gator fans before being removed for trademark infringement.
According to Texas A&M University, it had no knowledge of the sign before it went up. Nor did the university know who the authors or owners of Aggie Nation are.
Still, you can imagine how many thousands of pictures were made and sent to coaches and players during the brief life of the sign.
In addition to the sign, this Florida team doesn't want to become known as the first team to lose to one of the newest SEC additions—A&M or Missouri.
Nothing personal, Aggie fans, it's just a point of pride for the Gators as well.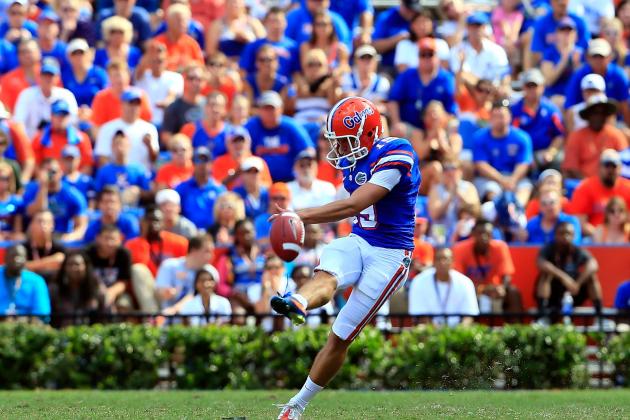 Sam Greenwood/Getty Images

Though the game against the Falcons can only be described as average, Florida does possess one of the best special team units in the nation.
Last season, Texas A&M also had one of the premier special team units in the country—ranked No. 8 by Phil Steele Preview. However, this season they lose Groza Award-winning kicker, Randy Bullock, a fifth-round draft choice to Houston.
They do return senior Dustin Harris, who was the No. 1 punt returner in the nation in 2011. Still, it is very unlikely they will finish in the top 10 again without Bullock.
Florida, on the other hand, had the No. 3 ranked—Phil Steele Preview—special team unit in the country. Their only loss was their punt returner and this year's returner, Andre Debose, may be even better. He had three returns against the Falcons for 45 yards.
With most everyone returning, this unit should finish in the top five in the nation again in 2012.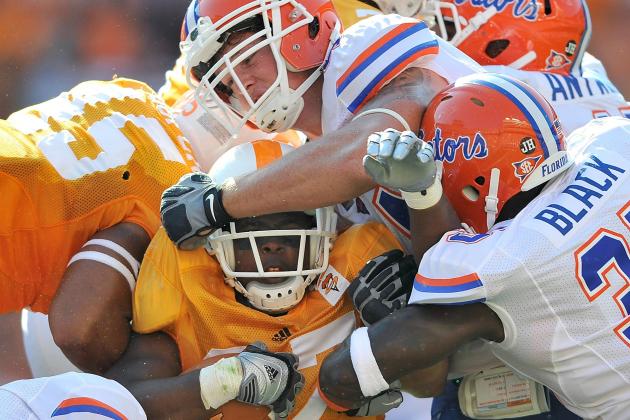 Grant Halverson/Getty Images

The Florida defensive line may be the best unit in college football. Against a normal offense, they seldom need to blitz to create pressure.
But Texas A&M has a better-than-normal offensive line. This year, they return four-of-five starters who have 95 total starts between them.
Still, Florida will be looking to get pressure on the redshirt freshman quarterback. They will want to cause him to hurry throws and make mistakes. Look for a lot of blitzing from the Gators in this game.
If the Texas A&M offense can pick up the Gator blitzes and allow their quarterback time to operate, they will have success on offense.
After seeing how great SEC teams treat underclass quarterbacks for years, my bet is the Gators defense will win the day—and, likely, the game.
Prediction - Florida 21 - Texas A&M 17