Breaking Down the Tampa Bay Buccaneers Blueprint for Winning the NFC South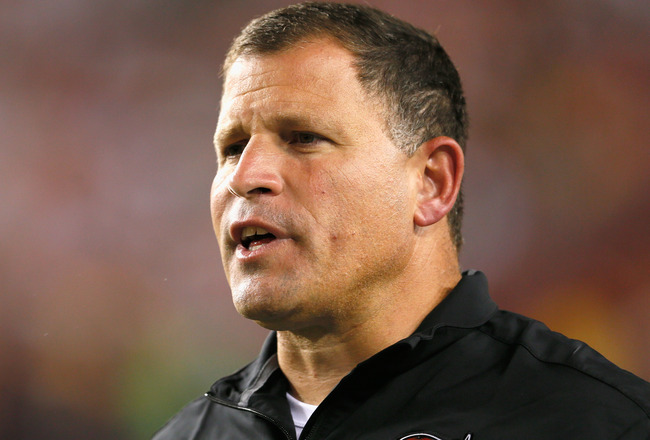 Rob Carr/Getty Images
The Tampa Bay Buccaneers are set to begin their regular season this weekend, hosting division nemesis Carolina.
The Bucs are in the midst of a 10-game losing streak that ended not only their 2011 season but also the reign of former head coach Raheem Morris.
New head coach Greg Schiano is tasked with turning around a club that went 4-12 last season and totally struggled across the board.
Whether it was their tackling, pass defense or inability to run or stop the run, the Bucs were the poster children for bad football.
But at last, the new season has arrived, and a new era of Bucs football is about to begin.
Schiano and staff have worked tirelessly over the offseason to tie up loose ends and iron out the most minute of details—everything from how the players practice to how they dress for travel.
Punctuality and principle have replaced the seemingly unfettered ways of Schiano's predecessor, which if all goes to plan, should also turn of a few of those losses into wins—this season and beyond.
With that in mind, what do the Bucs have to do—aside from the obvious—to truly compete for a division crown?
Please do not confuse this for a proclamation on "Why I think the Bucs will win the NFC South," because that is not the case. Rather, this is a hypothetical analysis on what has to happen for the Bucs to go from cellar dweller to cream of the crop.
Key Players Must Step Up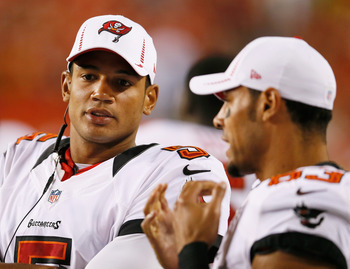 Josh Freeman (5) and Vincent Jackson (83) are pivotal to success.
Rob Carr/Getty Images
Quarterback Josh Freeman cannot have a repeat performance of 2011, when he threw more interceptions (22) than touchdowns (16). Turnovers are momentum and morale killers, so cutting down on errant throws and mistakes will do wonders for the team's overall outcome.
Receiver Vincent Jackson gives Freeman a legitimate "No. 1" guy to throw to, which is something all of the elite quarterbacks in the league have. With the Bucs offense determined to establish the run early and often in games, Jackson and Freeman could find themselves with opportunities to beat defenses over the top as safeties creep down into the box to stop the run.
Speaking of running the ball, Doug Martin and LeGarrette Blount will be asked to be the workhorses of the offense. Both backs are fully capable of leading the team individually, so when their abilities are combined, carrying them on their proverbial shoulders should be no problem at all.
The larger question marks are on defense, where talent and potential are surpassed only by youth and inexperience.
Due to the lack of depth along the defensive line, tackle Gerald McCoy has to stay healthy and play an entire 16-game schedule—something he has yet to accomplish in his short career thus far.
Linebackers Mason Foster, Lavonte David and Quincy Black have to show progress and development, with a particular emphasis on Foster and Black. David is entering his rookie season and will be relying mainly on instinct and natural talent this season, whereas Foster and Black are entering their second and sixth years, respectively, on the team and need to start showing that progress has been made.
Cornerback Eric Wright signed a $37.5 million contract as a free agent in March. Now the onus falls squarely on him to show that the dollars and cents invested in him will translate into football sense on the field. Wright is coming off a career year in 2011 in which he picked off four passes.
Lastly, rookie safety Mark Barron will be asked to not only assist in pass coverage but to also become a stopping force in the run game as well. The Bucs allowed a league-worst 156.1 rushing yards per game in 2011, so if Barron is able to supplement the front seven without sacrificing in pass coverage, it would go a long way in improving the total defense.
Don't Let Games Get out of Hand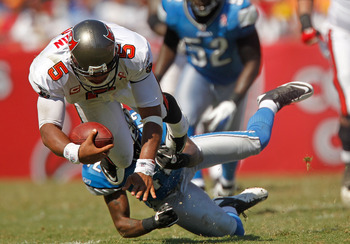 Mike Ehrmann/Getty Images
Eight of the Buccaneers' 16 games last season were decided by 10 points or less, with seven of those eight being decided by seven points or less.
It's worth noting because of those eight games, the Bucs won four of them.
Meaning that the other eight games (and losses) were decided by 11 points or more. Worse yet, of those eight contests, seven of them were lost by 14 or more points, including the final five games to end the regular season.
If the Bucs have any hope of going from worst to first, keeping games closer is paramount to those chances.
Let's face it, the Bucs aren't going to be an offense that airs it out 30 to 40 times per game.
They are going to rely on a steady dose of running the football in an effort to set up everything else on offense. If they start to fall behind by 10, 12 or 18 points, they showed us last season that they cannot compete.
Yes, it was a different regime, with a different scheme and a handful of different players, but the fact of the matter is the Bucs have to keep games close if they intend on turning those blowouts from a year ago into wins this season.
Run the Ball/Stop the Run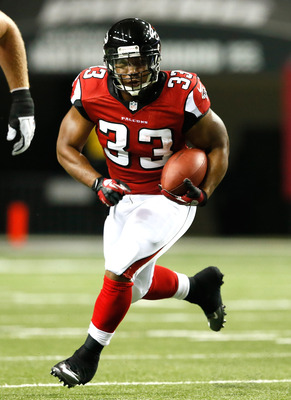 Kevin C. Cox/Getty Images
The solution is a lot easier said than done.
That's because when it comes to the running game, the 2011 Bucs could neither establish the run offensively—91.1 yards per game, 30th in the NFL—nor stop the run defensively—156.1 yards per game, 32nd in the NFL.
Which, suffice it to say, is clearly not a blue print for success.
The Schiano-led Bucs are determined to become a run-first club, looking to establish their dominance at the line of scrimmage early and often.
And oddly enough, successfully running the ball on offense would go a long way to fixing what ails them on defense, particularly when it comes to stopping the run.
The importance of stopping the run on defense—especially in this division—is clear.
Atlanta has Michael Turner; Carolina's trio of DeAngelo Williams, Jonathan Stewart and Cam Newton have given us fits, and of course there's the New Orleans running back carousel of Darren Sproles, Pierre Thomas, Mark Ingram and Chris Ivory.
In short, if the Bucs cannot improve in the above-mentioned areas, any hopes of drastic improvement in the win column are unlikely.
Win Head-to-Head Division Games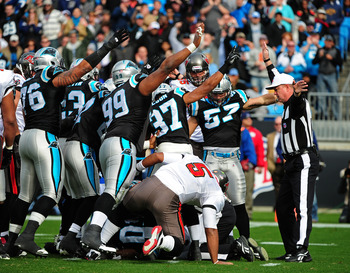 Scott Cunningham/Getty Images
You have to go back to 2007 to find the last time the Bucs finished with a winning record against their division opponents. That season, the Bucs finished 5-1 against the NFC South, sweeping both Atlanta and New Orleans.
Since then, the Bucs have gone 9-15 against those very teams—not very competitive if you ask me.
For the Bucs, the quickest way to get from worst to first will be to win the head-to-head matchups they'll have against Carolina, Atlanta and New Orleans.
Particularly, their games against Atlanta and Carolina.
Both have dominated the Bucs of late, with the Falcons winning five of the previous six games and the Panthers taking four of the previous six contests they've played.
Which shouldn't come as much of a surprise when you think about the types of offenses that each of those teams present—downhill rushing attacks—and how historically awful the Bucs have been against the run over the past few seasons.
All of which ties into what the Bucs have done through the draft and only further highlights how crucial proper coaching and development truly is.
The Bucs have to figure out how to slow down Michael Turner, DeAngelo Williams, Jonathan Stewart and Cam Newton if they have any aspirations of improving their paltry division record and—dare I say—compete for a division crown this season.
Stay up-to-date on the latest Bucs news and more by following J.J. on Twitter. You can also "like" him on Facebook.
Keep Reading

Tampa Bay Buccaneers: Like this team?