SEC Football: Picks for Every Week 2 Game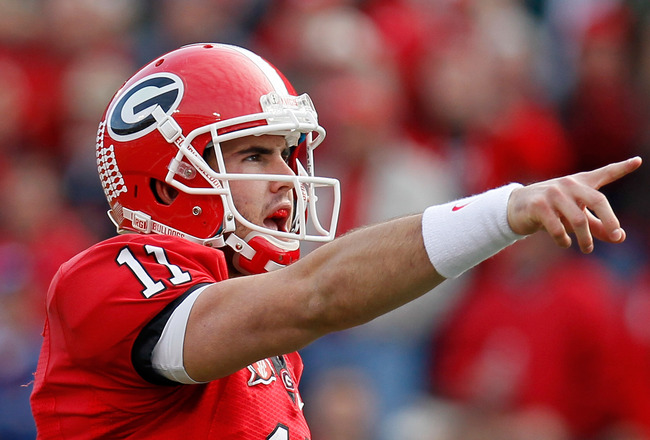 Georgia QB Aaron Murray
Kevin C. Cox/Getty Images
Week 1 is in the books, and now we step into Week 2 when the real fun starts.
Auburn, Vanderbilt and Kentucky were the only three SEC teams to start the season 0-1 in Week 1. Will the Tigers, Commodores and Wildcats break into the win column this week?
What about the SEC newcomers? Can Texas A&M and Missouri spring upsets vs. Florida and Georgia, respectively?
We will know more about the landscape of the 2012 SEC season after Week 2, but before we get to the games, it's time to go on the record with some picks.
2012 Record: (10-2, 1-7 ATS)
All lines courtesy: VegasInsider.com
Auburn at Mississippi State (-3)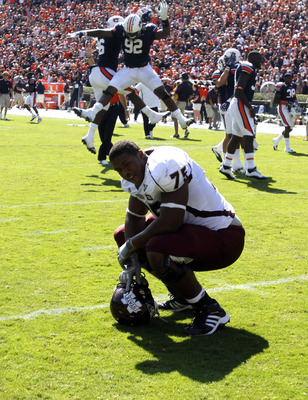 Auburn topped Mississippi State 41-34 last season
Butch Dill/Getty Images
Saturday, Sept. 8 at 12:00 p.m. ET
The Bulldogs and Tigers will meet in Starkville at high noon in a game that will likely define the season for both teams.
Auburn is coming off a tough loss to Clemson in the Chick-fil-A Kickoff Game that saw the Tigers struggle with basic fundamentals like tackling. However, the scheme worked, and if the Tigers can get their tackling issues resolved, Brian VanGorder will be well on his way to getting that defense turned around.
Offensively, quarterback Kiehl Frazier overthrew several open receivers, which can get him beat again this weekend against a stout secondary like Mississippi State's.
For the Bulldogs, there's not much to take away from last week. The 56-9 win over Jackson State was nice, but they hid an awful lot in preparation for this week's showdown.
This is a big game for Mississippi State. If the Bulldogs get the win, it will be Dan Mullen's first win over an SEC West team not named "Ole Miss." This likely means they will be 5-0 when they host Tennessee and possibly even 7-0 when they travel to Alabama.
This one comes down to the final field goal, and Auburn will escape Starkville with another close win.
Score Prediction: Auburn 24, Mississippi State 21
East Carolina at South Carolina (-21.5)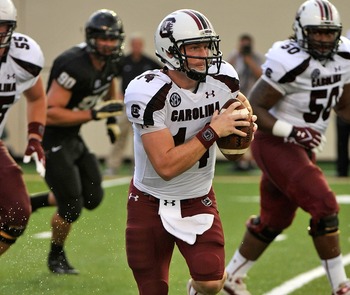 South Carolina QB Connor Shaw
Frederick Breedon/Getty Images
Saturday, Sept. 8 at 12:21 p.m. ET
The big question in this contest is Connor Shaw.
The junior signal-caller for the South Carolina Gamecocks injured his shoulder in the 17-13 season-opening win over SEC East foe Vanderbilt.
Shaw's status remains unclear this week, but if he's healthy, he certainly shouldn't be running a lot of zone read against the Pirates this weekend.
Defensively, the Gamecocks will be fine, and that's what will lead them to victory this weekend. Having said that, with Shaw dinged up, it may be more nerve-racking than Gamecock fans would like.
Score Prediction: South Carolina 24, East Carolina 7
Florida at Texas A&M (-1.5)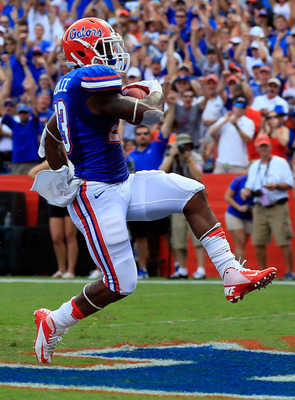 Florida QB Mike Gillislee
Sam Greenwood/Getty Images
Saturday, Sept. 8 at 3:30 p.m. ET
It's going to be a big atmosphere in College Station this weekend.
Not only is the game vs. Florida the season-opener thanks to last week's postponement, but it's the first SEC game in Texas A&M history complete with a visit from ESPN's College GameDay.
Talk about stepping into a hornet's nest.
Florida was sluggish in its 27-14 win over Bowling Green in Week 1, but it appeared that they were purposefully vanilla to prevent A&M from getting anything on tape. Now that Jeff Driskel is the starter at quarterback, the Gators can get their offense clicking against A&M's weak defense.
It will be fascinating to watch Texas A&M's offense vs. the stingy Florida defense. It will be particularly interesting to see how head coach Kevin Sumlin and offensive coordinator Kliff Kingsbury make adjustments during the game based on the speed of Florida's front seven.
It's going to be an electric atmosphere at Kyle Field, but the 12th Man won't be able to help the Aggies get the win. Running back Mike Gillislee will be the star for the Gators.
Score Prediction: Florida 28, Texas A&M 21
Western Kentucky at Alabama (-40)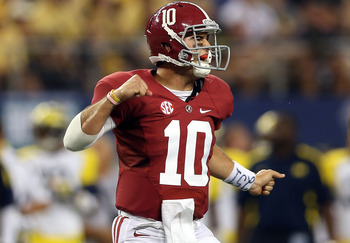 Alabama QB AJ McCarron
Ronald Martinez/Getty Images
Saturday, Sept. 8 at 3:30 p.m. ET
Remember all of those questions about the holes on Alabama's defense?
Not an issue.
After last week's 41-14 demolition of the Michigan Wolverines, the Crimson Tide gets a cake walk with the Western Kentucky Hilltoppers this week before next week's showdown in Fayetteville vs. Arkansas.
I don't expect Alabama's offense to be flashy and give Arkansas much on tape, so this will be a simple, yet emphatic win for the Crimson Tide.
Expect Alabama to empty the bench and let WKU know that they aren't "supposed to be SEC," they are SEC.
Crimson Tide rolls.
Score Prediction: Alabama 42, Western Kentucky 9
Georgia State at Tennessee (NL)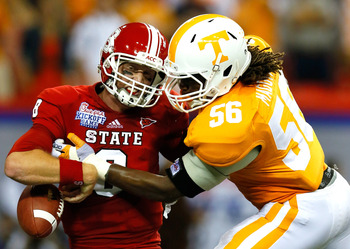 Tennessee LB Curt Maggitt
Kevin C. Cox/Getty Images
Saturday, Sept. 8 at 4:00 p.m. ET
Tennessee looked every bit like an SEC East contender last week in its win over N.C. State in the Chick-fil-A Kickoff Game in the Georgia Dome.
Now, it's time to build on that performance vs. Georgia State in preparation for next week's showdown vs. Florida.
Tennessee's secondary nabbed four picks against the Wolfpack, but blew several coverages, causing new defensive coordinator Sal Sunseri to crank up the pressure on quarterback Mike Glennon. This caused several mistakes.
This is the game in which Tennessee needs to get its secondary issues resolved, because next week's game could determine which team—Florida or Tennessee—will contend with Georgia and South Carolina for the SEC East title.
Tennessee plays dial-a-score this week.
Score Prediction: Tennessee 56, Georgia State 3
UTEP at Ole Miss (-7.5)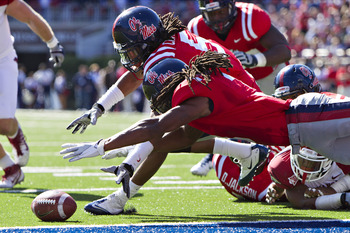 Wesley Hitt/Getty Images
Saturday, Sept. 8 at 7:00 p.m. ET
After UTEP took Oklahoma down to the wire in El Paso, Texas late Saturday night, this game got a little more concerning for the Rebels.
Ole Miss trailed at halftime last week to Central Arkansas, but pulled away to a 49-27 win and looked good on offense in the process.
The Rebels put up 565 yards of total offense. Quarterback Bo Wallace completed 20-of-24 passes for 264 yards and two touchdowns, while adding 82 rushing yards and a touchdown on the ground.
Not a bad debut.
UTEP will be a tough test, but Ole Miss will squeak by the Miners and begin preparation for the Texas Longhorns.
Score Prediction: Ole Miss 35, UTEP 31
Washington at LSU (-23.5)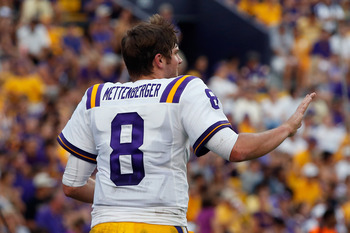 LSU QB Zach Mettenberger
Chris Graythen/Getty Images
Saturday, Sept. 8 at 7:00 p.m. ET
All eyes will be on LSU quarterback Zach Mettenberger on Saturday, but it will be running backs Kenny Hilliard and Alfred Blue that will be the difference in this out-of-conference tilt with the Washington Huskies.
Washington quarterback Keith Price can sling it around the field, and the best way to minimize his impact is to keep him off the field with a power running attack. Washington will game plan against that and force Mettenberger to beat them with his arm, which he can and will do.
Everyone is waiting to see if Mettenberger can be the downfield threat that LSU needs to win the crystal football, and you will see flashes of that this weekend.
This one will be a lot of fun to watch.
Score Prediction: LSU 42, Washington 24
Louisiana-Monroe at Arkansas (-30.5)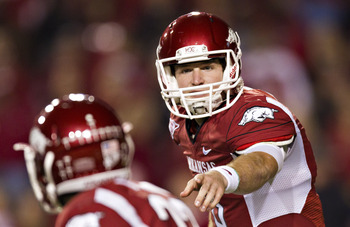 Arkansas QB Tyler Wilson
Wesley Hitt/Getty Images
Saturday, Sept. 8 at 7:00 p.m. ET
Arkansas rolled up Jacksonville State 49-24 last week. Quarterback Tyler Wilson looked like a legitimate Heisman candidate. The senior signal-caller for the Razorbacks completed 19-of-27 passes for 367 yards and three touchdowns.
More importantly, wide receivers Brandon Mitchell and Javontee Herndon combined for 218 receiving yards. That's important for the Hogs, who are looking for more downfield weapons opposite of wide receiver Cobi Hamilton and tight end Chris Gragg.
Defensively, there still are a few issues for new defensive coordinator Paul Haynes to work out, and the tune up this week before hosting Alabama next week is a nice luxury to have.
This one gets ugly.
Score Prediction: Arkansas 55, Louisiana-Monroe 17
Kent State at Kentucky (-7)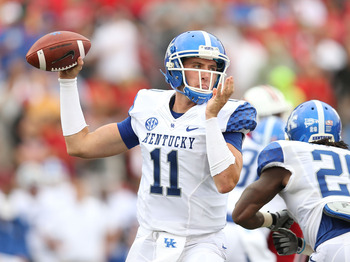 Kentucky QB Maxwell Smith
Andy Lyons/Getty Images
Saturday, Sept. 8 at 7:30 p.m. ET
Kentucky didn't look great in Sunday's 32-14 loss to rival Louisville, but if there was a bright spot, it was the play of quarterback Maxwell Smith.
Smith completed 35-of-50 passes for 280 yards and two touchdowns, which isn't bad, especially considering he got little help from the running game.
This week, Kentucky continues its out-of-conference slate with a visit from the Kent State Golden Flashes.
Job No. 1 for head coach Joker Phillips is to find a running game with CoShik Williams. If he doesn't or if he's held out due to injury, it will be up to Raymond Sanders and Dyshawn Mobley to carry the load.
He'll find it this week, one way or the other.
Score Prediction: Kentucky 24, Kent State 10
Georgia (-2) at Missouri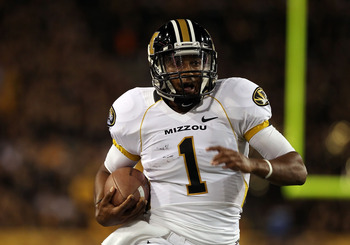 Missouri QB James Franklin
Christian Petersen/Getty Images
Saturday, Sept. 8 at 7:45 p.m. ET
ESPN's College Gameday may be in College Station, but the biggest game of the day is the one taking place in "the new Columbia" between Georgia and Missouri.
Georgia is the favorite in the SEC East due in large part to its schedule, which doesn't feature games vs. SEC West powers Alabama, LSU and Arkansas. As a result, some team is going to have to upset the Bulldogs in order to open up the division.
The team with the best chance of that is the Missouri Tigers.
With this being the first SEC game in Columbia, this will have that "Game of the Century" feel.
Considering cornerback Sanders Commings is suspended, cornerback Malcolm Mitchell is nursing an ankle injury and safety Bacarri Rambo and linebacker Alec Ogletree will also likely sit out due to suspension, the door is wide open for Missouri to make a statement.
Georgia's defense is solid, but without several key pieces, Missouri quarterback James Franklin, running back Kendial Lawrence and wide receivers T.J. Moe and Dorial Green-Beckham will have some fun.
This one comes down to the leg of Georgia true freshman kicker Marshall Morgan on the road. Georgia fans won't have any fingernails left.
Score Prediction: Georgia 31, Missouri 28
Vanderbilt (-3.5) at Northwestern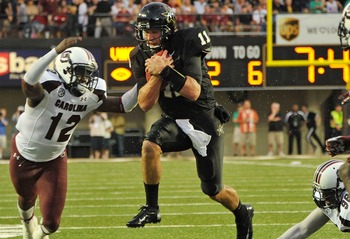 Vanderbilt QB Jordan Rodgers
Frederick Breedon/Getty Images
Saturday, Sept. 8 at 8:00 p.m. ET
Vanderbilt lost a heart-breaker last week at home to South Carolina.
The biggest key for the Commodores is to not let that game beat them twice, because the Northwestern Wildcats will prove a dangerous test coming off a thrilling 42-41 win on the road at Syracuse on opening weekend.
The Wildcats gave up 470 passing yards last week to Syracuse, so expect quarterback Jordan Rodgers and Jordan Matthews to be featured early and often.
This isn't the best matchup of the weekend, but it's still pretty intriguing, especially if Vanderbilt is going to improve upon the 6-6 regular season record from last season.
Score Prediction: Northwestern 35, Vanderbilt 31
Keep Reading