One of the biggest stories during the NFL preseason and arguably the biggest in relation to the New England Patriots has been the contract status of Wes Welker.
The All-Pro receiver, who has set several NFL records during his five year stint at New England, saw his contract run up following the Super Bowl. Welker had hoped to sign a long term extension with New England but the two sides failed to find middle ground which saw Welker sign the franchise tender as a temporary solution.
Since that date, the Patriots have handed out large contract extensions to tight end duo Rob Gronkowski and Aaron Hernandez. The combined $94 million in deals given to Gronkowski and Hernandez have furthered the thinking that Welker's days in New England may be numbered.
As Mike Reiss of ESPN detailed in this article, players who have been handed the franchise tag in New England haven't always got what they've wanted.
Recent history with Logan Mankins and Vince Wilfork favor Welker's pursuit of a long term contract, but with so much money tied up with Brady, Mankins, Gronkowski, Hernandez, Mayo and more, there may not be enough money to go around.
Furthermore, when ex-Patriots such as Deion Branch, Richard Seymour, Ty Law and others have demanded more money or a larger contract, they have usually been shipped straight out of Foxborough.
So which camp does Welker fall into? Will he follow Asante Samuel out the door via free agency? Will he secure a long term contract like Vince Wilfork? Or will his situation mirror Deion Branch circa 2006 and get traded away?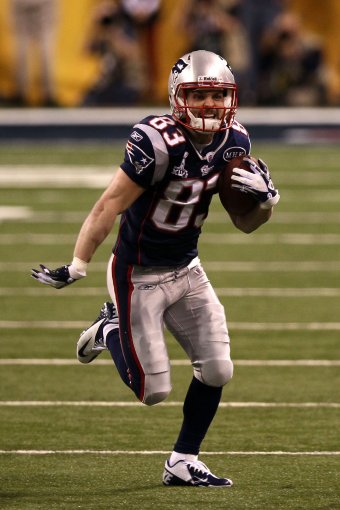 Win McNamee/Getty Images
Scenario One: Welker Signs Long Term Contract
The scenario that the Patriots, Welker and most New England fans want is this one. Welker has been a fan favorite from his first season at New England and seeing him catch passes from someone other than Tom Brady would be hard to stomach.
His production in a Pats uniform has been historic as stated before and as the 2009/10 playoff game against Baltimore illustrated, Welker is undoubtedly Tom Brady's go to guy and a major cog in the Patriots' offense.
With new addition Brandon Lloyd stretching the defense and preventing teams from packing the middle of the field, Welker should be even more lethal in the slot.
While handing out a long term contract to a 31 year old receiver may not seem like good business, Welker is one of the exceptions. As his game is not predicated on deep speed, Welker should be able to produce at the same level for the foreseeable future.
His ability to gain separation over five yards, along with his chemistry with Tom Brady are two things that won't go away for a long time.
Scenario Two: Patriots Let Him Walk as a Free Agent
Perhaps the least plausible scenario would be the two teams parting ways with Welker leaving as a free agent.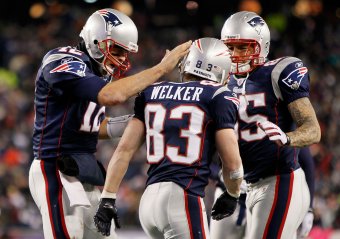 Jim Rogash/Getty Images
This scenario is not unprecedented with the Patriots however, as Asante Samuel went through the same path before landing a large contract with the Philadelphia Eagles in 2008.
If Welker does not have a long term contract by the end of the season, he will in my eyes walk away from Foxborough.
While the Patriots do have the option of franchising Welker next season, it wouldn't be in the best interest of either side for it to happen.
Asking Welker to play two seasons under the franchise tag would be extremely unfair to him, particularly for a smaller guy like himself.
It would also be of little use to New England as the franchise tag for Welker next season would be above $11 million. This would effectively mean the Patriots paid $20 million over two years to keep Welker, perhaps more expensive than if they offered him an extension earlier.
Scenario Three: Patriots Trade Welker Before the Trade Deadline
The most surprising outcome but one that could happen, would be the Patriots trading Welker before the trade deadline.
Bill Belichick has shown in the past with Richard Seymour and Deion Branch, that he is not afraid to pull the trigger on trades involving key players if the price is right.
Perhaps more so than any other team in the league, New England is based on a system and if the past has taught us anything, no player is above the system.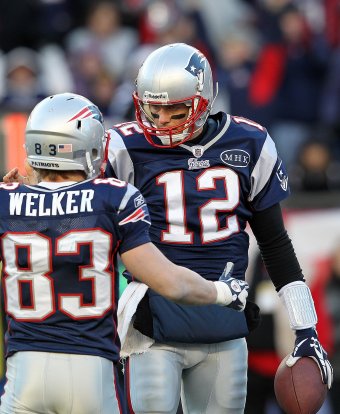 Jim Rogash/Getty Images
With a poor man's Wes Welker in Julian Edelman already available and recent acquisition Greg Salas already versed in the Josh McDaniels offense, it seems as if the Patriots are already preparing themselves for Welker's departure.
Throw in Aaron Hernandez's ability to play in the slot along with the Patriots' ever growing use of the tight end, and Welker could very much be on the outside looking in right now.
If a team offers the Patriots a first round draft choice for Welker, much like Seattle did for Deion Branch in 2006, do the Patriots say no? Belichick and co. value draft picks more than most teams and with so many other players like Brandon Spikes, Sebastian Vollmer and others all needing contracts soon, a trade could possibly happen.
All things considered, I hope Welker and the Patriots reach an agreement that keeps Welker in New England for the foreseeable future.
Ever since his arrival in Foxborough, Welker has been a model of consistency and professionalism, and his dedication to his craft was exemplified by his comeback from ACL surgery within seven months.
However, if Welker continues to ask for top receiver money I doubt his time in New England will go for much longer.
We'll just have to wait and see.