Breaking Down Kansas City Chiefs' Rookie Class After the Preseason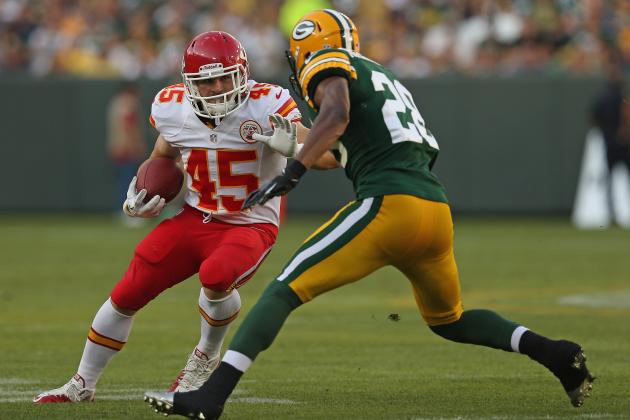 Jonathan Daniel/Getty Images

You've heard it all before.
NFL rookies need time to develop in a system. There's a steep learning curve when transitioning from college to the pros. The preseason is not a strong indicator of a player's/team's ability because it's played half-heartedly and with a vanilla playbook.
You've heard it all before, and you just don't care.
It's been seven months since the Super Bowl, eight months since the last Chiefs game, and 19 months since Kansas City played a game that had a spark of hope for progress (that would be the Chiefs/Ravens playoff game for those keeping score at home).
So it stands to reason that there should be something to hang your arrowhead-shaped foam hat on. There should be some indicator on what's going to happen in Kansas City; will this be another season lost to injuries, weak personnel, and poor discipline, or can the Chiefs finally do something special this year?
Overused cliché or not, championship teams build their roster through the draft. They augment with free agents, but those guys just out of college are the cornerstone of a team.
They are the source of excitement for this season (or lack thereof). So even with all the qualifying statements about how it's too early to really assess where Kansas City's rookies are, we're going to do just that and evaluate where our top rookies stand.
Why are we doing this? It's because Chiefs fans need something to feel good about, and there are plenty of bright spots in this year's rookie class.
Begin Slideshow

»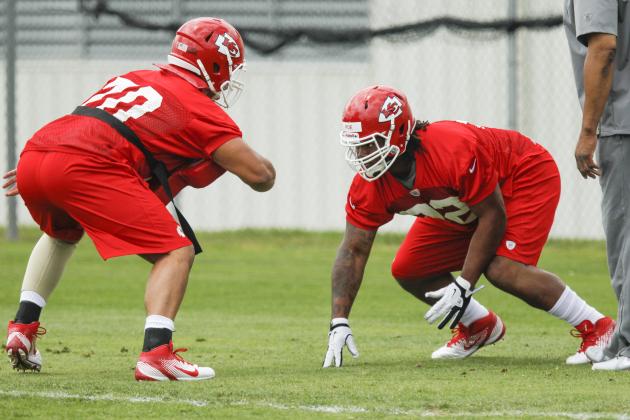 Kyle Rivas/Getty Images

2012 Preseason Statistics: 3 tackles, 1 pass defended
Romeo Crennel and the Chiefs worked hard to downplay expectations from Poe this year. A lack of stellar stats while playing in Conference-USA raised doubts about his work ethic, despite his superhuman performance at the NFL Combine. Then journeyman Anthony Toribio spent most of training camp as the designated starter at nose tackle.
Chiefs fans are already skittish about first round defensive linemen.
The "bust" label attached itself to both Glenn Dorsey and Tyson Jackson a time or two, and previous years brought a parade of defensive linemen (i.e. Ryan Sims, Junior Siavii) who only made an impact on Kansas City's salary cap.
Despite the apprehension, Poe looked decent in spot work through the preseason and should improve as the season progresses and he continues to adjust to the pro game. Working with Crennel, Anthony Pleasant, and Toribio should help that transition happen more smoothly as his technical skill catches up with his athletic prowess.
Until then, though, Poe is still a top 15 pick playing as a reserve.
Initial grade: C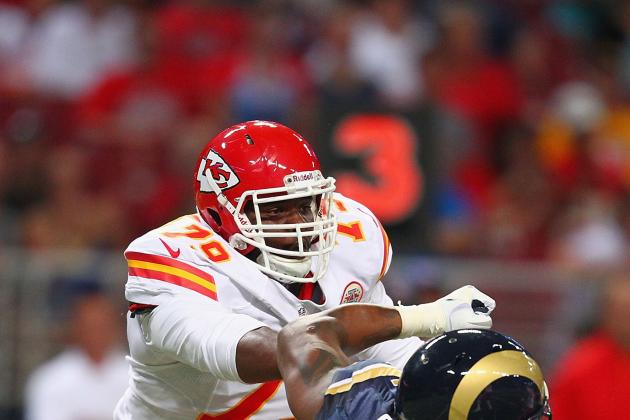 Dilip Vishwanat/Getty Images

Offensive Linemen Jeff Allen, Donald Stephenson
2012 Preseason Statistics: N/A
There aren't many stats attached to offensive linemen, which makes it difficult to assess a player without actually paying attention to what happens in the trenches. It's kind of like reading Playboy only for the articles.
One stat does stand out for the Kansas City Chiefs: for 2012, Kansas City only has seven offensive linemen on their roster.
That means Jeff Allen and fellow rookie Donald Stephenson are the only reserve players for the entire line on game day. That alone should demonstrate the coaching staff's level of comfort with both players.
Of the two, Stephenson received the larger portion of attention. For a lineman, that's not a good thing. Stephenson showed some mental lapses in the preseason opener, but worked well moving downfield in the run game.
Initial Grades: Allen, B || Stephenson, B-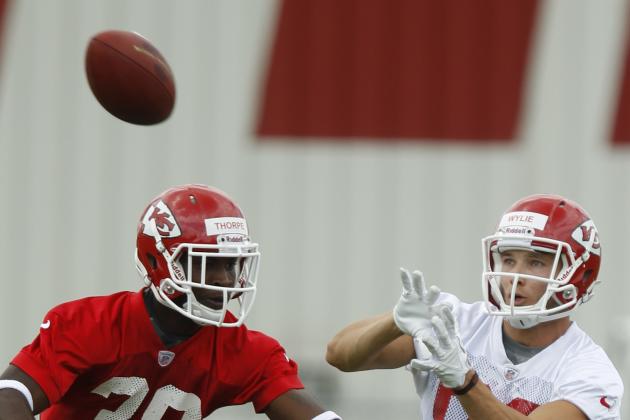 Kyle Rivas/Getty Images

2012 Preseason Statistics:
Receiving: 1 reception, 7 yards
Returns: 3 punts, 11.7 yards average || 5 kick returns, 25.4 yards average
With an already-crowded receiver corps and two capable kick returners already on the roster, Kansas City's selection of Devon Wylie in the fourth round came as a bit of a surprise.
Wylie made his case to be a member of the Chiefs final roster based on his return abilities, though. He accelerates quickly once the ball reaches his hands and possesses the ability to make defenders miss tackles in the open field.
He won't likely see many touches in the receiving game this season, with Dwayne Bowe, Jonathan Baldwin, Steve Breaston and Dexter McCluster ahead of him on the depth chart. Assigning him return duties, though, should help keep McCluster and Javier Arenas fresh and able to contribute on their respective sides of the ball.
Initial Grade: B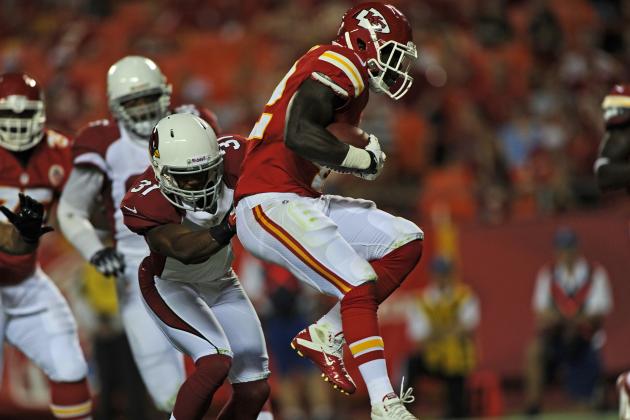 Peter Aiken/Getty Images

2012 Preseason Statistics: 15 carries, 65 yards, 1 touchdown
Cyrus Gray came on strong to open the preseason with a solid showing against Arizona, but missed the rest of the preseason with injuries.
Despite a full roster at running back, the Chiefs could ill afford to miss out on Gray by releasing him and risking another team plucking him off their practice squad. Gray showed excellent speed and could develop into another potent weapon on Kansas City's offense.
Until he returns to full health, though, there is little to grade here.
Gray could even quickly finish his season on the IR. With four healthy running backs to choose from, the Chiefs could give Gray's roster spot to Tamba Hali once he returns from suspension next week. Were that to happen, Gray would join fellow rookies DeQuan Menzie and Alex Tanney on injured reserve.
Initial Grade: Incomplete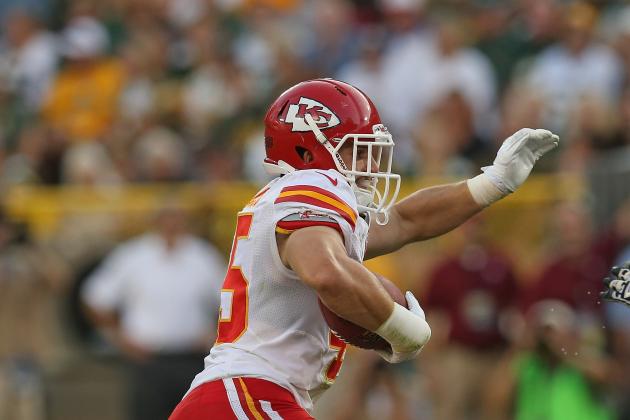 Jonathan Daniel/Getty Images

2012 Preseason Statistics: 34 carries, 206 yards, 1 touchdown, 1 fumble || 1 reception, 7 yards
By far the surprise player of this year's preseason, Nate Eachus certainly made the most of his opportunity with the Chiefs. Eachus arguably came into training camp this year as a long shot at best and camp fodder at worst.
Eachus didn't seem to get that part of the memo.
An undrafted rookie out of Colgate University, Eachus battled his way onto the roster after Cyrus Gray's injury provided the chance for more carries. His tenacity and workhorse attitude earned respect both in the locker room and in the stands. Only he and defensive back Tysyn Hartman made the team as undrafted rookies, though Hartman could be released once Kendrick Lewis returns to the lineup after hurting his shoulder.
Eachus won't see much time on the field barring injury or time in at fullback (a position he'd never played before but volunteered to learn), but having a personality and work ethic like that on a team does things that can't be measured in yards per carry or touchdowns.
If his play during this preseason is any indication, he might get a chance down the road to contribute in that way, too.
Initial Grade: A+