Texas Ranger: 5 Ways Jurickson Profar Will Immediately Impact AL West Chase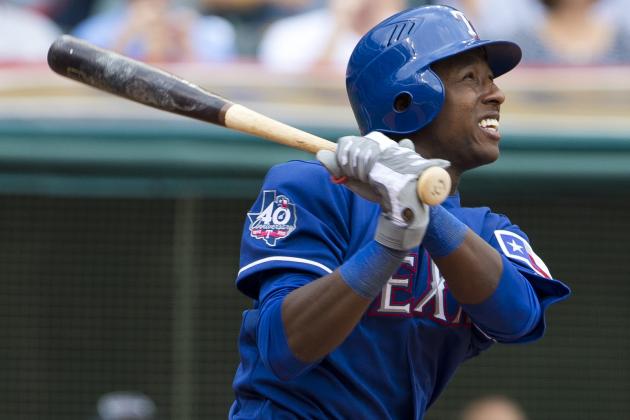 Jason Miller/Getty Images

One of the big stories in baseball over the holiday weekend was the long awaited debut of Texas' top prospect, Jurickson Profar. In case you missed it, the 19-year-old homered in his first at bat, finishing 2-for-4 with a double in the fourth.
ESPN's Buster Olney (Insider subscription required) does a great job of explaining why, for various contract and free-agency reasons, some teams with even very talented prospects aren't calling them up until early next season.
The conclusion is that Texas believes Profar can impact the end-of-season playoff chase and beyond.
How exactly? Let's look at the various ways.
Begin Slideshow

»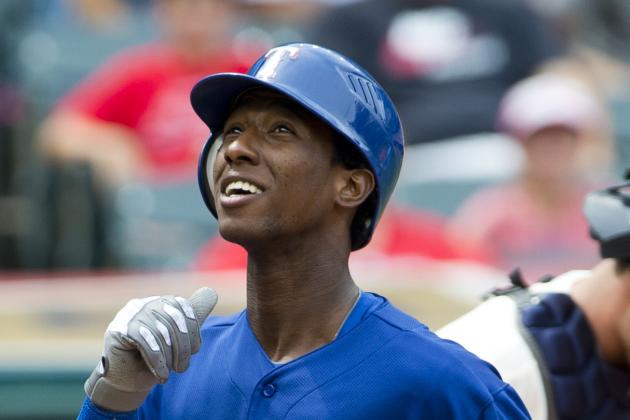 Jason Miller/Getty Images

Profar's batting average in the minors (.281) wasn't all world or anything, but he would have made the Moneyballers proud, posting a fantastic on-base percentage of .368.
And, obviously, he can hit for power. This gives Texas enviable depth—Profar batted ninth on Sunday—and a terrific pinch-hitting option.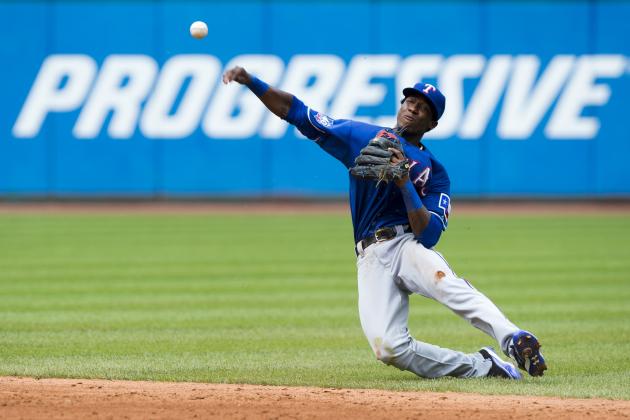 Jason Miller/Getty Images

Profar originally made waves as a young pitcher, but has since converted to shortstop, a position that signals versatility. There's not a huge need for him in Texas' already potent lineup now (he started against Cleveland because Ian Kinsler's back was bothering him), but next season the Rangers could be without Josh Hamilton.
Profar gives Texas the flexibility to help replace Hamilton defensively by shifting, say, Kinsler to center and Profar to second. Or Andrus to second and Profar to short.
No one wants to lose a Josh Hamilton, but if the price isn't right this offseason, the Rangers at least have a replacement plan.
Texas, in turn, has to be playing with less pressure, knowing that even if they don't win it all this season, the pieces are in place to be elite for years to come.
Jason Miller/Getty Images

When Oakland decided that it was apparently done losing this season, they made every Rangers game crucial from here on out. Comforting to know, then, that when someone like Kinsler needs a night off, they're calling up the likes of Profar to fill the spot.
Profar allows Texas the chance to rest players that desperately need it, and still put themselves in a position to win games in the pivotal final month of the regular season.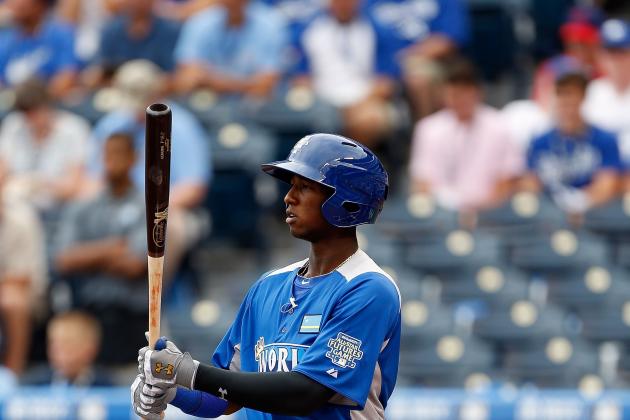 Jamie Squire/Getty Images

Scouts say Profar has more power hitting right-handed, but the switch-hitter blasted his debut homer from the left side of the plate.
Obviously being able to bat from both sides means more opportunities to plug him into the lineup, but also keep in mind that a young hitter means question marks for pitchers that don't quite know how to throw to him yet.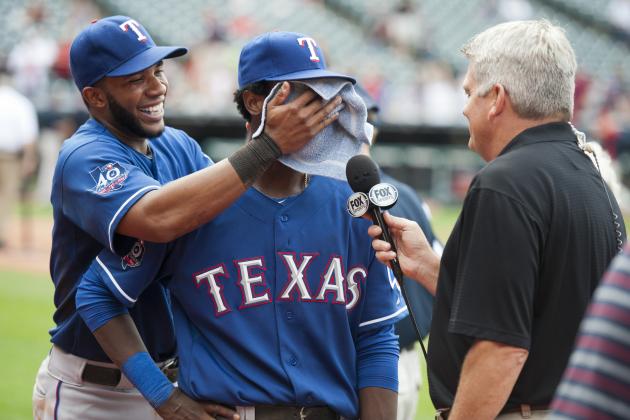 Jason Miller/Getty Images

The baseball season is long. One-sixty-two games over six grueling months and very little rest.
A new, fresh perspective in the clubhouse can only help shake a team out of the doldrums.
And a little enthusiasm from a teenage pro living his dream could go a long way to keeping things lively in the dugout.