Denver Broncos: 8 Bold Predictions for 2012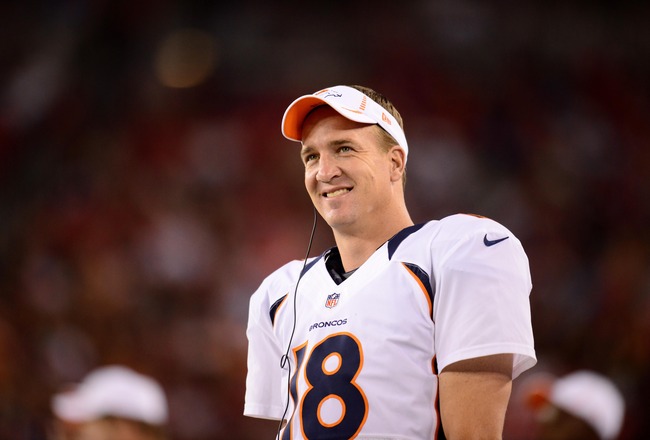 Mark J. Rebilas-US PRESSWIRE
Predicting the NFL season is an exercise in futility. Every year we project, estimate, analyze and compute the upcoming NFL season to get the most realistic possibilities. Fantasy football drives this craze, and we never get it right. It's part of the reason we love football.
These aren't your average season predictions; these are intended to pack a punch. They are big; they are mean, and they are bold predictions.
Bold predictions are not what will happen; they are what could happen. They are realistic, but they are usually improbable. The bolder the prediction the better, because it's just not that fun to predict the season otherwise.
I've graded my own picks on a scale of one to ten, with ten being the boldest prediction. Be sure to leave your boldness scores in the comments and make some of your own bold predictions.
Christopher Hansen is the AFC West lead writer for Bleacher Report. Be sure to follow @ChrisHansenNFL on Twitter and "like" the AFC West blog on Facebook. Unless specified otherwise, all quotes are obtained firsthand.
Peyton Manning Will Be a Top-5 Quarterback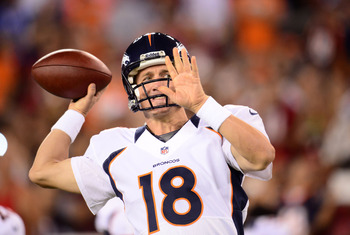 High five! Peyton Manning is a top-five quarterback in 2012.
Mark J. Rebilas-US PRESSWIRE
Predicting any player will be top-five at their position after missing an entire year due to injury is certainly bold, yet it seems realistic because it is Peyton Manning. Manning has been a top-five quarterback for years, and it's almost an impulse to just put him right back into the same category.
The preseason certainly calmed the fears of many about Manning's health and ability, and it certainly kills the boldness of this prediction, but Manning still has to be better than guys like his brother Eli Manning, Tom Brady, Aaron Rodgers, Drew Brees, Matthew Stafford, Tony Romo, Philip Rivers, Ben Roethlisberger, Matt Ryan and Matt Schaub.
Manning is also playing in a new offense with almost an entirely new offensive personnel. There is a reason Jacob Tamme and Brandon Stokely were brought in and figure to be a big part of the offense early in the year—to make Manning comfortable.
The Broncos have a brutal schedule this season and will also face a few tough defenses. It's one of those years where you might question Manning as a top-five quarterback even if he hadn't gotten hurt and changed teams.
Bold Meter: 5/10
The Defense Will Be Bottom-10 in the NFL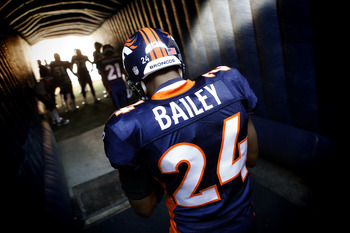 Marc Piscotty/Getty Images
In 2010, the Denver Broncos defense ranked last in the NFL in yards per game allowed and touchdowns surrendered. In 2011, the Broncos defense improved to 20th in the league in yards allowed and 22nd in touchdowns allowed.
It's therefore not unreasonable to predict, based upon the defense alone, that they could remain near the bottom of the league. In 2012, they will be a bottom-10 defense.
The Broncos have added pieces on defense over the past two seasons to improve, but a leap of over 10 spots is drastic, and the Broncos had to change their defensive coordinator again.
Not to mention the Broncos have had good luck with injuries. Champ Bailey has missed four games in the last two years; Elvis Dumervil missed two games last year and Von Miller missed just one game last season. The Broncos best players are staying on the field, and the defense has still been struggling.
Outside of Miller and Dumervil, the Broncos don't pressure the quarterback very well and would be in serious trouble if they had to play a big chunk of games without either one of them. In the NFL, injuries are as much about luck as it is about staying in shape. The Broncos have been the benefactor of good injury luck over the last two years, and you never know when that luck will run out.
Manning's presence may help the defense, but how much he helps may be a little overstated. The 2010 Indianapolis Colts ranked 20th in yardage allowed and only dropped five spots without Manning in 2011.
The defense is still the greatest concern in Denver, and all things considered, there is no guarantee it will continue to improve on its 2011 ranking.
Bold Meter: 7/10
Knowshon Moreno Will Revive His Career…and Get Traded by Week 8.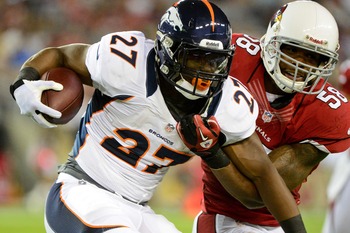 Matt Kartozian-US PRESSWIRE
Now that Knowshon Moreno has made the roster in Denver, he's going to get an opportunity to play and will revive his career while sharing snaps with Willis McGahee. The Broncos will then trade Moreno before the trade deadline for a mid-round draft pick.
Some team will have a desperate need for a running back by mid-season, and by then, rookie running back Ronnie Hillman will be pushing for playing time.
This is the dream scenario for John Elway and the Broncos. They will be able to get something instead of nothing for Moreno and will have gotten half of a season of production from him.
Moreno gives Hillman time to get up to speed after missing a good chunk of training camp, but once he does, the Broncos will have too many running backs, and one will have to go.
This is obviously dependent on injuries and on the assumption that the Broncos aren't the team that needs a running back by mid-season. But don't be surprised if Moreno gets his touches, and don't be surprised if the Broncos shop him at mid-season.
Bold Meter: 10/10
Eric Decker Will Catch 100 Passes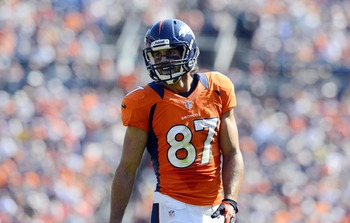 Ron Chenoy-US PRESSWIRE
Eric Decker will catch 100 passes. Manning has a thing for creating 100-reception receivers, and he's done so on eight occasions, and Decker is as good of a bet as any receiver in Denver.
Marvin Harrison caught 100 passes or more in a season four times with Manning as his quarterback; Reggie Wayne did it three times, and Dallas Clark once. Clark and Tamme combined to catch 104 passes in 2010, which it also notable.
There were years where Manning spread the ball around so much that no 100-reception receiver was possible, but the running game didn't seem to detract from 100-reception seasons. All four of Marvin Harrison's 100-reception seasons came in a year when the starting running back carried the ball over 300 times.
Manning has produced two 100-reception receivers in each of his last two years playing—if you include the combined effort of Clark and Tamme.
Perhaps the 100-reception receiver will be Tamme or Thomas, but my money is on Decker.
Bold Meter: 6/10
Willis McGahee Will Rush for Less Than 1000 Yards
Ron Chenoy-US PRESSWIRE
McGahee will rush for less than 1000 yards. It seems crazy, but McGahee may not get any more opportunities than he did in 2011, and he will surely share the load with one of Hillman or Moreno.
McGahee averaged a career-high 4.8 yards per carry in 2011, which clearly has something to do with Tim Tebow and the zone-read offense the Broncos deployed. McGahee's career average is 4.1 yards per carry and was 4.0 yards per carry prior to last year.
McGahee would need 250 carries to reach 1000 yards based on a 4.0 yards-per-carry average. The last running back that played with Manning to have more than 250 carries was Joseph Addai in 2007 with 261.
Addai is the only running back to carry the ball more than 250 times with Manning since Edgerrin James did it consistently from 1999 to 2005.
Sharing snaps with other running backs and the presence of Manning could keep McGahee under 1000 yards, and that's not to mention McGahee's age and health becoming a factor.
Bold Meter: 6/10
Two Players Will Have More Than 10 Touchdown Receptions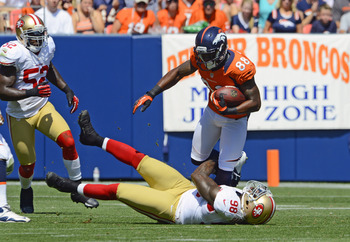 Ron Chenoy-US PRESSWIRE
Thomas is a tall and big receiver and could become a red-zone weapon for Manning. Decker is also a big receiver.
Manning has never had a pair of receivers with the size of Thomas and Decker, but Marvin Harrison caught 10 or more touchdowns eight times with Manning, and Wayne did it three times.
Decker and Thomas both caught four touchdowns from Tim Tebow last year, so they both could be candidates to catch 10 or more touchdowns in 2012 with Manning.
In theory, the Broncos will feed the ball to the tight ends to move the chains and get into scoring position, but then they'll target Thomas and Decker in the red zone as the defense focuses on Tamme and Joel Dreessen.
Decker, Thomas, Tamme or Dreessen are all big targets in the red zone, and it wouldn't be surprising if the majority of the touchdowns are delivered in clumps to two of the four.
Bold Meter: 4/10
Von Miller Will Have 20 Sacks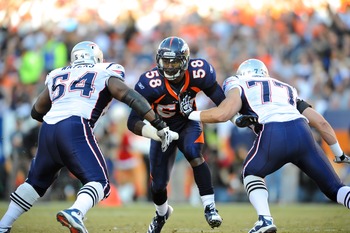 Ron Chenoy-US PRESSWIRE
Von Miller will have 20 sacks in 2012. Only Jared Allen had more than 20 sacks in 2011, and the only other player to have 20 in a season in the last five years was DeMarcus Ware in 2008. The record is held by Michael Strahan at 22.5 sacks and was set in 2001. Only eight players have ever had 20 sacks in a season.
Fortunately for Miller, the league is more of a passing league than ever, and he was averaging nearly a sack per game before breaking his thumb last season. If Miller is as similarly productive as last season and can stay healthy, he should get to at least 15 sacks.
Miller is an elite player, and if he continues to progress, he should be capable of a 20-sack season. Derek Wolfe should help keep Miller from getting blocked prematurely by an offensive lineman, and then all Miller needs is a little luck.
It will not hurt if Manning and the offense can get the defense a lead and force the opposition to throw. It's bold, but it's possible.
Bold Meter: 9/10
Elvis Dumervil Will Have Less Than 10 Sacks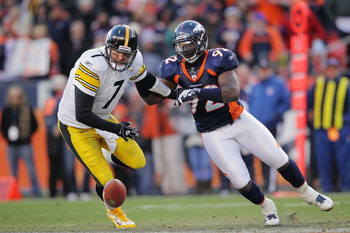 Doug Pensinger/Getty Images
Elvis Dumervil fell just shy of 10 sacks in 2011 and will fall shy again in 2012. Remove Dumervil's 17-sack performance as a 3-4 outside linebacker in 2009, and he has averaged 8.9 sacks per season.
Dumervil has averaged 0.6 sacks per game if you remove that season as an outside linebacker, which is approximately 9.5 sacks projected over a 16-game season. Dumervil is certainly capable of having upwards of 12 sacks, but the safe bet is 10 sacks, and I'm taking the under.
The way I see it, if Miller gets 20 sacks, it means he's beating Dumervil to the quarterback.
Bold Meter: 6/10
Keep Reading