Fresno State Bulldogs vs. Oregon Ducks: Complete Game Preview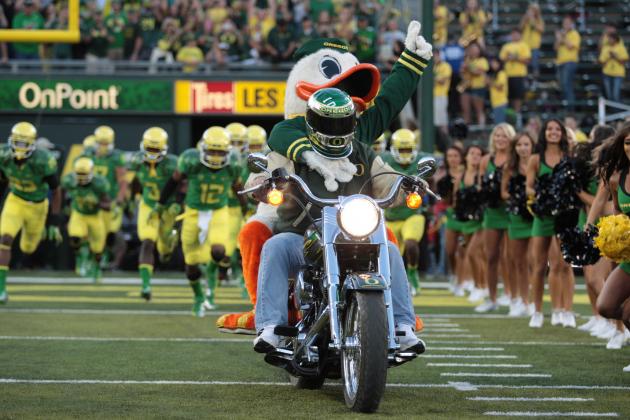 Scott Olmos-US PRESSWIRE

The Oregon Ducks (1-0) and Fresno State Bulldogs (1-0) will square off this coming Saturday in the always rowdy Autzen Stadium
Oregon, recently bumped up to No. 4 in the AP and Coaches Polls, had a more than impressive effort against Arkansas State that saw their redshirt freshman quarterback shine under the national spotlight for the first time in his extremely young and hopeful career.
The Bulldogs, coming off of a season that saw them win just four games, will be looking to shock the college football nation with one of the bigger upsets of the 2012 college football season.
Whether or not that occurs will be decided on Saturday afternoon when the Ducks kickoff against the Bulldogs.
Here is the Fresno State vs. Oregon complete game preview.
Begin Slideshow

»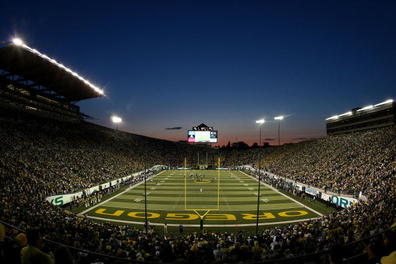 Jonathan Ferrey/Getty Images

Who: Fresno State Bulldogs (1-0; 0-0 A) at Oregon Ducks (1-0; 1-0 H)
When: Saturday, 6:30 p.m. EDT
Where: Eugene, Ore.
Stadium: Autzen Stadium, (54,000)
TV: Pac-12 Network
Radio: Goducks.tv, Gobulldogs.com
Internet Stream: Goducks.tv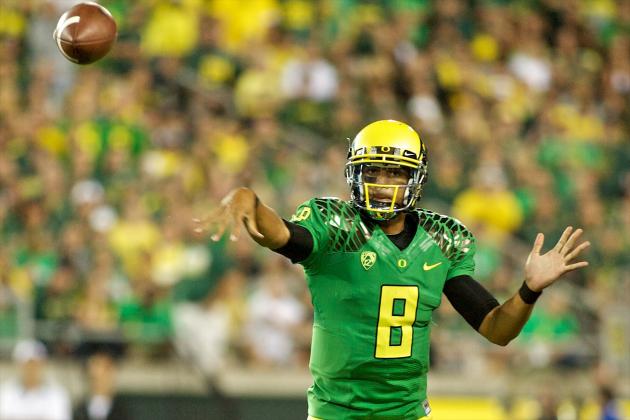 Craig Mitchelldyer/Getty Images

QB: Marcus Mariota (Bryan Bennett)
RB: Kenjon Barner (De'Anthony Thomas)
LT: Tyler Johnstone (Kyle Long)
LG: Ryan Clanton (Mana Greig/Carson York)
C: Hronnis Grassu (Karrington Armstrong)
RG: Nick Cody (Hamani Stevens)
RT: Jake Fisher (Everett Beynard)
WR: Daryle Hawkins (Bralon Addison)
WR: Josh Huff (Eric Dungy)
WR: Keanon Lowe (B.J. Kelley)
TE: Pharaoh Brown/Colt Lyerla/Terrence Daniel/Koa Ka'ai
*Important to note that this particular depth chart was released prior to the Arkansas State football game. The depth chart will be updated when and if a new one is released.*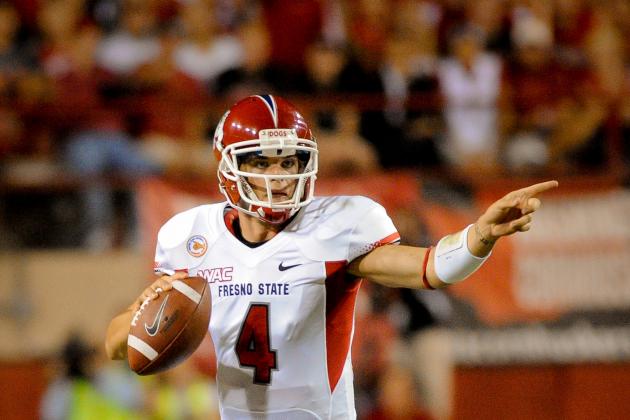 Eric Francis/Getty Images

QB: Derek Carr (Greg Watson)
RB: Robbie Rouse (Milton Knox)
WR: Josh Harper (Taylor Stewart)
WR: Davante Adams/Victor Dean (Justin Johnson)
WR: Rashad Evans (Dillon Root)
WR: Isaiah Burse (Gerome Surrell)
TE: Marcel Jensen (Riley Barnes)
LT: Austin Wentworth (Alex Fifita)
LG: Matt Hunt (Mike Saenz)
C: Larn Bramer (Bo Bonnheim)
RG: Richard Helepiko (James Le'au)
RT: Cody Wichmann (Andrew Gustafson)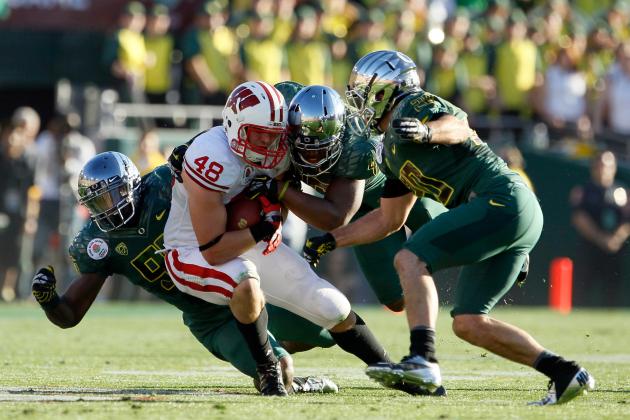 Jeff Gross/Getty Images

DE: Dion Jordan (Tony Washington)
DT: Isaac Remington (Jared Ebert)
DT: Wade Keliikipi (Ricky Heimuli)
DE: Taylor Hart (Arik Armstead)
SLB: Boseko Lokombo (Tyson Coleman)
MLB: Kiko Alonso (Rahim Cassell)
WLB: Michael Clay (Derrick Malone Jr.)
CB: Ifo Ekpre-Olomu (Troy Hill)
R: Brian Jackson (Erick Dargan)
FS: John Boyett (Avery Patterson)
CB: Terrance Mitchell (Dior Mathis)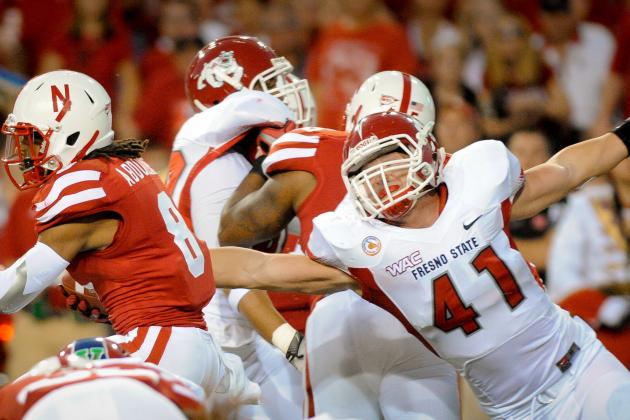 Eric Francis/Getty Images

DE: Andy Jennings (Nikko Motta)
DT: Tyeler Davison (Maurice Pyadue)
DE: Anthony Williams (Ben Letcher)
OLB: Shawn Plummer (Tristan Okpalaugo)
ILB: Travis Brown (Karl Mickelsen)
ILB: Jeremiah Toma (Kyrie Wilson)
OLB: Donavon Lewis (Nat Harrison)
CB: L.J. Jones (Shannon Edwards)
FS: Derron Smith (Charles Washington)
SS: Phillip Thomas (Cristin Wilson)
CB: Sean Alston (Beau Fryer)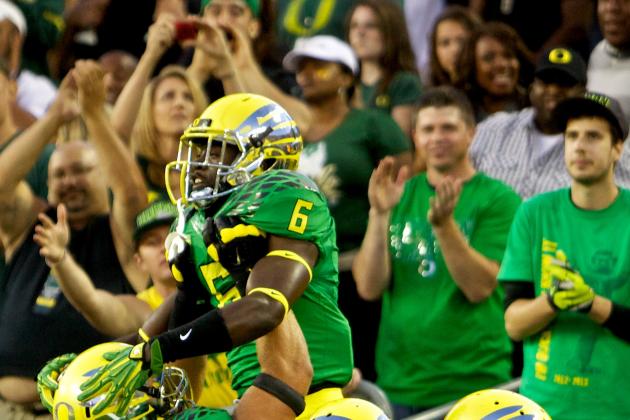 Craig Mitchelldyer/Getty Images

The Oregon Ducks took to Autzen Stadium last Saturday night in another set of flashy new uniforms against a wide-eyed Arkansas State team coming off a Sun Belt Conference Title.
From the first kickoff the game was completely dominated by Oregon.
Marcus Mariota, the redshirt freshman quarterback for the Ducks, threw for 200 yards and three touchdowns in just a quarter and a half, making his college football debut one of the most memorable in Oregon football history.
De'Anthony Thomas and Kenjon Barner also assisted the Oregon effort, as Thomas scored three touchdowns before halftime with Barner adding two scores on the ground.
Oregon's offense and defense completely dismantled the Red Wolves as they jumped out to a 50-3 lead before pulling all of their starters.
Oregon would eventually win this game by a score of 57-34 despite being potent enough to put up what would have likely been over a 100-point effort.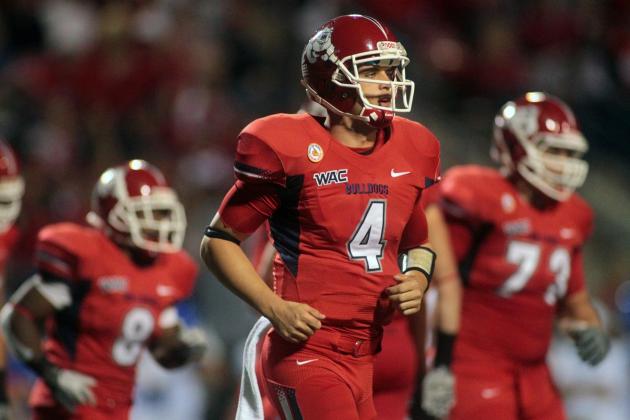 Cary Edmondson-US PRESSWIRE

The Fresno State Bulldogs took to the field against Weber State and prevailed admirably with a final score of 37-10.
Derek Carr—younger brother of NFL quarterback David Carr—completed 20-of-25 passes for 298 yards, two touchdowns, and no interceptions.
Carr's impressive effort was aided by running back Robbie Rouse. Rouse, one of the smaller players in college football, muscled his way for 123 yards and two touchdowns on 22 carries.
The effort showcased an impressive offensive and defensive effort for a Bulldog team that needed to get the ball rolling if they wanted to have any momentum heading into a road match against the Oregon Ducks.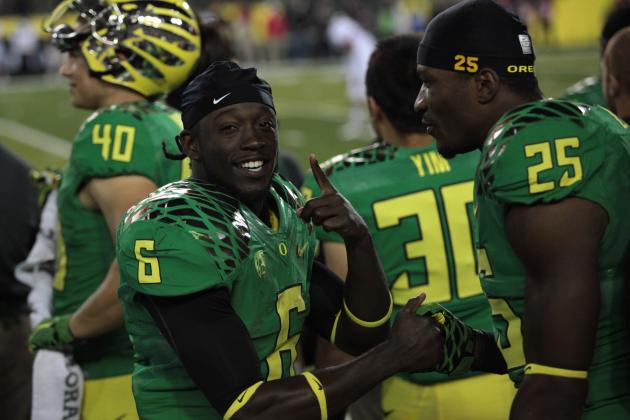 Scott Olmos-US PRESSWIRE

For the Ducks, this will be an opportunity to show the nation that they are the team that everyone thinks they are after watching their contest against Arkansas State last weekend.
Marcus Mariota will be under the microscope again as the nation tunes in to see whether or not this kid is for real.
While nobody cares to admit it too often, this game is still a "tuneup" for the Pac-12 conference schedule the Ducks will embark upon in the future.
For the Bulldogs, this game is one of the biggest tests in recent program history. Can a new head coach and defensive presence take Fresno State to the next level? Is the offense ready to play up to the same level as the team defense?
Fresno State will come into this game with a lot of questions and will hopefully come out of it with a lot of answers regarding their team identity.
While there are many players that will be exciting to watch for the Ducks on Saturday night against Fresno State, none will be more interesting to to watch than quarterback Marcus Mariota.
In his college football debut, Mariota went 18-for-22 for 200 yards and three touchdowns while showing amazing accuracy as he threw no interceptions.
The young Duck quarterback, as mentioned before, will once again be under the microscope and will be exciting to watch on Saturday afternoon.
Mariota needs to show that he can keep up with his impressive statistics if he wants to fortify his already heralded position in the minds of many Duck fans.
The Oregon Ducks will have their way on offense this weekend, that can be assured.
The question is whether or not Fresno State can keep up with the Ducks.
If the Bulldogs want to do this, Robbie Rouse will likely have to have the game of his life. Rouse, a short and stout player, has already demonstrated that he can play with the big boys; but can he play with the best of the best?
Rouse is an exciting player to watch on the field and will have to solidify his running game against the Ducks if he wants to give the Bulldogs the opportunity to really open up their offense and contend with a program such as Oregon.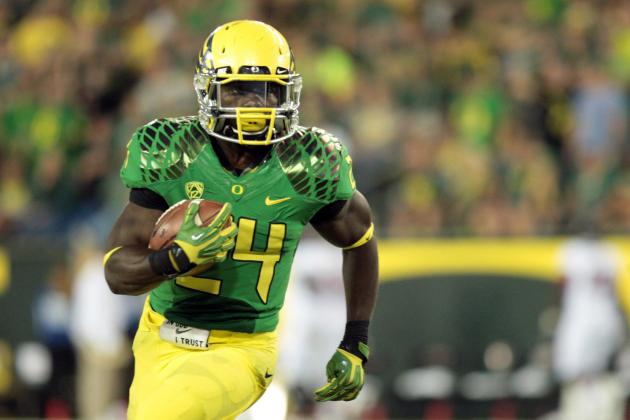 Scott Olmos-US PRESSWIRE

The Oregon Ducks will win this game if they play the same exact game they did last weekend against Arkansas State.
They were nearly perfect last week against the Red Wolves and a replica effort will be more than enough to quell the Bulldogs.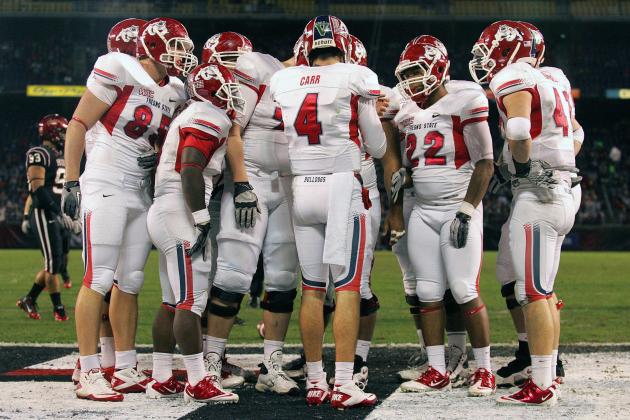 Jake Roth-US PRESSWIRE

I hate to admit it, but the Bulldogs need something just short of a miracle if they wish to contend with the Oregon Ducks/
Fresno State needs the best effort it has ever put forth in program history to stop the Ducks offensive attack while dissecting an impressive Oregon defense.
The Bulldogs will also need to put pressure on the Oregon Duck offense in order to create the pressure needed to make the Ducks turn the ball over multiple times.
These turnovers MUST be converted into points that will be crucial against a high-powered and high-flying Duck offensive attack.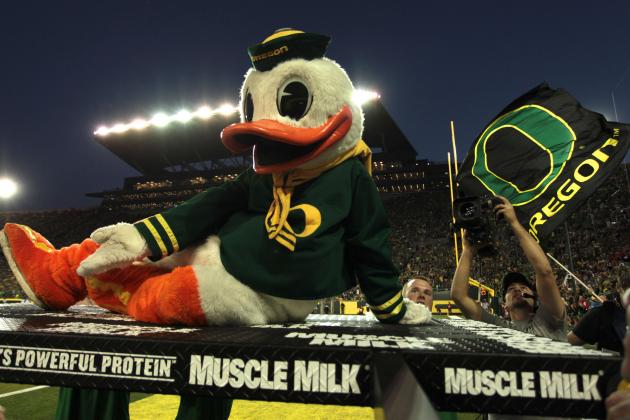 Scott Olmos-US PRESSWIRE

Oregon 53 — Fresno State 13
The Oregon Ducks will likely cripple the Fresno State offensive attack as they did to Arkansas State last week.
Look for the Oregon starters to garner more playing time which should result in a bigger disparity in the final score.