NFL Preview 2012: Predicting the AFC East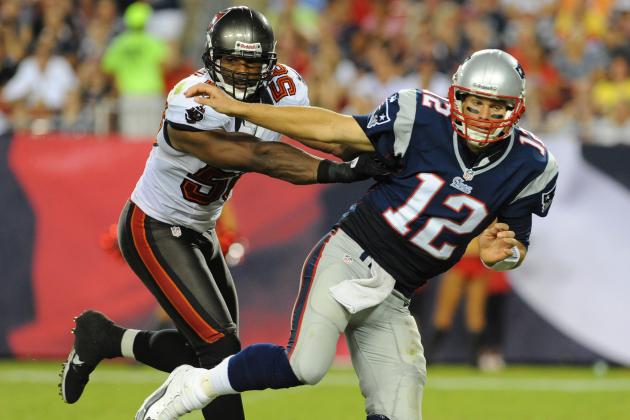 Al Messerschmidt/Getty Images

The AFC East has been owned by the New England Patriots throughout the past decade. Since 2001, the Patriots have not finished with a share of the best record in the division. Judging by the overall talent of the division, it doesn't seem like that streak will end in 2012.
The Patriots come back loaded as ever (and we'll get to that), but it's the other teams that could make the AFC East the weakest division in football.
There are weak offenses in New York and Miami, and the Buffalo Bills are not sexy picks that could take down the empire that is Belichick & Brady Incorporated.
The East may be a one-team race, but here's a look at who could surprise and finish second in a division that could be wrapped up before Thanksgiving.
Begin Slideshow

»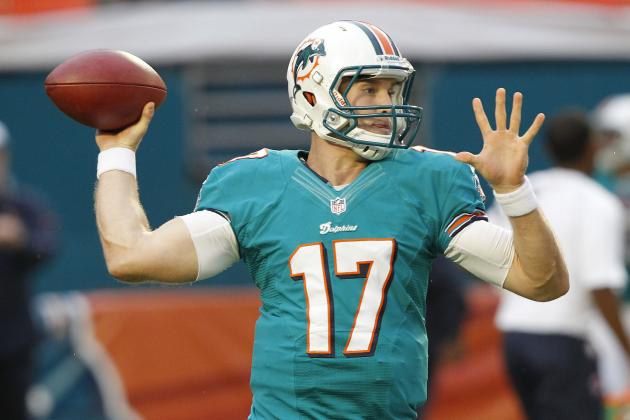 Joel Auerbach/Getty Images

If you've watched Hard Knocks at all, you've seen that new coach Joe Philbin has inherited a mess in Miami.
Things didn't get much better when their sneaky backup plan for a receiver in Chad Johnson backfired and Vontae Davis hid in the port-a-potty long enough to earn a one-way ticket to the Indianapolis Colts.
After those two moves, it doesn't seem like the Dolphins have anything to brag about anywhere on their roster.
Yes, they still have Reggie Bush (1,086 yards and six touchdowns rushing in 2011) and Cameron Wake (8.5 sacks in 2011) but their receiving corps is led by Legedu Naanee and Brian Hartline (who has the most devastating calf injury known to man right now).
The Dolphins will unleash first-round draft pick Ryan Tannehill on the league this season, but many felt like he was a project player that needed to watch action from the sidelines for a season or two before becoming the starting quarterback.
The Dolphins need to hit rock bottom before they can make any progress, and 2012 will likely be the first year in what could be a lengthy rebuilding process.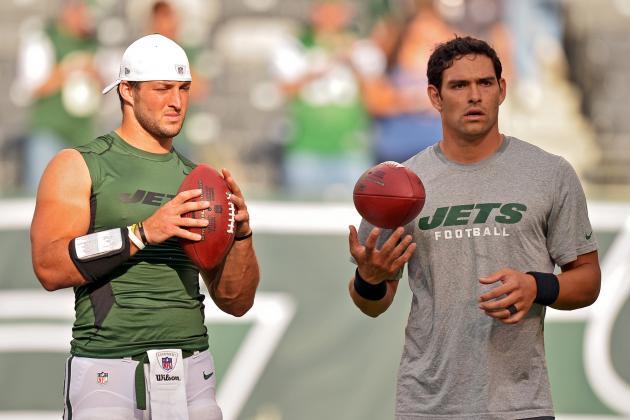 Drew Hallowell/Getty Images

There's a word that many would use to describe the Jets as of right now. Unfortunately, I can not print that on this website. However I can tell you that the New York Jets are a complete cluster of epic proportions right now.
Rex Ryan has taken the persona of my fantasy team owner right now (who happens to be writing this article). Instead of trying to make a consistent move to attempt to make his team better, he decided to make a flashy move and hope for the big potential.
That move, of course, was acquiring Tim Tebow from the Denver Broncos. The plan is to not have Tebow (1,729 yards passing, 18 total TD in 2011) compete with the incumbent Mark Sanchez (3,474 yards, 26 TD), but for the two to team up in a scheme that will use Tebow in the red zone and on punt coverage.
We get it. Somehow, Tebow is virtually unstoppable when he leads a team. Some would say that he is even more so than Sanchez. Still, the Jets have opened Pandora's box when it comes to bringing in Tebow, because there is sure to be a divided locker room if one of them starts to falter as the season wears on.
This will rip the Jets apart throughout the season, and with a lack of playmakers (ground and pound will not work with Shonn Greene), along with almost no passing game, the Jets will finish toward the bottom of the AFC East.
Brace Hemmelgarn-US PRESSWIRE

The Bills will finish in second of the AFC East by a virtual default because of how bad the division is.
Their offense is solid, as they will lean on Fred Jackson and Stevie Johnson once again. The problem is that Ryan Fitzpatrick has continued to be as erratic during the preseason as he was at the end of the season in 2011.
The Amish Rifle will need to get his game together because if that doesn't happen, the Bills will lean on the recently acquired Tarvaris Jackson.
The strength of the Bills may be their defense as they added a potential Pro Bowl corner in Stephon Gilmore with their first-round pick to add to a secondary that already features Aaron Williams, Jarius Byrd and George Wilson.
Marcell Dareus and Mario Williams (who should thrive in a return to a 4-3 defense) will help give the Bills a great defensive line, and Nick Barnett will lead a talented linebacking corps.
The best case scenario would be the Bills challenging for a playoff berth, but it's unlikely that this will be the year that they'll catch up to the New England Patriots.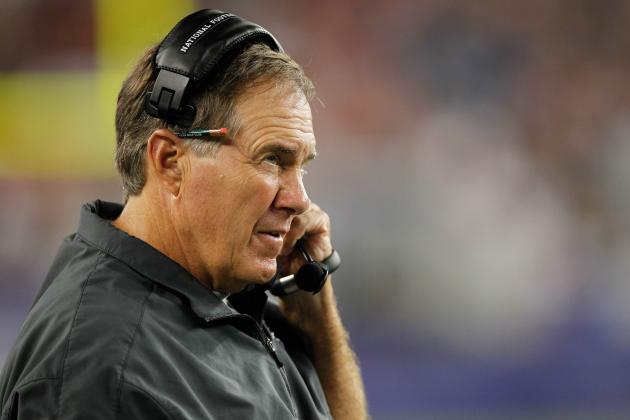 Greg M. Cooper-US PRESSWIRE

As much is it might offend fans of the rest of the AFC East, the only way that the New England Patriots won't win this division is if Tom Brady goes down with another severe knee injury (which happened in 2008—the last time that the Patriots had to share the division championship).
The Patriots are just too loaded on offense for the Bills, Jets and Dolphins to keep up. What's scarier about their 2012 offense is that they added weapons to compliment Rob Gronkowski (17 TD in 2011), Aaron Hernandez (910 yards, seven TD in 2011) and Wes Welker (1,569, nine TD in 2011).
Brandon Lloyd (966 yards, five TD) should give the Patriots the deep threat that they've been lacking since they traded Randy Moss in 2004, and Stevan Ridley will figure to play a prominent role in reviving the running game in the Patriot offense.
The Patriots were not as solid as they've been in the past for 2011, but 2012 will be a different story, as they added Dont'a Hightower and Chandler Jones.
The Patriots came up just short of winning another Super Bowl during the Bill Belichick era in 2011, but with the additions they've made, it's possible that they can make amends for that in 2012.