Analyzing the Pittsburgh Steelers' 2012 Practice Squad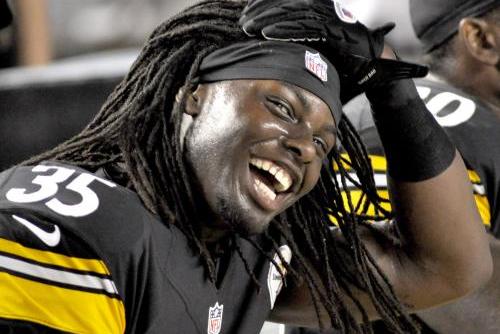 Image courtesy of upi.com
For the Pittsburgh Steelers, like every NFL franchise, chiseling a group of finely-tuned athletes down to a final roster of 53 men is a daunting task. The decisions do rely heavily on production, but there are also many immeasurable intangibles that make final roster cuts incredibly difficult.
Certainly, the past weekend has been mentally taxing for many hopeful candidates who will most likely, barring an emergency, not share in the honor of carrying on the fine Black and Gold tradition in 2012. Handing in your playbook and, so often, your hopes and dreams is certainly a gut-wrenching experience, one with which only the most heartless of football fans would not be able to empathize. Nobody tries to fall short.
However, for the eight fortunate few on the Pittsburgh Steelers practice squad, the opportunity to continue learning, all while maintaining a tight-knit relationship with an NFL team, represents the last best option for "keeping the dream alive."
Over the next few days, you'll be hearing a lot about the upcoming game, the projected starters and the star athletes, but before the regular season kicks off, let's take a moment to get familiar with a few of the non-heralded, but potentially important, Steeler athletes.
These are the eight players who comprise the 2012 practice squad.
Begin Slideshow

»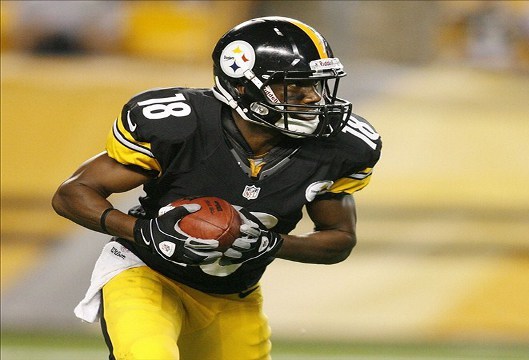 Image courtesy of rantsports.com
Of the players that the Steelers kept on their 2012 practice crew, the athlete most deserving, both for his production in games and work ethic at camp, is wide receiver David Gilreath. The loyal fans out there (you know who you are!) who pay particular attention to exhibition games, hoping to witness those first flashes of greatness from athletes on the bubble, will remember Gilreath's effort against the Colts vividly.
Ironically, it was the Colts' practice squad from which Gilreath was released after being plucked by Indianapolis in 2011. And, it was against the franchise that brought him into pro football that he caught the attention of coaches, fans and peers.
Against Indy, the receiver played with an assured swagger, taking advantage of his reps and hauling in four receptions, all of them on third down or later and each resulting in first down yardage. His four grabs for 78 yards led all receivers that night, including a 24-yard snag of a 3rd-and-long bullet pass from quarterback Jerrod Johnson and a key 3rd-and-6 catch on the game-winning drive.
The Steelers actually kept two receivers on the squad this season, which makes sense considering that their 53-man roster only includes the four wideouts.
With so many positions lacking depth due to the unfortunate health crisis the team has endured to-date, the team clearly had to carry a greater-than-normal bulk of talent at those particular positions. Otherwise, had the Black and Gold kept more receivers, Gilreath may have narrowly earned a roster spot.
Either way, the receiver may have the best shot of any of his practice peers of being called to action, either due to an improvement in relative health across the board for the team OR (heaven forbid!) an injury to Wallace, Brown, Cotchery and/or Sanders. It is a welcome change of pace for a receiver that needed a break, having been cut by the Colts, Rams and Bills before flashing his potential in Pittsburgh.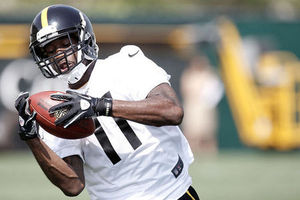 Image courtesy of ralphiereport.com
Truly, receiver is the position to be at on the 2012 practice squad. With Cotchery, Sanders and Brown having all been injured in the last two seasons, there is every chance that one of the two wideouts on the unit could be called to real game action this year, particularly considering the team's total of four receivers on the roster.
Though Toney Clemons may be deemed as having a higher upside than Gilreath, potential is only artificial until it is realized. Whereas Gilreath flashed his potential, Clemons failed to capitalize in exhibition. The team is keeping him on due to some positive attributes.
His training camp was a strange mixture of tough catches and easy drops, an inconsistency that would be alarming if not for that ever-strong notion that coaches have to consider what could be.
For the first of the Steelers' four seventh-round draft picks, a combination of size, speed and leverage serve as enough positive attributes to keep the team intrigued. However, he has to develop as a more sure-handed receiver and more crisp route-runner.
After all, an open receiver who drops the ball (or breaks late) is every bit as productive as an open sportswriter in his back yard imagining the game-winning catch: that is, to say, not.
Nevertheless, for his feats of fancy in training camp and decent ceiling, the team has chosen to continue grooming him.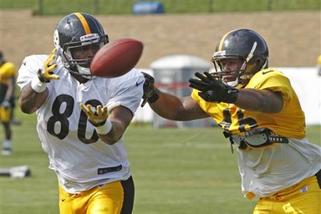 Image courtesy of eurosport.yahoo.com
Jamie McCoy is a listed tight end who has the skill set to contribute at fullback, but his odds of seeing the regular roster for either role are minimal.
With an injury to David Johnson, fans are hoping Will Johnson can fulfill the desired fullback role that so many fans were looking forward to seeing in Todd Haley's offense. Certainly, the presence of McCoy will help to spell Johnson, whose health and durability are important considering the circumstances already surrounding the position. This will give McCoy some work during his stay, which many speculate could be quite temporary.
As it regards tight ends specifically, however, the tiniest microscopic chance for McCoy's calling will be if and only if the David Paulson experiment at tight end goes painfully awry. With Weslye Saunders out for the first month, Paulson is serving as a third tight end on the roster with Heath Miller and Leonard Pope.
When Saunders returns, it seems likely that Paulson will take McCoy's practice squad spot, unless Jamie plays beyond expectations and Paulson absolutely busts.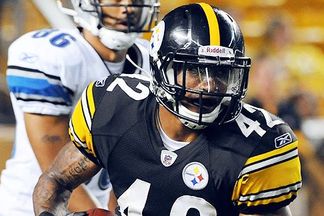 Image courtesy of espn.com
Of a strong safety mold, Cromartie-Smith is a veteran of the team practice squad, having first made the unit back in 2010. He returns to the group after a decent showing in camp, returning to Pittsburgh after making a single-season appearance with the Sacramento Mountain Lions of the United Football League.
Having been called up in the past as a special teams contributor, that role seems his only potential means by which to make the 53-man roster.
In the meantime, safety Robert Golden (who will be of particular importance in the opening week at Denver, considering the inability of Ryan Clark to participate) was selected for the 53-man roster, a better all-around defensive back with more natural ball instincts. Likewise, Golden could fill in at corner if necessary.
...pssst, with all respect, let's hope it doesn't come to that....
Image courtesy of daylife.com
Malecki certainly gets the sentimental vote for many regional fans considering his collegiate success as a member of the Pitt Panthers, playing nose tackle before switching over to the offensive line in 2008.
Though anyone with that local spirit beating from their heart would love to see the edge go to the guy from the nearby alma mater, the fact is that his presence on the squad is more for depth and versatility than sheer skill. He has played both guard and center.
Long-term, and perhaps even short-term, it is unlikely that Malecki cracks the 53-man roster, barring a physiological meltdown of epic proportions along the o-line. Considering the preseason, perhaps I shouldn't gamble against it.
Though some projected that Malecki had a long shot of making the main roster, this was before the team put an extra emphasis on the offensive front during the offseason. For the second straight year, Malecki will need to be satisfied with assisting on the scout team, learning from his exposure to the team and focusing on getting better.
Even with OLMH (Offensive Line Medical Hospital) working overtime, the odds of Malecki making the transition up the ladder are E.R. (extremely remote).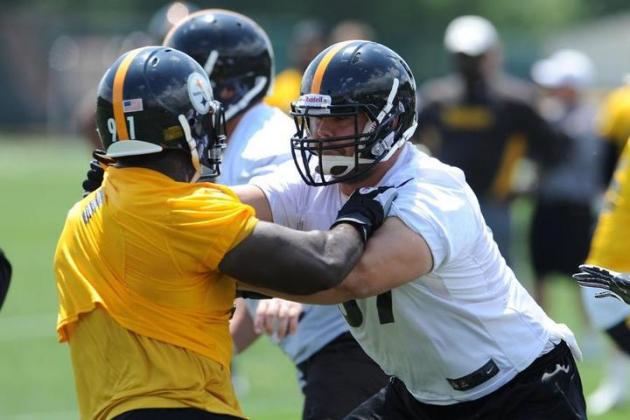 Image courtesy of steelers.com
Don't overlook undrafted free agent Ryan Lee. The guard performed well in camp, showed great quickness off the line and definitely opened eyes this offseason.
Most impressively, albeit his snaps came with the third-string offense, he completely demolished the opponents he faced, showing a particular powerful presence in the trap blocking game. His ability to get to the second level in a continuous stream of effort from play to play was one of the dynamics of the preseason that kept this particular fan interested late into the second halves.
Though he played guard in exhibition, he has been listed on the team site as a center, speaking to both his skill and versatility. In fact, many thought Lee had an off-chance of making the 53-man roster, though Legursky made that final cut as expected.
Still, Lee may be one bad injury away from getting an opportunity to prove himself against stiffer competition, which is likely the only facet holding him back right now. Like a prize fighter who has had his fill of beating up on the dregs, it is up to Lee's patience to get him through the waiting until better opportunities to prove himself are realized.
There are those who feel Lee is ahead of the rookie version of Doug Legursky at this stage of his progression. Bearing in mind that Legursky was a practice squad member before getting his shot with the starters should facilitate even further optimism about Lee's odds of having a future impact in the Steel City. Legursky went from barely staying in town all the way to Super Bowl starter.
That's the thing: If a phoenix is to rise, it must be from the ashes, eh?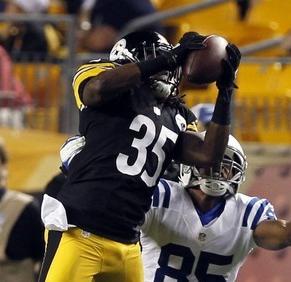 Image courtesy of news.daylife.com
The good news is that Victorian has the ability to break on the football, showcased by three near interceptions during the exhibition campaign.
The bad news is that he finished with one pick despite two others being in his grasp. Effectively, he's the "poor man's Ike Taylor."
From my observation, he has a sense for the ball, but he's often using that sense to recover late than react on time. If he could just be a bit quicker and more technically sound, which is asking a lot, he could crack a roster that currently features few corners. And, well, that's what the practice squad is for, no?
Victorian would likely be a name not even known to Steelers fans if not for an injury to Terry Carter in early August. Still, he came in and did a sound enough job during his spots, earning an opportunity to earn more chances through the practice squad.
Last season, Josh went to training camp with the Ravens, but was released. Afterwards, he spent time on the New England Patriots practice squad. This is oversimplifying things for the sake of humor, but if you were on the Pats practice squad last year as a defensive back, you're certainly no future All-Pro in the shadows.
To phrase it more kindly, Victorian was the best of a mediocre yield of corners. But to be frank, I always felt the same about William Gay, and he started on a secondary that ranked atop the NFL statistically a year ago.
So, who is to say that Victorian can't step in and contribute nicely despite my "naysayer-man-ship?"
In other words, it's up to that Josh to prove this Josh wrong.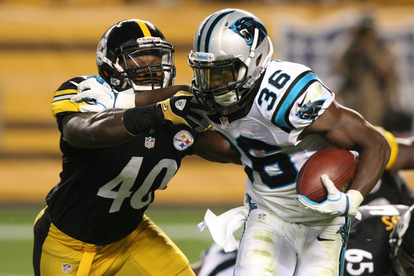 Image courtesy of behindthesteelcurtain.com
The Steelers see an upside to the developing linebacker, which brings up two solid questions that serve more as statements:
1. What is it with the NFL and guys named McFadden? They're everywhere!
2. Who are any of us to question any decision that the Black and Gold make with regard to the linebacking corps? After all, the Steel City could well be called the "Professional Linebackers Association of America."
In any case, time on the squad will allow McFadden the opportunity to continue to hone his craft in preparation for the moment that he gets his repetitions on the field.
The most logistically sound "keep" made by the Steelers was likely linebacker Marshall McFadden. With injuries to Sean Spence and, to a lesser degree, Stevenson Sylvester, the inside 'backer spots are limited to starters Lawrence Timmons and Larry Foote.
Many homes have flyswatters. The football gods in the Steel City have 'backer bashers, little weapons that serve like mythical hammers with which to bash our linebacking corps. In 2012, those "bashers" have been too active.
Someone needs to help make up for the depth and skill lost, particularly with Spence. For now, the team is keeping more experienced linebackers on the roster, such as former Bengal Brandon Johnson.
Still, the upside for McFadden should only inspire him to work hard. If there is any system tailor-made for turning linebacker potential into beastly reality, Marshall is living in it.