Nebraska Cornhuskers vs. UCLA Bruins: Complete Game Preview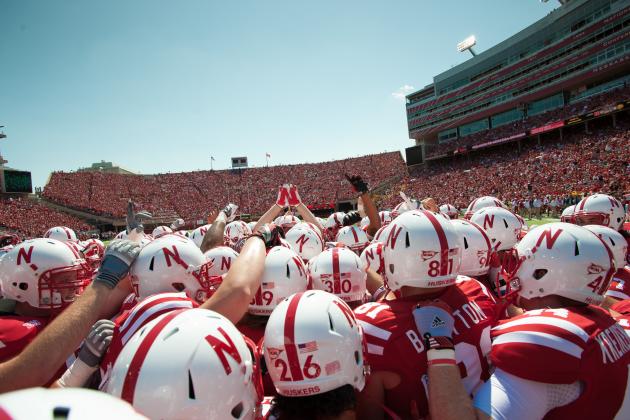 Eric Francis/Getty Images

GameDay Information for fans watching the Cornhuskers and Bruins.
Who: Nebraska at UCLA
When: Saturday, 6:30 p.m. (central)
Where: Pasadena, CA
Stadium: Rose Bowl (91,500, grass)
TV: FOX broadcast network
Radio: Husker Sports Network, affiliates listed here
Internet Stream: Huskers.com, XM channel 196
Begin Slideshow

»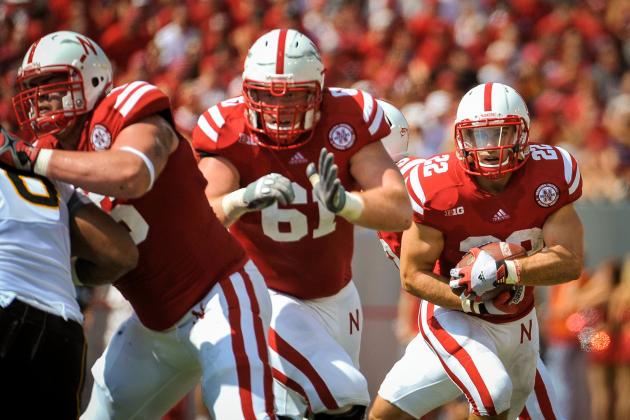 Eric Francis/Getty Images

Depth chart based on information on HuskerMax.com
Offense
QB: Taylor Martinez, Ron Kellogg III OR Tommy Armstrong OR Brion Carnes
IB: Rex Burkhead, Ameer Abdullah, Braylon Heard, Imani Cross
FB: Mike Marrow, C.J. Zimmerer, Graham Stoddard, Andy Janovich
LT: Brent Qvale, Brandon Thompson
LG: Seung Hoon Choi, Cole Pensick, Jake Cotton
C: Justin Jackson, Cole Pensick, Mark Pelini
RG: Spencer Long, Broderick Nickens, Ryne Reeves
RT: Jeremiah Sirles, Andrew Rodriguez
TE: Ben Cotton OR Kyler Reed, Jake Long OR Conor McDermott
WR X: Kenny Bell, Tyler Wullenwaber
WR Z: Quincy Enunwa, Taariq Allen, Steven Osborne
WR A: Jamal Turner, Tyler Evans
Defense
DE: Jason Ankrah, Joseph Carter
DT: Chase Rome OR Thaddeus Randle
DT: Baker Steinkuhler, Kevin Williams
DE: Cameron Meredith, Eric Martin, Avery Moss
BUCK LB: Sean Fisher, Alonzo Whaley OR Max Pirman
MIKE LB: Will Compton, Trevor Roach, Michael Rose
WILL LB: Alonzo Whaley, David Santon, Zaire Anderson
LCB: Andrew Green, Antonio Bell, Daniel Davie
S: P.J. Smith, Harvey Jackson, Corey Cooper
S: Daimion Stafford, Courtney Osborne, Justin Blatchford
RCB: Josh Mitchell, Stanley Jean-Baptiste, Ciante Evans
Special Teams
PK: Brett Maher, Mauro Bondi
P: Brett Maher, Mauro Bondi
LS: P.J. Mangieri, Joseph Rotherham
KO: Brett Maher, Mauro Bondi
HOLD: Jase Dean
KOR: Ameer Abdullah, Kenny Bell, Jamal Turner, Braylon Heard
PR: Ameer Abdullah, Jamal Turner, Rex Burkhead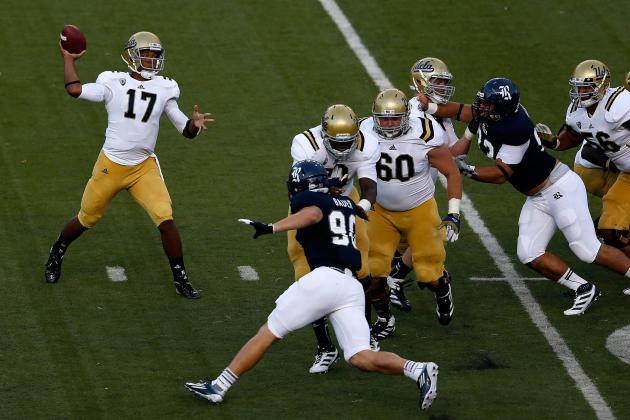 Scott Halleran/Getty Images

Depth chart based on information from UCLABruins.com
Offense
QB: Brett Hundley, (backups listed alphabetically) Richard Brehaut, Jerry Neuheisel, Kevin Prince
TB: Jonathan Franklin, Jordan Dames, Damien Thigpen, Malcolm Jones
FB: David Allen, Phillip Ruhl, Luke Gane
LT: Torian White, Xavier Su'a-Filo
LG: Xavier Su'a-Filo, Greg Capella
C: Jake Brendel, Tre Hale
RG: Jeff Baca, Alexandru Ceachir
RT: Simon Goines, Brett Downey
WR X: Jerry Johnson, Tyler Scott, Logan Sweet
WR Z: Shaq Evans, Devin Lucien, Ricky Marvray
WR Y: Darius Bell, Joseph Fauria, Ian Taubler
WR F: Steven Manfro, Kenneth Walker, Roosevelt Davis
Defense
LDE: Datone Jones, Owamagabe Odighizuwa, Ellis McCarthey
NT: Seal'i Epenesa, Brandon Willis
RDE: Cassius Marsh, Donovan Carter, Brandon Tuliaupupu
LOLB: Jordan Zumwalt, Nate Iese, Aramide Olaniyan
LILB: Damien Holmes, Aaron Porter, Todd Golper
RILB: Eric Kendricks, Ryan Hofmeister, Kenny Orjioke
ROLB: Anthony Barr, Keenan Graham, Aaron Wallace
LCB: Sheldon Price, Ishmael Adams, Fabian Moreau
SS: Andrew Abbott, Dalton Hilliard, Anthony Jefferson
FS: Tevin McDonald, Stan McKay, Brandon Sermons
RCB: Aaron Hester, Marcus Rios, Randall Goforth
Special Teams
PK: Ka'imi Fairbairn, Justin Moreno
KO: Jeff Locke, Ka'imi Fairbairn
P: Jeff Locke, Justin Moreno
LS: Kevin McDermott, Christopher Longo
H: Jeff Locke, Jerry Neuheisel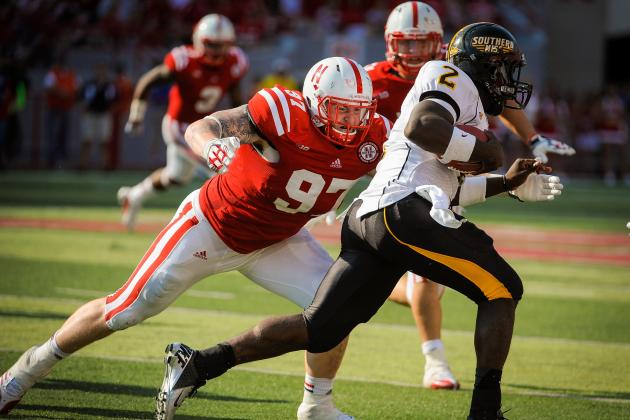 Eric Francis/Getty Images

Nebraska defeated Southern Miss, 49-20, winning its 27th consecutive home opener. Although the defense struggled, the country got its first look at how the offseason work Taylor Martinez put in on his passing would pay off. Martinez went 26-for-34, passing for 354 yards and five touchdowns with no interceptions.
So apparently, the offseason work wasn't bad.
Rex Burkhead left the game in the first quarter to an MCL sprain and is listed as questionable for the game against UCLA. Wide receiver Tim Marlowe will also be out until late October with a broken clavicle.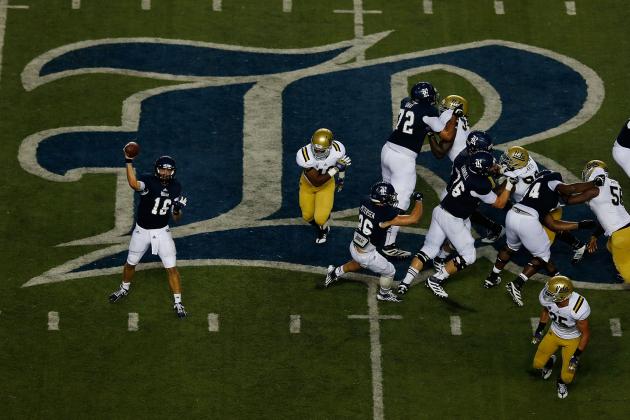 Scott Halleran/Getty Images

UCLA went on the road and beat Rice, 49-24. The Bruins started red-shirt freshman Brett Hundley at quarterback, who responded by going 21-for-28 for 202 yards and two touchdowns through the air and rushing for 68 yards and a touchdown. Hundley's first play as UCLA's quarterback turned out to be a 72-yard touchdown run.
Running back Jonathan Franklin rushed for 214 yards and three touchdowns, and UCLA racked up 651 yards of total offense against the Owls.
Also, in a strange statistical occurrence, Rice's Cameron Nwosu blocked three UCLA point-after-touchdown attempts. That effort ties an NCAA record in a game.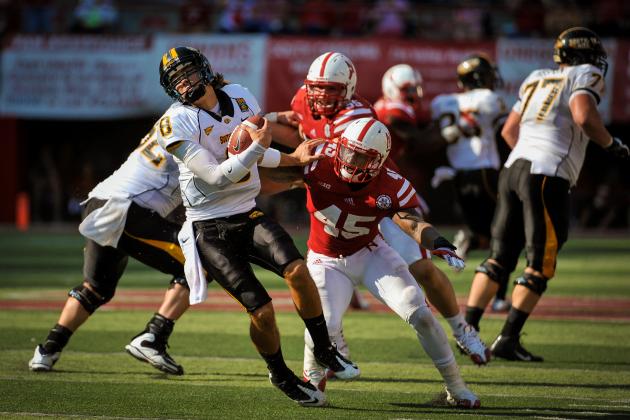 Eric Francis/Getty Images

For Nebraska, the game is an opportunity to go on the road and establish itself as a legitimate top-10 team by beating a talented UCLA squad in its own house.
For UCLA, the game has the possibility to set a positive tone for new head coach Jim Mora, Jr. Should the Bruins upset Nebraska, Mora will be able to have some powerful momentum going forward into Pac-12 competition.
While UCLA did represent the Pac-12 South in the inaugural conference championship game, the 49-31 drubbing Oregon inflicted on the Bruins (coupled with the 50-0 demolition at the hands of USC) has shrouded the UCLA program in failure. An upset of Nebraska would represent a clean break and a successful start for the new-look Bruins.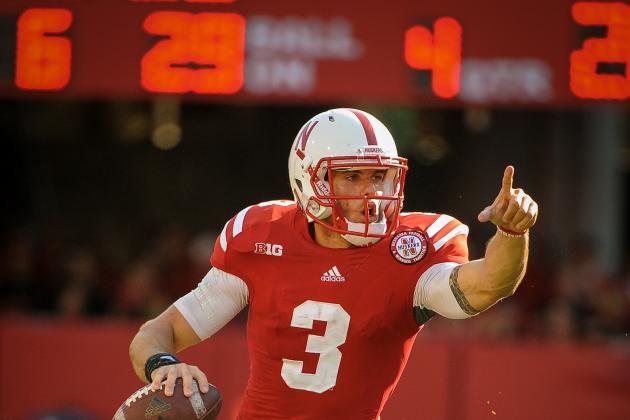 Eric Francis/Getty Images

Taylor Martinez
Rex Burkhead, while listed as the starter, has been called questionable for Saturday's game against UCLA. If Burkhead doesn't go, or if he is limited due to his injury, the bulk of the offense is going to fall on Martinez's shoulders.
Was the performance against Southern Miss the result of a surprise game plan against a Conference USA opponent? Or has Martinez really made such incredible strides in his game enough to effectively navigate Nebraska's offense against a Pac-12 defense? The answer to that question will more than likely answer who will win the contest.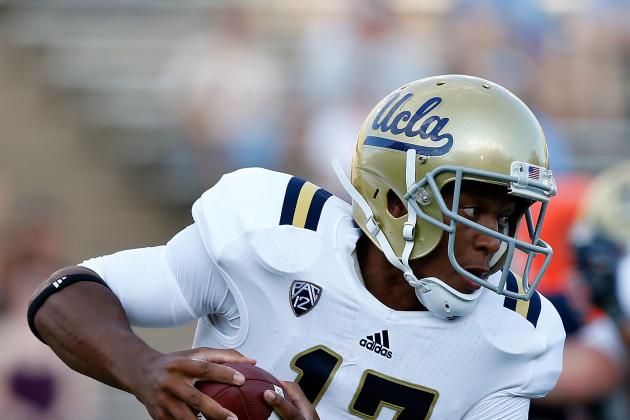 Scott Halleran/Getty Images

Brett Hundley
I know, it's kind of taking chalk to pick the two quarterbacks as key players, but it really does apply in this game.
Anthony Alford, the zone-read quarterback for Southern Miss, had tremendous success against the Blackshirts. He was the Golden Eagles' top rusher, carrying the ball 15 times for 84 yards. He also had a number of throws that would have been devastatingly effective if his receivers had not dropped passes they should have caught. Had Alford been in for the entire game, who knows how the score might have looked?
Hundley is basically a bigger and faster version of Alford. And there's no question he will be in for the entire game, barring injury. If Hundley is able to torture Nebraska's defense the way Alford did, UCLA should move the ball effectively and keep Nebraska's newly-found high-octane offense on the sidelines.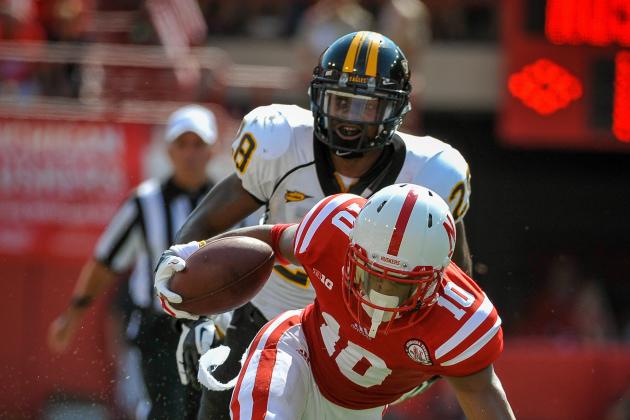 Eric Francis/Getty Images

... the offense that showed up against Southern Miss makes the trip out west. Taylor Martinez's eye-popping passing statistics were what jumped out last Saturday, but the offense as a whole was transformed from last year. Nebraska ran the no-huddle with crispness and precision.
With the addition of Mike Marrow and Imani Cross, Nebraska now has a between-the-tackles threat to compliment a speed threat posed by Ameer Abdullah and Braylon Heard. The offensive line provided great protection for Martinez in the passing game, was effective in run blocking and did so without the kind of penalties that has dogged Nebraska in the past.
Of course, that's against Southern Miss. But if Nebraska is able to have the same kind of success on offense (perhaps not 632 yards of success, but success in general), then it can win even a high-scoring affair.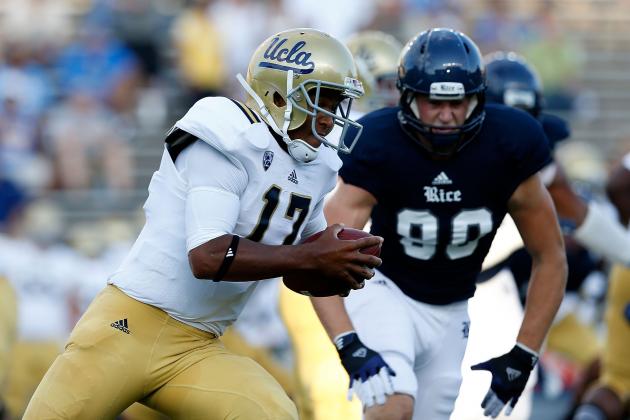 Scott Halleran/Getty Images

... the mobile quarterback bedevils the Blackshirts again. Since his arrival, it has almost become cliche to say that Bo Pelini's teams struggle against a mobile quarterback. But cliches sometimes become cliches because they are true.
If Nebraska is unable to effectively contain Brett Hundley in the zone read, then the door gets opened for Jonathan Franklin to run at Nebraska's tackles and for UCLA's passing offense to get on track. And if the UCLA crowd smells blood in the water, it could put additional pressure on a new-look offense to win a scoring match.
(Of course, that's assuming that the crowd will be pro-UCLA, which may not be the case on Saturday.)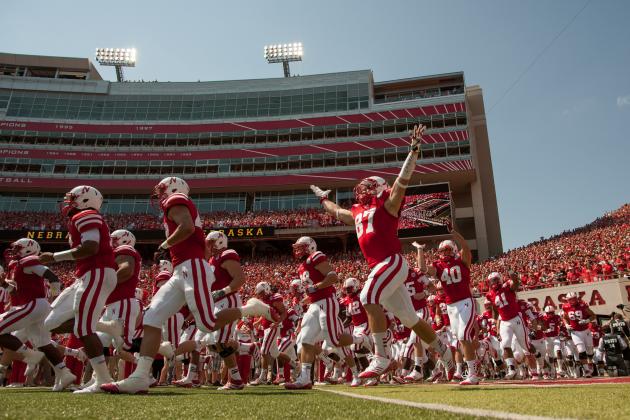 Eric Francis/Getty Images

Rick Neuheisel left Jim Mora, Jr. some talent to work with in Westwood, and Mora should have the Bruins breathing fire for their first opportunity to make a mark on the national stage. But Nebraska's last trip to the West Coast against a Pac-12 team thought to challenge NU ended in a rout, with Nebraska beating Washington 56-21.
UCLA's offense should be good enough to keep up and put points on the board. But UCLA's defense, which gave up 347 yards and 24 points to Rice, should struggle to stop Nebraska's offensive diversity. Look for a high-scoring affair that Nebraska pulls away to win in the fourth quarter.
Nebraska 45, UCLA 31
If you would like to contact Patrick directly to schedule an interview, ask a question or to get his recipe for a killer peach cobbler, send an email to patrickrunge@gmail.com. (DISCLAIMER: Peach cobbler recipe might not be all that killer.)
Or you could always...Follow @patrickrunge.