Can Dwight Howard Lead the Lakers Post-Kobe Bryant?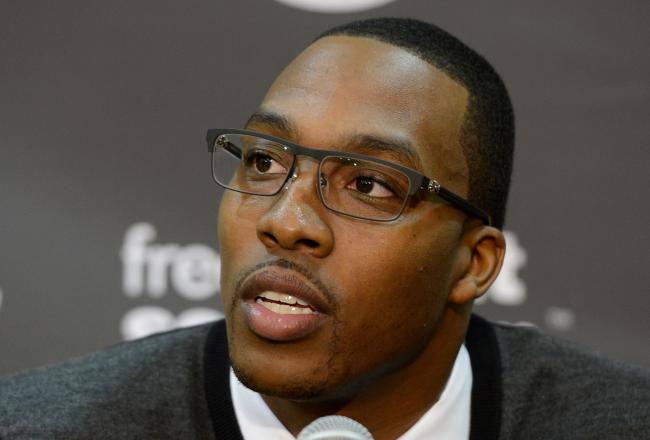 Kevork Djansezian/Getty Images
With Kobe Bryant turning 34 in August, Los Angeles Lakers fans are staving off an existential crisis by focusing on a very promising "here and now."
What happens next is unclear at best and entirely disconcerting at worst.
No one will replace Kobe entirely. He's the kind of talent that graces the NBA ever-so-rarely, and it's hard to believe a team could twice strike gold in such close sequence–even if that team does seem to get whatever it wants from time to time.
But, could the Lakers remain a Western Conference powerhouse?
Acquiring Dwight Howard wasn't just a short-term fix after all. Though he isn't officially a lock to return to Los Angeles, it's hard to imagine him leaving another team so soon after the debacle he bestowed upon the Orlando Magic.
The real question, then, is whether Howard is the right guy to lead this team to its next dynastic chapter.
Phil Jackson once said he'd choose D12 to build a franchise around. Will he get his chance?
The answer to that question isn't so simple.
Howard alone is in no position to make the Lakers any better than he made the Orlando Magic. If not surrounded with the right kind of pieces and superior scoring talent, the 26-year-old instantly becomes an overtaxed star with neither the instincts nor the skills to lead his team to a title.
Anyone expecting something more from Howard is confusing his celebrity for well-roundedness.
Sure, the dominant center will remain a defensive anchor in a league of his own. And, while defense indeed wins championships, it doesn't do so without a sufficient offensive attack in this league.
Dwight's D will continue helping L.A. for a long time to come.
Howard's numbers are somewhat deceptive on this front. He's averaged over 20 points per contest in four of his last five seasons, and he's done so with great efficiency.
But, he's gotten those numbers as the focal point of a relatively mediocre roster in Orlando. You might not think so when looking at his field-goal attempts alone, but that's because he spends so much time shooting free throws instead of actually scoring at the basket.
D12 breaks FT record (for all the wrong reasons).
So, he might score 14 points by making 58 percent of his shots from the floor, but he gets his other five or six points by making just 59 percent of his shots from the charity stripe.
Such is life as an atrocious free-throw shooter.
Over time, Howard's ability to score those 20-or-so points will diminish in proportion to his athleticism. His post-game isn't terrible, but it still relies heavily on his agility and explosiveness. Howard has never developed a mid-range shot or shown much finesse in the painted area.
If you want Howard to become a go-to scorer, prepare to be sorely disappointed–either by his ability to score big points or by the effects his attempts to do so have on the rest of the team.
And that's the other problem. Even if Howard were able to consistently put up 25 or 30 points, he'd do so at the expense of the Lakers' offensive flow.
No one will complain when Howard scores on offensive rebounds or by trailing the fast-break. Running plays for him is a different story, though. Those plays will typically begin and end in the low block, slowing the offense down and reducing the touches available to perimeter scorers.
If you ever wondered why Orlando's ostensibly skilled shooters fell victim to such uneven performances, remember that their rhythm was dictated by an inside-outside strategy and an inside guy who wasn't especially adept at passing out of the post and keeping the ball moving.
Howard's biggest contribution to the Lakers' future won't be as the team's best player, and it won't even be all he does on the defensive end.
It will be his ability to recruit the next best thing to Kobe that Los Angeles can find on the free-agent market.
To that end, Howard won't really be leading the Lakers to their post-Kobe era.
He'll be a mighty fine sidekick though.
This article is
What is the duplicate article?
Why is this article offensive?
Where is this article plagiarized from?
Why is this article poorly edited?

Los Angeles Lakers: Like this team?